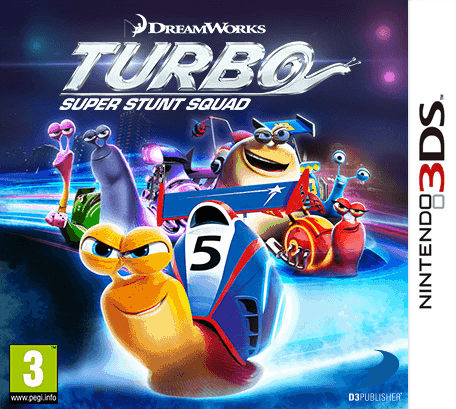 Which video games to buy for children this Christmas?
If you're not a gamer yourself it can be a little tricky to know what to buy for your children at Christmas so I have been letting my children try a few games out to help you. These are the games that we have enjoyed playing and would recommend;
Turbo Super Stunt Squad
PEGI3
Turbo: Super Stunt Squad is a high-velocity action game featuring the super-charged crew of characters from the film. Each playable character has their own signature street style and tricked-out skills which will come in handy when showing-off and earning respect with jumps, drifts, slides, flips and other super-cool stunt moves. Expert skills will also prove useful to earn power-ups, customise your character, win competitive challenges and discover shortcuts in the dynamic larger-than-life environments of Turbo's world.
Curly says:
This has been a fun game to play, I have created some very interesting looks for my characters and have enjoyed this racing game with a twist. I just need to get better at racing.
Curly's Rating: 3.5/5
Monster High: 13 Wishes
PEGI7
Monster High: 13 Wishes is a brand new game that allows fans to play the movie with an alternate ending in a truly unique transmedia experience.
FEATURES
Experience the 13 Wishes DVD in a newly created story that asks the player the ultimate "What if…?"
Travel beyond Monster High to the spooky world inside the magic lantern to save the school and your friends
Jump, climb and swing through 10 magical levels Play as your favourite Monster High characters and use their unique Freaky Flaws to overcome obstacles and defeat enemies
Combine character's skills and use teamwork to solve puzzles and save the school
Choose multiple difficulty settings to match your skill
Little Bean says:
I have needed a little bit of help from Mummy or Curly to complete some of the puzzles and master some of the moves but I am getting better as it. Mummy says it's good that you can select different skill levels because this has helped me a bit too.
Little Bean's Rating: 4/5
Luigi's Mansion 2
PEGI7
Help Luigi capture ghosts and solve mysteries on his mission to piece the Dark Moon back together and restore Evershade Valley to normality.
Tackle multiple missions in each mansion before facing off with a spook-tacular boss. Track down hidden collectibles, find treasure to upgrade the Poltergust, and discover Boos to unlock exciting new challenges!
Curly says:
This rocks! This is like playing at Ghostbusters, the graphics are pretty cool (the ghost in the shower is funny) and the game is easy enough to follow I just wish I was allowed to play more often!!
Curly's rating: 5/5
Barbie: Dreamhouse Party
PEGI3
Featuring the characters and world from the Barbie: Life in the Dreamhouse webisodes, where you can play as one of your favourite characters.
Play a variety of mini-games located in Barbie's Dreamhouse. There's everything from fashion, to dancing, pet grooming and accessorizing.
Customize characters in today's latest fashions as well as with styles directly from the show.
Explore the Dreamhouse and collect over 100+ photos to display on Barbie Pinkspiration wall.
Little Bean says:
This has been my favourite game to play, I love dressing up Barbie and looking after my pets. The dancing is really funny and I am getting quite good at the mini-games and collecting lots of photos.
Little Bean's Rating: 5/5
Super Mario 3D World
PEGI3
Mario and his friends are enjoying the fireworks one beautiful night in the Mushroom Kingdom when they happen upon a mysterious Clear Pipe and one very panicked Sprixie Princess! It's soon revealed that Bowser has been up to no good once again – the king of Koopas has been bottling up Sprixie folk and keeping them captive! When he emerges and steals their new friend away right before their eyes, Mario, Luigi, Princess Peach and Toad hop down the pipe to the Sprixie Kingdom to save the Sprixie and thwart yet another of Bowser's plans!
Curly says:
I LOVE the Wii U and this is a great game to play on it. Really easy to play and great fun for the family to play together.
Curly's rating: 4/5
Wii Party U
PEGI3
Bring your friends and family together with Wii Party U, an exciting collection of minigames designed to put everyone in the party mood!
Play competitively against one another to show who's the best, or work together as a team to reach a common goal. Enjoy new modes that cater to the number of players there are, the amount of time you've got to play and types of fun you're after!
Family says:
When you have young children who are just starting out in gaming this is perfect to introduce them to it slowly and to improve their gaming skills.
Family rating: 4/5
DISCLAIMER: We have been sent the above titles free of charge for the purpose of this post. All opinions are our own. Images have been taking from Nintendo and Amazon websites. Game(s) synopsis have been taken from Nintendo website.