From the moment I discovered I was going to be a Mum I knew that I wanted to give baby wearing a go.  The idea of having my baby so close to me made my heart swell.  I'm a sucker for babies and can't resist giving them a cuddle and being able to feel them near so baby wearing seemed perfect to me.  Well Little Bean is now 5 years old and although I do pick her up and carry her every now and then when she is getting tired, there's no way I could carry her all the time but over her 5 years and with the introduction of her baby brothers Beanie Boy and Jelly Bean I have been able to try out lots of different baby carriers.  I don't think I have found one that I haven't liked, they all have their different features, their positives and negatives.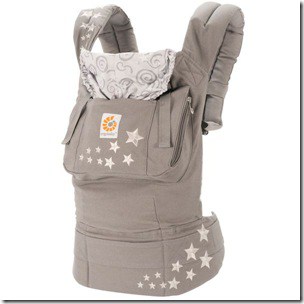 There was always one particular baby carrier that I would see Mums using when I was out and about that captured my eye, the Ergobaby Baby Carrier.  As winter approached towards the end of 2013 I was given the opportunity to try out the Ergobaby for myself.  When it arrived I was very pleased to receive the Ergobaby Original in Galaxy Grey.  Jelly Bean has the most gorgeous blue/grey eyes and so he really suits greys and blues, this was the baby carrier for him.  I was looking for a baby carrier that was supportive for both Jelly Bean and myself, could be used front and back but would also fold up relatively small.  You see, when my babies were growing in my tummy, it turns out there wasn't enough space in my brain for the part which looks after organisational skills because since becoming a Mummy I can't seem to remember a flipping thing!  We go for days out and I always forget one or two things, one of the major things I often forget is a baby carrier so when we visit places where you can't take the pushchairs in I end up having to carry him and that's not always convenient especially since he can be such a wriggler.
The Ergobaby has been the answer to my prayers; I LOVE the hip and shoulder straps on the Ergobaby because they are luxuriously padded for my comfort and really help to spread out the weight of my growing boy.  Getting myself and Jelly Bean into the carrier alone took a bit of practice before we got it right but once we had mastered it we were a winning team and Jelly Bean loves it, especially since my hair is so close that he can pull it whenever the devil lands on his shoulder!!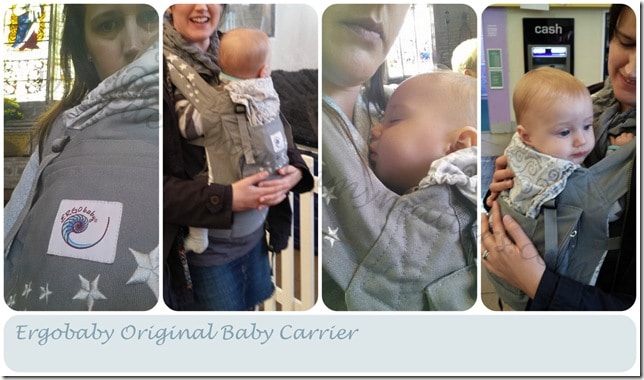 The Ergobaby is ergonomically designed to support the correct sitting position for baby's hips, pelvis and spine growth.  It can be used in the front, back and hip positions and has an integrated sleeping hood made from 100% cotton poplin with elastic edging and snap-to-strap attachment.  The sleeping hood supports baby's head whilst they are sleeping and protects them from the sun and wind.  It is adjustable to 5 lengths which means it will grow with baby.  There is a useful pocket on the front to stowaway the sleeping hood when not in use and a zipped pocket which can hold a small purse, keys and mobile phone so it's perfect if you fancy going out for a walk without carrying a bag too.
One thing I have discovered about baby wearing is how easily babies fall asleep, in fact I have been known to use my baby carrier in the night when I have found it difficult to settle him back down.
RRP £94.90
DISCLAIMER: I was given the Ergobaby Original Baby Carrier free of charge for the purpose of this post.  All words, images and the collage image are my own and may not be copied without my permission.