Dubai with Kids: Family-Friendly Activities and Attractions
A vacation to Dubai promises an unforgettable, luxurious adventure that every family should experience. It is home to world-renowned attractions such as the Burj Khalifa, Palm Jumeirah, and Ski Dubai and provides diverse cultural experiences that have something for everyone. From sky-high architecture to sandboarding in the desert dunes, you'll find there are endless things to do with kids during your stay in Dubai.
Keep reading this blog post for our favourite kid-friendly activities in the city—they promise a great time for your little ones when you visit Dubai with kids.
Introducing Dubai
Dubai is an amazing destination for families looking for a memorable vacation experience. This desert oasis has so much to offer, including a mix of traditional and modern cultures, abundant shopping opportunities, and luxurious hotels. Kids will love exploring world-renowned theme parks like Legoland Dubai and IMG Worlds of Adventure. They can also enjoy the thrill of skiing indoors at Ski Dubai. Parents can relax and unwind at the beach, indulge in world-class dining, and experience the vibrant nightlife.
With year-round sunshine and a variety of family-friendly activities to choose from, Dubai is the perfect destination for any family looking for a fun and adventurous vacation.
Exploring the Desert Safari
Exploring the desert safari with your kids is an adventure of a lifetime. The stunning Arabian Desert provides a unique setting for families to enjoy thrilling activities such as sandboarding, camel riding, and quad biking. Your little ones will love being able to explore the vast expanse of dunes and experience the traditional Bedouin lifestyle up close. What's more, you can even take in spectacular views of the sun setting over the desert horizon, creating a beautiful backdrop for unforgettable family memories. With so much to do and see in Dubai's majestic deserts, you'll be sure to have an exciting time when visiting this incredible part of the world!
Shopping and Dining at Burj Khalifa and Mall of the Emirates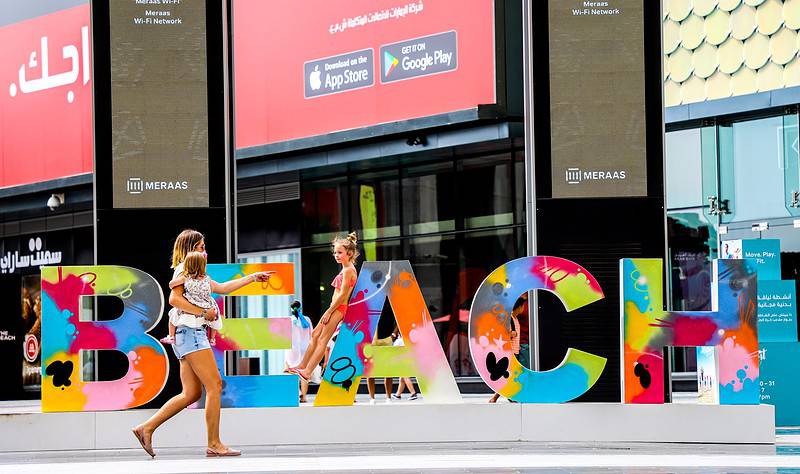 Shopping and dining at the Burj Khalifa and Mall of the Emirates are must-dos when visiting Dubai. But what about the kids? Fortunately, both these places cater to young visitors too. While you indulge in some retail therapy or enjoy a mouth-watering feast, your little ones can have a blast at the indoor ski park at the Mall of the Emirates or the Dubai Aquarium and Underwater Zoo at the Burj Khalifa. There are also plenty of child-friendly restaurants, cafes, and food courts for your Dubai tour where you can all enjoy a delicious meal together. With so much entertainment on offer, shopping, and dining at these iconic destinations become a fun-filled family experience.
Visiting Wild Wadi Waterpark
Are you planning a family vacation in Dubai? If you're looking for a place that's perfect for both kids and adults, look no further than the Wild Wadi Waterpark. Nestled in the heart of the city, the waterpark is a great spot to cool off on a hot day. With over 30 rides and attractions, there's something for everyone at Wild Wadi. From the gentle flow of the lazy river to the exhilarating speed of the Jumeirah Sceirah, you and your family will have a blast exploring all of the thrilling water rides. And for your convenience, there are plenty of dubai airport rent a car options available so you can get to the park easily and quickly.
And when you're ready to take a break from the water, there are plenty of cafes and restaurants to choose from. A visit to Wild Wadi Waterpark is sure to create memories that will last a lifetime!
Enjoying Aquaventure Waterpark
Aquaventure Waterpark is the perfect destination for families looking for a fun-filled day out. With its exhilarating rides and attractions, kids are sure to have the time of their lives. From the rapid water slides to the lazy river, there's something for everyone to enjoy. You'll feel your heart race as you brave the tallest drops and take on adrenaline-pumping challenges. But don't worry; safety is always a top priority, so you can rest assured that your little ones are in good hands.
Featuring IMG Worlds of Adventure
IMG Worlds of Adventure is a place where the fun never ends, and there truly is something for everyone to enjoy. Whether you're young or old, adventurous or cautious, this world-class theme park promises excitement and thrills at every turn. Explore the vast expanse of the park, which features four epic adventure zones, each with its own unique theme.
Whether you want to experience the exhilarating rides in The Marvel Zone or immerse yourself in the world of dinosaurs in The Lost Valley, you're sure to find something that suits your tastes. With its myriad of attractions and activities, IMG Worlds of Adventure is the perfect destination for families, friends, and thrill-seekers alike.
Dubai is truly a magical and fascinating city, providing a vast array of experiences unseen in any other corner of the world. No matter what kind of vacation you seek, this Middle Eastern destination has something to offer for each person. So if you're ready for your very own Arabian Nights adventure – then it's time to consider taking off on a flight bound for Dubai!