Do you love elephants?
Do you love elephants? I do, I have been fascinated by them for as long as I can remember, such big lumbering animals yet cute at the same time. A few years ago I even got to touch one, I actually stroked its big fan-like ears and rubbed its big fat tummy. It is a memory which will stay with me forever.

PinkChillies are an exciting new brand which have just launched a variety of goodies for adults, teenagers and young children all featuring really cute elephant logos. The range features bags, stationery and badges with plush toys to follow soon. But the really great thing about all these lovely elephant design products is that 10% of the profits is donated to two Elephant-based charities; The Elephant Family and Tusk with more charities to be added as the Pink Chillies family of elephants and friends grows.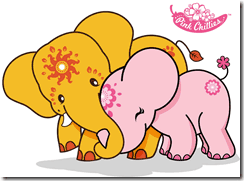 The designs currently feature elephants Aditi and her big brother Etana but there are more elephants and friends just waiting to join the Pink Chillies family.
You can find Aditi and Etana on gorgeous notebooks and pencils, tote bags and badges, you can even find them in the shape of yummy scrummy chocolate. All of the products are at really affordable prices too which means that they would make great gifts for birthdays, thank you or even 'just because' gifts!
We were sent a lovely notebook and some pencils which Little Bean has already laid claims to because she loves elephants as much as her Mum but I think we will be seeing a few more Pink Chillies products in the Mummy Matters household soon as I have spotted a few more bits that I would like, and if it means that I'm donating to charity at the same time, well then that makes a spot of shopping ok doesn't it!
DISCLAIMER: We were sent a notebook and pencils to review for this post. All words and opinions are my own.