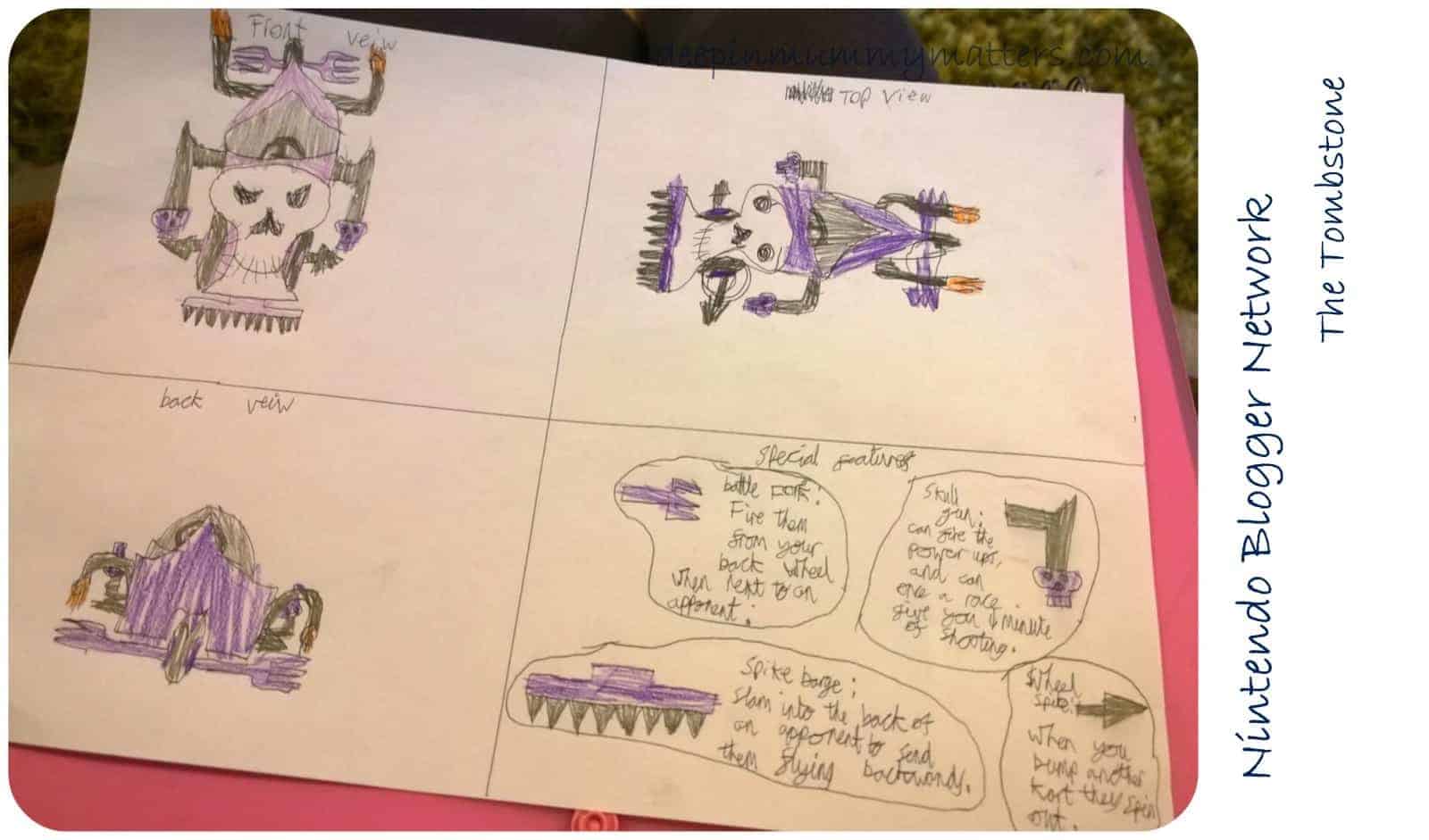 Designing our own Nintendo Karts!
As members of the Nintendo Family Blogger Network we are sometimes asked to do little challenges and the latest one revolves around the release of the fab new game Mario Kart 8. Maro Kart was perhaps one of the first games that I started playing on the Wii many moons ago and is still one of my favourites today. We used to get together regularly with a couple of our friends have Mario Karting nights but then babies who wouldn't sleep got in the way of some of these evenings and over time they dwindled (along with my Karting expertise it would appear!).
As part of our latest challenge we were asked to design our own Nintendo Kart. Initially I thought this was a pretty daunting task but then I got quite into it and found it quite therapeutic; I used to love drawing and colouring it but as an adult we don't really do that do we (although I have recently bought myself a few colouring books). So last week when Curly came to stay I suggested that the three of us sit down together and get designing our Karts, I have never known our lounge to be so quiet for so long, the concentration was obviously in full swing.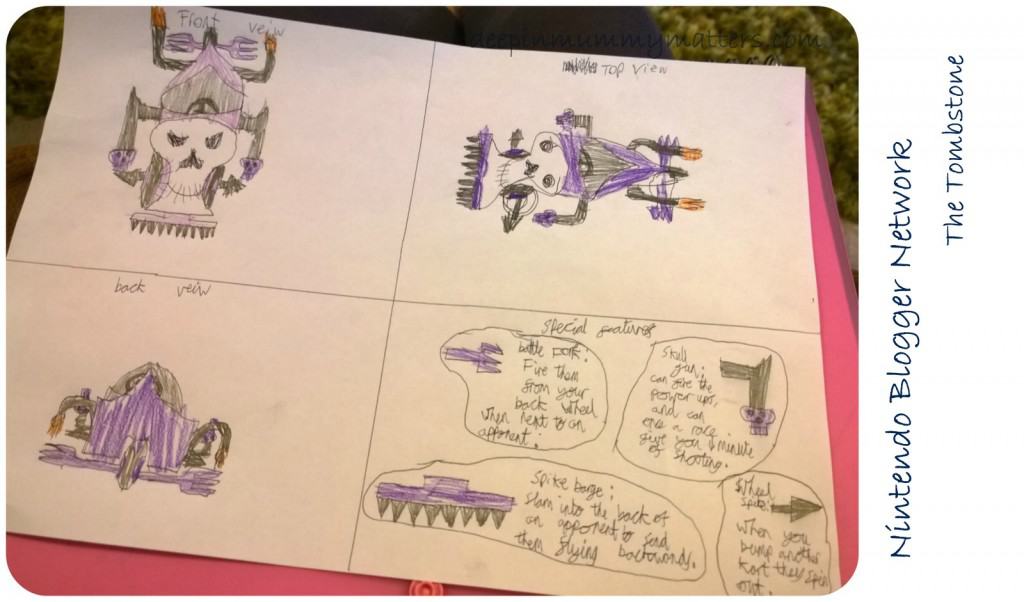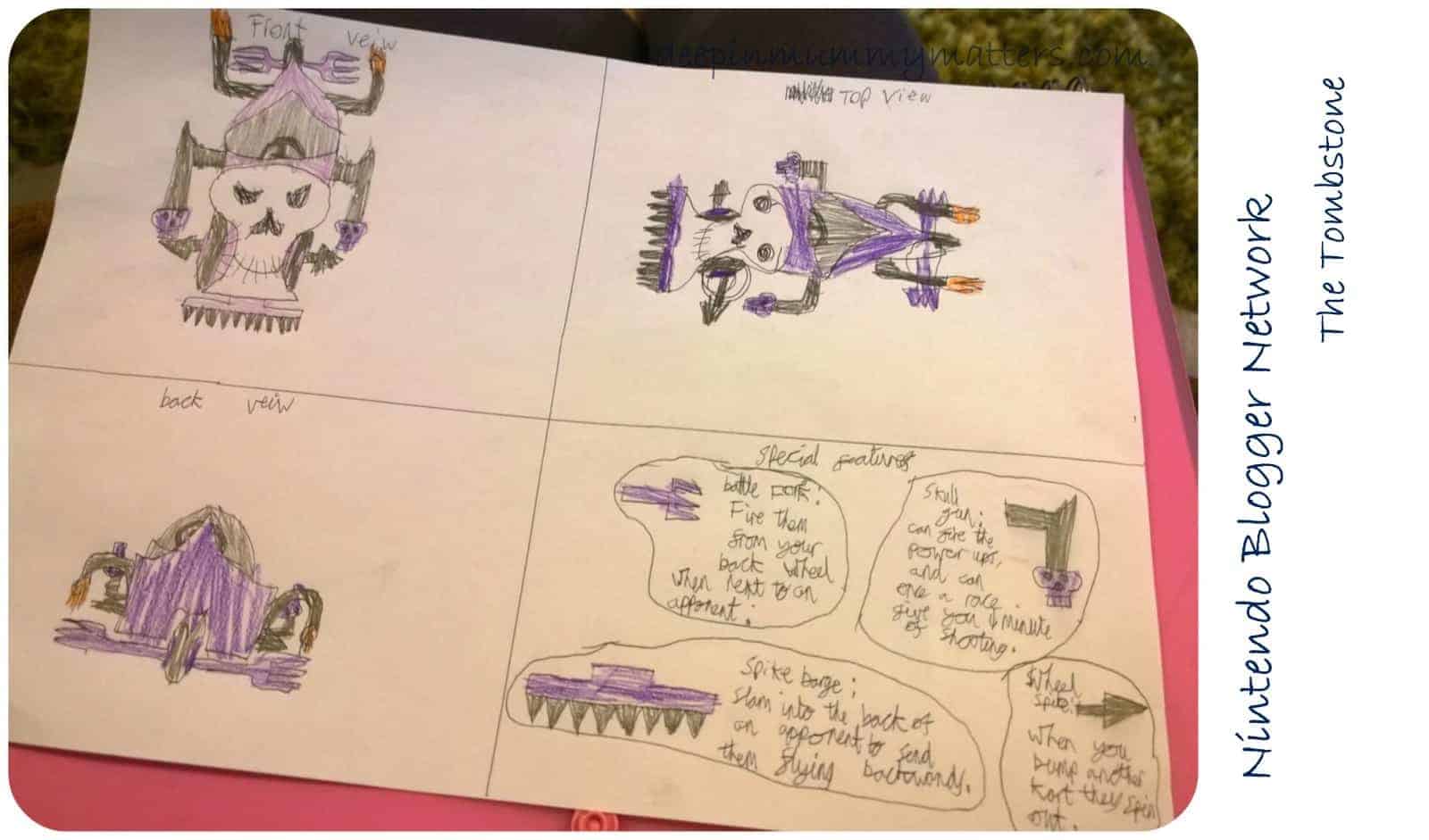 Curly's Nintendo Kart is called The Tombstone which is a very spooky Black and Purple design with a large Skull shape at the front. The Tombstone has four special features;
Battle Fork – Fire them from the back wheel when next to an opponent.
Skull Gun – can fire power ups, give you a minute of shooting or can end a race.
Spike Barge – Slam into the back of an opponent to send them flying backwards.
Wheel Spike – When you bump another kart they spin out.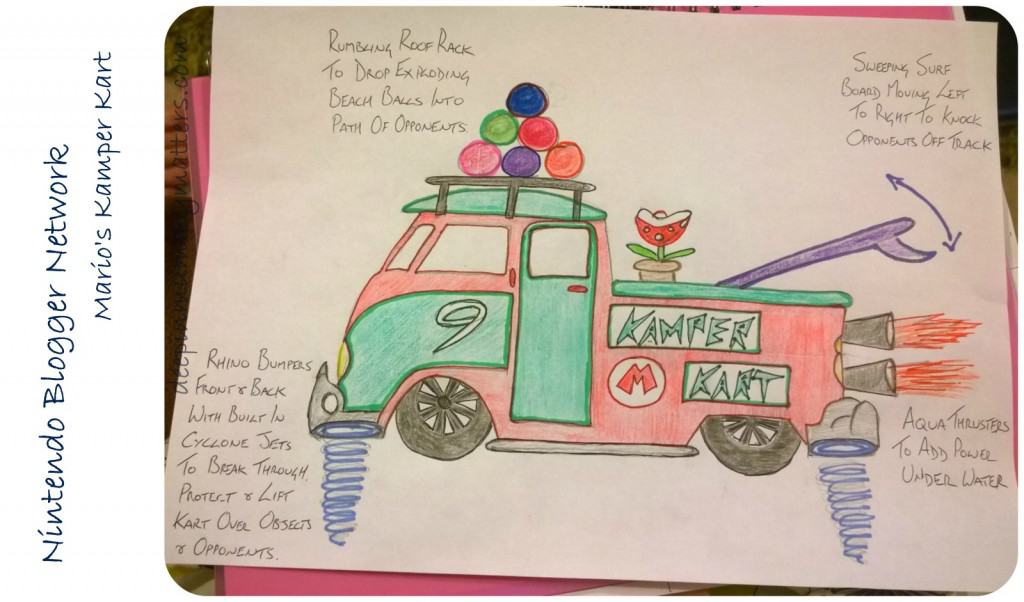 Hubby's Nintendo Kart is called the Kamper Kart which as you can see is based on his love of Camper Vans. The Kamper Kart is designed for Mario and has four special features;
Rhino Bumpers (front and rear) – have built in cyclone jets to break through, protect and lift Kamper Kart over objects and opponents.
Rumbling Roof Rack – drops exploding beach balls in the path of opponents.
Sweeping Surf Board – moves left to right to knock opponents off track.
Aqua Thrusters – to add power under the water.
Finally my Nintendo Kart is the Pretty Hippy Whoop Bang which is based on one of the first 'cars' to ever have an impression on me, good old Chitty Chitty Bang Bang but a much prettier, girlier version. The PHWB has five special features;
Lip Smacker Bumper – attaches to the Kart in front to benefit from the drag.
Hidden Wings – Just like Chitty, PHWB has wings under the chassis which open up whenever the Kart takes flight.
Love Heart Running Boards – Pretty love hearts can be fired out at opponents and will stick to their windscreen and obstruct their view for 5 seconds.
Flower Propeller – for speed underwater.
Flower Balloons – just like the wings, whenever PHWB takes flight the Flower Balloons will inflate to help gain height.
So now that I have shown you our designs, I'd love to know what you think and what you would design if you could create your very own Kart?
DISCLAIMER: I have been given a copy of Nintendo Mario Kart 8 for the Wii U free of charge as part of my role in the Nintendo Blogger Network. All words, image and opinions are my own and may not be copied without my permission. I have not been instructed what to write.