Creating Christmas Traditions
When I took part in a Parenting Course at my local Children's Centre, one particular topic stuck in my head (well, there were quite a few actually), and this year, it got me thinking. I always do all I can to create happy memories for my children and make their childhood as magical as possible because I want them to look back on these years and treasure them.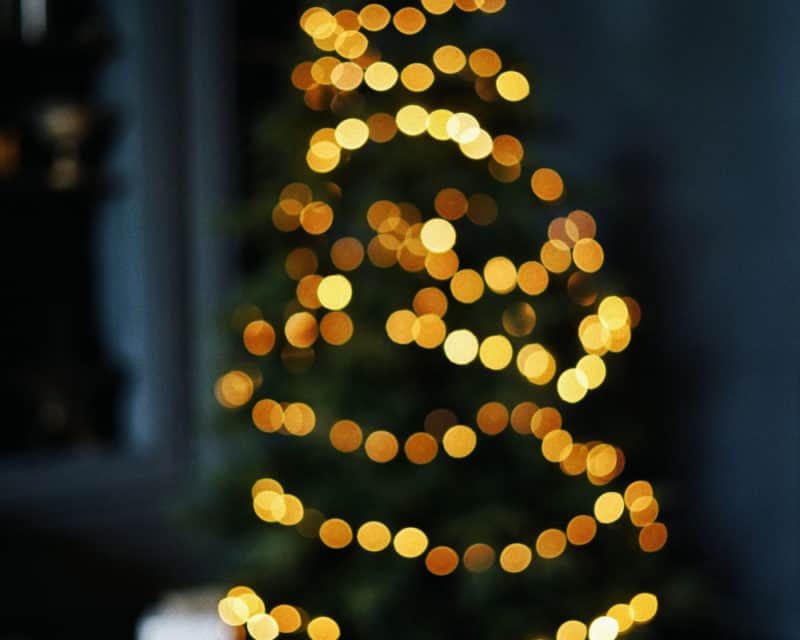 So the topic I have been thinking about is 'traditions'. I remember us all talking about the different 'traditions' that we had in our families. I remembered always decorating the smaller Christmas tree in the front lounge and how the whole family would come and stay with us every year at Christmas.
I loved having everyone together and the house being chaotic; I remember year upon year excitedly trying to stay awake to hear the reindeer bells with my cousins, and then waking up at silly o'clock in the middle of the night and sneaking downstairs to see that Santa had been.
Santa Magic
Ever since my first Christmas as a family with Hubby and Curly, I began writing letters to Curly from Santa and sending him the videos from the Portable North Pole. The look on his face when he read his letter or watched his video was priceless, and I have continued that tradition with the tiddlers too.
1st December Advent Box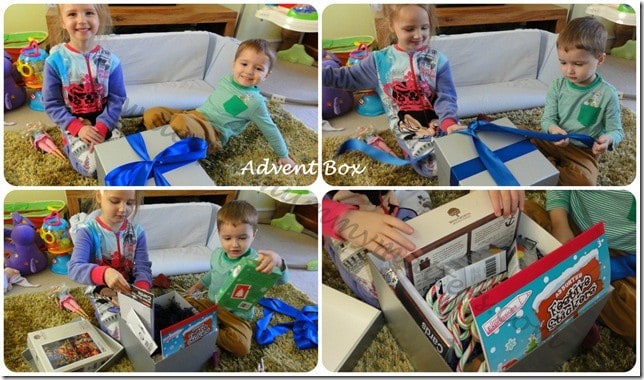 I spoke to Hubby about traditions from his family, and he remembered how his Mum would get out a jigsaw puzzle and leave it out on the table for the whole family to do over the Christmas period, not in one long slog, just in dribs and drabs as the mood took them. Then I saw this post, and an idea began to form. I hunted around the shops to see what little festive goodies I could find and came up with some Silicone Christmas Tree and Stars baking cases, Usborne Christmas Stencils, strawberry flavoured Candy Canes, a book of Christmas Stickers, some plain white cards and envelopes to make our own Christmas cards and two packs of pigment ink stamps for some creative fun. But something was still missing, and then an email landed in my inbox.
Wentworth Wooden Puzzle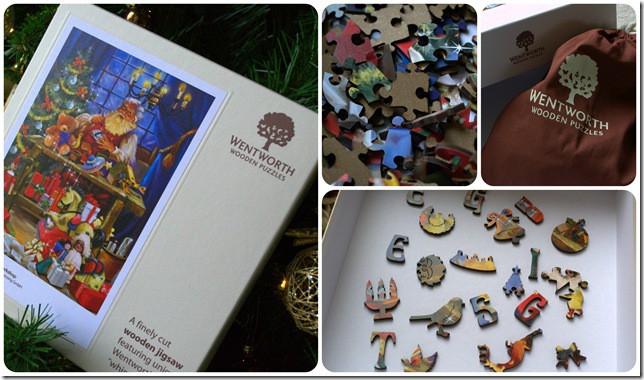 "would you be interested in reviewing Wentworth Wooden Puzzles . . ." perfect, now we could carry on Hubby's family tradition. Hubby and I had a look through the site, where there were sooo many gorgeous wooden puzzles to choose from. Since we wanted this to be a Christmas tradition, we knew that we wanted a Christmas puzzle and were drawn to Santa's workshop's traditional image. The plan is to get a sheet of MDF to build the puzzle on, and then we can slide it under the sofa out of the way and pull it out when we want to do some more because, unfortunately, we don't have a surface big enough and empty enough to leave it out all of the time.
The puzzle arrived beautifully boxed, and when you open the box, it is wrapped up in a fabric drawstring bag, and the aroma of the wooden pieces instantly hits you. I wasn't expecting when I opened the box to find that the jigsaw pieces are far from ordinary, yes they are wooden, but each piece is a work of art. They have been finely cut into the usual jigsaw shapes and a myriad of forms to follow the puzzle's theme, in this case, "Christmas". This is a puzzle that we are going to look forward to completing year on year.
Finley McJingles the Elf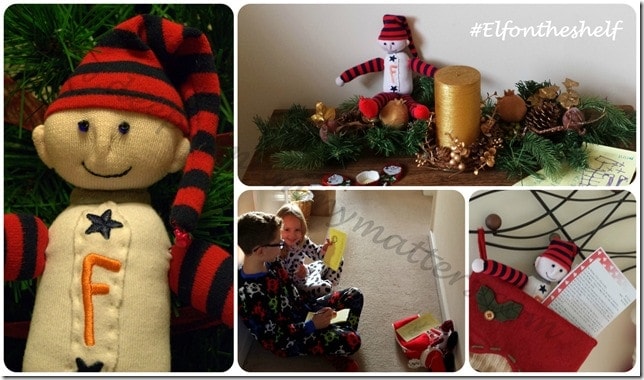 If you're on the internet often enough, you would have to be blind to have not noticed all of the Elves making an appearance this year, more commonly known as the 'Elf on the shelf. I liked the idea of the Elf on the shelf, a magical elf sent by Santa to keep an eye over the children over the Christmas period to make sure they are good and to return to Santa on Christmas Eve. I was not too fond of the somewhat creepy face of the one you can buy online, so I decided to make my own.
I didn't use a pattern; I just made him up as I went along. I wanted our Elf to be a special one with meaning, so I used one of my favourite baby sleepsuits, which Jelly Bean had outgrown from The Essential One and then I used a cut-up sock to make his head, hands and feet. I used one of the letters from the suit's chest to be his initial on his front, and then we decided to call him Finley McJingles.
He arrived a little late (he fits with the family so well!!) and came with his letter from Santa and a Passport (which I made on Microsoft Publisher), and in the beginning, I don't think the children believed him. They didn't notice me watching them when they stuck their tongues out at Finley, so the next time they were out of sight, I pulled down the Christmas stockings and advent calendar in the hall and sat Finley on top.
When they spotted him on the floor, they couldn't understand what had happened, so I questioned whether they might have done something to upset him. Timidly they told me how they had stuck their tongues out at him and realised their mistake. The next time I looked out at them, they were sitting on the floor drawing pictures for Finley to say sorry, and in return, he left them a Chocolate Lolly each to say he had accepted their apology and now they have indeed bought into him.
They look for him every morning when they wake and return from school. They leave him little gifts and talk to him. I'm hoping that Finley will be able to return each Christmas for many years to come before the magic is broken.
Christmas Pyjamas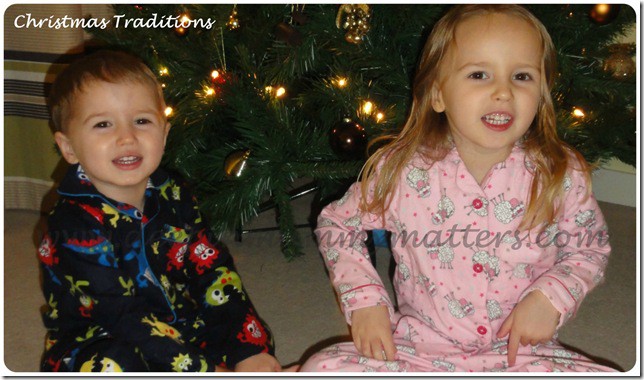 Every year on Christmas Eve, when the children climb up the stairs to bed, they find a present on their beds waiting for them. In this parcel, they always find a new pair of Christmas Pyjamas. This is a ploy for Mummy to get lovely photographs on Christmas morning with them all looking sparkly and fresh, but to them, it's the sign of the morning to come.
Do you have any Christmas traditions? How do you keep the magic of Christmas alive?
DISCLAIMER: We were sent the Wooden Puzzle free of charge for this post. All words, opinions and images are my own and may not be copied without my permission. I have not been instructed what to write.