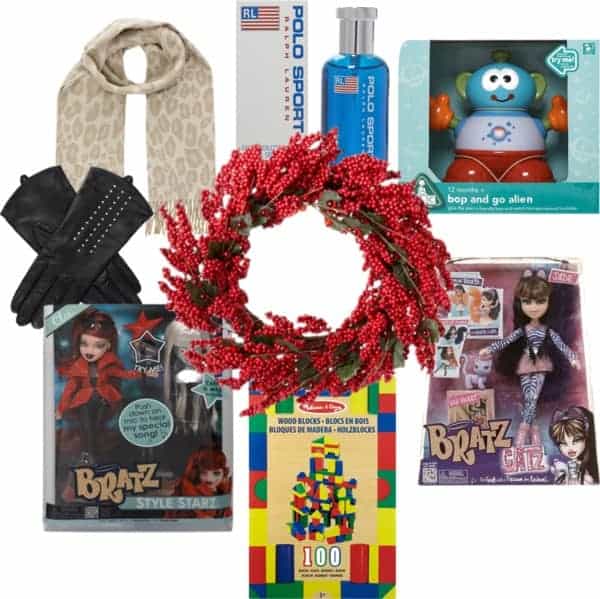 Can you believe that we are just six weeks away from Christmas, where on earth has this last year gone? In six weeks, we will be celebrating Jelly Bean's first Christmas and our first Christmas together as a family of six – wow that sounds big when you say it out loud!! Now that we have four children to buy for we have to shop very carefully because our purse strings haven't increased with our children so we have to make our money go a little bit further.
I was asked if I would like to give TK Maxx online a whirl to get me started with my Christmas Shopping and I couldn't have been more over the moon. TK Maxx is one of my major 'go-to' shops no matter what I'm looking for because they cover just about everything and anyone. Whenever I visit a new town for shopping I have an in-built homing device for the nearest TK Maxx I swear it!
I was given a budget of £120 to see what I could buy and I'm pretty impressed with my little lot. (These aren't the exact items which I purchased, they are out of stock already so I couldn't grab the images but they are similar).
TK Maxx's tag line 'Big Brands, Small Prices' is spot on because I saved all round with all of these items which means that I have more money to spend on presents for the rest of the family.
Christmas Wreath -£16.99
Ladies Scarf – £9.99
Ladies Gloves – £14.99
Bratz Dolls – £12.99 each
Men's aftershave – £29.99
ELC Toys – £9.99
Building Blocks – £9.99
Grand Total – £117.92
Shopping online is also extremely convenient when you have children, especially now that they are of an age where they pay attention to what I am buying. Gone are the days of sneaking their presents under the pushchair. Shopping from home also means that I can get Hubby more involved in the buying process too, it helps to have someone else's opinion because I tend to get tunnel vision and come back to the same old favourites instead of thinking outside the box a little.
The only thing that I will say about shopping at TK Maxx is that you need to grab things when you see them because they get snapped up quickly and there are no guarantees that they will get more of them in, it's just the luck of the draw. Grab your bargains whilst you can!!
Where will you be doing your Christmas shopping this year?
DISCLAIMER: I was given £120 credit to spend online at TK Maxx for the purpose of this post. All words and opinions are my own and may not be copied without my permission. I have not been instructed what to write.