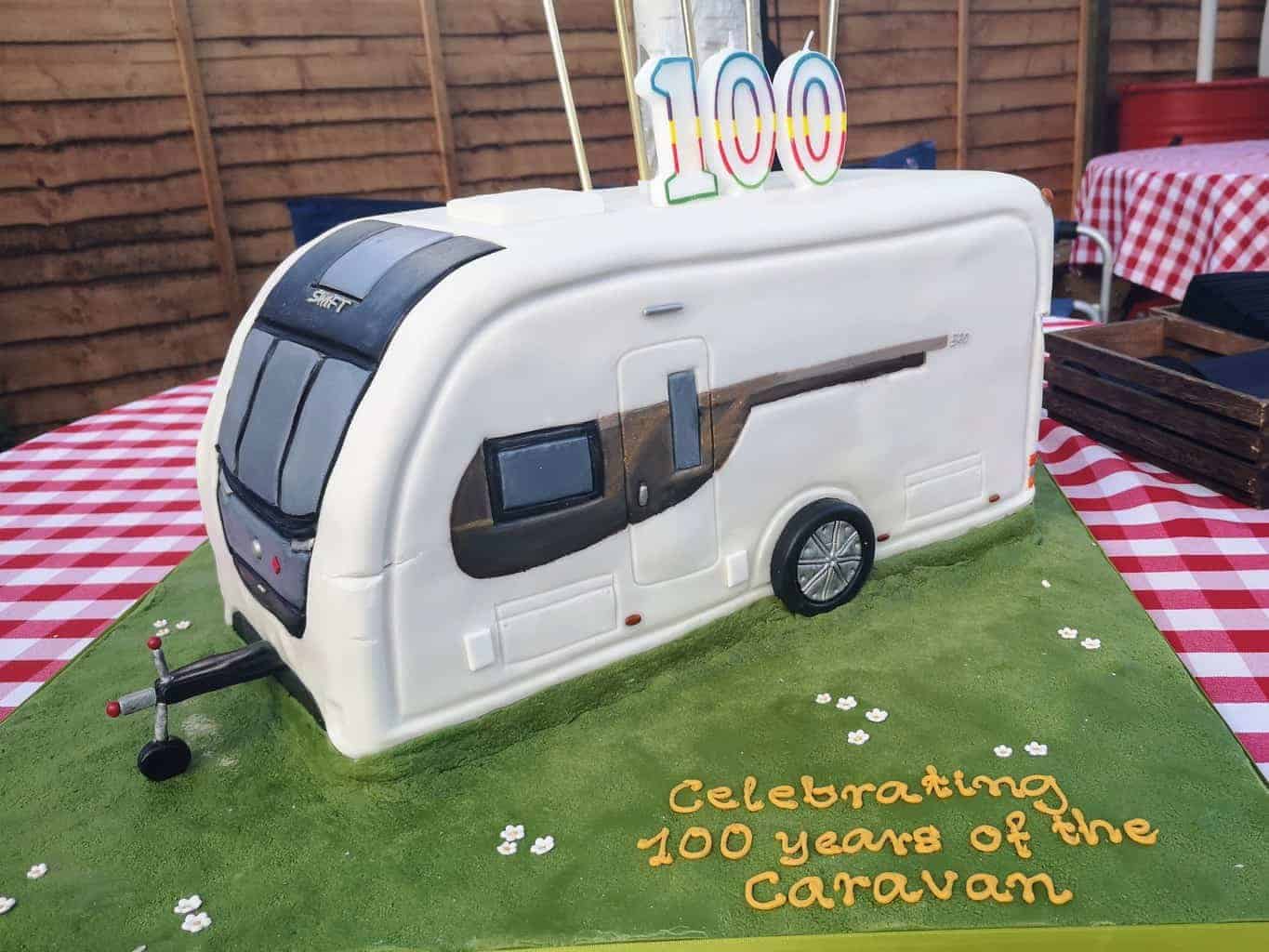 Celebrating 100 Years of the Caravan plus giveaway
Last Tuesday I was invited to spend a surreal evening on board a floating campsite on the Thames to celebrate 100 years of the Caravan with Julia Bradbury and a few celebrity friends.

We celebrated with a glass or two of bubbles and a specially created vegan Caravan birthday cake (which was delicious).
100 Years of the Caravan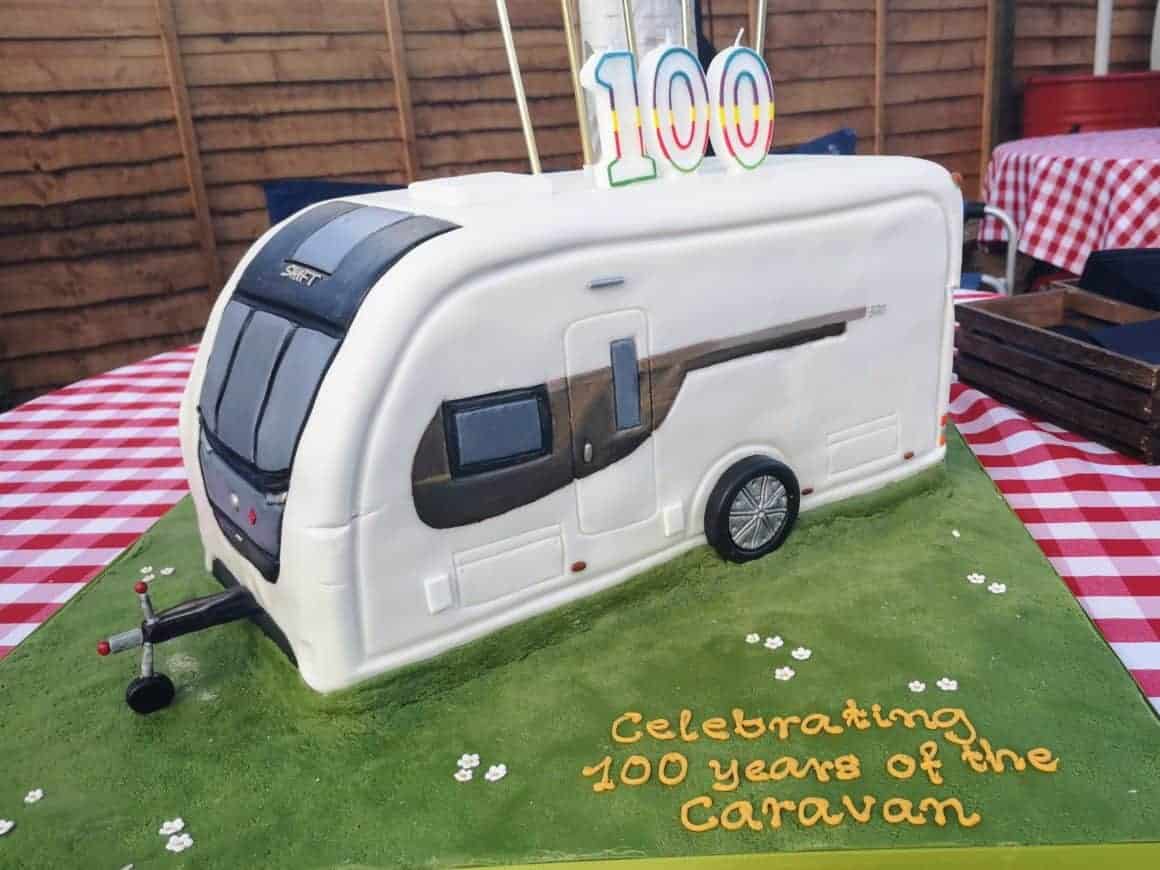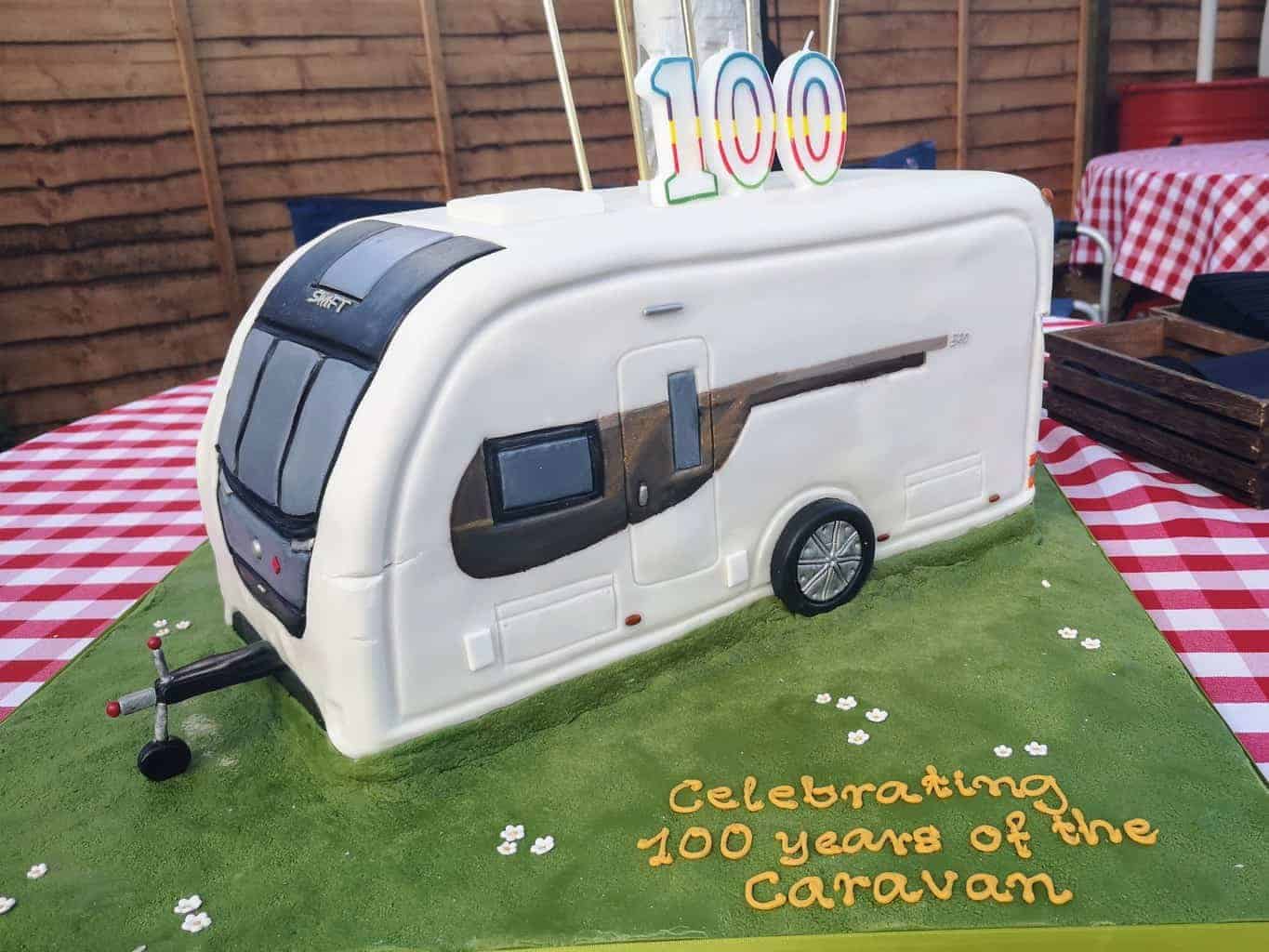 The Camping and Caravanning Club hosted a birthday party for the Nation's favourite mobile home as it celebrated its 100th birthday.
The first production caravan, the Eccles, a brand still in production today with the Swift Group, was made in Birmingham in 1919. The Eccles cost £90 when it launched (£5,000 in today's money).
Julia Bradbury's bed for the night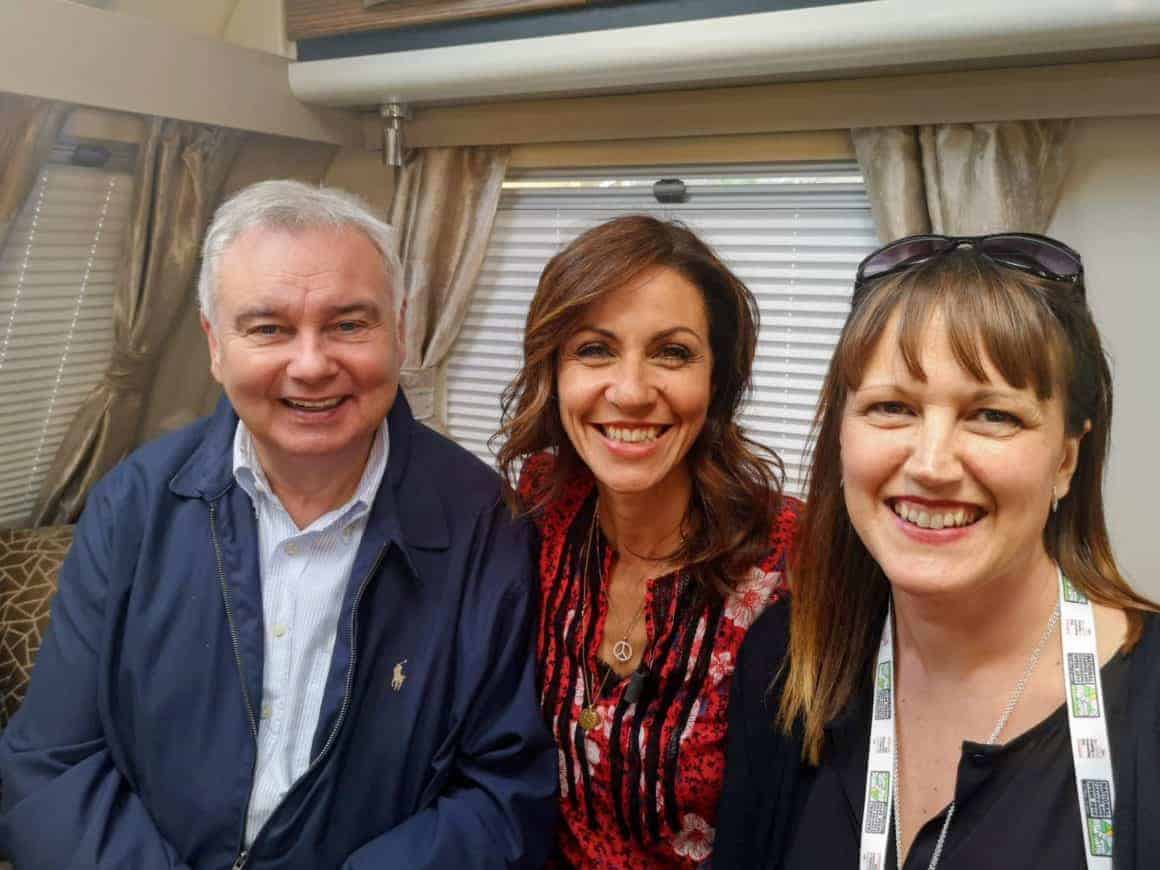 Julia Bradbury, TV presenter and President of The Camping and Caravanning Club celebrated the caravans birthday by staying overnight on the floating campsite which was moored near Tower Bridge in London on Tuesday 21st May.
It's not the first time that Julia has camped in an exclusive central London location. In 2016 Julia launched National Camping and Caravanning Week by spending the night in a tent on top of The O2 Arena.
What's on a floating campsite?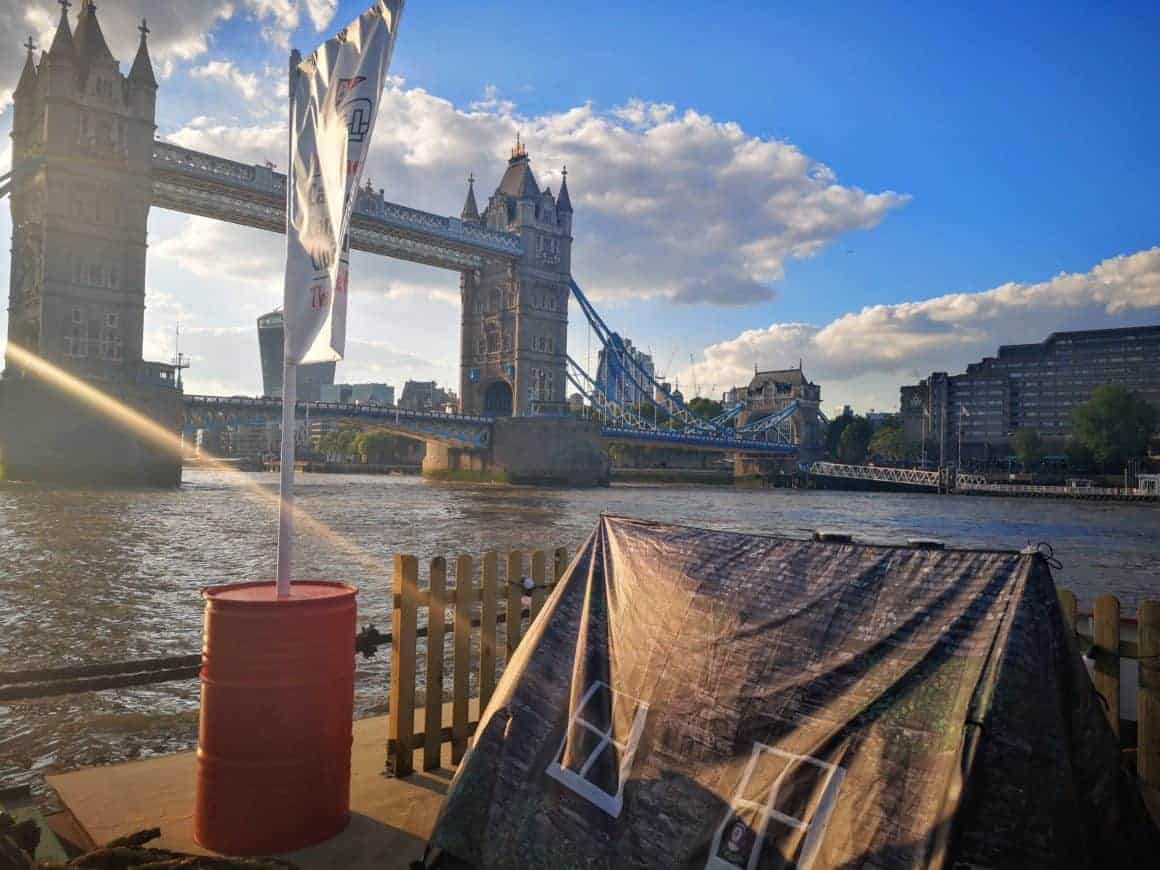 When I received the invitation to attend the VIP Birthday Party with mention of a 'floating campsite' I had no idea what to expect. The unique campsite was created for everything that you need to have a memorable camping experience including the Eccles 560 caravan, barbecue, outside table and chairs and, of course, a tent, featuring the World's Smallest Pub design by Field Candy.
Eccles 560 Caravan – Your chance to WIN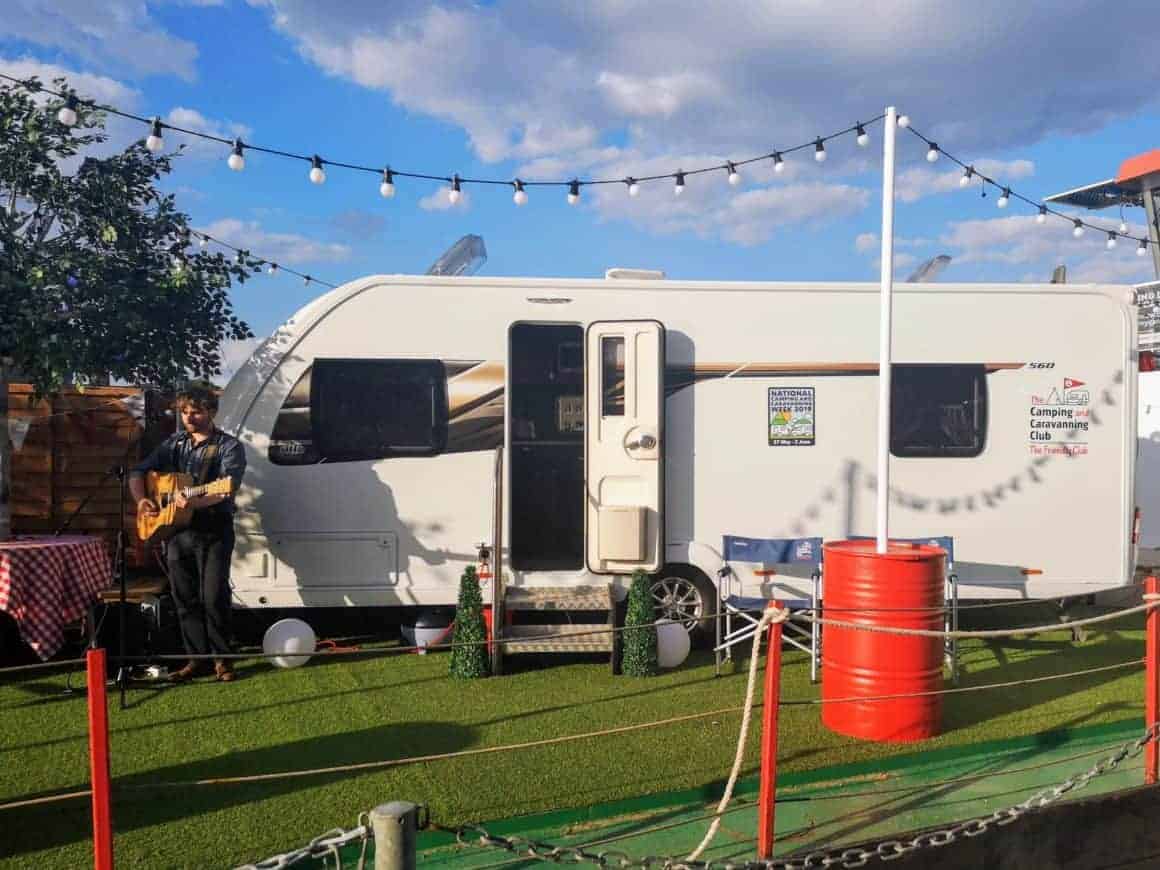 The caravan which Julia stayed in is the Eccles 560, a fabulous caravan with a large double bed with ensuite shower room, fully-equipped kitchen and state-of-the-art app for your phone which controls the interior lights, heating and hot water. Now you have the chance to win a new Eccles 560 caravan including Vango awning, worth £26,500, click here to complete the entry form. Caravanners are also invited to share photos of why they love caravanning on social media using #lovemycaravan for a chance to win an Outwell awning. Head to www.nccw.co.uk for further details.
Did you know?
There are more than 870,000 caravans registered in the UK
The first touring caravan to reach the Arctic Circle was an Eccles in 1939
£9.3bn in visitor expenditure is generated by UK holiday parks and campsites, together contributing over £5.3bn to the UK economy each year
Caravans cost from £1,500 for a pre-loved unit, whilst a standard starter unit would typically cost around £14,000
Early caravans were made using wood, often lined with hardwoods such as mahogany which made them very heavy.
The Camping and Caravanning Club run caravan manoeuvering skills courses for their members to help them learn more about towing.
To see the rest of the photographs from our evening please head over to my Facebook page.