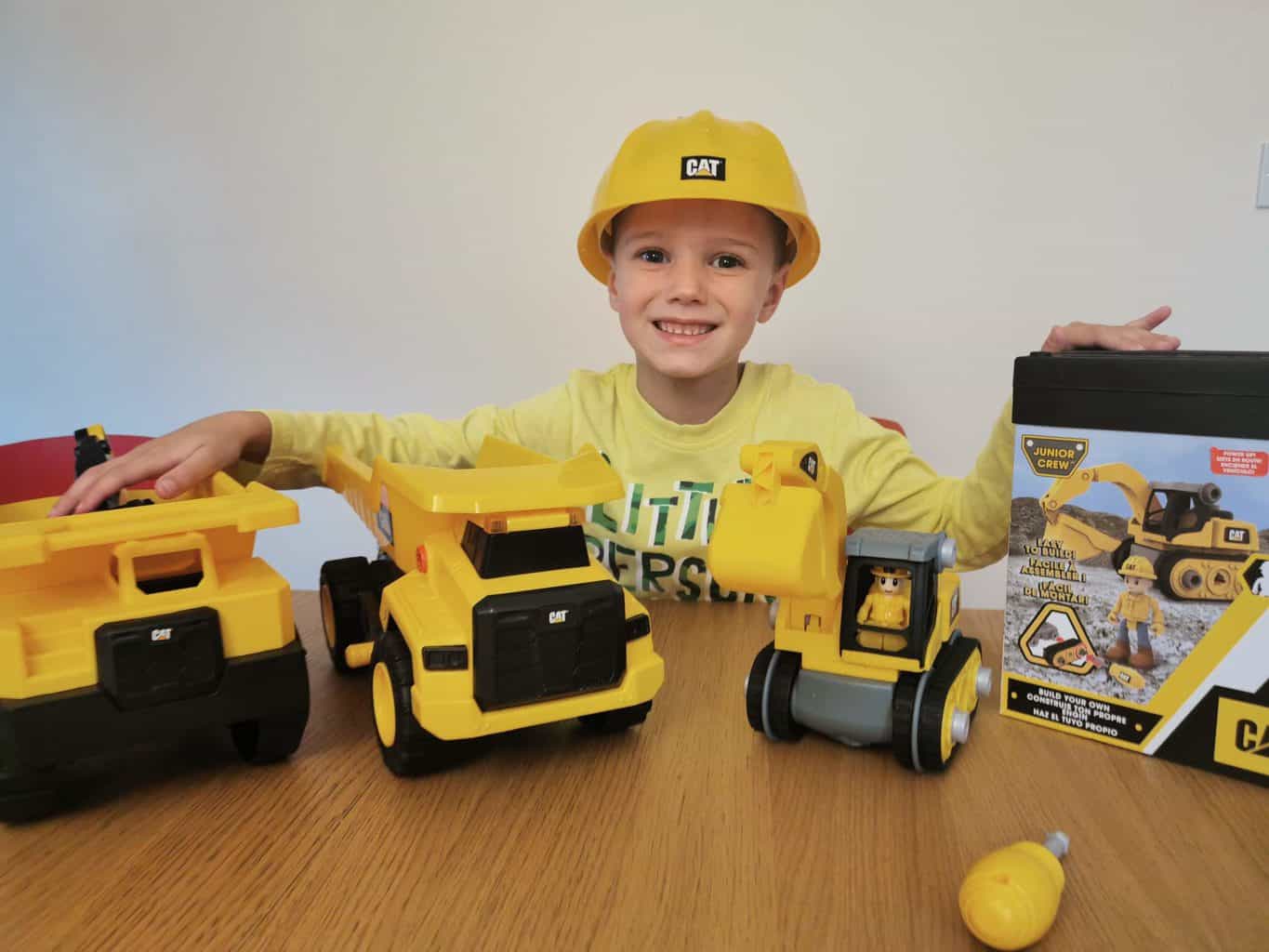 CAT Construction Vehicles – Let's Do The Work!
Albie has been a very lucky boy and received a lovely box of CAT construction vehicles ahead of Christmas. I really hope he's on the nice list this year! He has always been the boy who loves anything with wheels, tracks and steering wheels so I knew this would be the perfect surprise for him. His face lit up when he opened the box and took stock of what was in front of him.
CAT Construction Vehicles
Funrise toys launched their new range of Cat® Construction ( globally recognised construction equipment manufacturer) vehicle toys earlier this year and if Albie's reaction is anything to go by, they are going to be very popular. Their tagline is "Let's Do The Work" which is perfect because Albie couldn't wait to get stuck in.
Cat® Construction Fleet Sand Set-Dump Truck Vehicle (£14.99)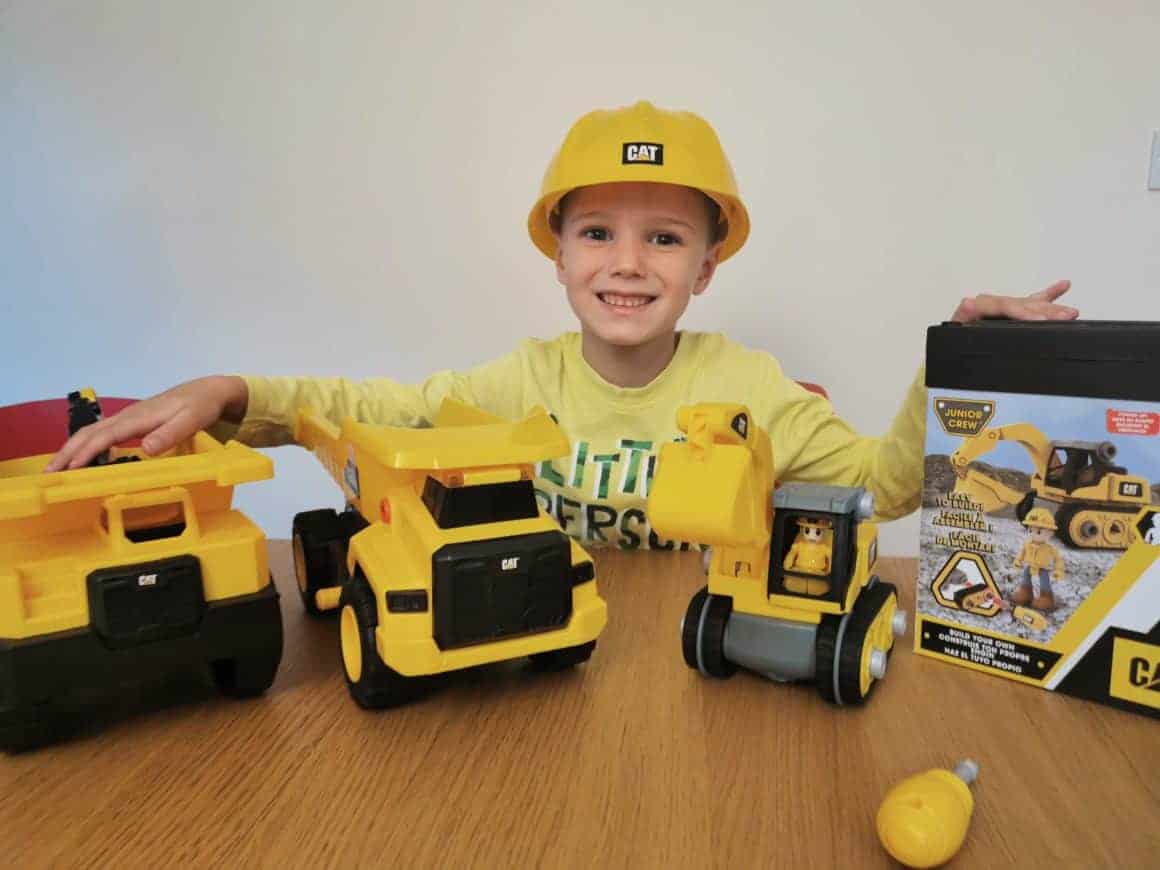 The perfect accompaniment to outdoor play (unfortunately our garden is currently out of bounds but that won't spoil Albie's fun). The Cat Construction Fleet Sand set including a push-powered 10″ vehicle, iconic yellow hard hard, shovel and rake. Albie loved that the hat could be adjusted to fit his little head perfectly as this is something we have struggled with previously for fancy dress items.
The articulated vehicle has moving buckets and booms for lifting and moving. Albie said he thought it would be fun to try lifting and tipping ice cream, funnily enough, I didn't fancy trying it! Bad Mummy!!!
The shovel and rake can be used separately or can be clipped together to help with the excavations.
Cat® Junior Crew Build your own vehicle sets (£12.99)
The Build Your Own Vehicle has been Albie's toy of choice for weeks now, he just cannot get enough of using the supplied screwdriver and bolts to take the construction vehicle apart and then put it back together again.
Albie has always had a keen interest in knowing 'how things work' and how they fit together so this toy, in particular, satisfies his need to deconstruct and reconstruct. Each Build Your Own Vehicle comes with a driver action figure to enrich the role-play fun.
If you have more than one Cat Build Your Own Vehicle the parts can be mixed and matched to create custom build vehicles for your fleet. They also come in a handy carry case which is great if they take it apart one day and don't want to rebuild. Just pop it in the case and build it again another day.
Cat® Power Haulers Assortment (£19.99)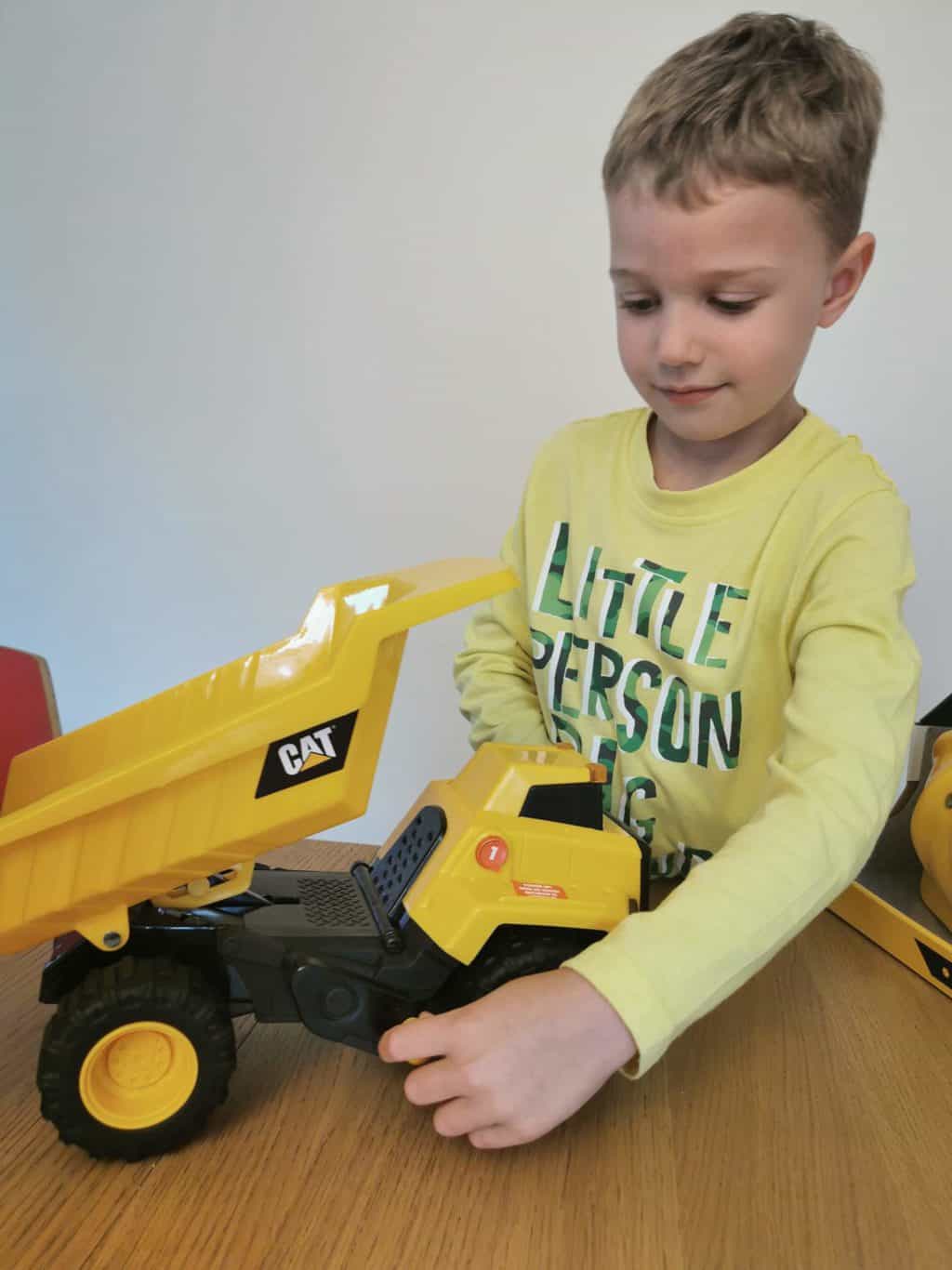 The Cat Power Haulers feature Motion Drive Technology which shits the fun up a gear. As children push the vehicle forward the Power Hauler revs the engine and the lights begin to flash. Move the Power Hauler backwards to hear the reversing sound and move the bucket or dump bed to hear the hydraulics in action and flash the lights. This is such a good toy to not only teach little ones how they work but also the important reversing sounds. When we were out recently Albie heard the reversing sound and told me to be careful because he could hear a lorry moving backwards. Thank you, CAT!
You can find all of these and more Cat Constructions Vehicles from Funrise on Amazon, Ocado, Debenhams and John Lewis.