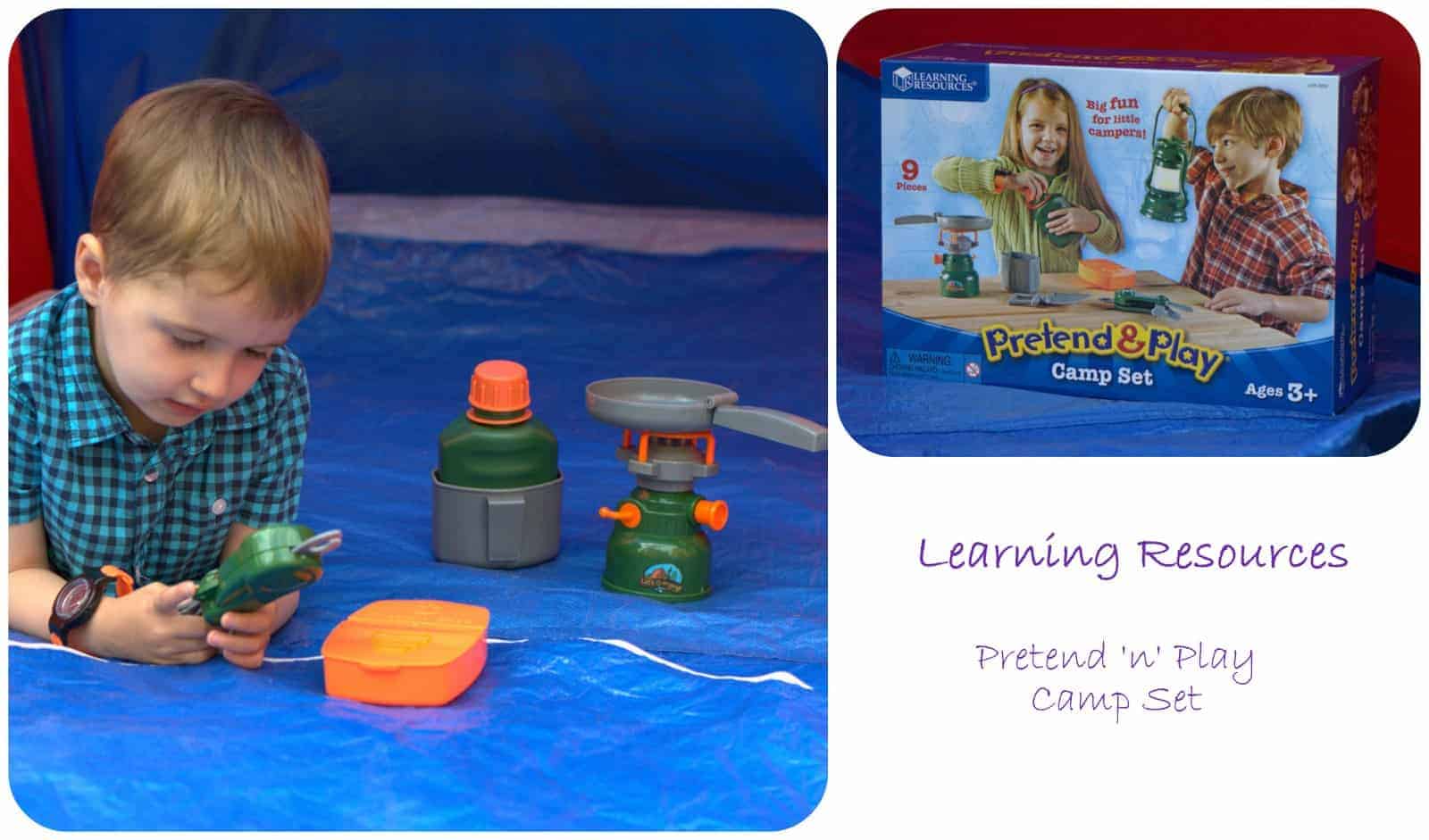 Camping with the Gruffalo and Learning Resources
Yesterday started out like any normal day, in fact most of the day was normal until we returned home. Beanie Boy, Jelly Bean and I were playing in the garden (as you do). We set up a beach shelter in the garden as our 'den' and opened up a box of goodies from Learning Resources; the Pretend & Play Camp Set and that's when it all changed . . .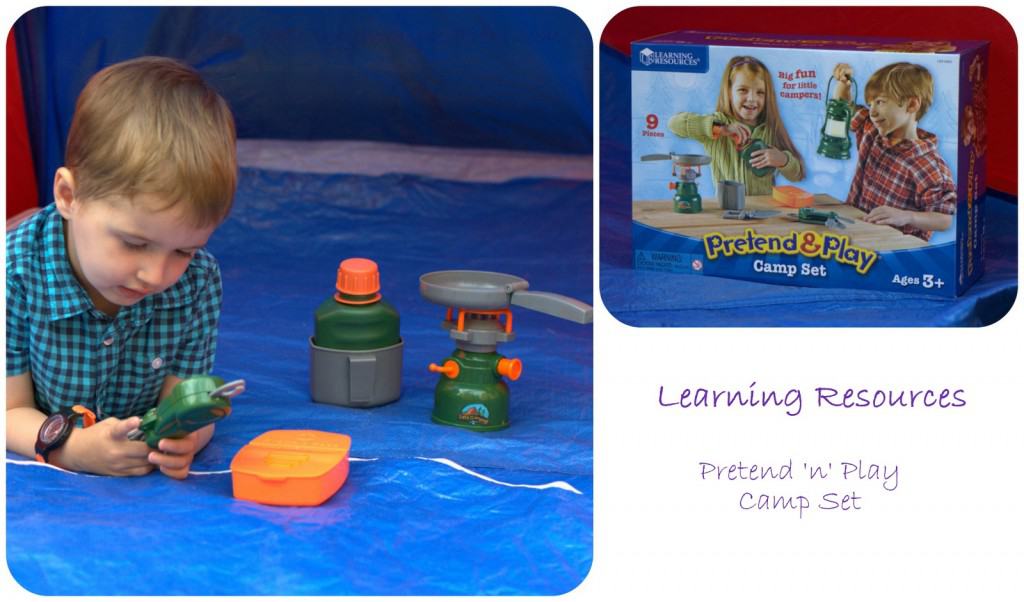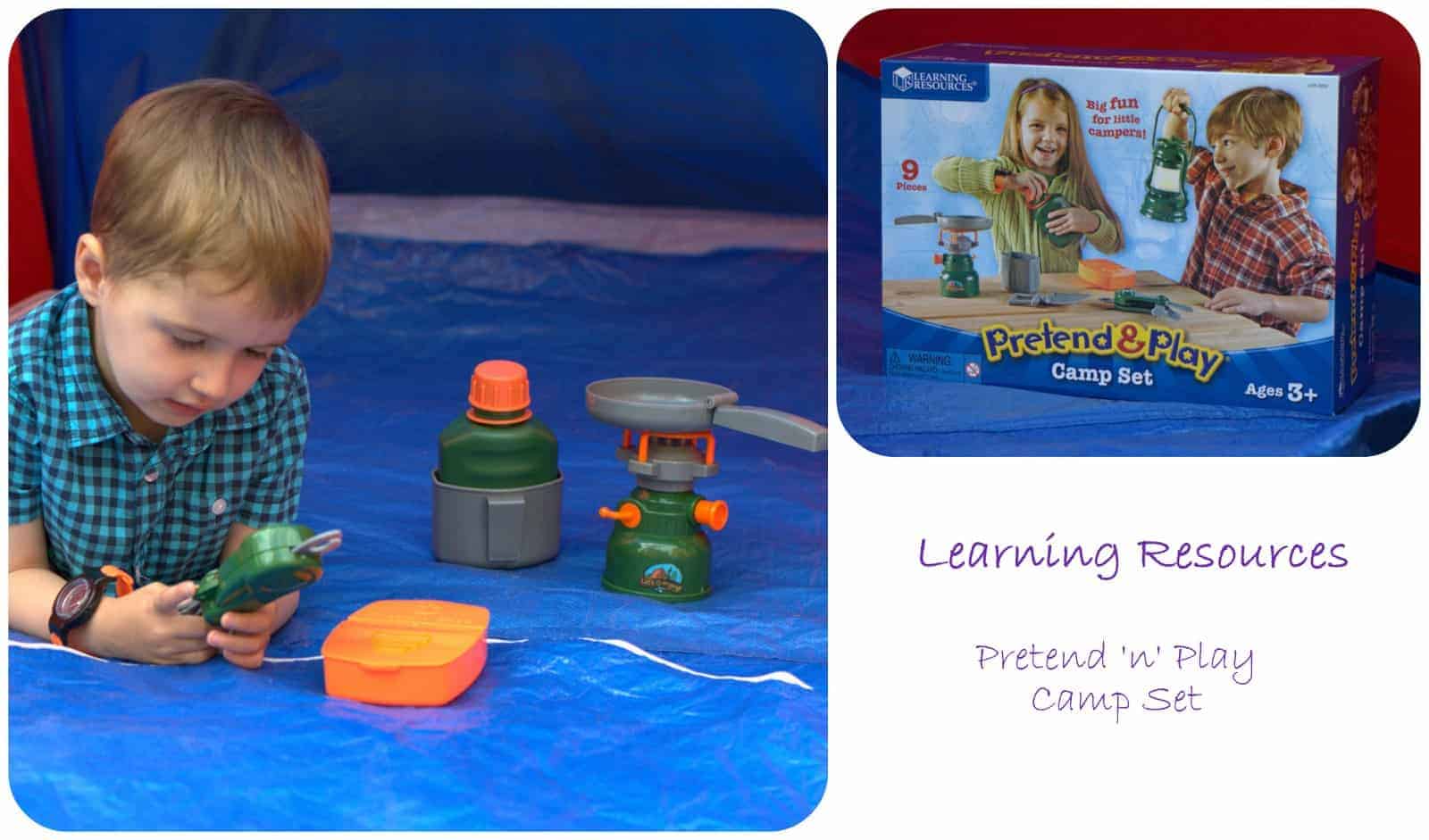 Beanie Boy offered to cook me some dinner but then we realised we hadn't packed any food so we thought we would forage in the garden to see what we could find. We used the little trowel to dig down into the ground in the hope of finding vegetables, then we remembered we haven't got a vegetable path so Beanie Boy suggested a 'Bug Stir Fry' served on a bed of grass with chocolate ice cream. When I asked him where we were going to find chocolate ice cream he said that he was sure he could sneak some from the freezer – good thinking!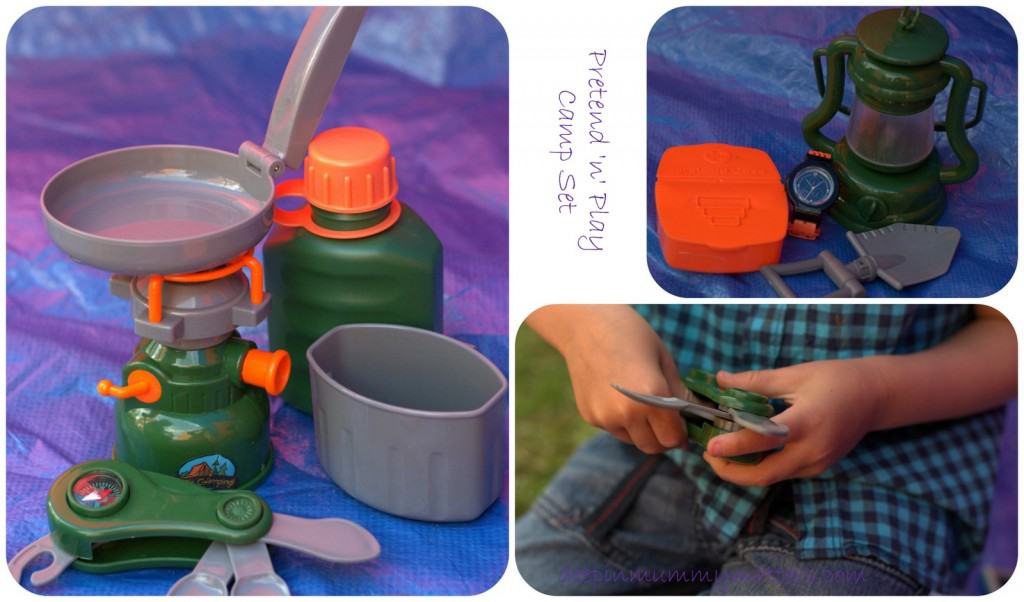 The next challenge was finding our way back to the kitchen in order to raid the freezer but have no fear the Camping Set came to our rescue again in the form of a Utility Tool complete with Knife, Fork, Spoon, Tin Opener and Compass. Together we used the Compass to find our way back to the kitchen where we raided not only the freezer but I managed to convince BB that perhaps getting something from the cupboards would be a little tastier than a Bug Stir Fy and to my delight he agreed! We also grabbed the opportunity to fill up our water bottle with fresh water from the tap as the paddling pool water just didn't look fresh enough to drink.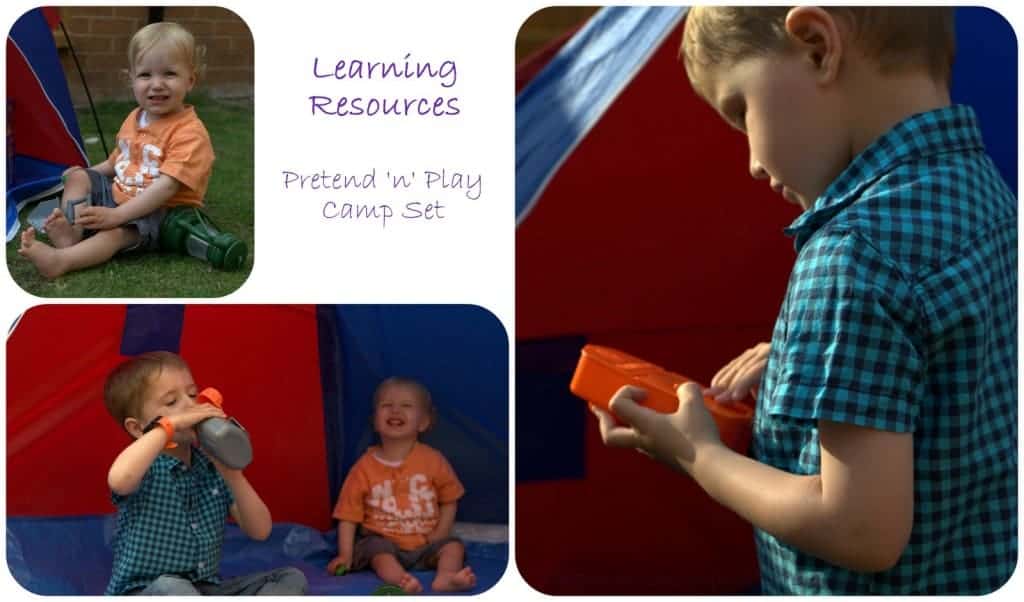 On the way back to our den Beanie Boy thought he heard someone crying so we peaked under the trampoline and there wimpering in the corner was none other than the Gruffalo! BB said that he wasn't scared of the Gruffalo, he had read the book so many times that he said he was just like a big funny looking teddy bear really, so he crept under the trampoline and sat down beside the him. He carefully patted his back avoiding the purple prickles and asked the Gruffalo what was wrong. He said that he had been out for a walk when he got chased by a grizzly bear into our back garden and then he got trapped under the trampoline when one of his purple prickles got wedged in a spring. Now he was hungry and tired and he just wanted to go home. BB very cleverly suggested we used the can opener on our utility tool to prise the spring open just enough to set the Gruffalo free and so we did, and he was free! But not without injury, in all of his struggling earlier he has scratched his back and it was bleeding a little. BB remembered that back at the den we had a First Aid Kit so we invited the Gruffalo back for some tea and a plaster for his poorly. The Gruffalo was so grateful that he offered to carry BB back to our den so that his legs didn't get tired.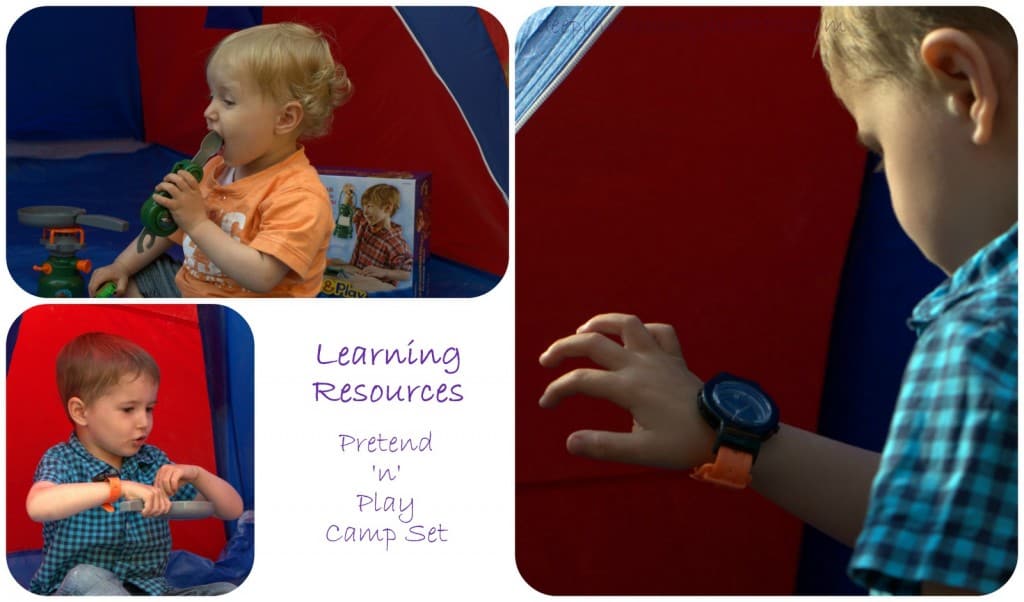 Back at the den we were all starving so we fired up the stove and cooked up yummy pancakes (the Gruffalo sprinkled his with sand instead of sugar YUCK!) we ate so many pancakes we thought our tummies might explode!! Once teatime was over we sat around the camping stove to keep warm – I don't know how many times we had to sing Twinkle Twinkle Little Star but when Beanie Boy looked at his watch it was nearly 10pm and it had started to get dark so we switched on the Lantern which made it feel so cosy we all fell fast asleep snuggled up together until morning.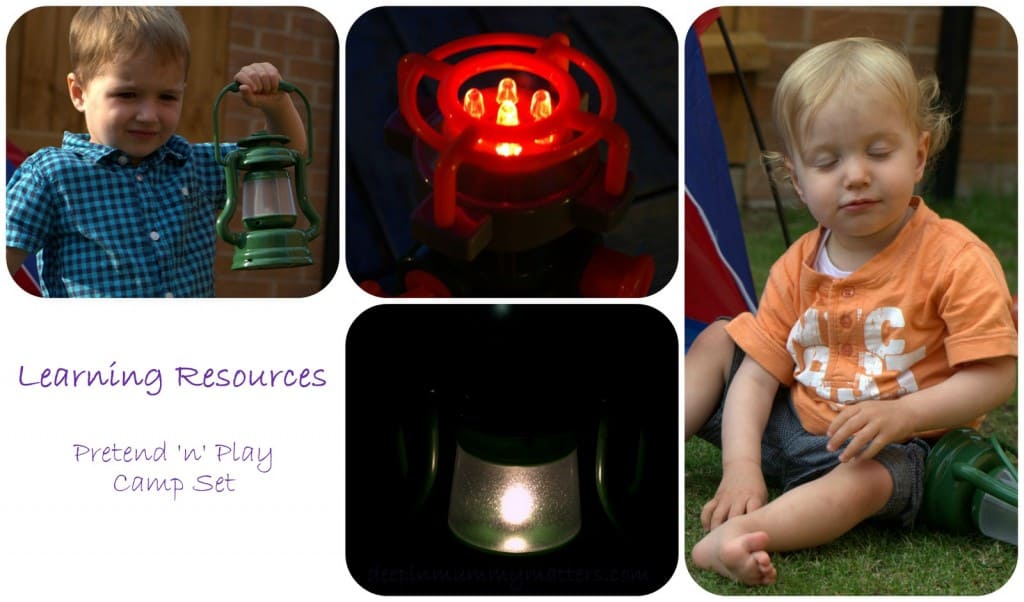 We woke up to the sounds of Daddy calling "Tea's ready" but sadly the Gruffalo was gone and it turned out the whole adventure had just been in our imagination but we had sooooo much fun we can't wait to do it all over again another day!
The Pretend 'n' Play range is perfect for inspiring playtime and letting their imagination take over. In the Camp Set, the Lantern and Stove both require 2 AA batteries which are not included in the box. The Lantern is surprisingly bright and also makes a great night light, the Stove has red/pink lights to emanate the flames from the burner and can be rotated up and down to 'turn up the heat' making play more realistic. I shall be taking the Beans camping in the summer holidays with my Mum so this is a great way to introduce them to it before we get there and I'm sure we will be packing our 'Camp Set' too.
DISCLAIMER: We were sent the Pretend 'n' Play Camp Set for the purpose of this review. All words, images and opinions are my own and may not be copied without my permission. I have not been instructed what to write.