Bonusprint Photobook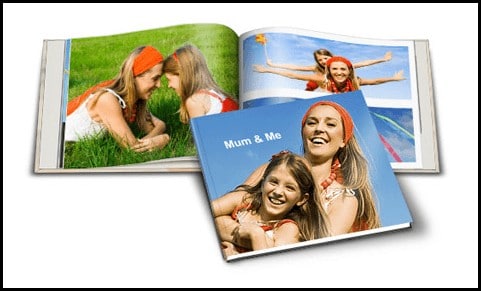 You may recall that at Christmas I used the Bonusprint Photo Gift service to make gorgeous Christmas Cards for our friends and family using some snaps I had taken myself. Well today I have used the Bonusprint Photobook program to create a beautiful photobook of some my most treasured photographs.
I have used a couple of different companies in the past to create photobooks and found their programs to be a little complicated and not very trustworthy as they have crashed just at the moment that I hit save, losing hours of work. The Bonusprint program was a breeze, using a simple Browse function I was able to easily select the photographs I wanted to include in my photobook and then upload them easily to the program. When you download the program from Bonusprint you have two options you can actually download the program to your computer so that you can work offline or you can build your photobook online.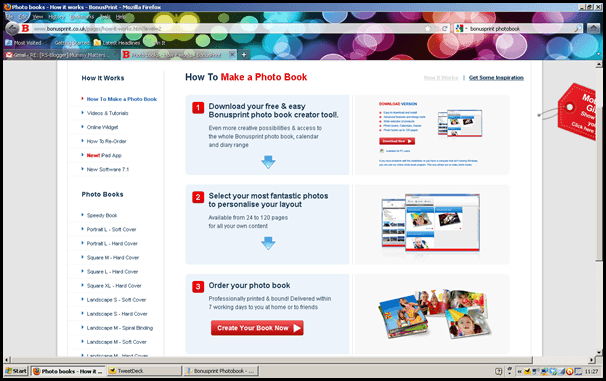 My tip for making the process simple is to go through all of your photographs and create a new folder on your desktop entitled "photobook" and copy the photographs you want into this folder. Then when you are creating your photobook you only need to open one folder, select all and upload without having to fish around in all your folders to find the pictures that you want. Once the process is complete you can simply delete the folder (providing you have copied and not moved your photographs) to save space on your hard-drive.
When creating your photobook you personalise it as much as you like by selecting different page layouts and backgrounds to compliment the photographs. You can add text to remember specific dates or events or even if you have a funny caption you want to include. Since the digital age of photography our pictures are better, sharper and brighter but I do think we have a tendency to not look at them so much because they are not physical. A photobook is the perfect answer to this, all of your photographs in one special place together to show to friends and family without having to gather around a computer screen.
Why don't you make one for Mother's Day? Or perhaps you could make one of the other great gifts, wall art, greetings cards or even a personalised iPhone cover? Photobooks and Calendars need to be ordered by midnight tomorrow night (Sunday 11th March) and all other orders for Mother's Day gifts need to be placed by midnight on 13th March.