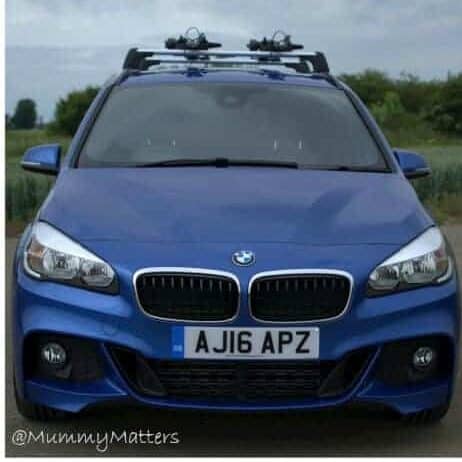 BMW 2 Series Gran Tourer Adventure #1 – Little Bean's Birthday Treat
Where on earth does the time go? It doesn't seem 5 minutes since I was laid in a spa having a relaxing massage for my 40th Birthday and now Little Bean has turned 8 years old, we have celebrated our 9th Wedding Anniversary AND we have had the beautiful family car BMW 2 Series Gran Tourer in our lives for 3 weeks!! I was almost tempted to sell my car and swap it as I forgot how much I loved driving a BMW.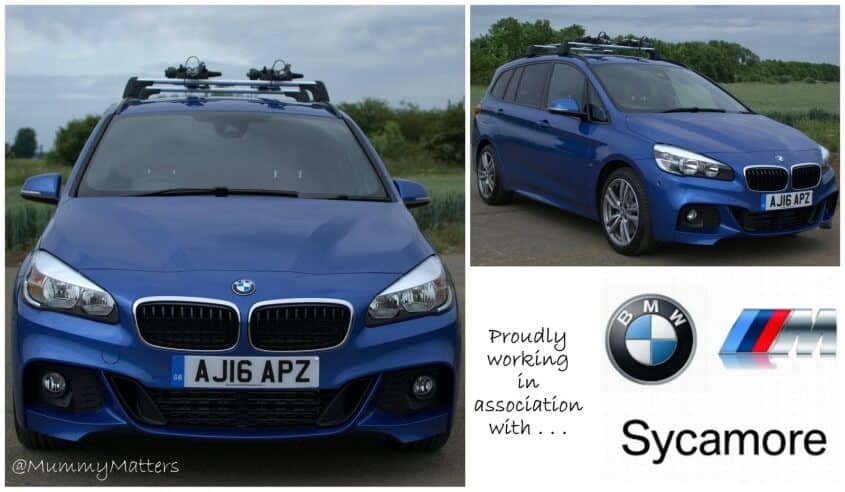 When the Gran Tourer was delivered to me, it was Half Term and pouring with rain, I mean like a cloud burst type of rain. It was a pretty abysmal week as far as the weather was concerned so we had no intentions of going anywhere other than the confines of our front door. Then as the week drew to a close and the weekend showed it's face it was time to celebrate Little Bean's 8th Birthday with her friends and that meant ferrying four very excited girls to a special pony-riding treat. In hindsight, taking the Gran Tourer to the stables which are all sandy and muddy perhaps wasn't the best idea as it did get more than a little dirty but hey, it all washes off right!
Behind the wheel
Apart from a quick jaunt to the supermarket for some groceries and dropping the boys off at holiday club, this was the first time that I would get the chance to drive the Gran Tourer any distance and I couldn't wait. Sitting behind the steering wheel of a BMW is always a great experience, you instantly feel that you are part of the car and this is helped by their super-comfortable seats. In the Gran Tourer I even have a button on the side which makes it feel like the car is giving you a hug – really! The wings of the seat could be moved in (for me) and out (for Hubby) so that the seat back really fitted around me. I also like the seat-extender which can be pulled out to support the backs of your knees if you have long legs like me.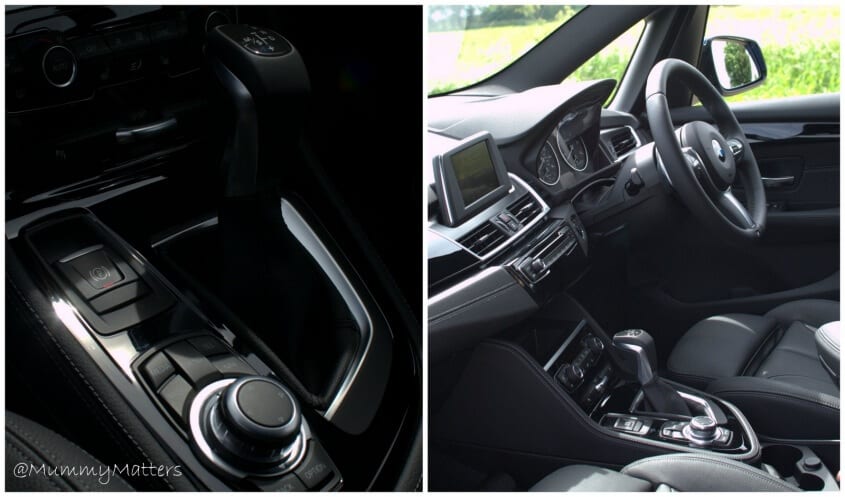 Once comfortable in my seat it was time to take a look at the rest of the driver's area which felt like it had been custom-made for me, everything was exactly where I needed it, from the 6.5inch control screen to the iDrive controls, and the clear dashboard.
The Gran Tourer features the Comfort Go button so once you are in the car it senses your keys and with your foot on the brake pedal and a quick push of a button, the car starts ready for the off. The model I am driving is the 220d XDrive MSport Gran Tourer with Sports Auto Transmission and Driver Comfort Package. This means that I can just drive and enjoy the car, I don't have to worry about changing gear (unless I want to pop it into manual and then I am back in charge). The Park Distance Control (front and rear) is a godsend when parking with audible tones and a reversing camera so you can see exactly where you are going. I haven't tried the Park Assist yet but I will soon.
Filling up the seats
Once the girls had decided who was sitting where, they each piled in. Two in the middle row and two in the back row. One of Little Bean's friends is a very tall girl and doesn't need a booster seat so I was a little worried that she might be a little squashed in the back row but I needn't have worried as she said that she was very comfortable and had ample leg room. The two outer seats on the middle row are Isofix if you need them (I use Isofix for the boys' seats). Using Isofix seats can be a little bulky but using an average booster seat you can fit three seats along the middle row side by side. This is a family car designed to transport a real family!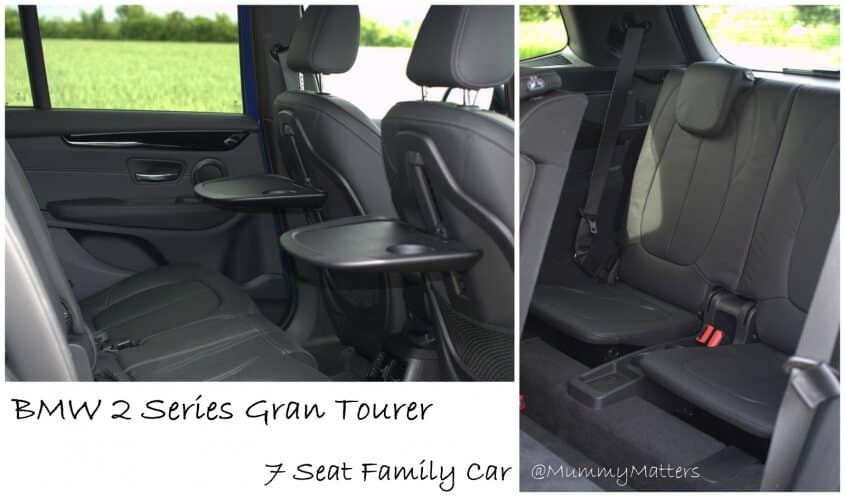 Getting into the back row of seats is done via folding the middle row forward. This is fine if you have a booster seat (or no child seat at all) but with an Isofix this becomes a bit more of a struggle as the seat will not push forward very easily. Getting out of the back is a little awkward for an adult but the children manage it without any problems at all. I have actually found the arguments come because they all want to sit in the back row but there are only two seats so inevitably someone is grumpy.
In between the two seats on the back row is a pair of cupholders which the girls thought was great (even though I wasn't letting them eat or drink in the car).
Depending on who is in the car at the time you can move the middle row of seats forwards and backwards to give either set of seats more legroom. With all four girls in the car, they all said they had plenty of room and you can see that by the way they were dancing around!!!
Storage
Take girls anywhere in a car and there is one thing you are going to need lots of and that's storage! What is it with girls and their inability to leave the house without everything but the kitchen sink? In the rear seats there are little elasticated side pockets which are perfect for storing snacks, mobile phone or mini-games console and in the middle row of seats we have fold-away tables on the back of the driver and passenger seats, cargo nets underneath for storing pens, books, small toys and snacks. There are deep door pockets with spaces for drinks bottles and whatever else people store there and underneath their seats are further elasticated pockets which would be ideal for storing toys, books, magazines, snacks or in the girls' case – their rosettes from their pony riding.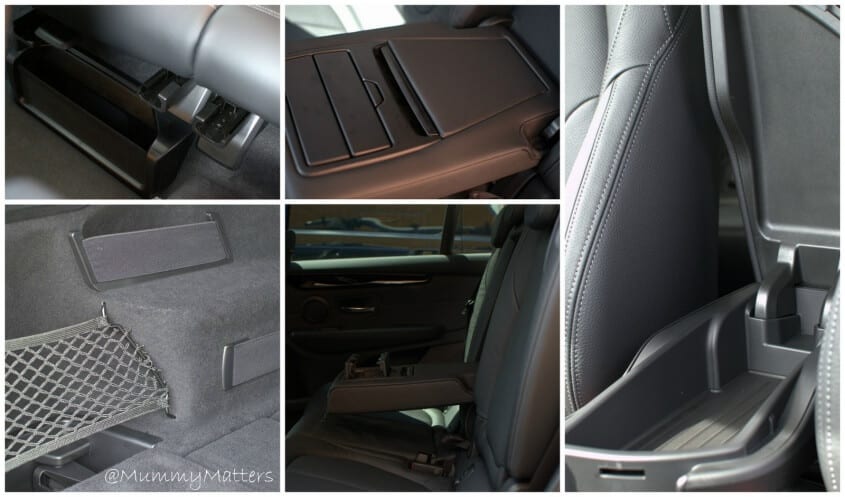 With the girls coming for a sleepover I had to take home all of their overnight bags as well as their presents for Little Bean which all fitted easily into the boot space, even with the rear seats up. I had to take my hat off to the Gran Tourer family car it was certainly ticking all the boxes so far.
DISCLAIMER: I have been provided with the BMW 2 Series Gran Tourer family car for a period of time to by Sycamore Peterborough allow me to fully road test and enjoy with my family. All words, images, videos and opinions are my own and may not be copied without my permission. I have not been instructed what to write.