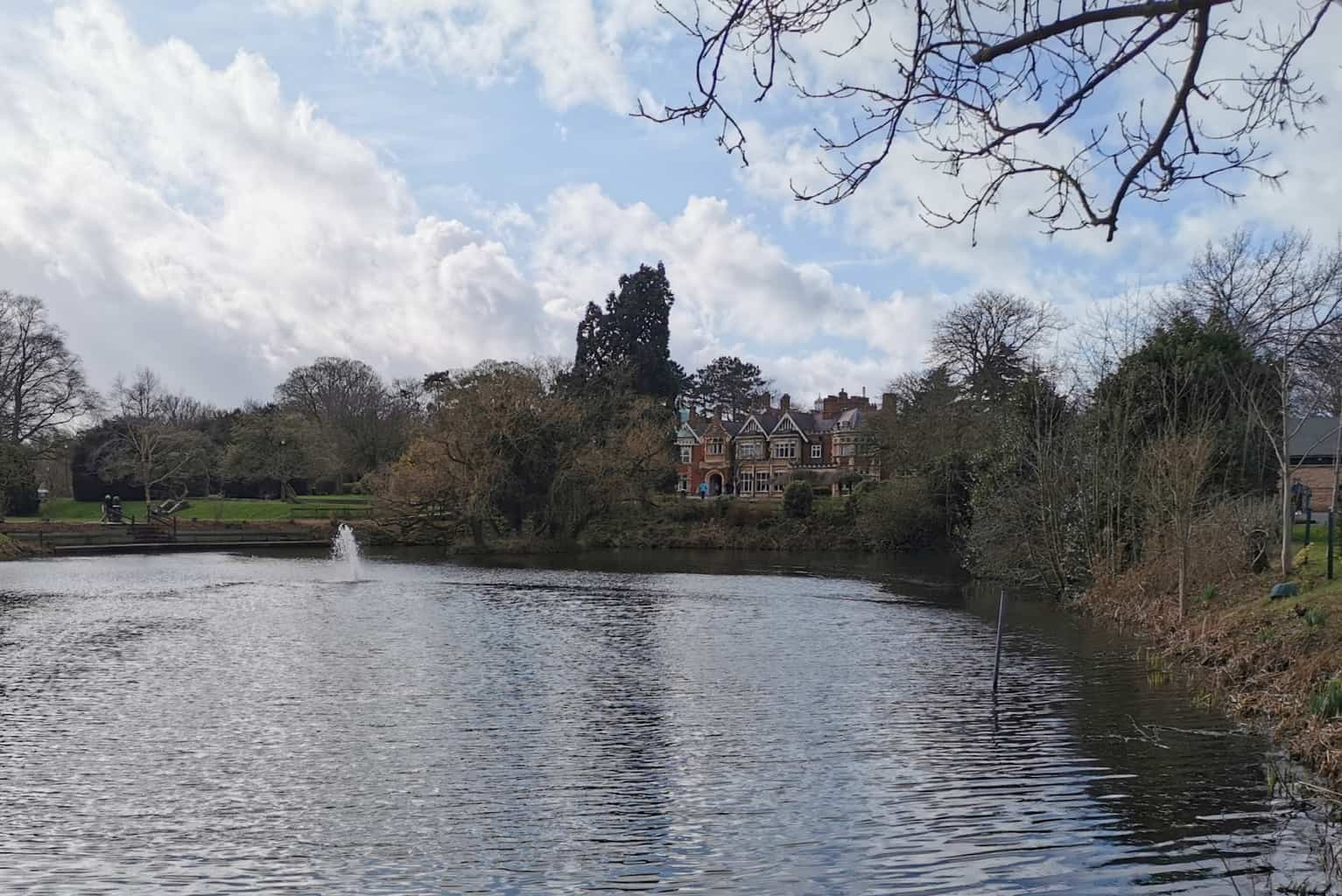 Uncategorised
Bletchley Park – Home of the Codebreakers
Bletchley Park in Milton Keynes has been on our radar for a family day out ever since we watched The Imitation Game where Benedict Cumberbatch portrayed Alan Turing, the man who created 'Christopher' or the Bombe Machine as it was officially known.  The 'computer' which deciphered the Enigma codes and helped to bring World War 2 to an end some two years before historians would have expected the war to finish.  Ultimately, this saves more than 14 million lives.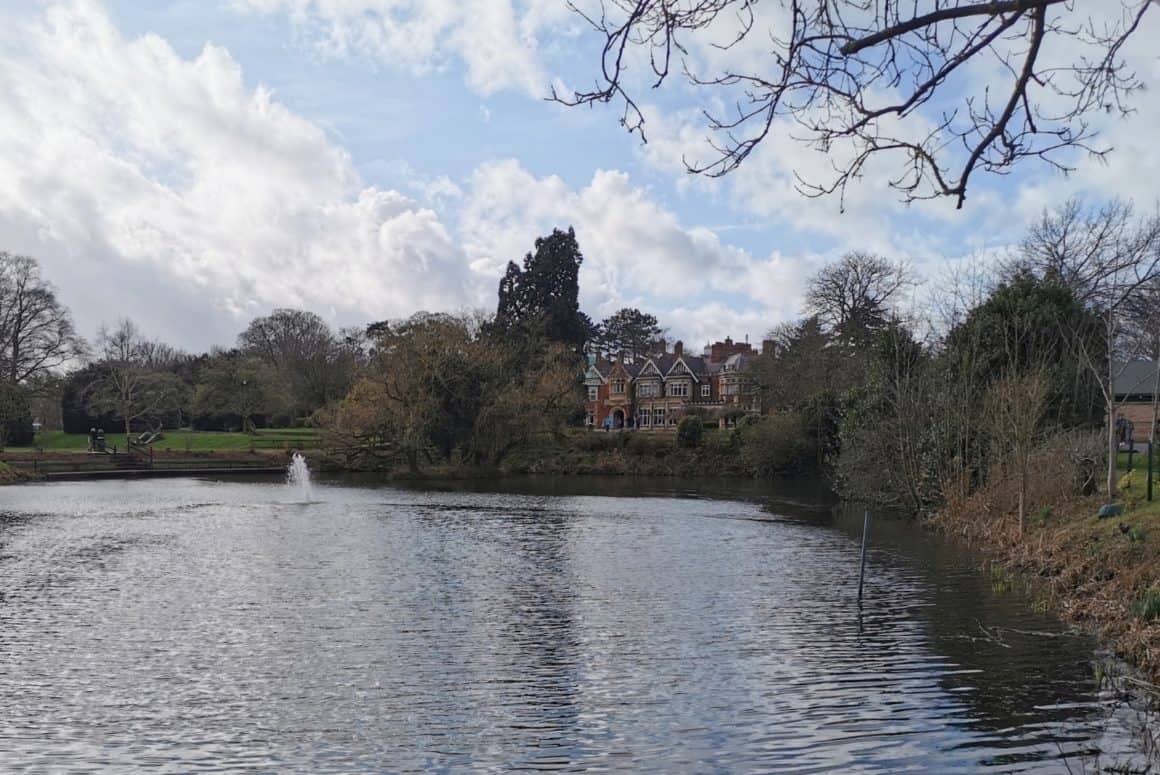 Having Grandparents who fought in World War 2 we have always had a keen interest in our country's history and we want to make sure that our children know the sacrifices made by so many men and women to provide them with their future.
Bringing Code-Breaking to Life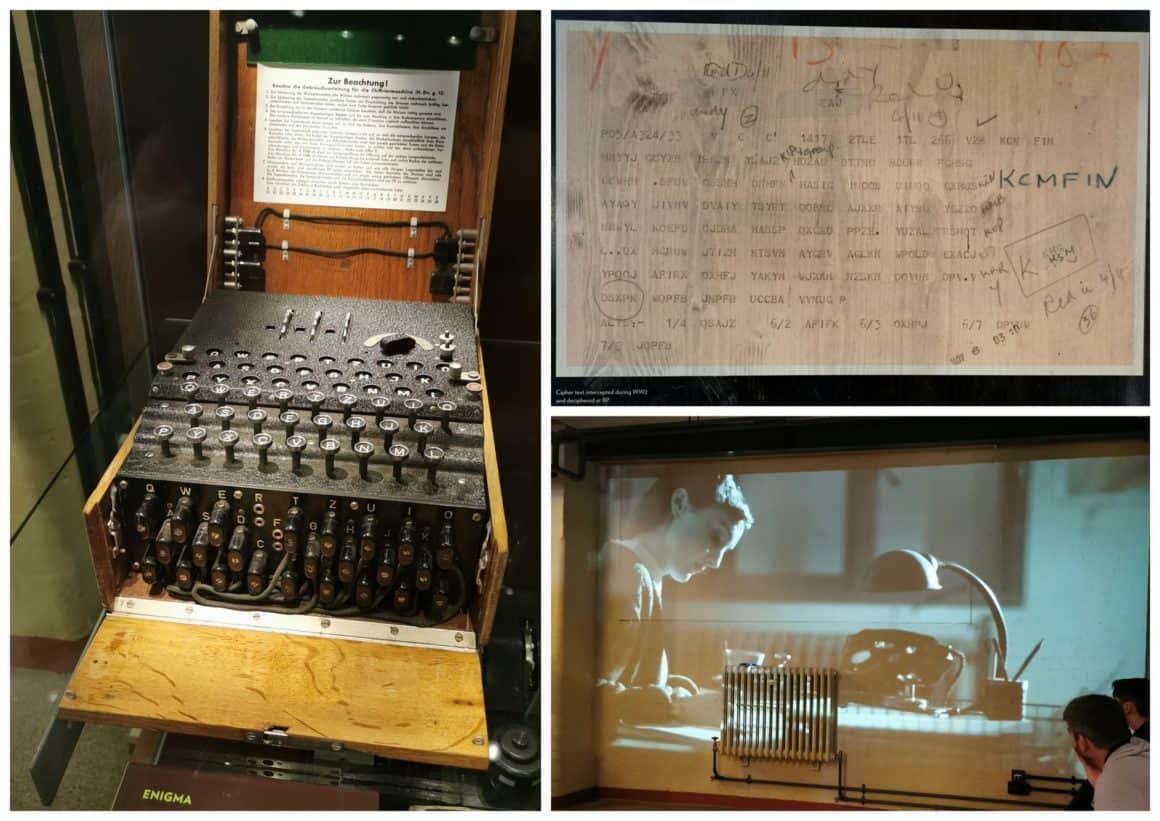 On arrival at Bletchley Park, your day begins in the Block C Visitor Centre.  In here you can watch a short video on the history and timeline of Bletchley Park. After watching the video the Beans then worked their way through the 6 steps of 'breaking the code'.
Breaking the Unbreakable
WW2 Germany thought they were clever, they had created the Enigma, a machine which Enciphered messages in one of 159 million million million possible ways, changing each letter of the message for another.  To make things even more difficult, the settings for the cipher machines would be changed every night at midnight.  If ciphers hadn't been cracked by that time, it was too late.
Step 1 – Intercepting Enemy Messages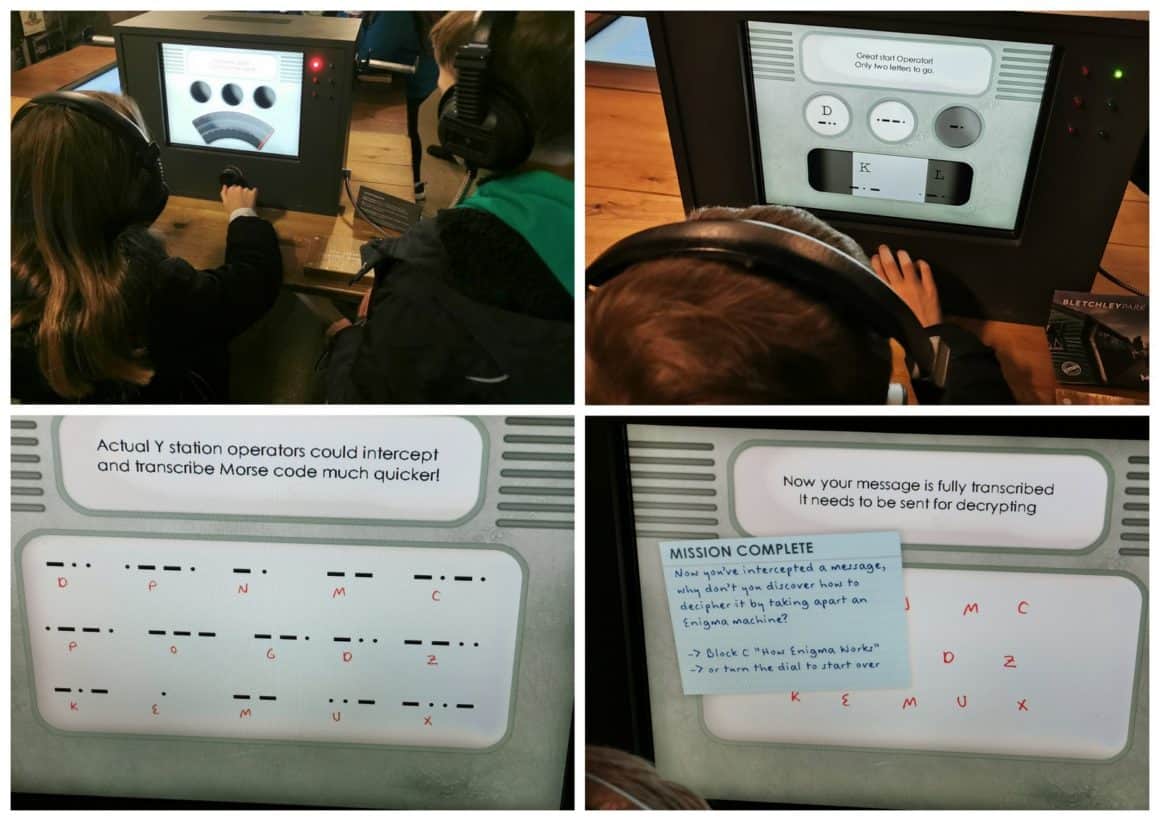 The British Military set up a series of Y Stations which would listen in to Radio signals and record messages which were sent in morse code.  The messages would be sent to Bletchley Park to decipher.
Step 2 – Breaking the Cipher
This was perhaps the most difficult part of the process.  Simple ciphers could be broken by hand but the more complicated ones needed intelligence and ingenuity to crack them.  Bletchley Park enlisted the help of some of the Country's best mathematicians, cryptologists and linguists to work as a team to break the ciphers.  Alan Turing was one such person.
Step 3 – Making Sense of Nonsense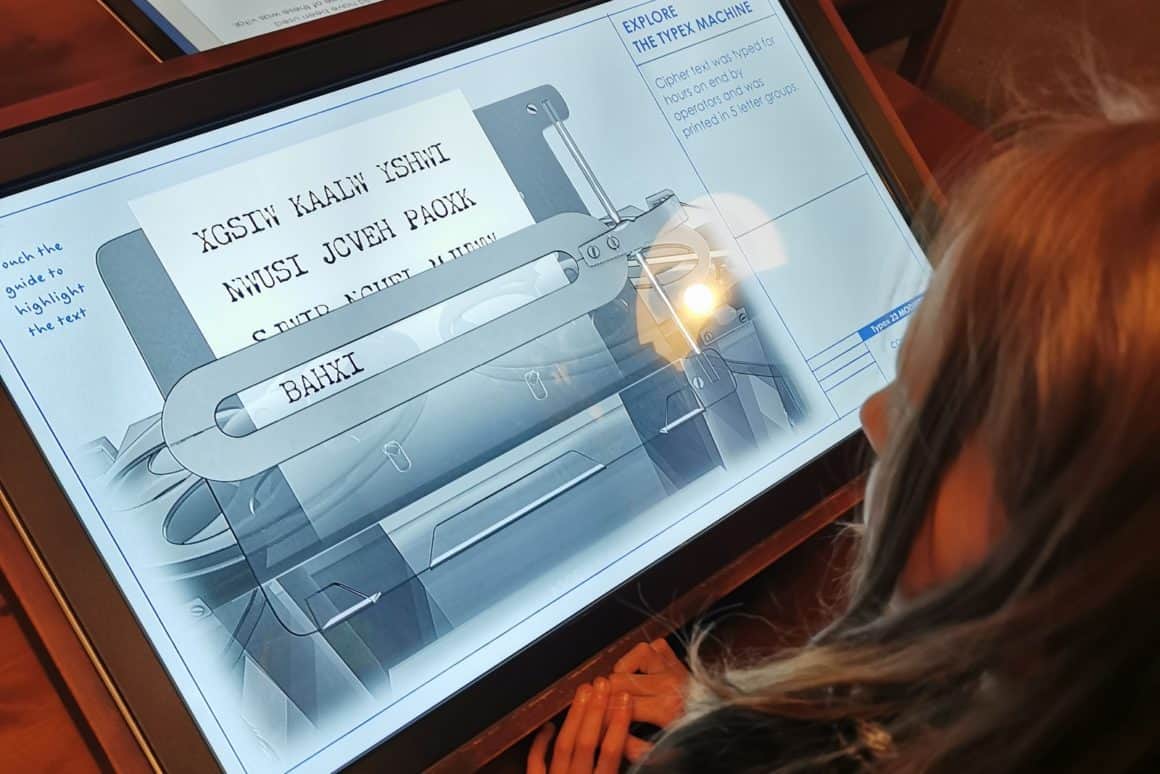 Once the Codebreakers had worked out the settings for the ciphers, the messages would be passed to the team who used Typex machines.  The machines would be adjusted to that day's settings and the letters from the enciphered messages would be typed in.  The deciphered messages would print onto a large strip of paper which would be cut up and glued to the back of the original message.
Step 4 – Translation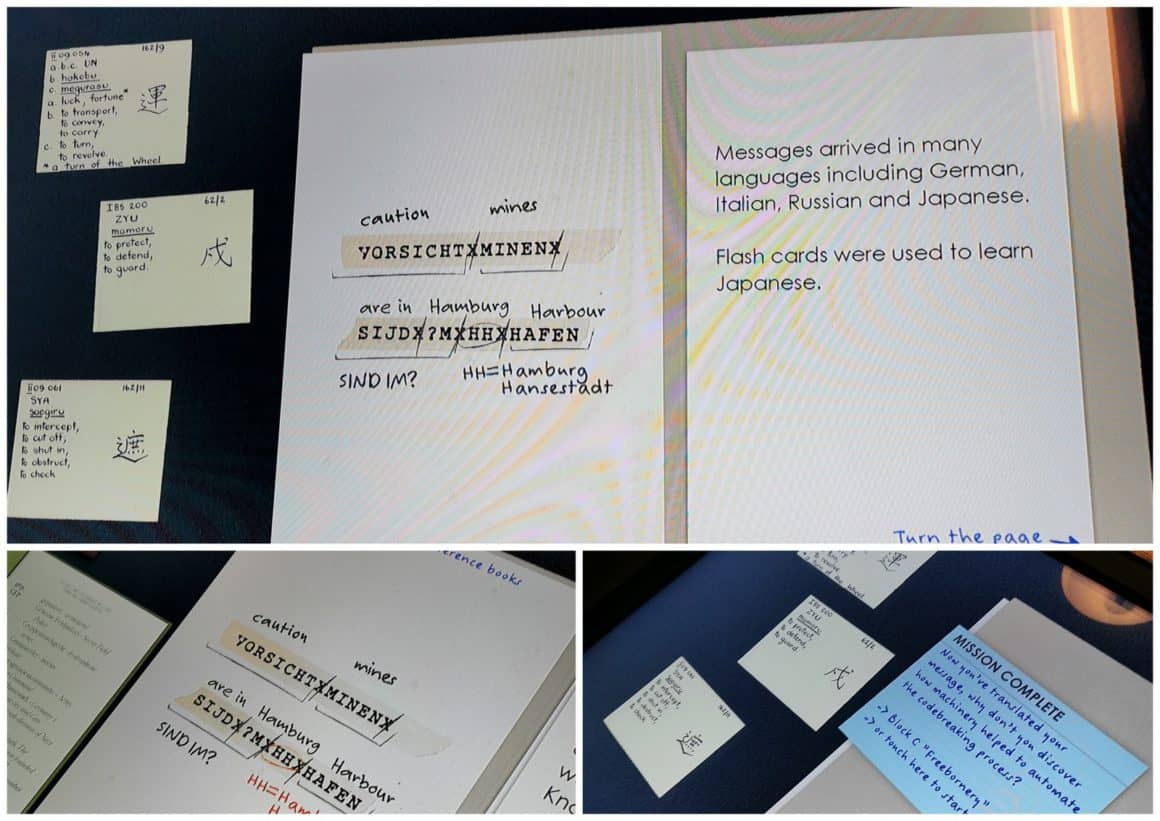 Each day, Bletchley Park would intercept thousands of messages from all over the world so these could be in many different languages.  One the message had been deciphered it was handed over to the translators to turn the messages into English.  Some messages would be in languages not commonly known in the UK so translators would have to learn new languages such as Japanese in order to translate the messages.
Step 5 – Analysing the Data
The deciphered messages were collated and cross-referenced with previous communications received to help work out what the messages meant.  Bletchley Park used Hollerith Machines to help them with this part of the process.  This was the first time in history that information was collated and used in such an organised manner.
Step 6 – Sending on the Intelligence
Bletchley Park had to be very careful with how they handled the messages they received.  They couldn't act on every message because the enemy would know that they had cracked Enigma and would change the settings or create a more complicated machine and the process would begin again.  Messages deciphered from Enigma were codenamed Ultra, the messages were made to look like reports received from spies working abroad.
Bletchley Park Mansion
Commander Denniston's Office and Library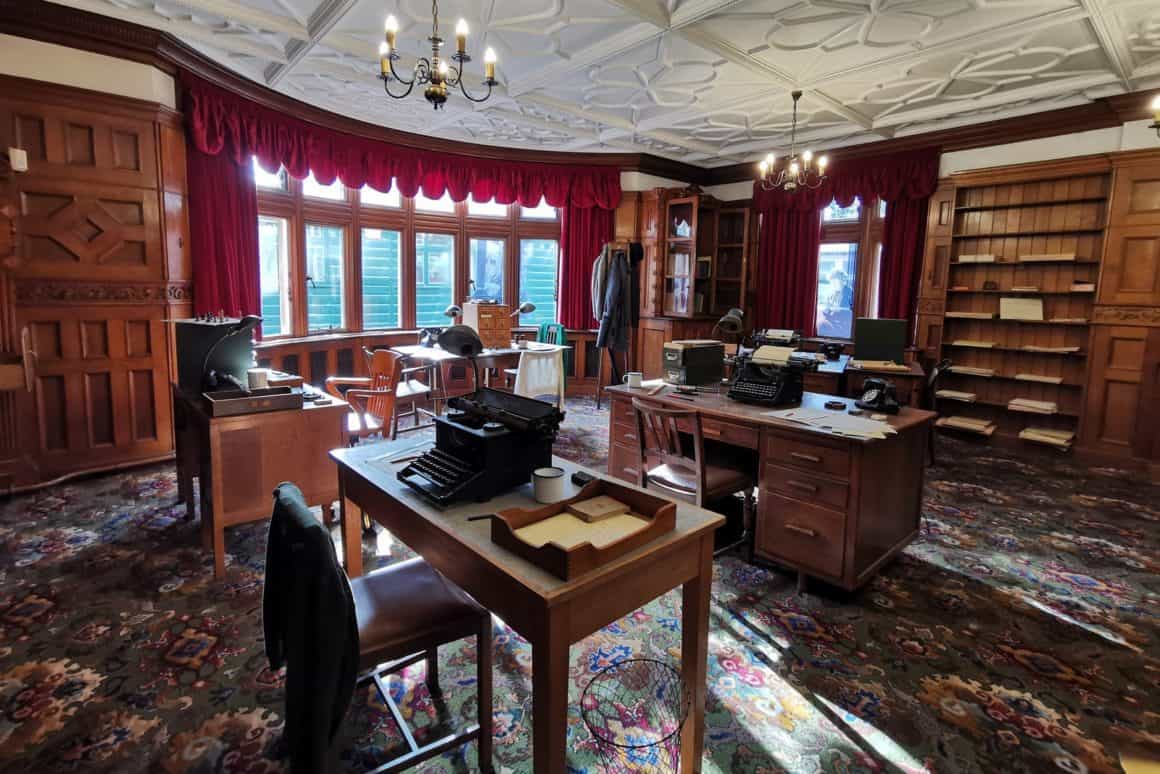 Commander Denniston was the 'man in charge' at Bletchley Park and according to historians, the unsung hero of BP.  These rooms have been restored to exactly how they would have looked in WW2.
Codebreaking Huts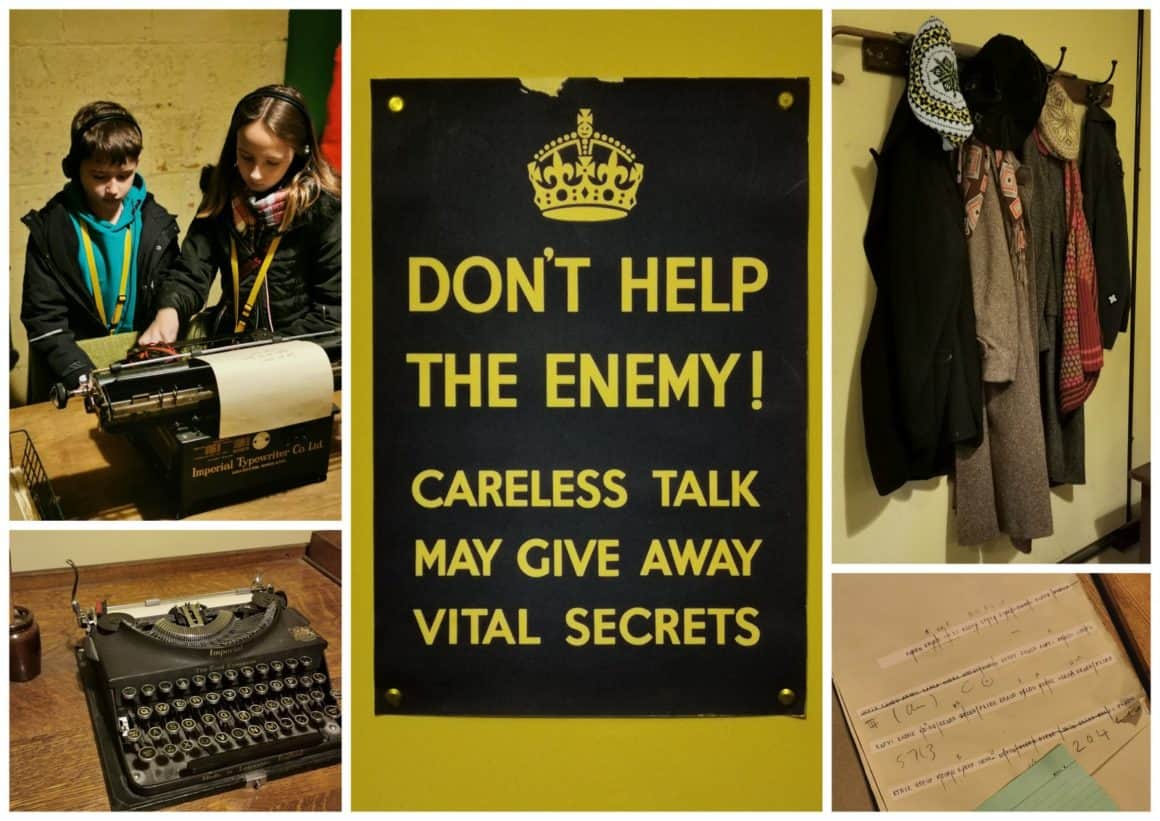 Some of the huts have been restored and recreated to show how life would have looked for the Codebreakers, right down to the cardigans on the back of the chairs and the handbags on the floor.  In Alan Turing's office, there are some fun interactive tables where you can see how codes were broken.
Creation of the Bombe Machines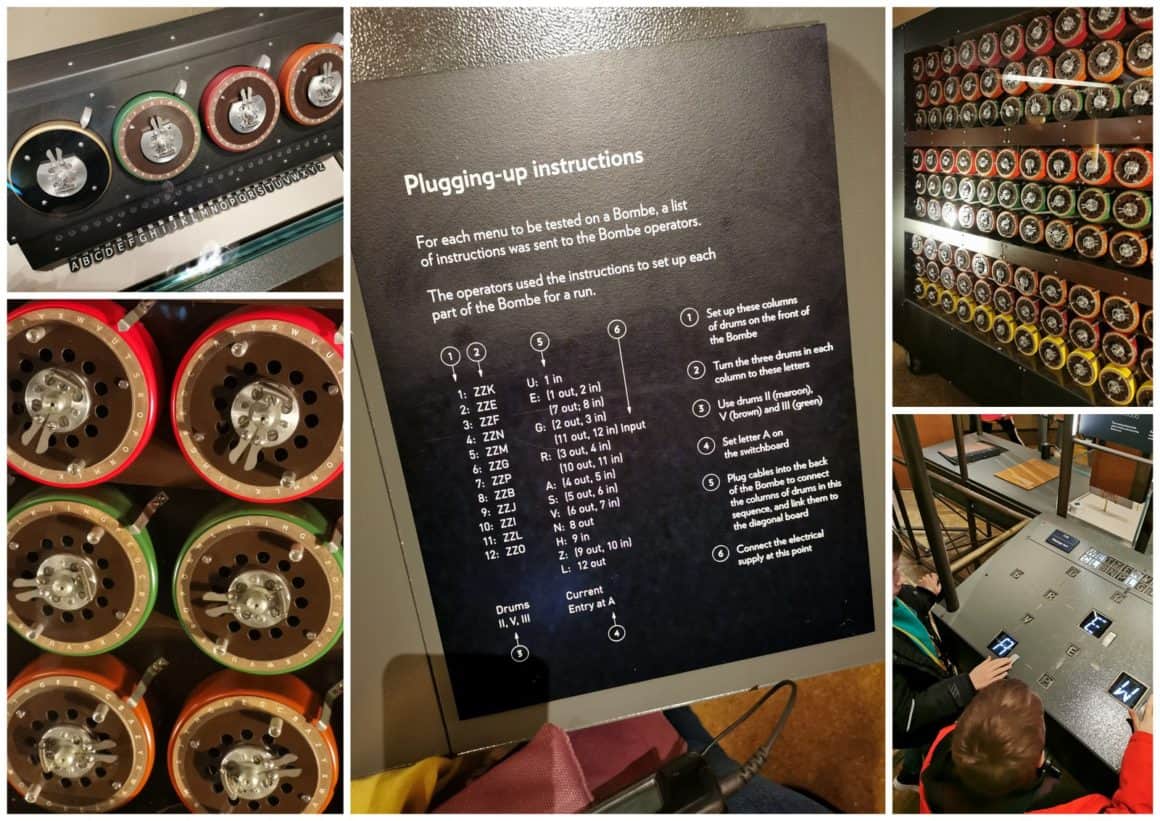 This was perhaps the area which fascinated me the most.  The Bombe machine left me awestruck, how someone could design such a machine is just mindblowing.  I was the video explaining how it worked 2 or 3 times and despite nodding along with 'yes that makes sense, yes and that' it would quickly be followed by 'nope, lost it'.
Family Activity Centre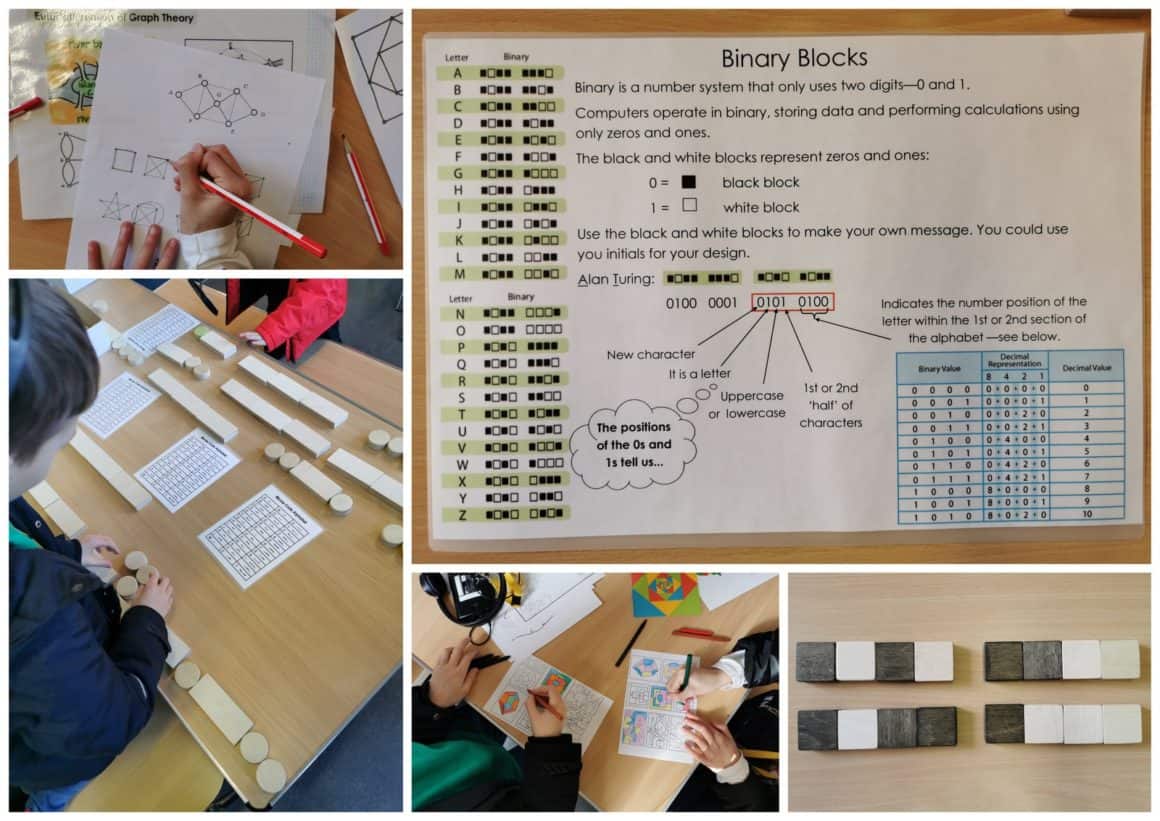 On the day we visited they were running family activities for children to explore codes and codebreaking in a hands-on experience.  They could create morse code, binary code and more using blocks of wood, dominoes, puzzles and colour coding.  We all tried our hand at the Eulerian method which was fun too.
Our thoughts on Bletchley Park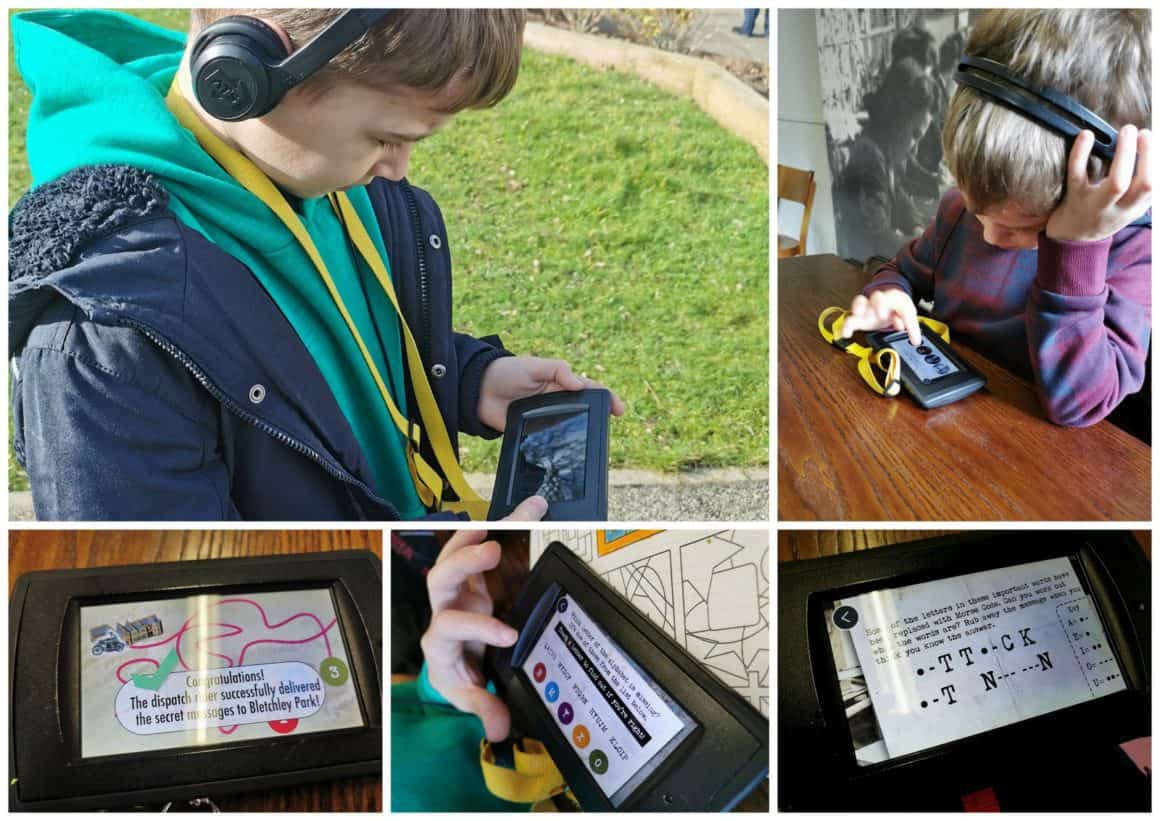 We ran out of time to see everything that Bletchley Park had to offer. In hindsight, we should have read the Map and Visitor Information Guide we were given on arrival.  There is a suggested route to follow which explains what is in each area.
If you don't have children with you then you'll have more time to do lots of the reading available but if you do have children then get stuck in with the interactive tasks because it really helps to bring it all to life (obviously you can do this if you don't have children with you but you'll have to queue up with the kids).
Definitely use the multimedia guide, this was a little gem of a guide. It's free to collect from the Block C visitor centre and has two different guides available, Adults or Family.  We all used the family guide which had short videos to watch and fun codebreaking tasks to complete.  The children LOVED these guides and worked their way through every section whilst Simon and I enjoyed a coffee in the cafeteria and the children tucked into real potato chips which went down a storm.
Take advantage of the one hour free guided tour. We missed this because we didn't read the map until later in the day by which time we had missed the tours.  You can book your guided tour at the Information Desk and meet at the Chauffeur's Hut at your designated time.  The tours all take place outdoors so dress according to the weather.
Bletchley Park . . . we'll be back!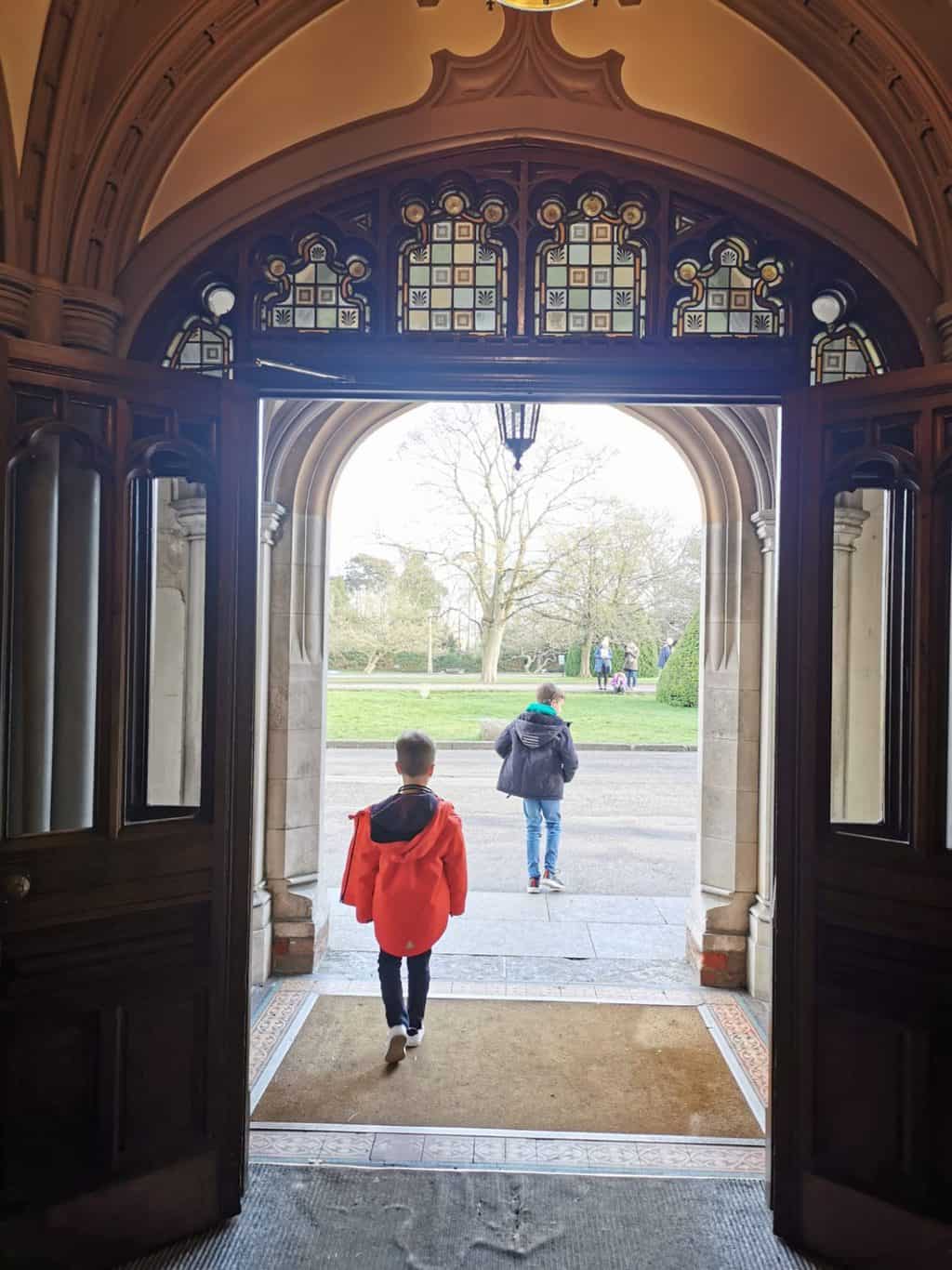 It was a unanimous decision, we will be going back.  Unfortunately on the day we visited, Will couldn't join us as he was busy elsewhere but he really wants to go so it's a great excuse for us all to go again.  We love learning all about the history of our Country.  If you like Bletchley Park then we would highly recommend a trip to Duxford too.
Visitor Information
Summer Opening (1st March to 31st October) from 09.30 to 17.00
Winter Opening (1st November to 28th February) from 09.30 to 16.00
It is also worth checking out their admission prices page as they have some great discounts available if you live local to Bletchley Park and for membership to a number of societies.  See their website for details.
Accessibility
Step-free access to all buildings and around the park.  Wheelchairs are available to borrow on a first-come, first-served basis.  BP also offers sound enhancement systems for users and non-users of hearing aids on the tours.
Facilities
We found lots of toilet facilities around the park, each with baby changing facilities.  The cafeteria also had a microwave for heating baby food.  All buildings have easy access for buggies and pushchairs with space to park them in when needed.
Keep up to date with BP
Stay informed with all the latest news and information around Bletchley Park with their social media channels:
Twitter |  Facebook  |  Instagram