Best Dinosaur Gifts for Girls 
Are you looking for the best dinosaur gifts for girls who love dinosaurs? Look no further! There are many options, from toys on the Wicked Uncle website to days out, clothing, books and more. Whether she's fascinated by prehistoric creatures or enjoys playing with dinosaur figures, these gift ideas will surely spark her imagination.
Dinosaurs are not just for little boys – girls can also enjoy learning about these fascinating animals and incorporating them into their playtime. With various products available for different ages, you will surely find something that will delight any dinosaur-loving girl. So keep reading for great ideas on bringing the Jurassic period into your child's life!
Why girls love dinosaurs
Dinosaurs have fascinated people of all ages and genders for decades. However, it is often assumed that only boys are interested in these magnificent creatures. But research shows that an increasing number of girls also love dinosaurs! There are many reasons why girls love dinosaurs.
Firstly, dinosaurs represent strength and power, which can empower young girls who often feel underestimated in society. Additionally, the scientific aspect of studying dinosaurs appeals to many girls who are naturally curious about the world around them. Moreover, with the rise of female protagonists in dinosaur movies such as Jurassic World, young girls now have strong role models to look up to who share their love and passion for these prehistoric creatures.
Plenty of options are available if you're looking for a gift for a dinosaur-loving girl!
Toys and games
If your little girl is fascinated by dinosaurs, you may want to foster her interest in these prehistoric creatures by getting her dinosaur toys and games. However, choosing the right ones to appeal to girls who love dinosaurs can be challenging. Here are some tips on choosing the best dinosaur toys and games for your little girl.
1. Choose scientifically accurate toys: Look for accurate, good, quality toys with details of the dinosaur's appearance, such as size, colour, and texture. It's essential to get a toy or game that reflects the real-life characteristics of a particular type of dinosaur.
2. Look for educational value: At an early age, children learn through play; therefore, it's essential to find educational dinosaur toys and games that teach while they entertain. You can look out for puzzles or board games with facts about each dinosaur species.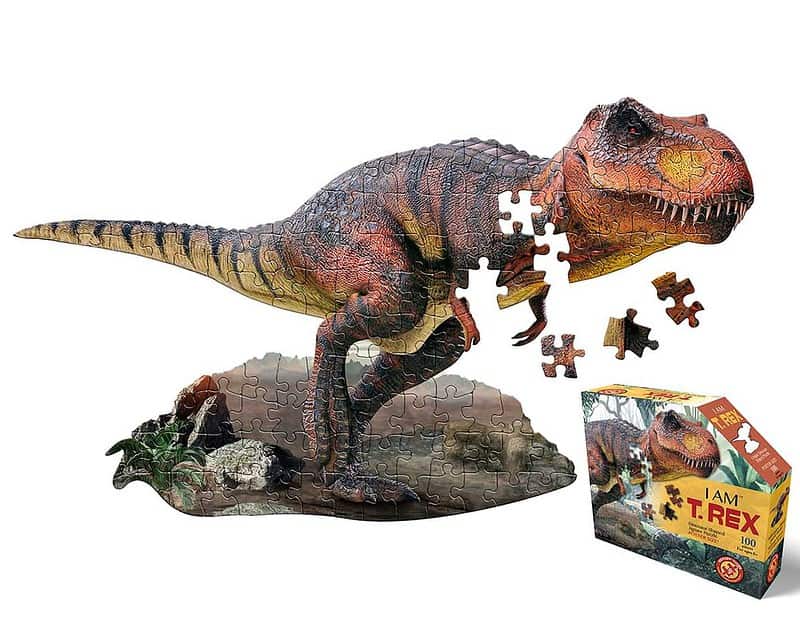 3. Choose toys and games that are for the appropriate age ranges. Whilst younger children might prefer soft toys and colourful dinos, older kids might like something a little more challenging, like the T-Rex Shaped Giant Jigsaw puzzle or Museum Dinosaurs Top Trumps providing hours of entertainment.
Days Out
An exciting experience for girls who love dinosaurs is visiting museums or exhibitions that feature dinosaur skeletons or replicas. What could be more exciting than being an explorer for the day at the Natural History Museum in London? The Natural History Museum in London is a great place for the whole family to visit and is home to one of the world's largest and most comprehensive dinosaur collections. The museum houses over 80 million specimens of fossils, plants, animals, rocks and minerals that reveal the vast diversity and history of life on Earth. Visitors are fascinated by the museum's spectacular displays of dinosaur skeletons, including some of the most iconic species ever walked this planet.
For the first time in Europe, the Patagotitan mayorum will be displayed at the National History Museum. This Titanosaur is four times heavier than a Diplodocus and 12 metres longer than the blue whale hanging in the Marine section; this will be a truly magnificent sight for a young dinosaur fan. Tickets to the Natural History Museum are free, but booking a timed entrance is a good idea to avoid the long queues when you arrive.
If London is too far for you, then another great option is Roarr Dinosaur Adventure in Norfolk which is always a fun day out for the whole family with rides, adventure play, fossil hunting, dinosaur models, animals to see, and so much more.
Books
Dinosaurs have always been fascinating creatures for kids. They ignite curiosity and imagination, making way for endless possibilities of exploration and learning. While the world of dinosaurs has traditionally been considered male-dominated, an increasingly growing number of girls are fascinated by these prehistoric animals. For this reason, it is essential to provide girls with educational materials and books that cater to their interests.
One excellent resource for girls interested in dinosaurs is the book "Dinosaur Lady: The Daring Discoveries of Mary Anning." Written by Linda Skeers and illustrated by Marta Alvarez Miguens, the book tells the story of Mary Anning – one of the most important palaeontologists in history – who discovered some of the world's most significant fossils at a time when women were not allowed to work as scientists.
Home decor and room accessories
Why not incorporate dinosaurs into their decor and room accessories? You don't have to be stuck with the typical pink and frilly decorations. Instead, embrace their love for these prehistoric creatures by adding unique touches to your space.
Start by adding a dinosaur-themed bedding set to your bedroom. From colourful duvet covers featuring T-Rexes to cute and cosy throw pillows with dino prints, plenty of options will make you feel like you're sleeping in a Jurassic world. You can add wall art or decals featuring different species of dinosaurs – or even create your DIY dinosaur art using stencils or paper cutouts.
This Glow in the Dark Dinosaur-themed puzzle is like two gifts in one. First, they can build the puzzle, and then it can be framed and mounted on the wall to create a piece of artwork full of dinosaur images with skeletons which will glow in the dark for extra fun.
To elevate your dino-themed decor, consider adding accessories like lamps, rugs, or curtains that showcase different parts of the dinosaur world.
Clothing and Accessories
If you're looking for a unique style that stands out, embracing a love of dinosaurs might be the perfect way. Girls who love these prehistoric creatures can showcase their passion through clothing and accessories that perfectly capture this fascination. From dinosaur-themed dresses to quirky jewellery pieces and accessories like this Dinosaur belt bag, there's something for everyone.
For starters, dresses with dinosaur prints are a great option. Whether you prefer cartoonish designs or more realistic depictions of dinosaurs, a wide variety of styles are available on the market today. You can choose from bright and colourful patterns or muted tones that offer a subtler nod to your favourite creature. And if you're not into dresses, t-shirts with cute dino prints will also do the trick or fun 'sockasaurus' dino socks.
Accessories are another great way to incorporate your love for dinosaurs into your outfits.
Outdoor activities and experiences
Outdoor activities and experiences are an excellent way to fuel the curiosity and imagination of girls who love dinosaurs. These mighty creatures have fascinated people for centuries, and many girls enjoy learning about their habits, habitats, and evolution. Thankfully, plenty of outdoor activities can help these young dino enthusiasts explore the world around them. You can make the experience even more fun with a Dinosaur Projector Torch or a T-Rex Head Torch.
One great activity is fossil hunting. Many areas worldwide offer opportunities for children to search for fossils that can provide insight into prehistoric life. Dinosaur fans will be thrilled to see firsthand what kind of creatures lived millions of years ago. Additionally, hiking in nature reserves or national parks where dinosaur fossils have been found can give children a glimpse into what these animals' habitats might have looked like.
Conclusion: Finding the perfect dinosaur gift for your little girl
In conclusion, there are plenty of dinosaur gifts that girls will love. From cute plushies to educational books and games, there's something for every young palaeontologist. Whether you're looking for last minute gifts, Christmas gifts or a fun surprise, any items on this list will surely bring a smile to your little girl's face. So why wait? Start shopping today and help your child embark on their prehistoric adventure!