Bacofoil teams up with Bake Off favourite Benjamina Ebuehi to create a sweet treat with a nutty twist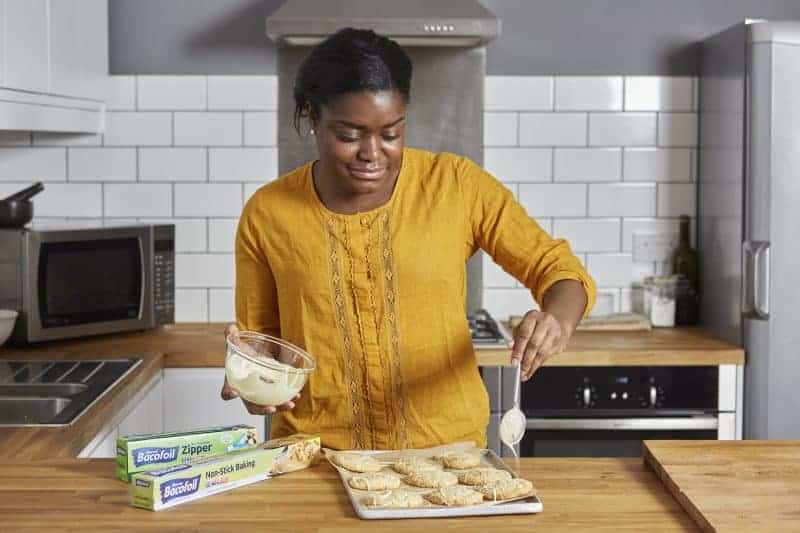 This recipe for devilishly good white chocolate cookies is loaded with desiccated coconut and creamy white chocolate chunks! And what's more, once baked, your cookie will be crisp on the outside while gooey in the middle. They're sure to be a big hit with the whole family.
BENJAMINA'S COCONUT AND WHITE CHOCOLATE COOKIES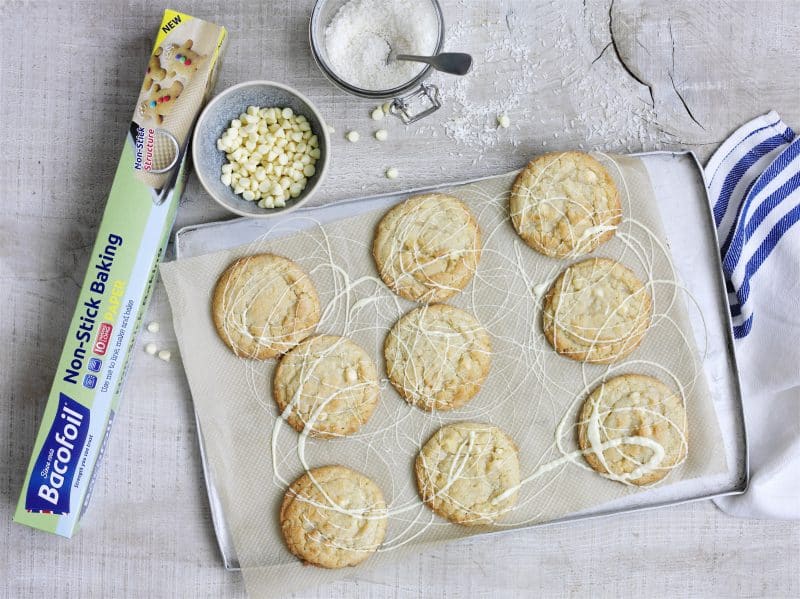 Makes 12 – 15 cookies
INGREDIENTS:
Bacofoil Non-Stick Structured Baking Paper
220g Plain Flour
1/2 tsp Baking Powder
Pinch of salt
60g Unsweetened Desiccated Coconut
125g Caster Sugar
75g Brown Sugar
125g, Unsalted Butter, softened
1 Egg
1 tsp Vanilla Extract
100g White Chocolate Chips, plus extra for decoration
Toasted Coconut flakes to decorate (optional)
METHOD:
Line a baking tray with Bacofoil Non-Stick Structured Baking Paper, and preheat the oven to Gas Mark 4/160°C fan
In a large bowl, sift together the flour, baking powder and salt. Stir in the coconut and set aside
Cream together butter and sugar until pale and fluffy, then add in the egg and beat until the mixture has combined
Pour in the flour mixture, and mix through with a spoon until there are no streaks of flour, mix in the chocolate chips, and you are left with a dough. Using an ice cream scoop, scoop out balls of dough and place them on the baking tray with at least 1 – 2 inches spacing between them. Alternatively, you can start shopping for cookie cutters to give your cookies a personalized aesthetic.
Transfer the tray to the fridge and chill the dough for 30 minutes or until firm
Bake the cookies for 12-15 minutes until the edges are firm, but the centre is still a bit soft, leaving a tasty, gooey middle
Place the cookies on a wire rack to cool completely, and then decorate the cookies, if you wish, with some melted white chocolate and toasted coconut flakes
Benjamina's Top Tips:
Use an ice cream scoop to divide up the cookie dough, ensuring all the cookies bake up evenly and the same size. Store the leftover cookie dough in Bacofoil All Purpose Zipper Bags or preserve it with food vacuum sealer meaning you have cookie dough ready and waiting whenever you need it.
This recipe features in Our Top Ten Ideas for Celebrating National Biscuit Day by Twinkl