Atom Learning – Unlocking Your Child's Full Potential
Atom Learning is an online platform that provides educational resources to help children learn and excel in KS2 (Key Stage 2) subjects. It is designed to help parents and teachers offer their students the best educational assistance to improve a student's knowledge so they can understand topics better and score higher on tests. With Atom Learning's extensive teacher-made content – Atom Nucleus features engaging videos, activities, quizzes and interactive tasks, so children can have fun while learning KS2 core curriculum concepts.
About Atom Learning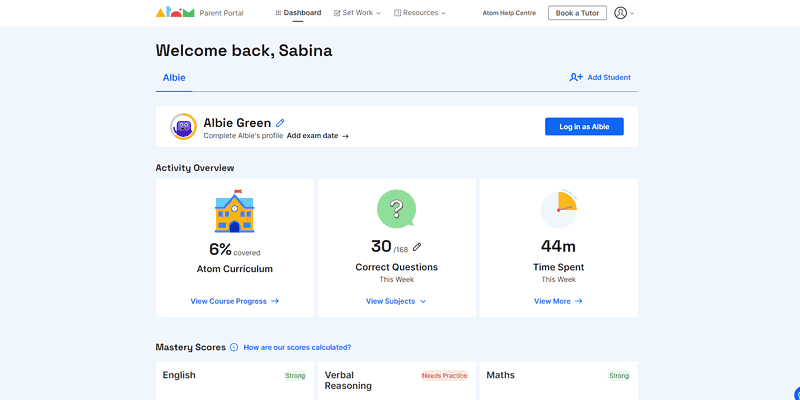 Atom Learning is a fast-growing edtech company that provides interactive learning tools and activities for children aged 7-11 years using teacher-approved content to improve academic performance. The atom's adaptive platform offers a wide range of resources tailored to suit individual students' abilities to reach their full potential and improve their confidence.
The engaging environment equips students with the skills, knowledge and confidence to excel in exams such as SATs and entrance tests. Atom Learning guides learners through digital worksheets designed around the curriculum, which help them to develop fundamental skills such as reading comprehension, writing composition, mathematics and more.
Get 10% off Atom Nucleus with discount code: MUMMYMATTERS10
Students can track their progress on a leaderboard system which allows them to monitor their progress in real time – giving them increased motivation to keep developing new skills. With questions created by professional educators, Atom Learning ensures that every student has access to quality education at home.
Engaging and Interactive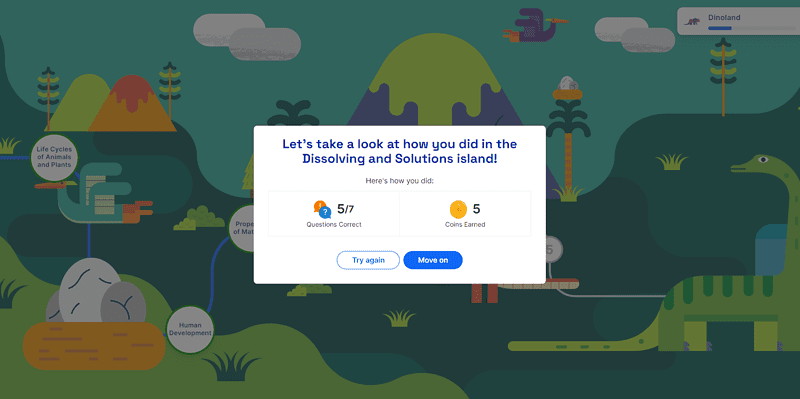 Atom Learning is an innovative educational platform created to help students develop a deeper understanding of core academic subjects. Its unique technology combines online learning with interactive video to create an immersive and engaging environment. The adaptive algorithm means that each time the student completes part of their learning journey, Atom Learning assesses how well the student performed and adjusts their next lesson to be easier or more challenging according to their needs.
Not only does Atom Learning allow students to interact more deeply with their course material, but it also allows educators to keep challenging students by tracking individual progress and tailoring lesson plans according to individual student needs. The platform allows teachers to customise lessons by creating interactive games, quizzes, videos, and other materials that make learning more enjoyable for students. It provides real-time feedback so teachers can gauge student comprehension quickly and adjust instruction accordingly. Additionally, it allows teachers to collaborate on projects easily by sharing resources across multiple platforms, such as Google Classroom or Microsoft Teams.
Videos on Atom Learning play an important role in helping learners gain a deeper understanding of various topics. Through captivating visuals and engaging stories, videos bring topics to life and make them easier to comprehend. Additionally, these videos help students stay motivated as they work towards mastering their lessons.
Features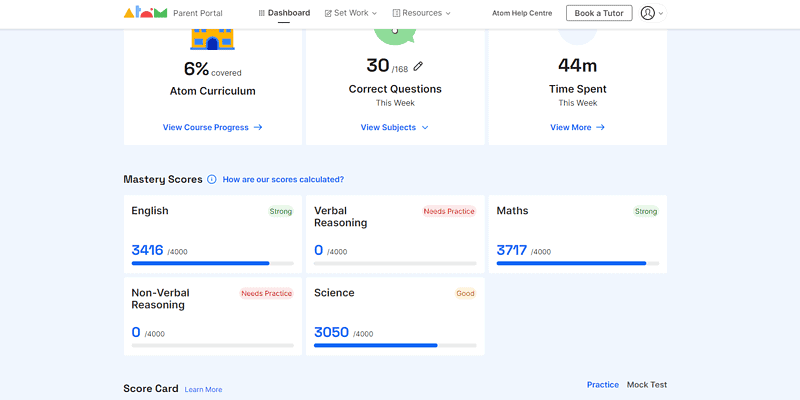 Atom Learning's adaptive learning platform is packed with features to ensure students are on optimal learning paths to ensure their success.
Unlimited mock tests for 11+ grammar school, independent school exams, and practice papers for your child's exam prep.
National curriculum English, maths, science, verbal reasoning & non-verbal reasoning.
Ages 7–11 target children in primary schools.
Progress data on your child's strengths and areas for improvement.
Whether you are looking for extra support for your child in keeping up with the class following significant learning losses due to Covid or preparing them for specific exams, Atom Learning does a fantastic job at helping them achieve their goals. They have an unlimited resource of mock tests and practice papers.
Children working towards the 11+ standard entrance exams can practice Verbal and Non-verbal reasoning and complete practice questions.
The parent/teacher dashboard is packed with information to enable you to see where your child is doing well and where they need additional support.
Our Experience with Atom Learning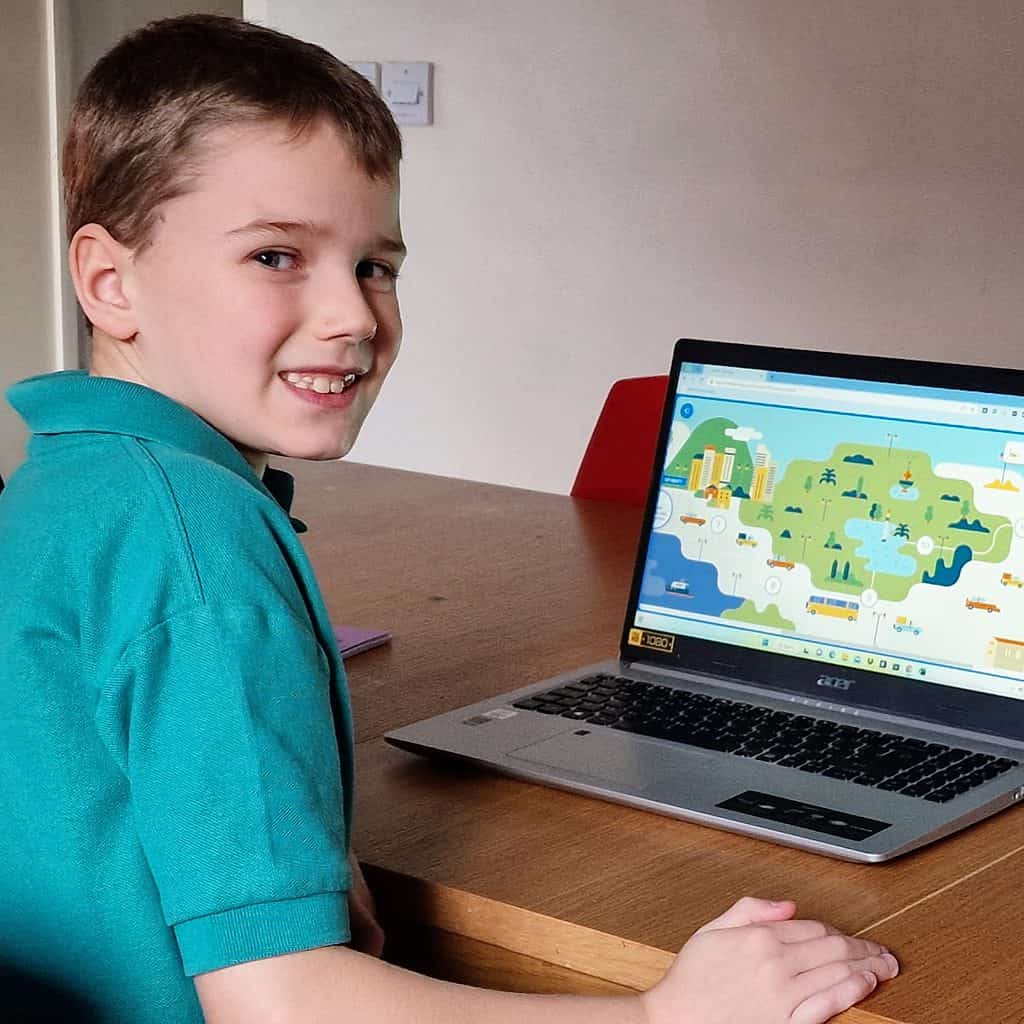 Albie has been using Atom Learning for nearly two weeks and is enjoying it. Having used online learning platforms in the past through school, I am very grateful that he is happy to do a little extra learning each day when he gets home. He is only required to complete 15 minutes of learning a day which he splits between English, Maths and Science. I put this down to the fact that Atom Nucleus is a fun platform with a child-focused interface where they travel along learning journeys for each topic and earn coins for their correct answers. Atom's students collect the coins to spend in the Atom store to customise their learning monster Ato.
Atom Nucleus has adaptive technology, which assesses how long he takes to answer questions and how many he gets correct. If the questions appear too easy, the next set of questions will be harder. Likewise, if he finds the questions too tricky, his next set of questions will be a little easier; I have had to ensure his big brother and sister understand they can't 'help Albie' with answers as this will give a false result and will mean the algorithms will make it too difficult for him next time. Albie has been told that he needs to answer questions to the best of his abilities, and if he gets a question wrong or isn't sure of the answer, it's fine. He can press the 'I'm not sure' answer button, and then he is given the correct answer and an explanation to learn from it.
Albie is doing well at school but sometimes struggles with a lack of focus and can get frustrated with himself. One thing we have found since starting his Atom Learning Journey is that he works very well under his own steam and is more than capable, so we can see that the learning environment is what makes the difference. After all, when it comes to children's education, no two children are the same and have different strengths and weaknesses.
The Parent Dashboard offers many insights into how well Albie is doing and provides the ability for me (or his teachers) to set additional work to secure learning on a particular topic or to take a test to see how well he has grasped a subject. The Mastery Scores are calculated using the last 30 questions answered in each topic and give an indication of the score range for Albie's year group so that we can see how he compares to his peers.
5-Day Free Trial and 10% Discount
Atom Learning offer a great opportunity to try their program with a 5-day free trial! With this free trial, parents and students can experience Atom Nucleus first-hand. The added bonus of this offer is that users can cancel anytime within 5 days and not be charged anything.
In addition to the free trial, users can get a 10% discount for those who decide to purchase their program after using the trial period when they use my discount code MUMMYMATTERS10. The discount applies regardless of whether you choose the monthly payment plan or the annual subscription option. This makes it possible to save money while giving your child access to Atom Nucleus's comprehensive educational resources.
As a subscriber to Atom Nucleus, you can also join the practice exam clubs they offer.
Price Plan Options
There are three price plan options available:
Exam Prep Plus
£59.99 per month
Designed for those actively preparing for 11+ grammar and independent school exams.
Unlimited mock tests and practice papers for your child's exam
English, maths, verbal reasoning & non-verbal reasoning
Ages 7–11
Progress data on your child's strengths and areas for improvement
Exam Prep
£49.99 per month
Designed for those starting to prepare for 11+ grammar and independent school exams.
English, maths, verbal reasoning & non-verbal reasoning
Ages 7–11
Progress data on your child's strengths and areas for improvement
Core Curriculum
£29.99 per month
Designed for those looking to boost their scores in core subjects and grow in confidence.
English, maths & science
Ages 7–11
Progress data on your child's strengths and areas for improvement
Final thoughts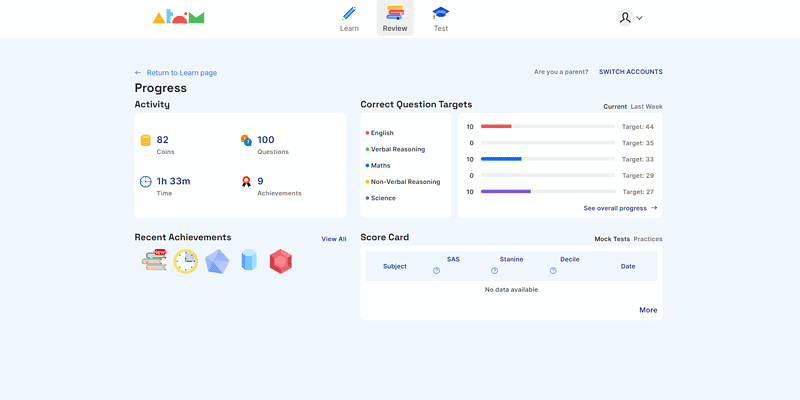 In conclusion, this is an indispensable tool for Albie and students of all ages and academic backgrounds. It provides an interactive, easily accessible platform that can help to advance knowledge in any subject area. Atom Learning is a fraction of the cost of private tutoring, making its services a more affordable option for those who would otherwise be unable to afford the assistance they need. The curriculum is tailored to individual learning styles and strengthened by multimedia technology.