A recent survey carried out by Santander has revealed that 26% of households interviewed don't read their utility bills properly and a million households don't read their bills at all.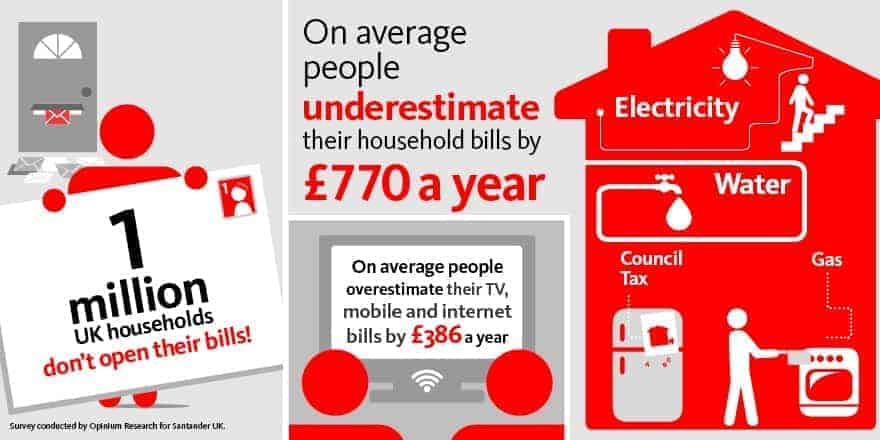 Before the Beans came along we were pretty good at knowing exactly what we were paying for every household bill and where every penny of our budget went each month but as each Bean has come along and our 'admin' time has dwindled we have become more and more lazy with the household stuff. Since going paperless with most bills and bank statements I can honestly say I can't even remember the last time that we looked at a bill as they just kind of mingle in with all the other emails which fill our inboxes daily. All we know is the money goes out and the house is still running but how silly is that of us really?!?!
A couple of years ago when I was on one of my 'money missions' I realised that I was still paying mobile phone insurance each month for a mobile phone that I hadn't even owned for almost two years but I hadn't cancelled the direct debit. I was so cross with myself that I vowed to 'be better' but all good intentions went out of the window as life took over once more. I should point out here that Hubby and I aren't rolling in money so it's not as though we have a pot of expendable cash although perhaps if we were a little more savvy we would be and therefore wouldn't have to moan each month about why we can't afford to do this or that.
If you're a little more switched on than us you might be interested to know about the 123 Current Account from Santander which PAYS YOU cashback on your household bills and interest on your balance for £2 a month. Now that's got to be a good thing right!
Sponsored Post
Latest posts by Sabina Green (see all)