Where does the time go? It feels like only last week that the summer holidays were looming as I picked up the tiddlers from their last days at school and pre-school. Now here we are with just two weeks left before they go back again, although I have seen that some schools actually started back yesterday. So it's time to start thinking about getting everything ready again, if your children are anything like mine they have grown a foot since last year so it's time for new uniform, for Curly he is moving up to Grammar school so it's a whole new set of everything for him from uniform and shoes, to stationery and sports equipment. This list is by no means exhaustive but these are a few of my favourite Back to School finds;
Asda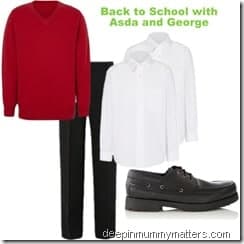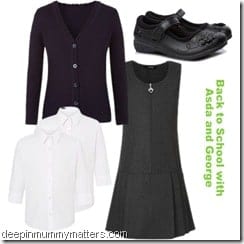 The uniform at Asda is brilliant value for money and great quality so it can help you to save the pennies you will need to be spending on the school logo uniform (they really stitch you up there don't they!!). If you order from Asda online at the moment you can even get FREE DELIVERY when you spend over £20 by entering SCHOOL06 at the checkout.
They will need a good meal to keep their brains working whilst at school so you'll need to find them a decent lunch box to send all those yummy snacks in. I really like this Sistema Slimline Quaddie, we each have one of these as they are perfect with little compartments to make it easy to store healthy snacks and it even comes with a water bottle too.
Clarks Shoes
When it comes to school shoes I always like to make sure I am getting shoes which are going to last but also take care of my children's feet. We use our feet so much, we need to make sure we are taking care of them and for me Clarks take a lot of beating. They offer a great choice of school shoes so there is something in there for everyone and did you know that they have 50 tests to make sure that a shoe can stand up to the wear and tear that a child will put their shoes through.
If you have a child who is anything like Curly then you will need a shoe like the Stompo Day Inf. Curly has the innate ability to take the toes out of his shoes in one easy move so we have always had to make sure that we buy him shoes with rubber toes to give them more a winning chance at surviving!!
Now if you are lucky enough to have a boy who prefers reading to running around like a lunatic then perhaps you could go for something a little smarter like these Bradford BL shoes. I could only dream of getting Curly in something like this!
And don't forget that at Clarks you can even pick up a cool pair of sports shoes like these Lead Pass shoes.
Now when I was a little girl I would have jumped for joy if my Mum had bought me these Dollyheart Jnr school shoes, just so shiny and pretty.
If you have a little lady with narrow feet like Little Bean then something like these Ettie Kate Inf shoes are great.
M&S School Uniform
If you have a child who really likes to 'enjoy' themselves at school, you know the ones they do their 'colouring in' with vigour, they play football in the muddiest of weather or if they go to my daughter's school they use paint which DOESN'T WASH OUT then this is the uniform for you. M&S have created School-Proof Uniform!!
If you order your uniform online you can get it delivered NEXT DAY for FREE to your LOCAL STORE.
M&S have even linked up with schools across the UK to provide School Specific Uniform and each time you shop with M&S it benefits your school. Check here to see if your school is included.
Science Museum Shop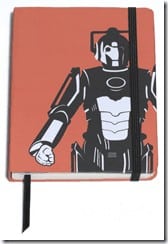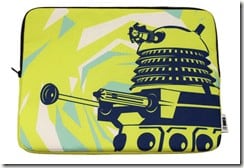 It's been a long time since I was at school but I'm guessing things haven't changed too much. I always wanted to go back to school with a cool new folder or notepad that my friends would think was amazing so how about this Doctor Who range from the Science Museum Shop?
Dalek 15" Laptop Case £35
Dr Who A6 Cyber Man Moleskin Notebook £10
DISCLAIMER: I have been sent a few items of school uniform by Asda and M&S for the purpose of this post. I have received no payment. All words and opinions are my own and may not be copied without my permission.
Latest posts by Sabina Green (see all)