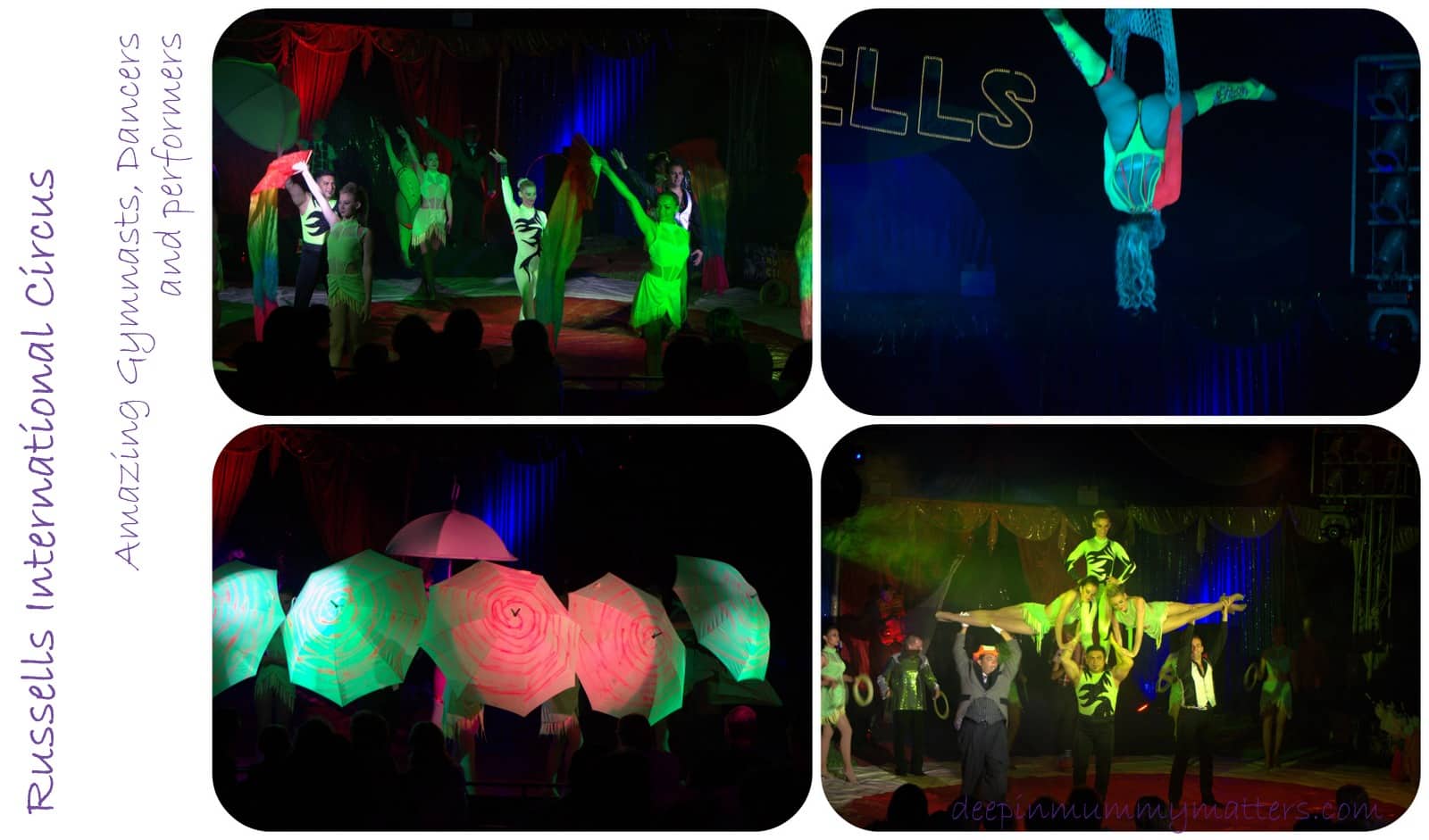 Another excellent evening with Russells International Circus!
It feels like forever since the last time we saw Russells Interational Circus in Market Deeping but tonight they were back for their opening night performance under the Big Top and yet again, they didn't disappoint.
Russells Interational Circus have been voted Britain's Number 1 Circus for the last 3 years and what I didn't know was they are from my Mablethorpe which is only a stone's throw from my old hometown of Alford in Lincolnshire.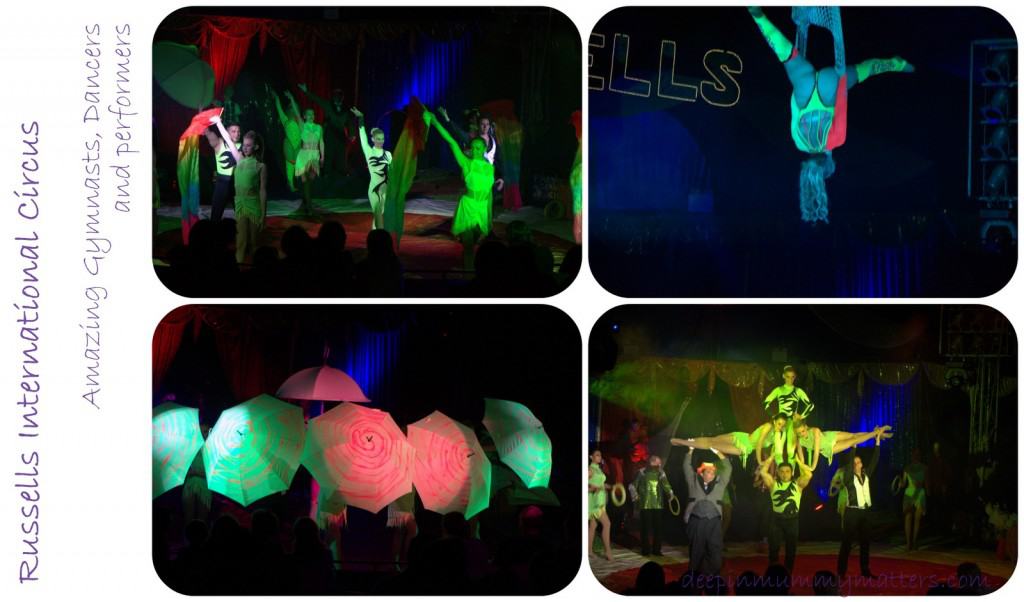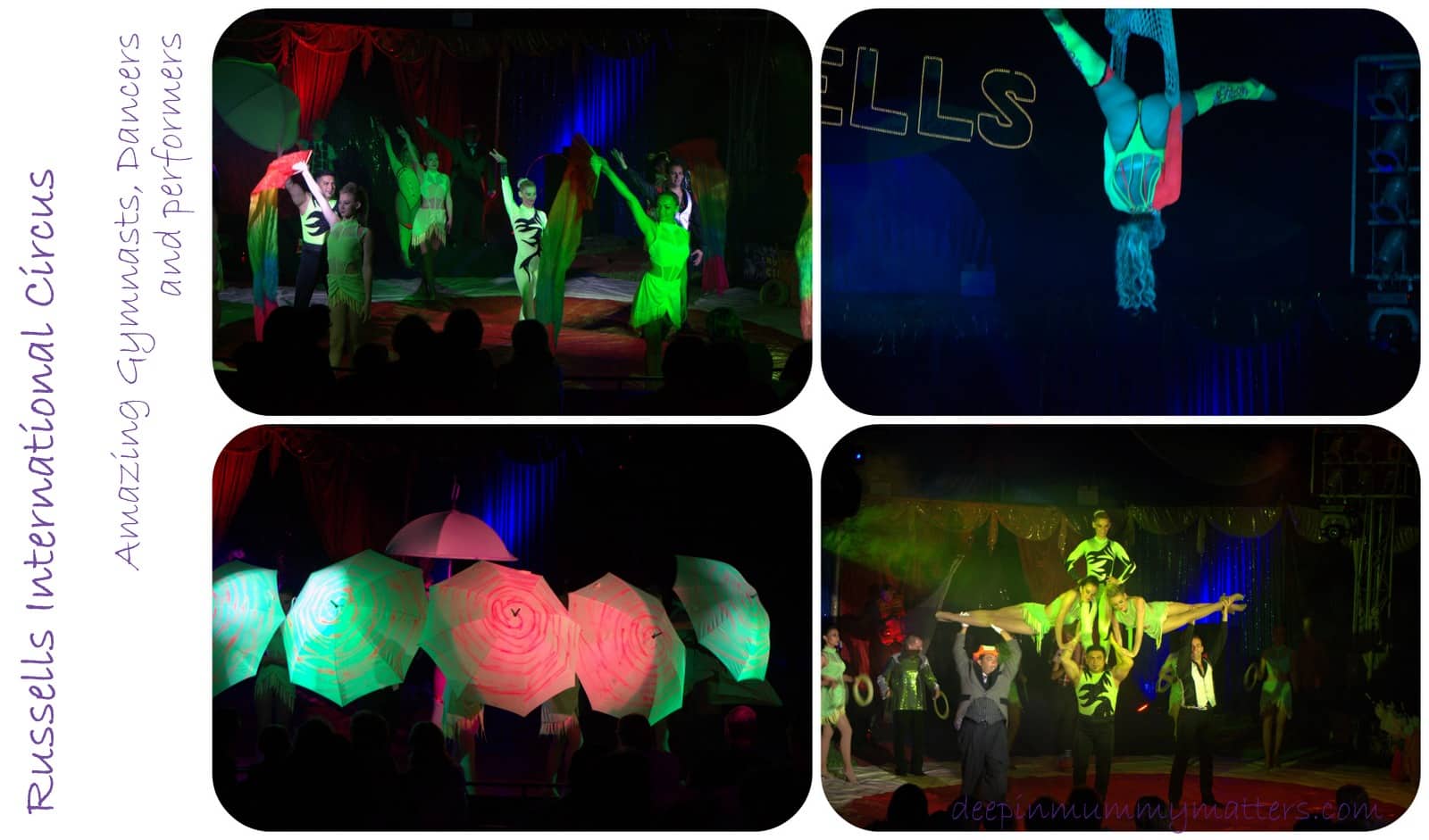 Tonight I went along with Nanna, Little Bean and Beanie Boy who were very excited to be going to the Circus and we didn't have to wait long before it all kicked off with bright costumes, great music and lots of big smiles from the word go! Little Bean was in awe of all the beautiful ladies telling me "she's so beautiful Mummy isn't she" everytime a new lady came into the ring.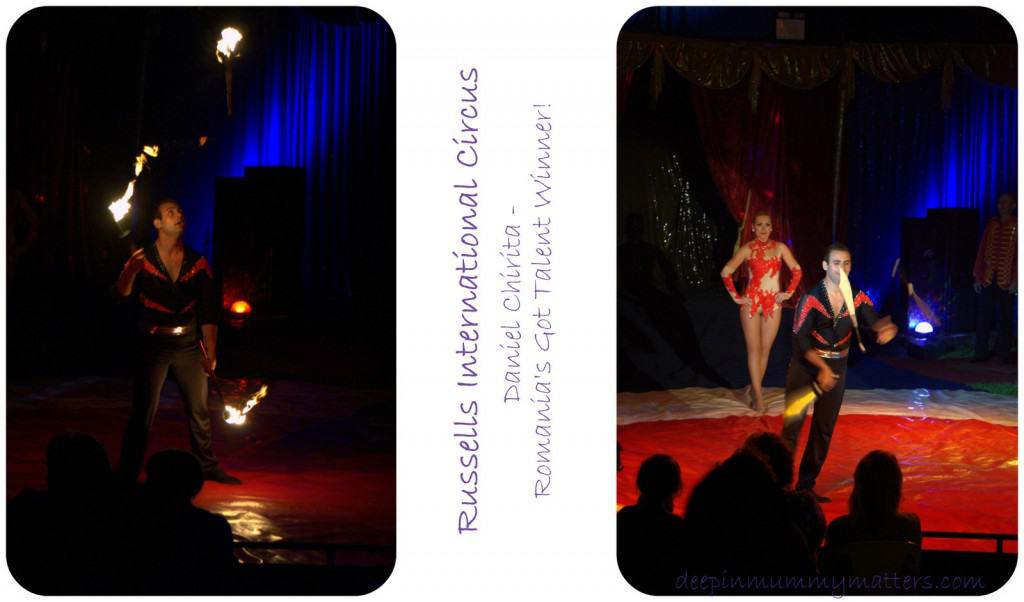 Daniel Chirita is a very talented juggler who throws around very large knife, shiny silver footballs, batons and flaming batons without evening blinking an eye and he didn't drop anything even once! He even juggeled using his hands and feet – the Beans had their mouths wide open throughout his performance. It's not surprising really since he was the winner of Romania's Got Talent!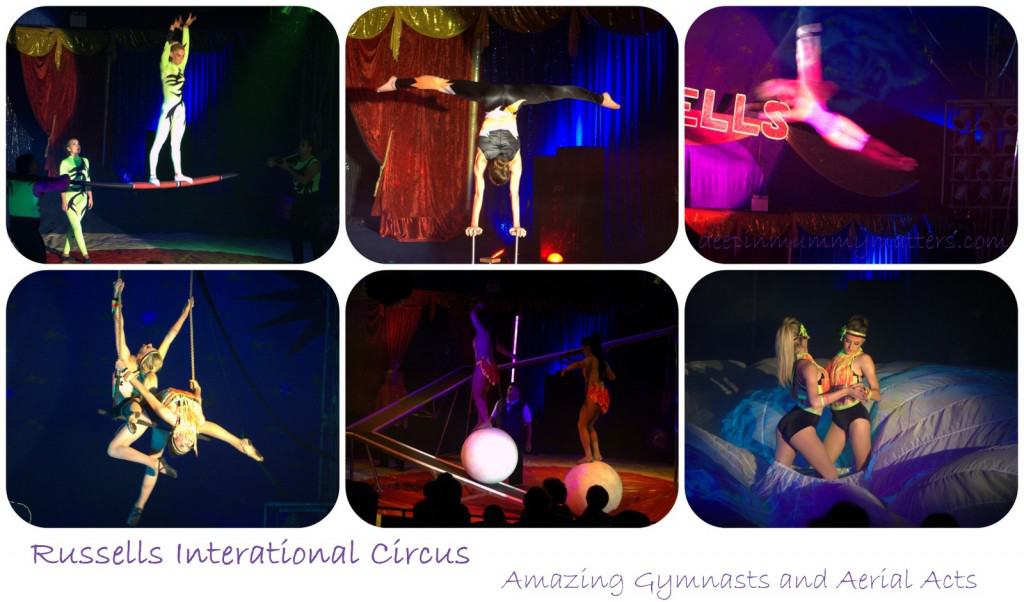 The females artistes were; Miss Kizzy – a stunning blonde who was a whizz on the Corde Lisse Act. Little Bean commented that she felt dizzy just watching her, I wondered how Miss Kizzy must have felt! We saw Miss Kizzy later on the double trapeze with Miss Sophia. I think Hubby would have liked that routine very much, he would certainly have appreciated their very tiny costumes!
Miss Sophia graduated from the Chermond School of Gymnastics and has amazing body strength and is soooooo flexible, I felt positively jealous!!
Lucia Candela was the lady who had me perched on the edge of my seat – she went so fast on the aerial cloud swing I couldn't even get a decent picture of her. You can see that she is completely fearless up there and clearly loves what she does but then again she has been doing it since she was very young so she has had a lot of practice – definitely one to watch!!!!
Las Chicas Morales – two ladies with a core strength I could only begin to imagine. I can just about stay seated on a fit ball but these ladies jump onto giant globes as if they are hopping onto stepping stones. They walk their giant globes up very narrow, very steep ramps. Tonight one of the ladies had a little slip and fell off but she jumped right back on and they started the routine again.
Miss Amanda is the third generation of the Russell family and spends her winters perfecting new acts so that spectators get to see something different every year. Miss Amanda is also a very talented aerial performer herself.
Troupe Corina – this is their first year with Russells International Circus and have come all the way from Romania to perform on the Russian Bar demonstrating outstanding balance, core strength and flexibility.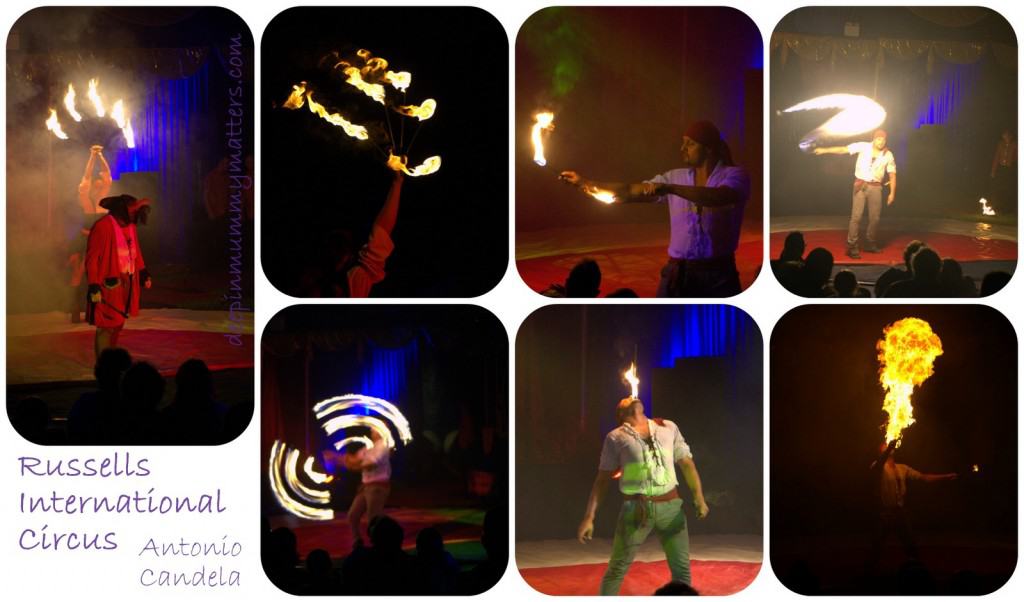 Antonio Candela was the one who had us divided. Beanie Boy and Little Bean were very unsure of the whole fire-breathing stuff and didn't like the bangs as he cracked his whip. Nanna wasn't overkeen on the music or the fire and I LOVED the whole performance although the aroma of paraffin does get a little heady after a while. I thought his performance was spectacular and such fun to take photographs of!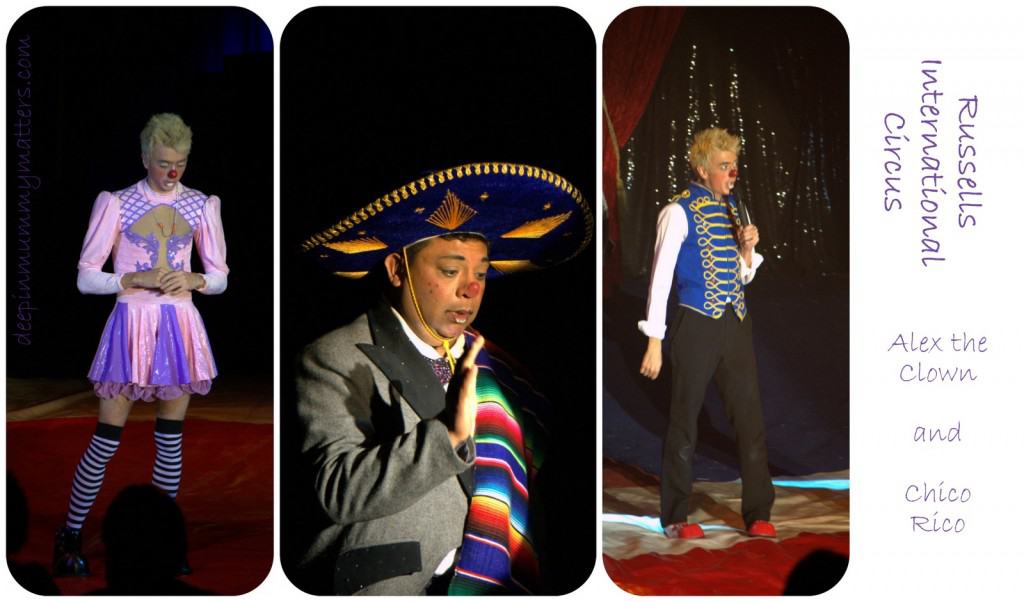 No circus would be complete without a clown but these days I come across more and more people who really aren't keen on clowns and I totally get that as they can look very creepy but Alex and Chico Rico are NOTHING like that. They don't paint up their whole faces but yet it's still clear to see that they are clowns through and through. Alex was with Russells Circus last time we saw them and had us in stitches, he certainly didn't disappoint this year either. I didn't realise that Alex is also the show Artistic Director – clever fellow! Chico Rico was new to Russells Circus this year and a very welcome addition, he worked well with the audience and the children loved him.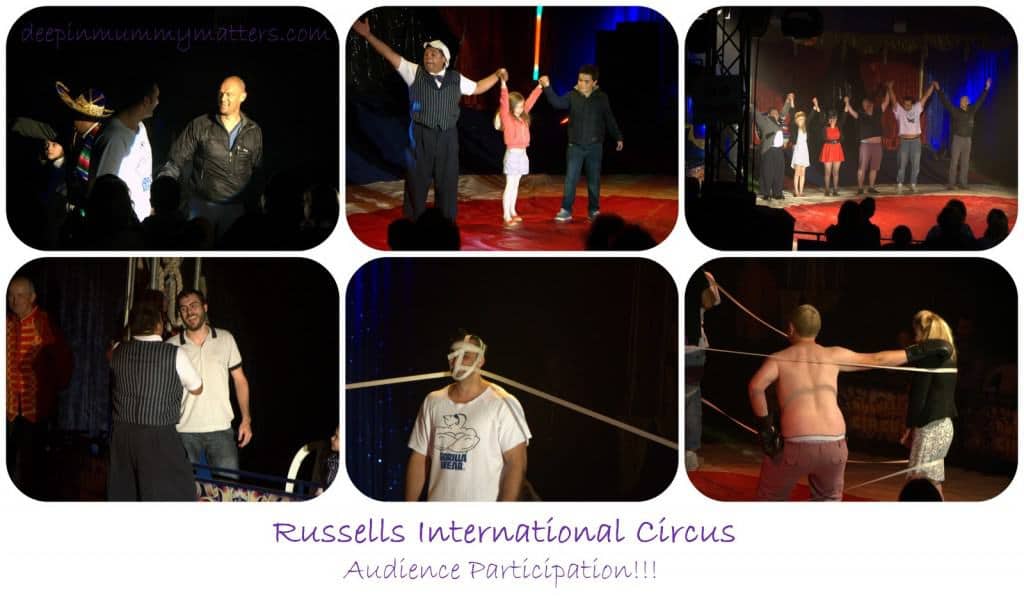 When you go to the circus you've got to love a bit of audience participation (unless they pick me) and there was plenty of that tonight. Poor Little Bean was desperate for them to pick her but tonight just wasn't her night. I won't tell you what the adults were selected for other than to say that it was nothing short of hilarious.
The only act that I missed from the previous time that I saw them were the strong men but I guess you can't have everything.
Russells Circus are only in Market Deeping for one more show at 5pm tomorrow night (25th June) and lasts 90 minutes including a 15 minute interval where food, drinks, gifts and raffle tickets can be bought. If you get the chance you should definitely pop along, I assure you, you will not be disappointed!