Angela Langford – Natural Skincare for Mums on the go
Once upon a time, many moons ago in the land before children, my skin was my number 1 priority. I remember the days of body brushing, exfoliating, moisturising and preening but then children came along and time went out of the window. I do love my children dearly but looking back on photos I see just how ageing they have been on this poor Mummy and I realise that perhaps it is time to start making time to take care of myself once again.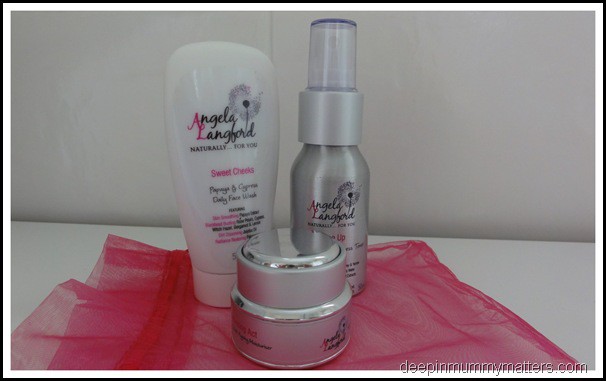 I received a Travel Pack of Angela Langford natural skincare products to review and was instantly impressed with how beautifully they were packaged in a pink organza gift bag. My favourite product has to be the Sweet Cheeks face wash which smells good enough to eat, I use it every morning in the shower and it really helps to wake me up and feel fresh-faced for the day ahead. I also really like the Balancing Act facial moisturiser which despite feeling thick as it is applied, dries really light and makes my skin feel really soft and looking good.
All of the natural skincare and organic skincare products contain no parabens, petrochemicals or synthetic fragrances – and nothing has ever been tested on animals, only on Angela's friends, relatives and herself!
All three products are the perfect size for your wash bag but I'm loving them too much to save them for my next holiday. Grab yours today there are packs for different skin types as well as a host of other lovely products for the face, hands, body and a range for men too. All of the packagings would look great in even the most stylish of bathrooms, you'll want to be sure you have it on show for everyone to see!