And baby is . . . . .
a BOY! 
We went along for our 20 week scan this morning and took a very excited Curly and Little Bean with us.  Curly has made it no secret that he desperately wanted a baby brother this time.  He even had the conversation with Daddy this morning about "what if baby is another little girl?" to which Daddy told him that it would make him even more special as he would be the only boy.
We arrived at the hospital and sat patiently in the waiting room reading the posters as you do when a particular paragraph caught our eye.  It said "it is not recommended that you bring other children to your scan appointment in case there is anything wrong with the baby".  Me and Hubby eyed each other as we had both spotted the poster so we then sat and explained to Curly that although it was going to be exciting to see the baby on the scan we were there for another reason too.  We explained to him that when they performed the scan they were looking to make sure that the baby was growing ok and had all of the right organs etc in its body.  Then they called our name and we trotted off behind the man who was going to perform our scan.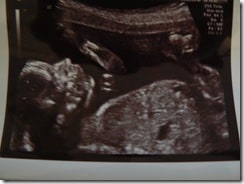 Within seconds the image of our baby appeared on the screen and we were asked if we wanted to know the baby's sex.  We said that we did and the sonographer asked Curly what he wanted it to be, "a little brother" he said.  The sonographer took one look at the screen and froze the picture "well looks like your wish just might come true, there is his little widgy".  A huge smile spread across Curly's face as his wish had come true.
I had mixed emotions – finally it meant that I stood a chance of having a "Mummy's boy" since Little Bean is very much a "Daddy's girl".  I have been telling myself for the past few weeks that I was carrying a boy as I look like I've swallowed a football but every time I have done the ring test is has swung in a circle which would suggest a girl.  Suddenly I could see all of Little Bean's gorgeous girlie clothes which I have kept for the next baby sitting in the loft – time to get ebaying!  I also liked the idea of a little sister for Little Bean as they would be so close in age.  I know that she will love having a little brother just as much but you get these images in your head of how you imagine things to be.
My only fear for having a boy has been that he might be compared to Curly (who is not my child).  Having girls means no direct comparisons can be made but I don't want my little boy being compared to his big brother because they will have different mothers so there will be a different mix in them (if that makes sense).
The one thing I am certain of though, this little boy will be loved just as much as Curly and Little Bean because he is ours, all ours and I can't wait to meet him!