A day of inspiration and emotion!
Today I headed to down to London on my own, which is the first time ever! Aren't I a big girl, it was quite a liberating feeling until I missed my train. I wasn't even late, I was sat on the platform reading my book and missed the announcement that it had been moved to a different platform. Anyway, after lots of panicking I managed to catch the next train which was direct so even better for me.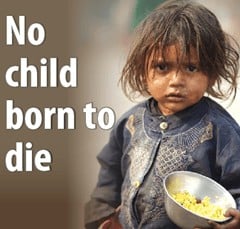 My destination for today were the offices of Save The Children for a blogging conference for bloggers from every genre. You may recall that I wrote recently about the No Child Born to Die campaign and that on 20th September David Cameron will be attending the United Nations General Assembly in New York. Well guess what, that's THIS Tuesday so if you haven't already 'signed' the petition you've still got time. You can do it online and it only takes a minute, they are not asking for your money although if you want to donate I'm sure they would really appreciate it.
The petition is your chance to make your voice heard, Save The Children are doing everything they can to get the politicians to sit up and take notice. It's just not acceptable for children to die because they haven't had the access to healthcare, something which we take for granted in the UK. As a nation we are quick to complain when we've had to wait longer than 10 minutes for an appointment with our GP, or because we feel they haven't spent enough time with us but hey, at least we have a Doctor in a nice surgery with an allocated appointment whether we have to wait a few minutes or not. I bet you haven't had to walk for hours or days to get to your surgery on sandy tracks and rugged terrain in blistering heat. In Kenya that is all part and parcel for getting medical treatment and that is why so many children die from such treatable ailments. And then to add insult to injury, imagine arriving at the Health Centre (in some cases the shade of a tree in the middle of nowhere) to be told that they have run out of vaccines or to find out that they can't afford to pay.
How many posts and articles have you read from parents in the Western World who can't decide whether to have their baby vaccinated or not? To us, its not necessarily a decision that we take lightly but in our world its not so desperate. If our child gets ill, we just take them to the nearest Doctor or Hospital where they get treated. We walk, catch the bus or drive and its never very far. But to children in these countries, not having a vaccine is the difference between life and death, if they don't get vaccinated they pretty much have their death warrant signed if they become ill.
We need the Government to allocate more funds to train and employ Health Workers for children who are far less fortunate than ours, for families that don't have the platforms we do to ask for your help. In the time it has taken you to read this post, you could have clicked over and made your voice heard, who knows you might even have saved a child!
Today I have watched video footage of the work being done in Mozambique and other areas in need, I have seen photographs of children so malnourished it was just heartbreaking, some were found early enough to be saved, for others it was too late. A life over before it has even begun and for what? Because they couldn't see a Doctor in time. We spoke live on the phone to Lucy a Health Worker who said that they need help, more health workers, they need further education and a better infrastructure so that Health Centres and Hospitals are more accessible. This is just the start of my Save The Children story, I have a lot to say and I hope you'll be back to read it!!
Follow Christine Mosler to find out more about the current campaign. After today's conference, Christine flew out to NYC with Liz Scarff of Save The Children ahead of the meeting on Tuesday. Christine along with Tracey Cheetham and Lindsay Atkin visited Mozambique earlier this year to see for themselves just how important the campaign is, you can learn so much from these inspirational women.