6 Reasons Why You Should Buy Electric Beach Cruiser Bike This Summer
Are you looking to get out in the sun more this summer? Buying a new bike could help you achieve all of your goals. If you're interested, consider an electric beach cruiser bike first.
These types of bikes are perfect for riding comfortably. Plus, since they have a motor, they're great for commuting. We put together six reasons you should buy an electric beach cruiser bike this summer, so keep reading! Let's begin.
1. They're Fun and Easy To Ride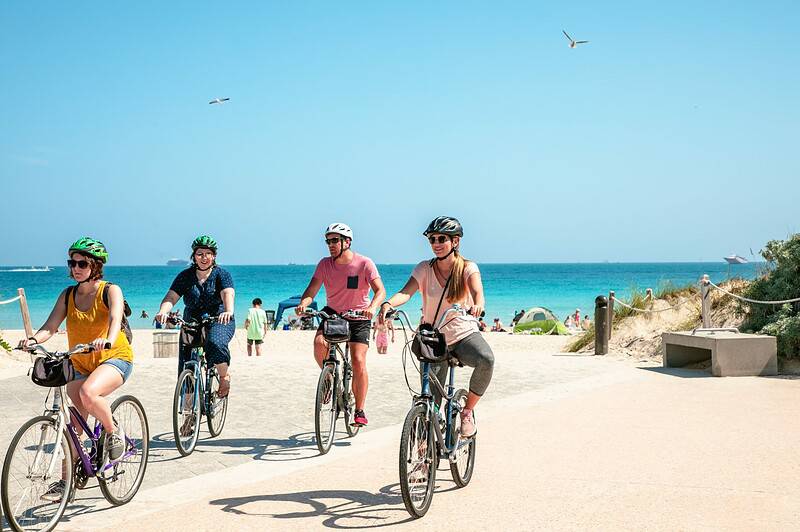 First, let's start with the main reason why people buy electric beach cruiser bikes. This type of e-bike is lower to the ground, positions you sitting straight up in the seat, and has comfortable grips. All of these features make the beach cruiser super easy to ride.
When you feel more comfortable on the bike, you'll have much more fun riding it! They're great for cruising along the beach. You can take them on more terrain, too, so don't let not living near the coast stop you.
The pedal-assist feature also lets you stay out longer with less stress on your joints. You won't feel as many aches and pains after riding, allowing you to enjoy longer rides than you could on a standard bike.
Overall, beach cruisers are fun. They come in tons of bright designs and provide a relaxed ride. You'll find yourself looking forward to taking yours out every single day, which will help you get more exercise too.
2. You'll Improve Your Fitness
Summer's a time to get outside and enjoy the sunshine. If you can work out outside, you'll have more fun improving your physical health.
Many people mistakenly believe that you don't get as much exercise on an e-bike. However, you still need to pedal when riding one, so you can get a great workout without exhausting yourself. That way, you can get back on your e-bike the next day since your muscles won't be as sore.
Beach cruiser e-bikes come with a motor with a pedal-assist feature. You still need to pedal, although the motor can make it much easier on your body. Rest assured that you still burn calories whenever you take your new cruiser out for a ride.
3. They Come With Extra Storage
Most beach cruisers come with a storage rack on the back. You can put anything you want there, which is perfect for the summertime.
You can take your cruiser out all day since it can easily carry a backpack. Plus, you can pack a lunch and enjoy a picnic outside. Riding your bike to a local park can make it feel like a special occasion, and you can have the whole family tag along.
This feature is highly convenient if you plan on using the e-bike for commuting. You can have even more storage with a basket on the front of the bike. Some beach cruisers also come with a waterproof bag, an LCD display with a place to charge your phone, and a water bottle holder.
You'll need to consider how much storage you want your new electric bike to have before you buy one. There are many options, but we recommend getting one with a back rack for carrying a bag, at least.
4. It Can Boost Your Mental Health
Getting outside and doing more physical activity can help you boost your mental health. Riding can also help you relieve stress and has been shown to reduce anxiety and depression symptoms.
When you work out, your body releases chemicals called endorphins, which make you feel good. The pedal-assist function on an electric cruiser can also turn a high-impact workout into a low-impact one. Thus making it more accessible for everyone to get more physical activity.
Plus, you'll need to ride the e-bike outside in the summer sun. Sunshine can help your body produce serotonin, which is excellent for mental health. Lastly, sunshine can help you absorb Vitamin D.
5. They're Great for Commuting
Next, any electric bike, even an e-cruiser, is excellent for commuting. You can use it to run errands and get to work. Since the beach cruiser has ample storage space, you can carry groceries home or bring a day bag.
Beach cruisers are also classified as bikes, meaning you can ride them on sidewalks or bike lanes. You won't be stuck in traffic trying to get where you need to; you can even take detours through parks. It's a lot of fun exploring new routes on a cruiser, and you'll get plenty of exercise time each week.
The electric motor is also much better for the environment than a car. So, you're doing your part to save the environment when you ride one. Plus, you'll save a lot of money on gas.
6. They're Better for More Bodies
Beach cruisers are a better option for more people. Since they have a lower step-through frame, getting on one is much easier. You won't need to swing your leg over the bike to get on the seat. This feature makes them better for older people and those with mobility issues.
Since they're also an e-bike and offer a low-impact workout, more people can use them comfortably. If you've had issues riding a standard bicycle in the past, you might feel better riding an electric cruiser for those reasons.
Overall, beach cruiser bikes are much more suitable for more bodies. We're all unique, but these bikes' step-through frame and low-impact workout aspect can drastically benefit more people.
Let's Ride a Beach Cruiser E-Bike This Summer!
In short, if you want to ride a new bike this summer, you'll want to choose an electric beach cruiser. These bikes are fun and can be found in many stylish designs. You'll also improve your physical and mental health each time you take it out of the house.
After you start riding one, we're sure you'll find plenty of reasons to fall in love with your beach cruiser.