6 Modern Living Room Ideas That Will Make Your Home Look Luxurious
The living room is one of the most crucial spaces in your home. It's where you unwind, host guests, and rest. Your living room is a location where you can express your unique style and taste to make it seem genuinely personal. It's the living room where a house turns into a home. Its interior should thus showcase your personal preferences and flair.
Living rooms may be renovated very inexpensively, unlike bathrooms or kitchens, which can be pricey to redesign. To assist and motivate you to design the living room of your dreams, we've devised six effective methods to improve your living room's style.
Use Symmetry
When applied in a luxurious living room design, symmetry in interior design offers harmony and a sense of tranquillity. The easiest method to apply symmetry in a space is to have a focal point or beginning point in the form of an architectural element, such as a fireplace surround, a set of matching windows, or even a central table. If you have perfect symmetry in your luxurious living area, you can easily establish harmony and give tiny spaces a more customized appearance.
Try lighting symmetrically for a timeless appearance. Setting up two lamps on either side of a mirror or a piece of art is a terrific way to do this. You will get an elegant look with proper distribution as a result.
Add a Fireplace
When it is time for family and friend gatherings, the fireplace is usually the point where they congregate around. People feel welcomed and invited inside by its welcoming light and warmth. Many consider that the fireplace is much more than a design choice for your living room. It is a way that you can add a ritual to your everyday life and your house because it represents such a cosy spot.
There are many different options for choosing the right fireplace for your living room. Many people think that only traditional fireplaces can offer warmth and ambience to your home, but all electric fireplaces can ensure you get the same effect. Even without logs or a blazing fire, a fireplace's warmth and grandeur profoundly affect a space's mood. Discovering that perfect touch for your area may change it from a functional environment to one that is full of ambience and companionship. 
Flower Arrangements
You don't need big, expensive flower arrangements to add elegance to your room. You may only need a cheap grocery store bouquet to add class. In addition, the vase in which you place the flowers is also important. First, divide the bouquet into several stem groups, and then make a few tiny arrangements to place around your house. Although it won't take much of your time or money, it will significantly affect your house.
Think About Furniture
Avoid using heavy "blocks" of furniture in apartment living rooms; instead, use pieces with legs to give the illusion of more floor space. A modern environment also has to feel airy. Comfortable settings include couches with deep seats, cushions, and accent chairs you can snuggle up in. Having furniture with legs is the ideal way to do that. Avoiding furniture that reaches the floor completely will make the pieces themselves appear lighter and give the impression that your space is larger. It is a good general rule of thumb if you can reach the rear of it. It is too low to the ground if you are unable to do so.
Artwork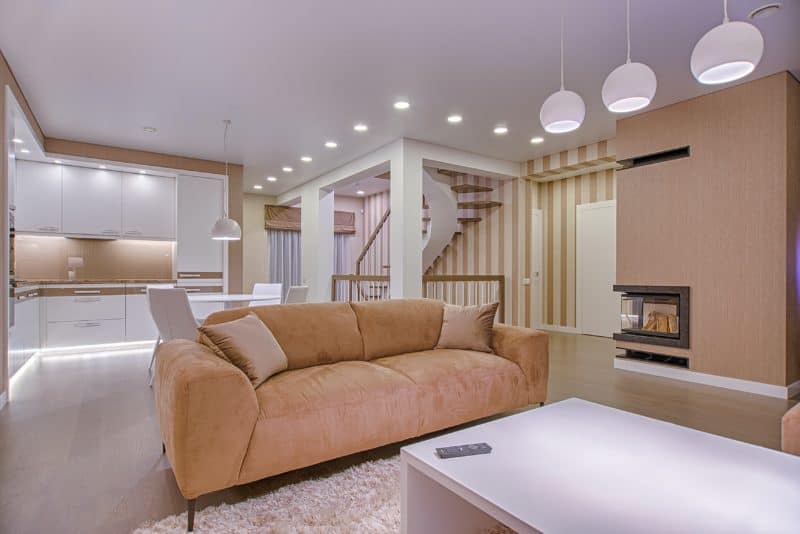 The easiest way to inject some colour and personalization into your living area is through artwork. The artwork changes boring, routine living rooms into stylish ones. Art is the ideal method to rapidly change a place with little effort if you want to remodel on a budget. It's not necessary to spend a lot of money on art. You can also use your imagination to make your own work of contemporary art for the wall, and the frame would be the only item you would need to purchase.
Change Lighting
Your living room's lighting, arguably the most significant component of any space, may directly impact your mood. A variety of light fixtures should be available in living rooms so that you may adjust them according to the time of day. The most crucial factor in changing the mood of your space is lighting. By just flipping a switch, you may change your living room from a light and airy area to an intimate or romantic one. Your space will be transformed if you make an effort to make sure your lighting is in top shape.
Several options let you upgrade your house, no matter how much time you have to spend on your upcoming home improvement project. We hope one of these ideas gets your creative side active!