25 Years of Disney Channel – where are they now?
Disney+ is the new home for Disney Channel, DisneyXD and Disney Junior content in the UK. With more on-demand than ever before, Disney+ will now premiere all of the latest films, series and specials from the three Disney Channels, along with favourites from our library.
Over 4000 episodes of Disney Channel content (archive and brand new) and 1000 episodes of Disney Junior content will be available to stream anytime, anywhere. WIth this in mind, if you don't already have a VPN as part of your internet security, you may wish to look into some of the best vpn for streaming options out there as, in addition to keeping your devices and network safe, it can also help give you a smooth viewing experience when streaming. So alongside the classics already on the platform, such as Hannah Montana and High School Musical, you can expect more episodes of the latest series such as Bunk'd, Gabby Duran, The Owl House, 101 Dalmatian Street, The Lion Guard, Ducktales and Star Wars Resistance. 
And to mark an epic 25 years of Disney Channel, we've taken a look back at some all-time favourite stars who shot to stardom.
Where are they now?
Miley Cyrus
Miley Cyrus rose to fame in 2006 when she landed the leading role of Hannah Montana on Disney Channel, having first auditioned aged just 11.
She is now 27 and an incredibly successful musician, having sold over 20 million albums and 55 million singles worldwide as of 2019.
In addition to her pop career, she has also continued acting, voicing the character of Penny in Disney's Bolt, starring in hit movies including The Last Song and LOL, and even starring in the latest series of Black Mirror. She has also featured as a coach and judge on The Voice US.
Ashley Tisdale
Ashley Tisdale first appeared as Maddie Fitzpatrick in Disney Channel show The Suite Life of Zack and Cody in 2005, before landing the iconic role of Sharpay Evans in High School Musical.
She went on to appear in a number of popular films including Hellcats, Sharpay's Fabulous Adventure and Scary Movie 5 and has had ongoing roles in TV shows including Clipped and Carol's Second Act, also serving as an executive producer on ABC Family's Young & Hungry.
Ashley has also had a musical career and released three albums – Headstrong, Guilty Pleasure and most recently in 2019 – Symptoms.
She has also voiced the character of Candace in Disney Channel's Phineas and Ferb since 2007 and recently starred in the brand new Disney+ Original movie – Phineas and Ferb The Movie: Candace Against The Universe
Zac Efron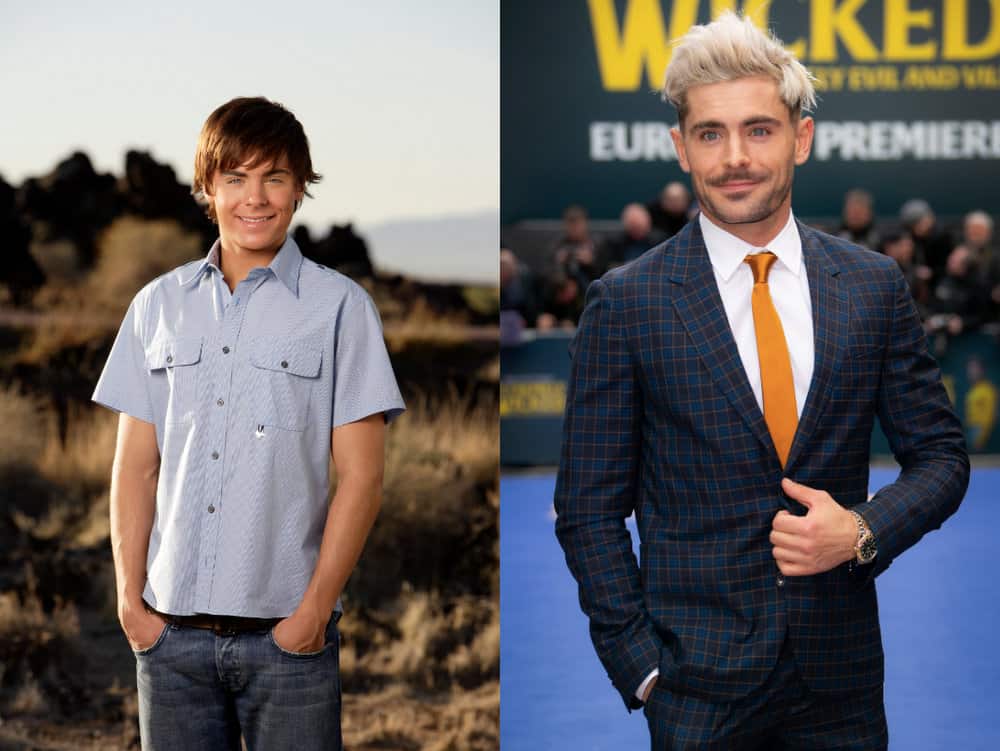 Zac Efron rose to fame in the role of Troy Bolton in the Disney Channel original movies High School Musical when he was 18.
Following his success in High School Musical, Zac Efron has had a prolific movie career starring in two hit musical movies – Hairspray and The Greatest Showman – as well as in a number of blockbuster movies including Baywatch, Bad Neighbours, 17 Again, Charlie St Cloud and Dirty Grandpa amongst many others.
Now at 32, Efron's most recent venture is hosting his own travel series Down To Earth.
Selena Gomez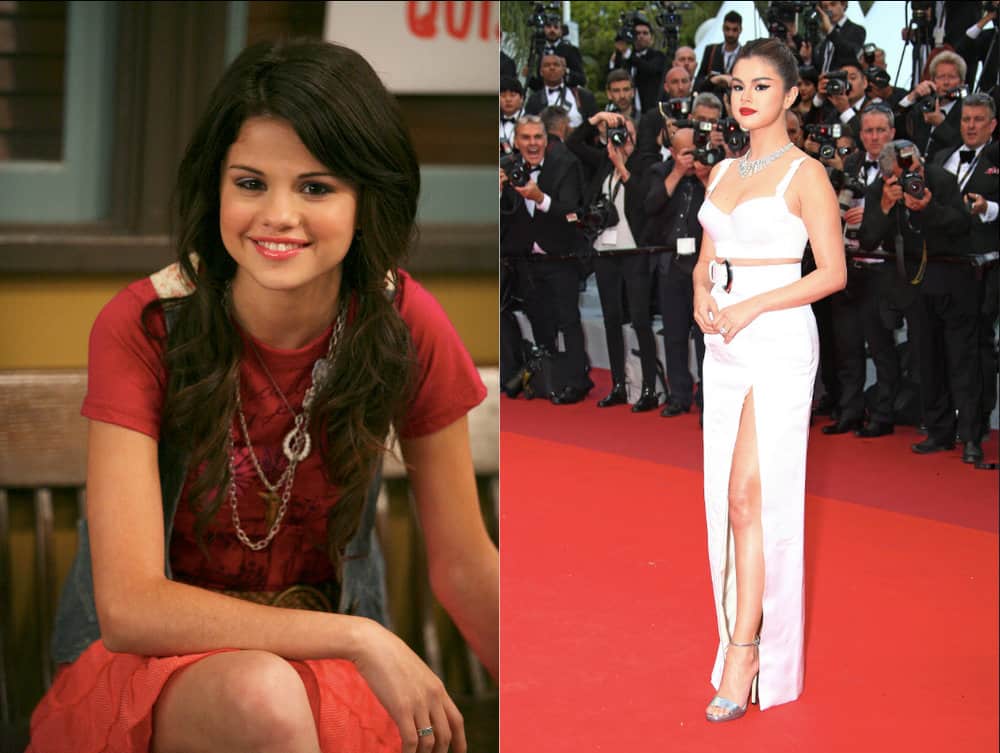 Selena Gomez rose to stardom by playing the leading role of Alex Russo in hit Disney Channel series The Wizards of Waverly Place. She was just 15 when she began her role in the series in 2007 and continued the role until 2012.
Just turned 28, Selena Gomez is now an incredibly successful musician having eight-top ten singles and in 2017 Billboard reported that she had sold 7 million albums and 22 million singles worldwide. In addition to her career as a musician, Gomez continued her acting career starring in films such as Another Cinderella Story, Ramona and Beezus, Hotel Transylvania and Monte Carlo.
Selena has also executive produced the Netflix series – 13 Reasons Why and has her own production company -July Moonhead Productions.
A few years ago, Selena was the most followed person on Instagram!
Demi Lovato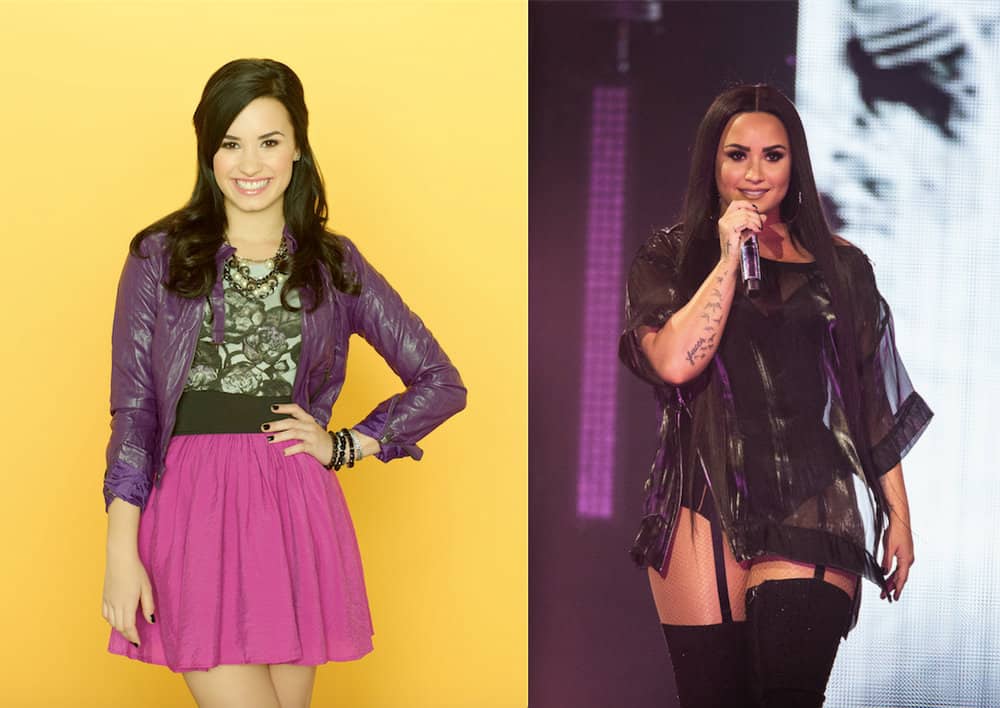 Demi Lovato began her acting career as a child but rose to fame when she starred as Mitchie Torres in the hit Disney Channel Original Movie – Camp Rock at age 16.
From there Lovato landed the lead role in the popular Disney Channel series Sonny With a Chance (2009) and went on to star in Camp Rock 2: The Final Jam, the sequel to the hit 2008 Disney Channel Original Movie.
Now at age 28, Lovato is a successful musician having released 6 albums, with her album Here We Go Again receiving particular accolade after debuting at number one in the US. She also had a number of hit singles including Sorry Not Sorry, which was released in 2017 and became her first single to be certified 5x Platinum in the US.
In addition to her music career, Lovato has also pursued her acting career, appearing as a recurring character on FOX's Glee as well as the sitcom Will & Grace. In addition to this, she also voiced the character of Smurfette in Smurfs: The Lost Village and served as a judge and mentor on X Factor USA in its second and third seasons.
Dylan and Cole Sprouse
Dylan and Cole Sprouse began their acting careers at a young age with their first major role being comedy film Big Daddy in 1999. The pair also appeared in a number of television sitcoms including Friends where they shared the role of Ben, Ross' son. They then landed leading roles in The Suite Life of Zack & Cody on Disney Channel in 2005 when the boys were just 13 years old!
They continued the series until 2008 and then continued in the spin-off series The Suite Life on Deck from 2009 until 2011.
Now aged 28, Cole Sprouse stars as Jughead Jones in hit series Riverdale and is a successful photographer, whilst Dylan Sprouse is a co-owner and brewmaster of the All-Wise Meadery in Williamsburg, Brooklyn. The pair also attended New York University from 2011 to 2015.
Vanessa Hudgens
Vanessa Hudgens made her Disney Channel debut in High School Musical in 2006 when she was 19 years old. Following her success as Garbriella Montez, Hudgens acquired a record deal with Hollywood Records where she released two studio albums V and Identified.
She has also continued her acting career and has featured in a number of films including Beastly, Sucker Punch, Journey: 2 The Mysterious Island, and Second Act. She also played the recurring role of Emily Locke in NBC series Powerless.
Vanessa has also featured in a number of musical productions including FOX's live versions of both Grease and Rent as well as the title role in the Broadway production of Gigi.
Zendaya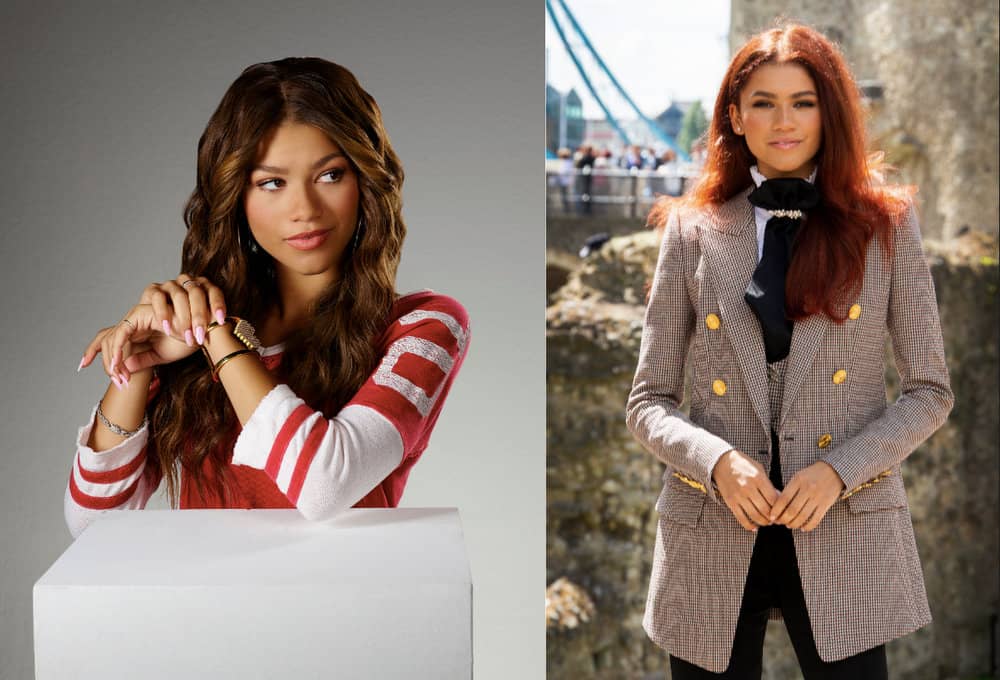 Zendaya began her career on Disney Channel aged just 14 when she played the leading role of Rocky in the popular series Shake It Up in 2010. She appeared on the show until 2013 and starred in and produced another Disney Channel series – K.C Undercover.
Now aged 24, Zendaya stars in HBO series Euphoria for which she has been nominated for a Primetime Emmy Award and Critics Choice Award.
Prior to Euphoria, Zendaya played the role of Michelle (MJ) Jones in Spider-Man: Homecoming and Spider-Man: Far From Home and also starred in the movie musical The Greatest Showman.
Zendaya has also had a successful music career, having released a number of singles including Swag It Out and Watch Me as well as launching her self-titled debut studio album which reached 51 on the Billboard 200 chart.
DISNEY CHANNEL | 25 fun facts for 25 years
That's So Raven was the first series ever to have the name of its Black female star in the title
Hannah Montana almost ended in a completely different way – with Miley realising that her alter ego Hannah Montana was just a dream. This alternative ending was even filmed and included on the Hannah Montana Forever: Final Season DVD.
The original plot of Jonas was about the brothers being undercover teen spies – the storyline was due to follow the band as they played concerts as a cover while working as government secret agents to save the world.
Phineas and Ferb has had plenty of British guest stars – including Gordon Ramsay appearing in an episode as a fictional chef, Jamie Oliver as himself, Simon Pegg and Nick Frost making appearances in a horror-themed storyline, Damian Lewis appearing as an English spy in an episode set in London, David Mitchell as the evil Mitch in The Chronicles of Meap, Jane Horrocks, Phill Jupitus, Gary Lineker and Helen McCrory in S3's My Fair Goalie, Jeremy Clarkson and James May in S4's Live and Let Drive, amongst others (full list HERE)
David Henrie who played Justin on Wizards of Waverly Place also wrote two episodes of the series.
Disney Channel animated series Gravity Falls was inspired by the town of Boring, in Oregon. As a child, programme creator Alex Hirsch remembers taking road trips and being "enchanted" that there was a town called Boring (which dubs itself "The Most Exciting Place to Live").
After Zendaya's success in hit series Shake It Up she was cast in and named a producer on another Disney Channel series K.C Undercover. Zendaya actually had a large impact on a number of the show's key elements including its title which was originally going to be named "Super Awesome Katy" as well as her request that the show needed to feature a family of colour.
Andi Mack was the first Disney Channel series to portray a main teenage character, Cyrus, on his journey to self-discovery as a gay individual and ultimately, his self-acceptance. The series won acclaim from the TV Academy, GLAAD and PFLAG among others.
15 year old Kylie Cantrall plays the lead role of Gabby in Gabby Duran and the Unsittables, but the actress first made her name on YouTube thanks to her witty interview series "Hello Kylie"
Many of the Cory In The House episodes are named as parodies for popular songs. This was also done on the popular Disney Channel show Hannah Montana. Cory episode names included "We Built This Kitty on Rock and Roll" and "Smells Like School Spirit".
The voice of Stitch in Lilo and Stitch was voiced by the multi-talented Chris Sanders who wrote the script for the show and also directed the production.
The Lilo and Stitch character CIA agent Cobra Bubbles, was inspired by Pulp Fiction. Actor Ving Rhames, who played the gangster Marsellus Wallace in the cult classic, voiced the character of Cobra Bubbles.
101 Dalmatian Street is a series based on the classic 101 Dalmatians, in which British pop star Olly Murs guest starred. This was Olly's first appearance in a Disney role and his first acting role overall.
British actor Naomi Scott appeared in the Disney Channel movie Lemonade Mouth back in 2011, returning to the Disney family in 2019 to play Princess Jasmine in the live-action remake of the Disney classic Aladdin.
Janice and Jessica in The Suite Life of Zack and Cody – played by Camilla Rosso and Rebecca Rosso – were English twins who were discovered by the show's executive producer at a live taping before being cast. They went on to appear in The Suite Life on Deck before forming a band with their other sisters which was represented by Kevin Jonas Sr (the Jonas Brothers' dad) and supporting Demi Lovato on tour.
British actor Gregg Sulkin played Mason Greyback, Alex (Selena Gomez)'s werewolf boyfriend in Wizards of Waverley Place, before going on to star in the action-packed Marvel series Runaways, which follows the adventures of six teenagers in the Marvel Universe.
The visual design for the animated series The Owl House was inspired by various European painters including Remedios Varo, John Bauer, and Hieronymus Bosch. Other inspirations include Russian architecture as well as medieval church art
Animated series Star Wars Resistance was inspired by creator Dave Filoni's interest in World War II aircraft and fighter pilots. His grandfather's time as a pilot during the war was a particular influence on him.
Sonny With A Chance, starring Demi Lovato, went through a number of title changes, with the names "Sketchpad", "Welcome to Mollywood" and "Welcome to Holliwood" being considered before "Sonny With A Chance" was decided upon.
Co-creators of Phineas and Ferb – Jeff "Swampy" Marsh and Dan Povenmire, voice key characters – inept evil scientist Dr. Heinz Doofenshmirtz (voiced by Dan) and O.W.C.A leader Major Francis Monogram (voiced by Jeff).
Special crossover episodes That's So Sweet Life of Hannah Montana and Wizards on Deck with Hannah Montana saw Disney Channel stars including Miley Cyrus, Cole and Dylan Sprouse, Raven Symone, Ashley Tisdale, and Selena Gomez interact with each other as their fictional paths crossed.
The Jonas Brothers also guest starred in an episode of Hannah Montana entitled "Me and Mr Jonas and Mr Jonas and Mr Jonas"
Demi Lovato made her Disney Channel debut two years before her own show Sonny With A Chance aired, on the short-form series As The Bell Rings
"Two Worlds Collide", the song from Princess Protection Program starring Demi Lovato and Selena Gomez, was written by Demi and the Jonas Brothers, and also appeared on Demi's debut album, "Don't Forget."
Jump In!, the jump-roping movie starring High School Musical's Corbin Bleu and Keke Palmer, was originally supposed to be called Double Dutch.