13 Tips To Help You Adjust To Living With Elderly Parents
Decades ago, it was easy for families to move in and live with their grandparents. But with today's evolving and modern cultural revolution, multigenerational living can be challenging. Certain things come with taking care of an elderly loved one that many people overlook.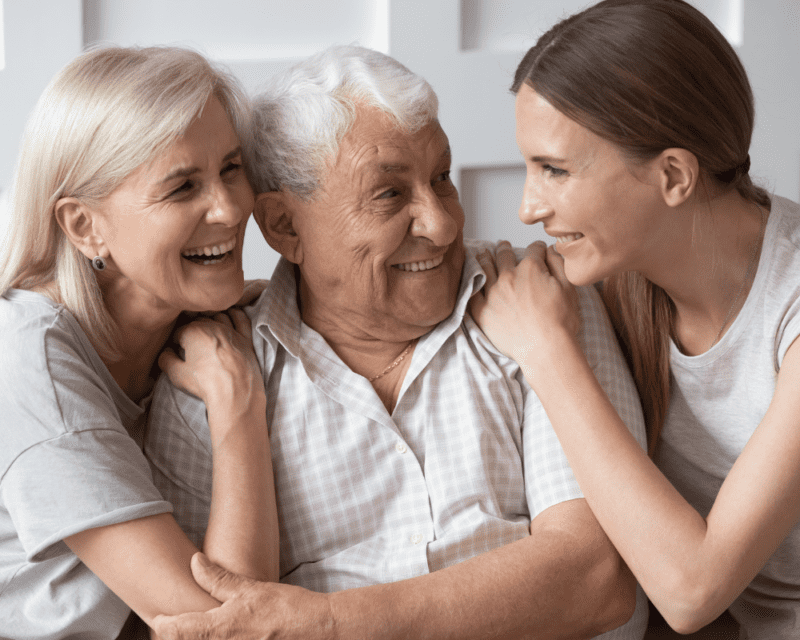 Here are great tips to help you adjust to living with your elderly parents and grandparents.
1. Make Time For Everyone
Plan frequent activities with your elderly parent, dinners with your spouse, and quiet time for yourself to rejuvenate. Even if you might not have much free time, strive to spend some of it more with your grandparents.
You can go the extra mile and buy them a fleece blanket which they can cosy up with as you watch their favourite TV show together. This is one of the best Christmas gift ideas for grandparents, and they'll probably value the extra attention you're showering them with.
If they understand that you prioritize the connection rather than trying to fit it into a busy schedule, your interactions could even become more peaceful.
2. Set Realistic Caregiving Expectations
When caring for an elderly parent at home, you should first determine how much daily care they require to be healthy and content. These include: if they need help moving around the house, transportation to and from the doctor's, assistance with bathing & dressing, and medication expenses.
After the evaluation, think about and clearly express the types of assistance you can and cannot offer. This will show you where your ability to give your loved one the care they need falls short.
Finding care gaps can appear unpleasant, but they are pretty crucial. These gaps enable you to begin arranging alternative care to satisfy these requirements.
Be candid regarding the level of care you can and cannot provide. You are under no duty or obligation to accept more than you can carry.
3. Plan Ahead
A little planning may go a long way when it comes to caregiving for ageing parents in your home. It would be best if you took some time to consider how you may take the best position for yourself and your elderly parents for success.
Before (or while) moving in with your elderly parents, you might consider consulting a law attorney to ensure that your grandparents' finances are in order. You can also prevent the need for expensive end-of-life care by purchasing a long-term care policy.
If your elderly loved ones have difficulty moving around, it's essential to put in place safety measures such as ramps or railings.
4. Prepare Psychologically
This is a crucial step if your elderly parents are temperamental and more dependent.
In such a case, prepare your mind and learn to stay calm when handling confrontations. Additionally, you need to be patient and help your loved ones with everything they require from you. The process can take a toll on you if you're not in the right mental state.
5. Adjust Family Ground Rules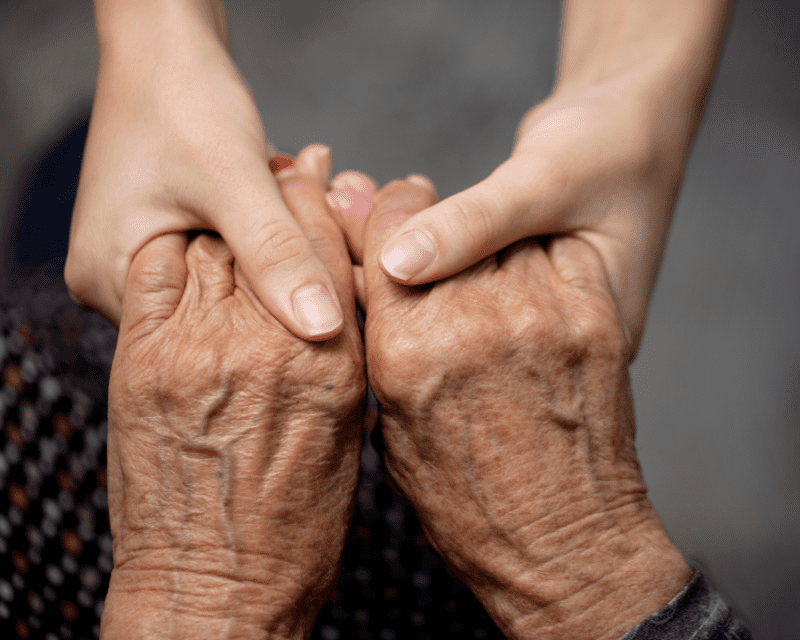 Your family will need to adopt a new dynamic that considers your new living situation without portraying your parents as house guests.
Establish guidelines for routine housework that will change in light of the new settings, such as family dinners, time spent outside the home, watching TV, and family vacations.
For instance, your schedule might not permit you to sit together at the dinner table with your family every night, even if your parents want it. In this circumstance, setting specific family dinner days and how frequently your family dines together is essential.
6. Budget Your Finances
Most people jump straight to providing care because they want to support the people they care about. However, they frequently overlook the possibility that this assistance may be needed for a few years.
Since everyone contributes to one home, having your grandparents move in with you might help ease the financial strain.
But still, adding an older person will result in higher food and utility costs, even the possibility of requiring homecare products such as Homecare Beds. It may even include remodelling the house, adding an in-law apartment, purchasing medicine and medical supplies, paying for travel expenses to the doctor, or employing in-home caregivers. 
Determine the costs associated with this living setup, and discuss who'll be responsible for what and at how much.
In some cases, it's wise to get a lawyer who can create a financial and personal care agreement if you will be giving your loved one direct care. If your loved one ever has to apply for financial aid or insurance, having thorough documents will help both now and in the future.
7. Take A Step Back
If you're solely looking after your elderly parents, handling all the work can cause severe fatigue and burnout.
If the whole process of managing your elderly parents, your kids, and all the chores is negatively impacting your emotional, physical, and general well-being, take a step back to breathe and relax.
You can do this by asking for help from other family members, setting up respite care, or considering different living setups.
Remember to put yourself first from time to time and keep your physical well-being in check by eating wholesome meals, hydrating adequately, and getting enough sleep.
8. Stock Up The Right Groceries
As they age, your parents could have a chronic ailment that requires them to eat particular foods or avoid others, or they might become physically incapable of preparing and eating for themselves. Make sure you can take care of your parents in these situations by preparing wholesome meals for them and, if required, feeding them.
Consult with their primary doctor to find out what foods or lunches they should eat or avoid at your house if one or both of your parents have a medical condition requiring them to follow a specific dietary regimen.
Stock up on the foods they should be eating and avoid purchasing the ones they should avoid. Buying in bulk saves you extra trips to the grocery store as caregiving is already a lot of work.
9. Treat Them As Adults
Consider your elderly parents to be grownups.
Treating your elderly parents like the child in the relationship rather than your parents can upset you and them.
Keep in mind that your parents are grownups and should be treated accordingly.
Seek to empower them during your interactions by giving them new ideas and opportunities to weigh in on every choice.
10. Be Persistent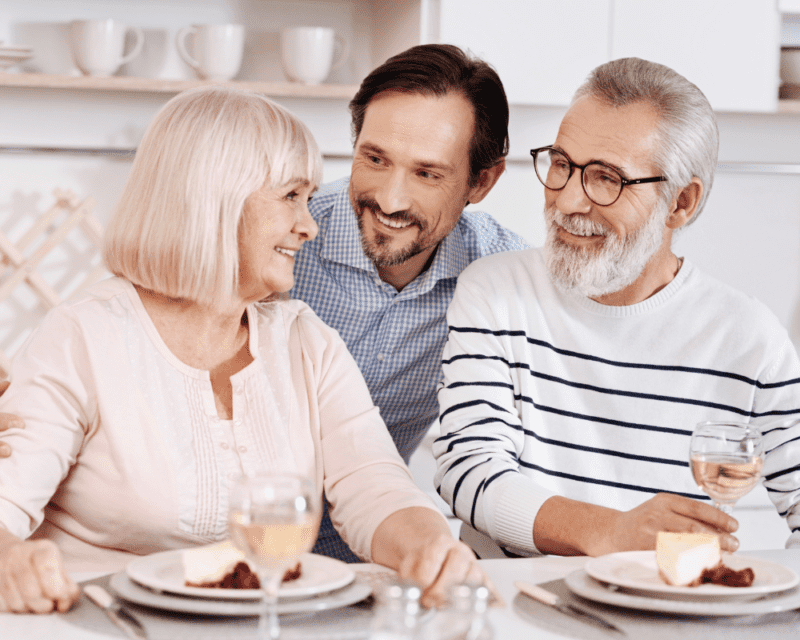 When dealing with elderly people, conversations are much more likely to be fruitful when both parties are patient and persistent. Don't enter with the notion that everything ought to be resolved right there and then.
Be patient because you'll likely need to address your worries with your parents several times. All that much information in one chat might unnecessarily cause your elderly parent to experience a sense of losing control.
Additionally, if your loved one has dementia or another cognitive disorder, they might not be able to process a lot of information at once.
11. Join A Group Therapy
Suppose you find that some of your family members disagree with the decision to live with your elderly parents. In that case, it's advisable to seek expert advice to assist you in finding the best answer for you and your family.
Join a group therapy or mediation where everyone can converse about this tough decision more efficiently with the support of an expert. A geriatric care provider can examine your loved one's requirements and provide recommendations for care solutions.
You can learn more about what it means to be a caregiver through a local or online support group. There are resources and guidance available to guide your family through this choice.
12. Employ An In-Home Caregiver
As the demands and needs of your elderly loved one change, they can exceed the level of what you and your close relative can offer. When it gets to this point, take on a private in-home caregiver.
Private caregivers are flexible and affordable to fit your needs because you can hire them by the hour. You can outsource a respite care service that sends a caregiver for at least 5hours at a time.
This relieves a lot of pressure from the family members and gives you personal time to deal with your personal affairs while the intermittent caregiver spends time with your loved one.
Caregiver aid is another excellent choice if you're also unclear about handling ageing parents who suffer from age-related illnesses like dementia.
Conclusion
It takes a lot of courage and dedication to care for ageing parents in your house. While this living setup can strengthen family bonds, it might not always go as planned. But with these helpful tips, adjusting to living with your elderly parents can be a little easier.