Will you ride the Dinosaur Train?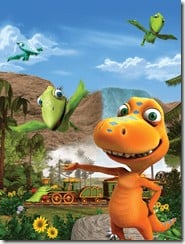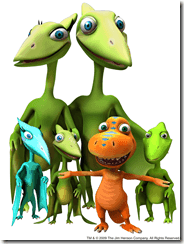 Last week a train arrived in our house and has been making regular stops here ever since. Dinosaur Train is the new children's show from Jim Henson which can be found on Nick Jr in the UK. It is a bright and colourful show set in a prehistoric land of jungles, volcanoes and swamps. Buddy is the main star of the show, a tiny T-Rex whose eggs accidentally found it's way into a Pteranodon's nest. The Pteranodon family (Mum and his siblings; Shiny, Tiny and Don) adopt Buddy as one of their own and help him in his quest to find his own species.
Buddy is an inquisitive little chap who asks questions of his family and other passengers as they ride the Dinosaur Train. With the help of the Dinosaur Train they can travel to anywhere their heart desires, meeting different species along the way and learning all about their lives.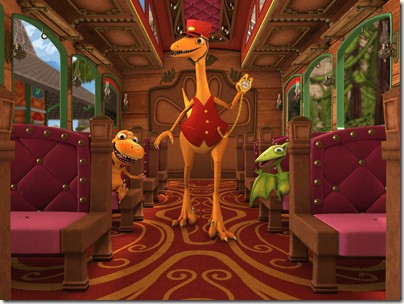 Dinosaur Train is a fun educational show created with the help of Palaeontologists, Science Teachers and early year's education consultants for children aged 3-6 years. Throughout the show children can discover what makes each species different and the things they have in common.
We were sent the first two episodes of the show for the purpose of this post and it has been an instant hit with Little Bean, especially the theme tune which is very catchy, she gets up and dances to it every time! This morning whilst reading a children's magazine together Little Bean spotted a picture of Dinosaur Train and immediately asked if she could watch it again – I think it's fair to say she loves it!