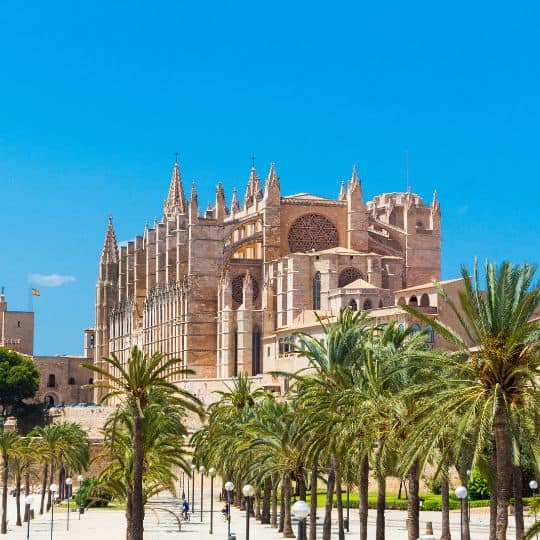 Top-Ranked Spanish Cities to Savor the Finest Paella Creations
Embarking on a culinary journey through Spain invariably involves indulging in the iconic dish – paella. Spanning a diverse spectrum of versions, from the delectable seafood rendition to those featuring chicken, rabbit, vegetables or other delectable ingredients, paella remains a ubiquitous and cherished culinary gem. Yet, the perennial question lingers: Where does one find the ultimate paella experience in Spain? The answer to this savory inquiry has been a source of impassioned discussion among locals and visitors, each region ardently championing its own interpretation of the beloved dish.
A definitive resolution to this debate emerges, thanks to the collaborative efforts of Spain-Holiday and Holidu, renowned experts in holiday rentals and experiences within Spain. They have harnessed the power of Google Maps data to determine the cities' most conducive to indulging in exceptional paella experiences. This list will make you ready for when you are going on holiday in Spain, to ensure you won't miss out on the food experience of a life-time!
Valencia
Earning its rightful place as the premier paella destination is Valencia – the birthplace of this iconic dish. The city boasts a whopping 49 paella restaurants garnering 4.5 stars or higher, along with 15 venues distinguished by their triumph in the esteemed international paella competition. This promises an authentic and tantalizing paella experience, sure to satisfy every palate. Sample the famed seafood paella or venture into the traditional realm with rabbit-infused delights or contemporary twists featuring snails. Vegetarian renditions abound, catering to a wide array of preferences.
Madrid
No discourse on Spain's culinary treasures is complete without acknowledging the nation's capital. With 38 restaurants boasting 4.5 stars or higher and one victor in the illustrious paella category, Madrid stakes its claim as a prominent paella haven, offering some of the best paellas in Spain for you to enjoy. The city's chefs have spent years fusing diverse flavors, culminating in experimental paella symphonies. From monkfish-infused marvels to lobster-laden luxuries, Madrid's gastronomic tapestry is a testament to relentless innovation. 
Malaga
Malaga, ensconced in the sunny southern realm of Spain, is renowned for its fried fish extravaganzas. Yet, with an impressive tally of 48 paella restaurants earning 4.5 stars or higher, dismissing the city's paella prowess would be remiss. The undisputed star, seafood paella, thrives here, showcasing locally sourced marine treasures. From classic shrimp paella to jet-black squid ink-adorned marvels, Malaga's paella spectrum is richly diverse. Embrace the culinary splendour, basking in the beachside ambience of Malaga.
Barcelona
The magnetic allure of Barcelona effortlessly lures countless tourists, each hoping to savor Spain's quintessential masterpiece. Amidst the 32 establishments earning 4.5 stars or above, authenticity reigns supreme. Barceloneta's eateries stand out, boasting exquisite seafood paellas, while the city's culinary visionaries explore experimental avenues. A local gem, paella parellada, partnered with sumptuous seafood stock, commands attention and taste buds alike.
Cordoba
Venturing southwards, Cordoba's allure extends beyond its scenic patios, culminating in a culinary realm where traditional Spanish fare reigns. A diverse palette of gastronomic offerings, including gazpacho and tortilla de patatas, converges in Cordoba's embrace. The city's vibrant gastromarket thrives, offering a symphony of paella variations alongside international delights. Alternatively, indulge in a patio luncheon surrounded by the city's charming traditional ambience.
Palma de Mallorca
For fervent seafood paella enthusiasts, Palma de Mallorca presents an unmatched culinary sojourn. The city's restaurants exquisitely marry freshly caught local fish with indigenous flavors, expertly accompanied by island-produced wines. From beachfront indulgences to sunset-kissed hillside vistas, Palma's paella promises an unadulterated gastronomic delight.
Alicante
Journeying to Costa Blanca's heart, Alicante unveils its paella prowess with an impressive roster of 34 restaurants flaunting 4.5 stars or higher. Alongside the pristine beaches, seaside paella establishments beckon, crafting an idyllic Spanish holiday ambience. From the tantalizing freshest catches to delectable vegan renditions, Alicante ensures no palate goes unsatisfied.
Granada
Synonymous with romanticism, Granada lures its timeless charm and culinary treasures, earning a well-deserved place in this esteemed ranking. Amidst stunning plazas, paella and tapas find harmony in culinary symphonies, with Alhambra's enchanting backdrop further enhancing the dining experience. Classic paella offerings intertwine with exclusives like lobster or curry-infused renditions.
Seville
Seville's breathtaking allure captivates tourists, beckoning them to immerse in its cultural and gastronomic tapestry. As 24 restaurants secure 4.5-star rankings, Seville's allure extends to its paella offerings. Amidst the city's enchanting plazas, paella experiences are best savored, complemented by adventurous renditions featuring rabbit, chicken, fish or snails.
Zaragoza
Concluding this list with an unanticipated wildcard is Zaragoza, nestled in northern Spain. The city's unassuming charm emerges as an alluring backdrop, complementing its culinary treasures. Zaragoza's culinary delights captivate as history blends with modernity, ensuring a symphony of flavors worthy of exploration.
The Legacy of Paella
While paella now graces exclusive culinary realms, its roots are steeped in humility. Hailing from the fields surrounding Valencia, rural workers sought an easily preparable dish integrating locally accessible ingredients. This simple delight rapidly ascended in popularity, transcending regional boundaries to become a national treasure.
The maiden iteration featured rabbit meat or beans, evolving over time to embrace limitless creative possibilities. Today, Spain boasts a vibrant tapestry of paella varieties, united by one defining aspect, the socarrat, an iridescent crust beneath the paella pan, heralded as the pinnacle of paella perfection.