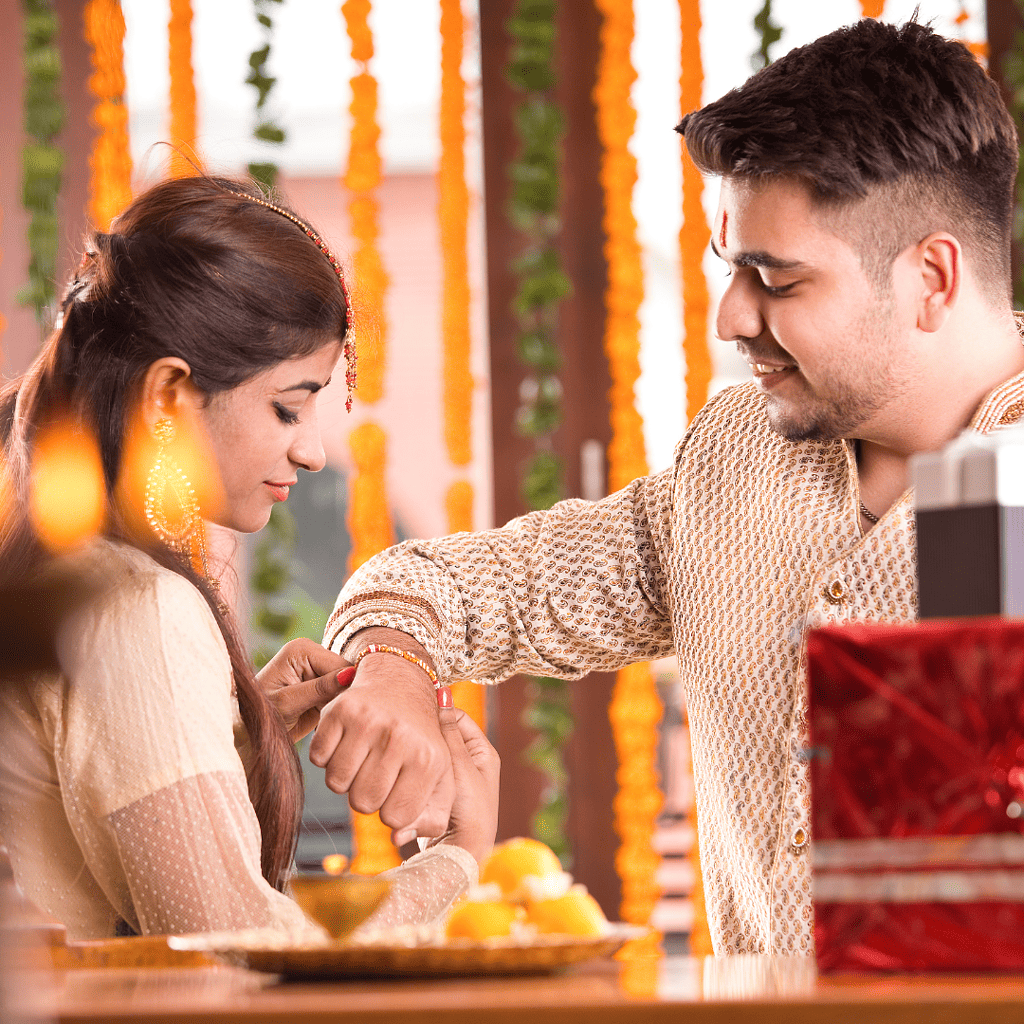 Top 10 Rakhi & Gift Combo Ideas for Raksha Bandhan
Raksha Bandhan, also known as Rakhi, is an auspicious Hindu festival celebrating siblings' bond. On this day, sisters perform the rituals and tie a rakhi on their brother's wrists, symbolizing their love and protection. In return, the brothers promise to protect their sisters from any harm.
This festival is also a time for exchanging gifts and strengthening sibling bonds through love, culture, gifts, and wishes. This article brings you the top 10 Rakhi and gift combo ideas for Raksha Bandhan.
Rakhi & Gift Combo Ideas for Raksha Bandhan
Whether you stay with your brother or plan to send the Rakhi online, you can easily get the Rakhi and gift combos from online gifting portals.
Traditional Rakhi with Sweets
The traditional Rakhi with sweets is a classic gift combo that never goes out of style. A beautifully crafted Rakhi paired with mouth-watering sweets such as Gulab Jamun, Rasgulla, or Kaju Katli will surely please your sibling's taste buds.
Personalized Rakhi with Photo Frames
Personalized Rakhi with a photo frame is an excellent gift combo idea that adds a personal touch to your gift. You can customize the Rakhi with your sibling's name or picture and pair it with a beautifully crafted photo frame that captures your special moments together.
Designer Rakhi with Chocolates
Designer Rakhis are popular among siblings who like adding flair to their Rakhi celebrations. Paired with a box of delicious chocolates, this gift combo is sure to impress your sibling.
Handmade Rakhi with DIY Kit
Handmade Rakhis are perfect for showing your creativity and love for your sibling. Pairing a handmade Rakhi with a DIY kit that lets your sibling create something unique is a great way to encourage their creativity.
Religious Rakhi with Holy Book
Religious Rakhis, such as Om Rakhi or Swastik Rakhi, are perfect for spiritual siblings. Pairing a religious Rakhi with a holy book, such as the Bhagavad Gita or Quran, is a great way to show your respect for your sibling's beliefs.
Cartoon Rakhi with Kids Toys
Cartoon Rakhis are popular among younger siblings who are fans of animated characters such as Chhota Bheem or Doraemon. Pairing a cartoon Rakhi with kids' toys, such as puzzles or board games, is a great way to entertain them.
Gemstone Rakhi with Jewelry
Gemstone Rakhis, such as the Rudraksha Rakhi or Pearl Rakhi, are popular among siblings who believe in the healing power of stones. Make sure that the gemstone(s) is properly adjusted into the Rakhi so it won't fall out soon. Pairing a gemstone Rakhi with jewellery such as a bracelet or necklace is a great way to complement your sibling's style.
Eco-Friendly Rakhi with Plants
Eco-friendly Rakhis made from materials such as jute or recycled paper are perfect for siblings who care about the environment. Pairing an eco-friendly Rakhi with a potted plant or succulent is a great way to show your sibling your shared commitment to sustainability. You can easily get this combo from a gifting brand that also deals in plants and opt for the doorstep delivery of plant and online Rakhi to Chandigarh or any other city.
Rakhi with Personalized Mugs
Personalized mugs with your sibling's name or picture are a great way to show your affection. Pairing a Rakhi with a personalized mug filled with their favourite beverage is sure to bring a smile to their face. There are various designs of personalized mugs to choose from, so have a good time and get the best.
Rakhi with Gadgets
Gadgets such as smartwatches or fitness trackers are perfect for siblings who love technology. With a little bit of exploration, you can also find a tech-enabled Rakhi for your brother. Pairing a Rakhi with a gadget that meets their interests is a great way to show your love and appreciation.
Conclusion
Raksha Bandhan is a special occasion celebrating siblings' bonds. Choosing the perfect Rakhi and gift combo is a great way to express your love and appreciation for your sibling. Whether it's a traditional Rakhi with sweets or a personalized Rakhi with a photo frame, these gift combos will surely make your sibling feel special and loved. So, go ahead and pick the best Rakhi and gift combo that suits your sibling's personality and interests, and make this Raksha Bandhan a memorable one for them. Happy Raksha Bandhan!