Tommee Tippee Explora Easy Drink Cup 6mths+
When it comes to weaning, Beanie Boy is the winner hands-down! He has taken to food like a duck to water and this time around, weaning has been a pleasure. Don't get me wrong, he hasn't loved every food that I've offered him but he is willing to try anything, he is very much his father's son when it comes to food and that is perfectly fine by me.
As with Little Bean I have tried offering just water as a drink but as with Little Bean, Beanie Boy isn't buying it and so I have to relent and put a little fruit juice in his water. We were sent the Tommee Tippee Explora Easy Drink Cup for Beanie Boy to try and he is so proud of his cup he wanted to point it out for you! Just in case you couldn't spot the big blue cup in the middle of the picture!!! Being the good mummy that I am, I tried sipping out of the cup to see how easily the drink flowed and it has a very sensitive spout yet remains non-spill and leak-proof. It has an integrated cap which flips back out of the way when Beanie Boy is drinking or clips into place for transportation or when he is being particularly heavy handed with it. The good thing about the cap remaining attached to the cup is that is cannot be lost into the ether with all other sippy cup caps!!!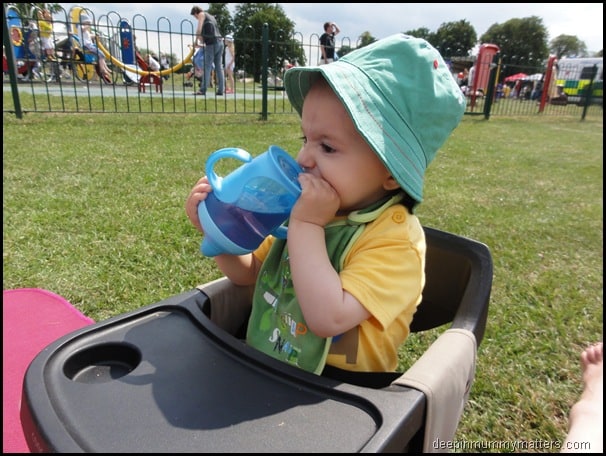 Beanie Boy wouldn't listen no matter how many times I told him to tip it the other way!
The Explora cups are all BPA-free and designed to take children from their first sips to a grown-up drinking cup. The advance-flo valve in the cup was designed by a physicist and as I demonstrated to Beanie Boy, it is very sensitive and requires very little effort to drink from. The Explora line of cups are designed to suit progressive stages of development with specific grips and spouts from soft spout to protect those delicate gums to dura spouts for the little teethers and to support oral development. The handles are easy grip and non-detachable which means they can't spin around like on some other cups.
We love the cup and it goes everywhere with us, and just because we can we bought the rest of the Tommee Tippee range in the same colour to satisfy my OCD tendencies!
If you would like to find out more about the Tommee Tippee Weaning range click on the badge below.