The Benefits Of Having A Quality Granite Worktop In Your Kitchen
Given that the kitchen is the busiest room in your home, choosing a worktop material is one of the biggest decisions you'll ever make. Quality granite worktops are an increasingly popular choice, and it's not hard to see why.
Granite worktops offer a wide range of benefits. Let's take a look at six of the best.
1. Quality Granite Worktops Bring A Luxury Look
When designing your new kitchen, appearances matter. Quality granite worktops deliver a distinct luxury style that you will surely adore. If you've ever walked into a friend's kitchen and asked, "is that a granite worktop?" you'll appreciate the impression it leaves. You can gain that "wow factor" by choosing it for your home. Aside from impression visitors, it will encourage you to spend more time in the kitchen.
2. Granite Kitchen Worktops Are Built To Last
It is suggested that the average homeowner should only renovate their kitchen every 10-15 years. You must choose robust materials to avoid needlessly updating the room more frequently. This is particularly important when selecting your worktops. Granite is a natural stone that is heat resistant and will not lose its structural integrity due to the tasks in a busy kitchen. So, it can deliver decades of function.
3. They Deliver A Low-Maintenance Solution
In addition to their durable nature, granite worktops require little maintenance. They are naturally stain-resistant and scratch resistant. Combined with a high-polish finish, they will continue to look incredible even without much attention. Even the ongoing cleaning duties are limited to wiping the surface with warm and soapy water. This gives the material a clear advantage for busy families.
4. Granite Worktops Suit A Range Of Interior Designs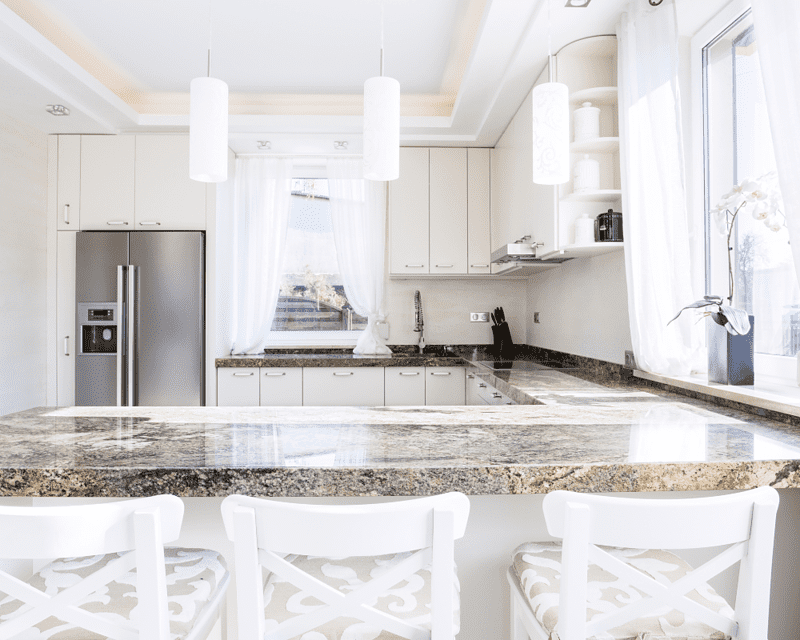 Granite worktops come in several colour designs. Meanwhile, the versatile appearance also works in traditional or modern kitchens. Likewise, they can be paired with a range of kitchen cabinet colours along with a wide selection of home lighting solutions. In turn, this means you are guaranteed to find a look you love. Better still, it allows you to choose between a complete renovation or a more subtle update.
5. Granite Worktops Are Hygienic
Hygiene is naturally a priority for anyone looking to update their kitchen due to the food preparation aspects. After all, food contamination can cause many problems for your digestive health. Granite has a naturally cool surface, which makes it great for food preparation. While you will still want to invest in the right chopping boards and kitchenware, a granite worktop gives you the perfect starting point.
6. Quality Granite Worktops Are Surprisingly Affordable
Finally, contrary to popular belief, granite is affordable for kitchen worktops. While the cost will depend on the size of the workspaces, the materials are cheaper than Quartz and many other popular choices. The installation costs are low too, thanks to the fact that the job is usually completed in just one day. Even when forming part of a bigger upgrade, it is a financially sound choice.