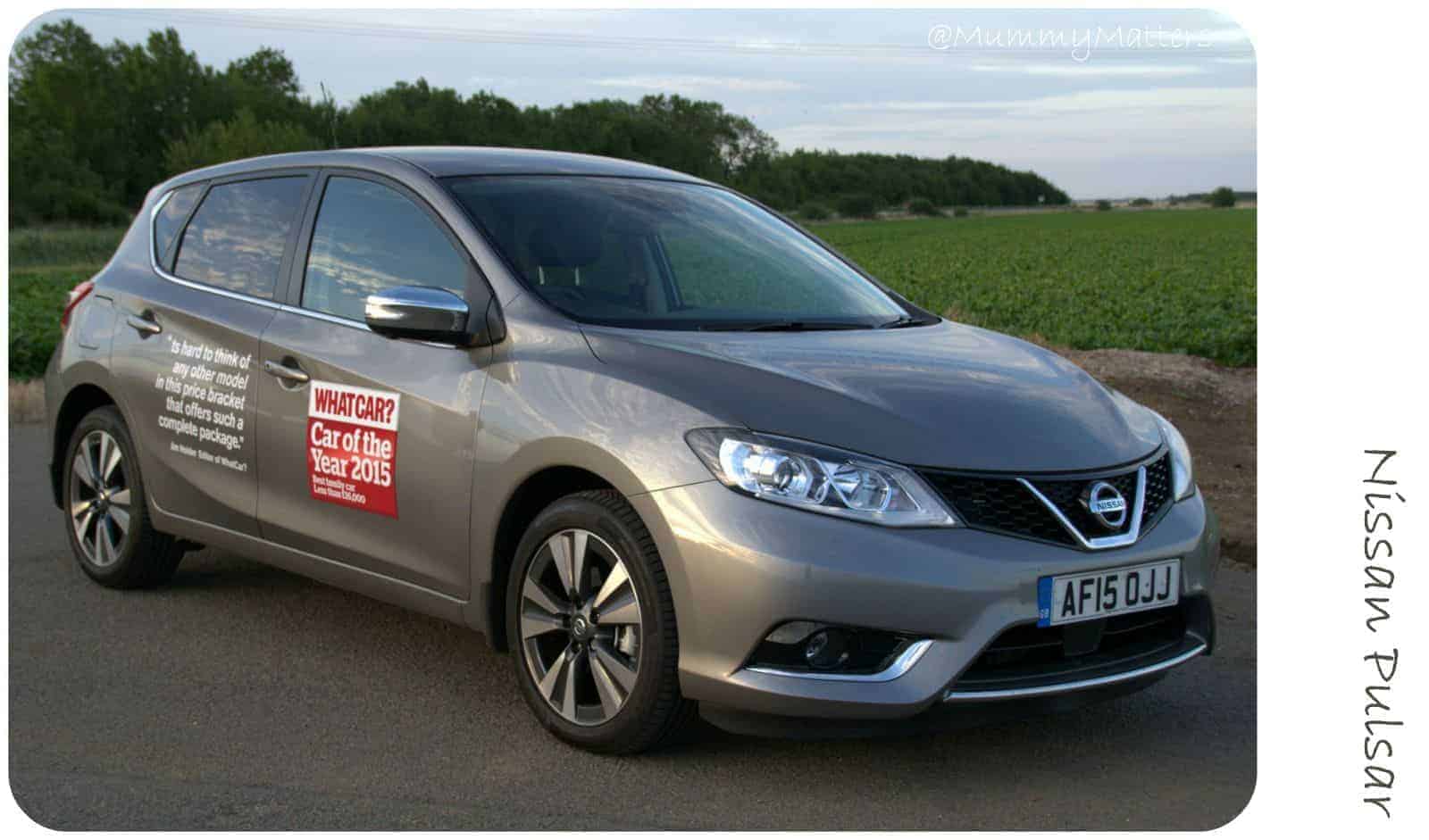 Ooh it's been a while since I've had the opportunity to test-drive a new family car and I had forgotten how much I missed the thrill of driving a new car. A few weeks ago I was approached by Smiths Nissan in Peterborough and asked if I would like to put the Nissan Pulsar through it's paces for a week to see how it fared with family life. I have never driven a Nissan before so I didn't know what to expect, it's not a brand I have previously considered for no other reason that it just hasn't come under my radar.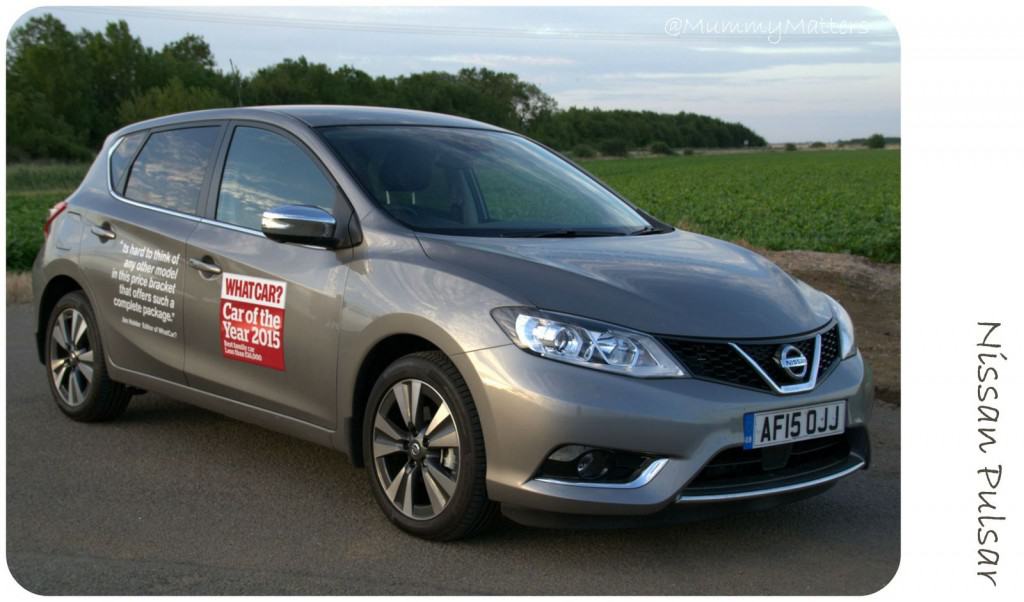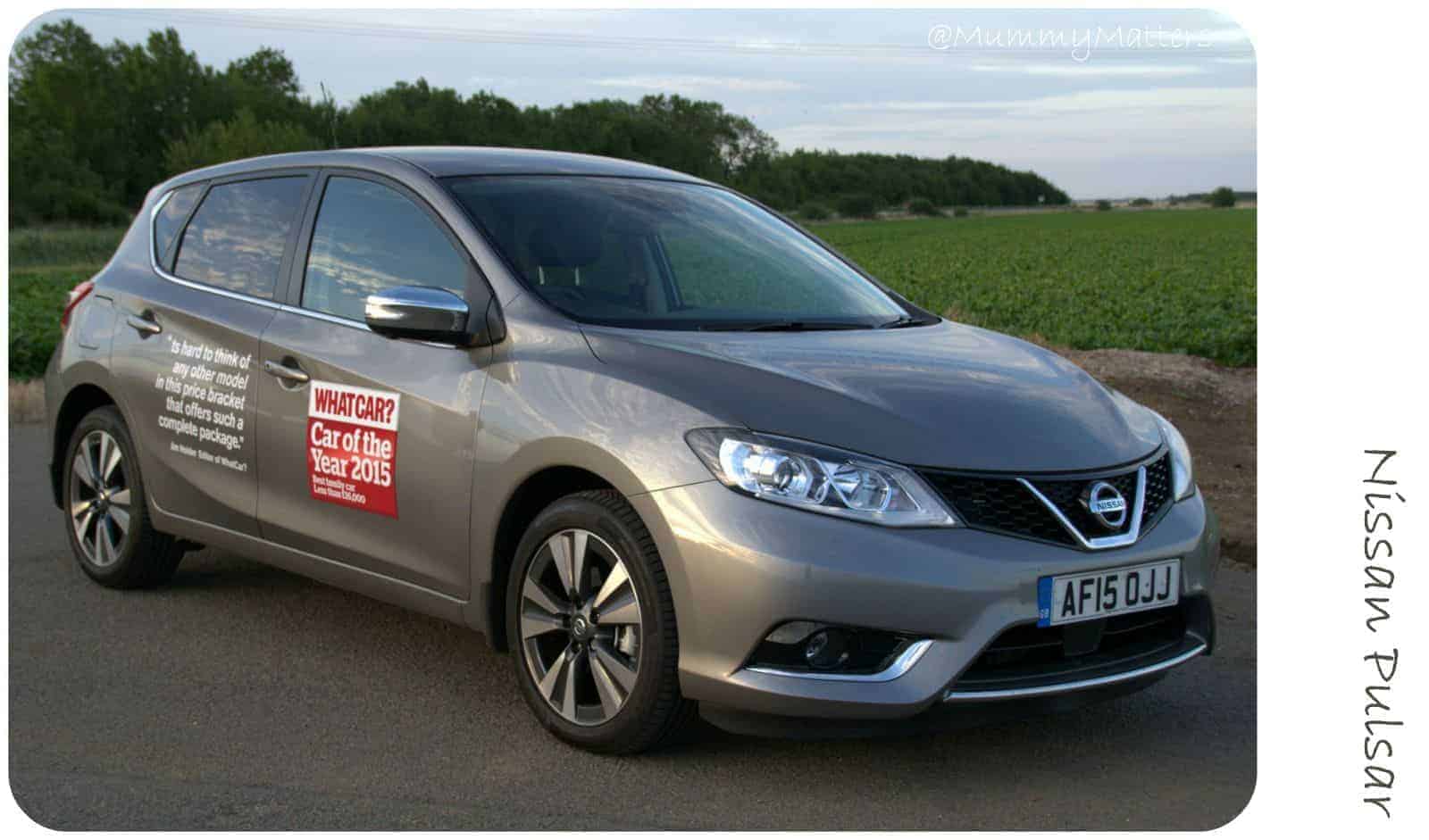 What they say;
Streamlined design, efficient engine power, clever on-board technology; discover innovation in the new Nissan Pulsar and enjoy added comfort and confidence on the road. The new Nissan has been awarded five-star rating by EuroNCAP; the safety tests highlight the car's exceptional levels of protection for driver and passengers.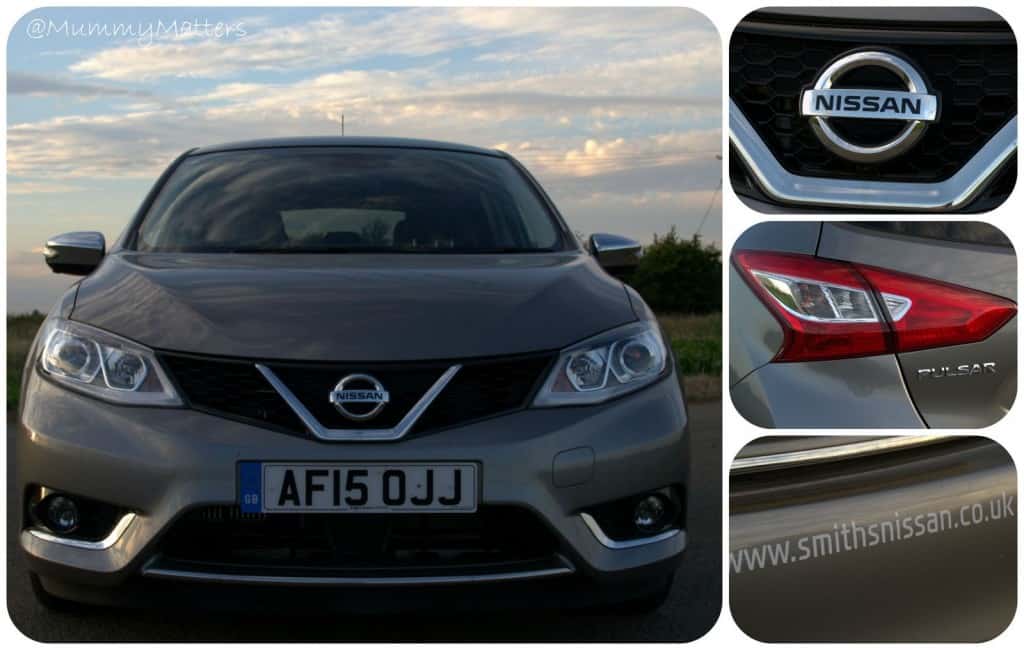 First Impressions
I collected the Nissan Pulsar during the week whilst Hubby was at work and I only had the three younger Beans with me. From the exterior, the car looks impressive with it's sleek/sporty lines. Inside, I realised that this wouldn't be a car for our whole family. Being a family of 6 we aren't exactly the average family size and the Nissan Pulsar has only 5 seats. Using the Kiddy Infant Car Seats we could only fit two seats across the back but when we changed these at home for their Trunki Boostapaks and a high back booster seat for Jelly Bean, we were able to comfortably fit the three young Beans on the back seat leaving the front seat free.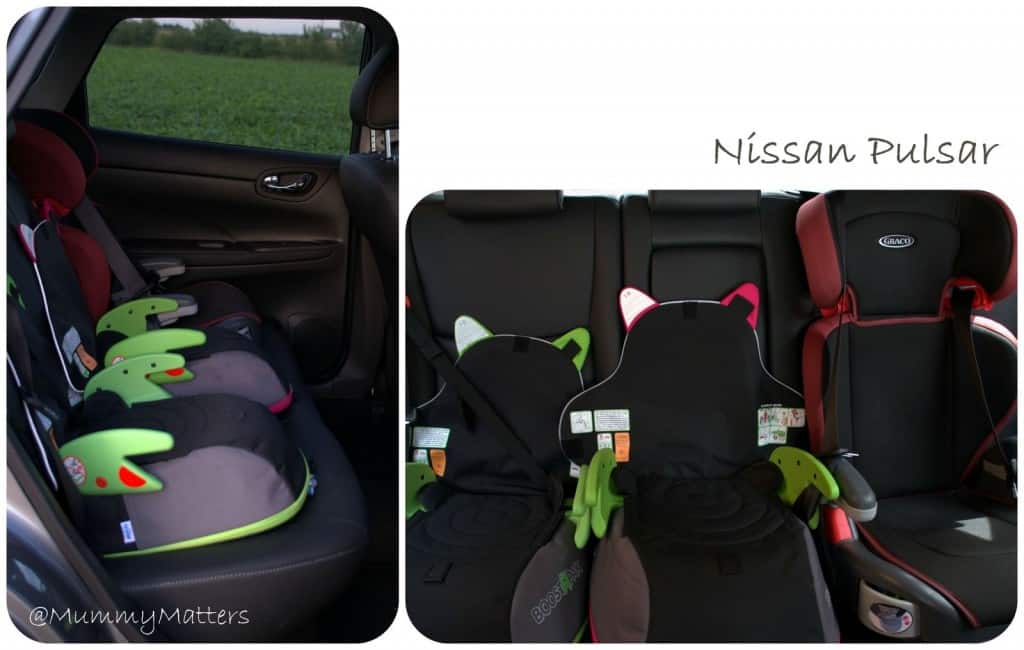 Once in the driver's seat, I was seriously impressed. Everything about the Nissan Pulsar screamed high quality from the leather seats and steering wheel to the polished chrome accents and the high gloss entertainment centre with touch-screen (more about that later).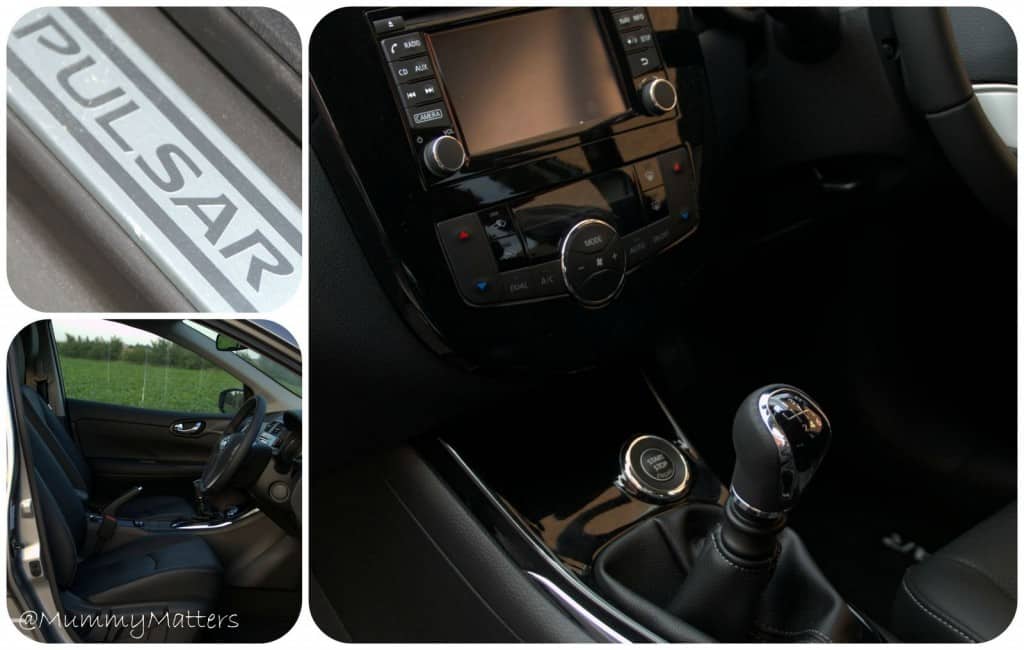 With the engine running and the foot on the pedal, the drive is seriously smooth. The steering is extremely light, when I got back behind the wheel of my Honda I felt like I was driving a sherman tank! I have driven A LOT of cars since passing my test (I worked for Motor Dealers for 5 years before Little Bean was born) and often found I needed a little 'settling in' time when driving a different car but the Nissan Pulsar felt like I had been driving it forever. I instantly felt like the car and I were one.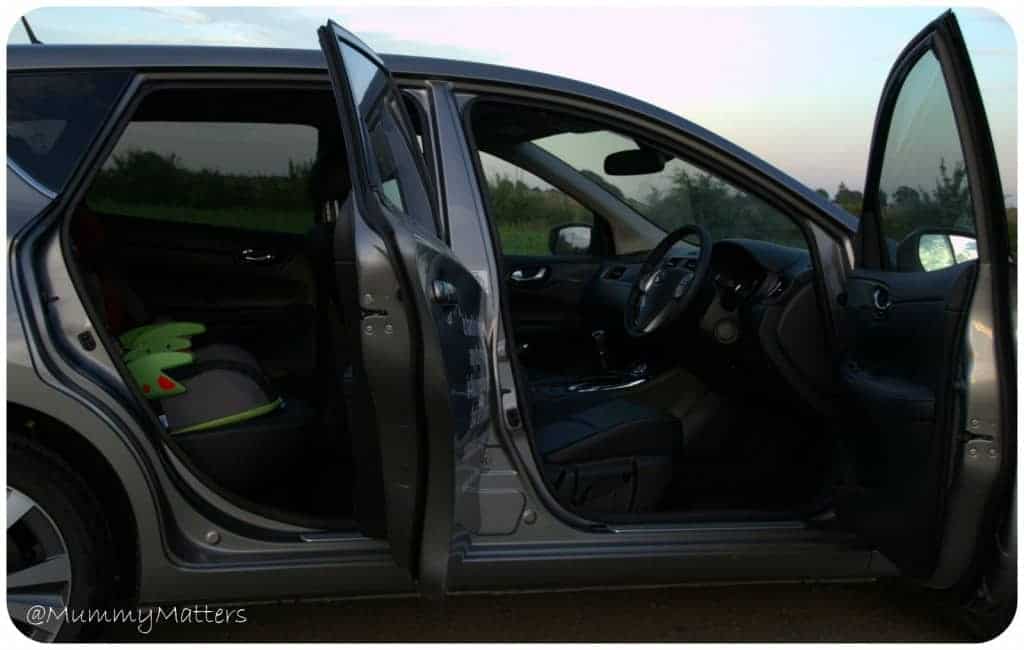 It's a little hard to tell from this photograph as it was dusk by the time I was able to get out with the car alone to take photographs but the cabin space in the car is very generous. Hubby and I are both quite tall (6′ and 5'8″) so to have the front seats in the best driving and passenger position often means that legroom in the back for the Beans is greatly reduced. In the Nissan Pulsar the rear legroom was impressive, in fact it offers 'best in class' legroom at 692mm!!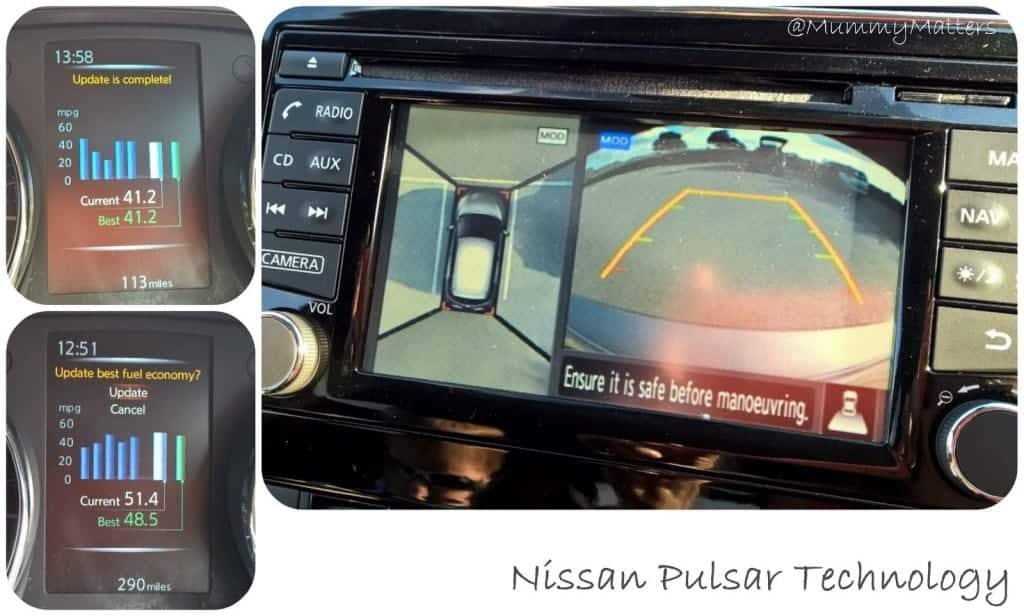 When it comes to technology the Nissan Pulsar is well equipped. I drove the Nissan Pulsar Tekna which is the top of the range and so is equipped with all the bells and whistles. Features which I particularly liked were;
External cameras for reverse parking. Not only do they show you what is behind you but you also get a bird's eye view of the car so you can see all around the car.
On-board computer – each time I drove the car I swore that I wouldn't leave the computer on the Fuel Economy but I couldn't help it. I competed with myself each time I drove to increase the fuel economy and it worked. When I collected the car the best fuel economy was recorded as 28.9, by the time I took the car back to Smiths Nissan a week later, it was at 51.4 and I was happy. The car even tells you when to change gear (up and down) for the best fuel economy.
Built-in Sat Nav – we put this to the test when Beanie Boy and I went out for a day in Norfolk. It was easy to program and worked a treat. Voice commands were clear and were also displayed on the computer screen of the driver's dashboard.
Bluetooth phone connection – believe it or not, this isn't a function I have ever got around to using on a car before but after spending the day in Norfolk in an area with no phone signal whatsoever I had been unable to text family to let them know we had arrived safely. I was eager to get on the road quickly at home time but wanted to contact home safely so before we set off I connected my phone to the car. Using voice commands I was able to make and receive calls quickly and easily without having to take my eyes off the road or my hands off the wheel.
Tyre pressure monitoring – I wish my car had this! Scrolling through the screens on the computer, I found one which told me the tyre pressures of each tyre. Certainly beats getting your hands dirty on the garage forecourt.
Blind Spot and Lane departure warning – I'm not generally in the habit of drifting but if I did happen to wander across a lane (without indicating) the car would tell me so with an audible sound. This feature could be turned off when it wasn't wanted.
Crash-mitigating breaking system – thankfully I didn't actually have to put this to the test but it was nice to know that it was available.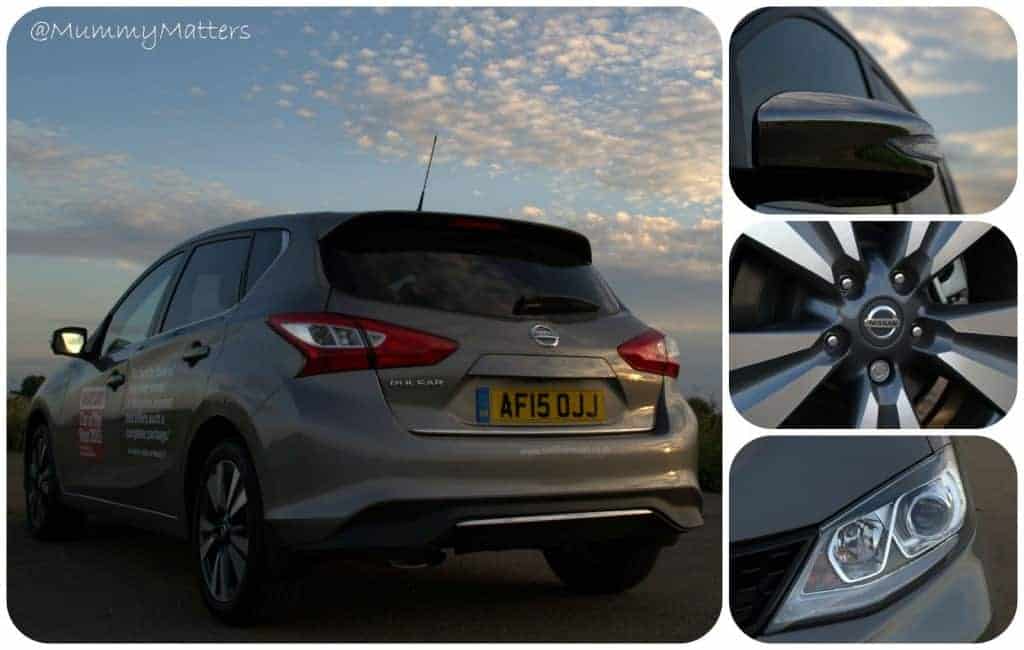 I was pleasantly surprised by the boot capacity of the Nissan Pulsar, it's hard to tell from this photograph because of the dark lining but underneath the buggy I was carrying two Microscooters as well as helmets, picnic blankets, coats and umbrellas yet still there was space for shopping. The boot is deep as well as wide providing ample space for a family car.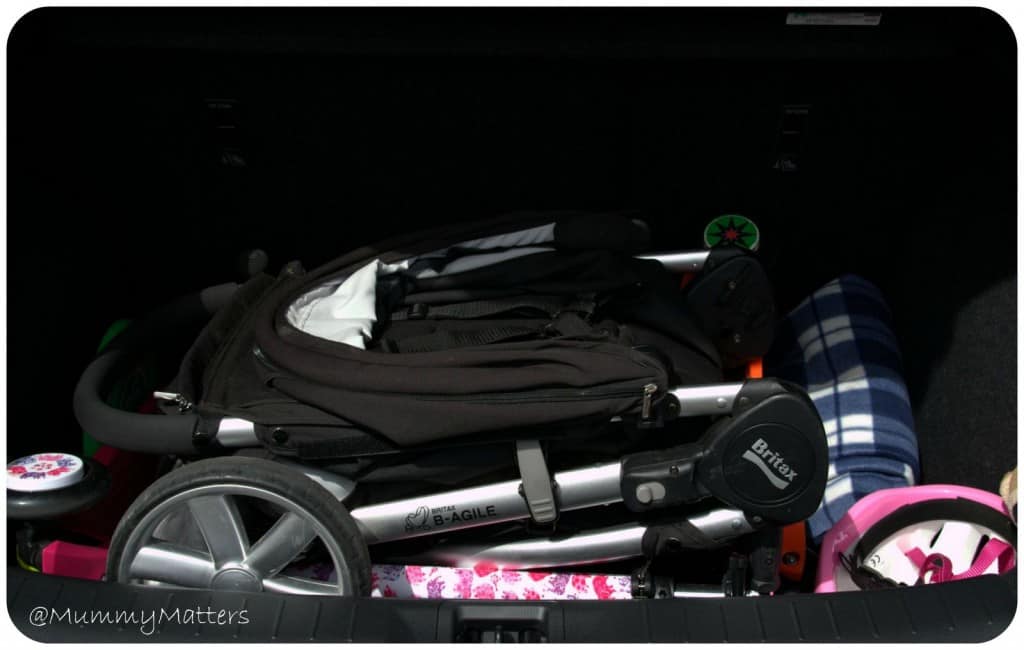 Unfortunately the car wouldn't be big enough as a permanent fixture as our main family car but it would make a perfect second car for us or a main car for a family of 4 with comfort and for 5 dependent upon the number of car seats required. As I mentioned at the start of this post, Nissan isn't a brand I had considered before but it is most certainly a brand I would be open to buying now.
DISCLAIMER: We were given the Nissan Pulsar to use as our family car for a week by Smiths Nissan in Peterborough in exchange for an honest review. All words, images, video and opinions are my own and may not be copied without my permission.