Sing 2 Printable Activity Sheet Pack FREE for Kids!
If you're looking for free and easy ways to entertain the kids this Easter then you have come to the right place because I have this fabulous Sing 2 Printable Activity Sheet Pack free for you to download now.
Sing 2 Printable Activity Sheet Pack FREE

for Kids!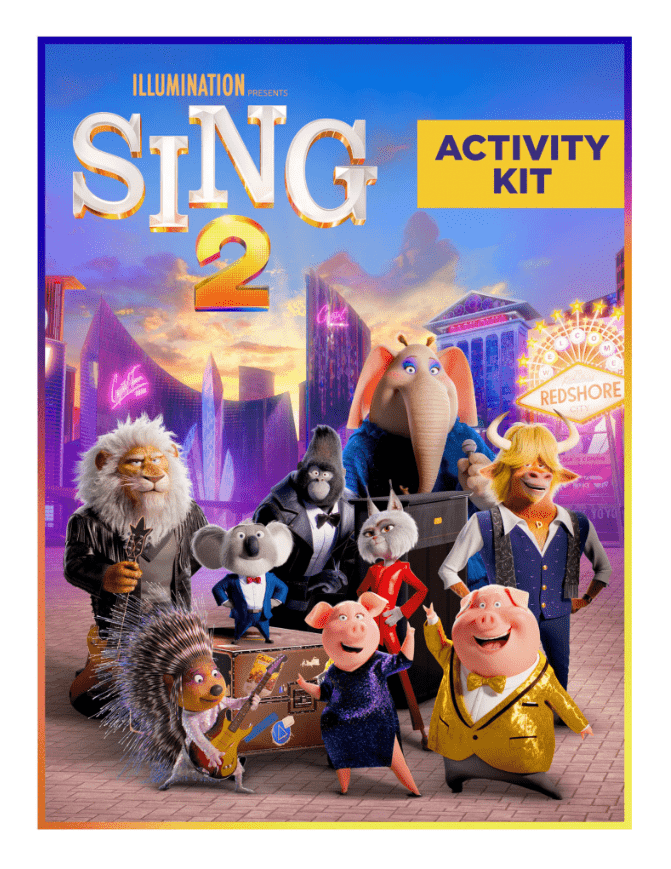 Whether you want to host your own Sing 2 Watch at Home Party or just want to keep the kids entertained whilst you get on with the housework then this pack has all that you need. Some of the activity sheets can be completed whilst watching the movie, others offer play ideas inspired by the movie and there are puzzles and colouring sheets too.
Make sure your printer is topped up as this is a bumper 17-page printable activity pack your kids are going to love!
Sing 2 The Move
Buster Moon and his crew are back preparing to launch their most dazzling extravaganza yet in SING 2, available to Download & Keep on 15th April and on DVD & Blu-ray TM 25th April 2022 from Universal Pictures Home Entertainment.
Hailed as "Incredibly catchy feel-good fun" (Ali Plumb – BBC Radio 1) and earning a 98% audience score on Rotten Tomatoes, fans of all ages can now sing, dance and laugh more than ever with this collector's edition, brimming with exclusive bonus content, including 2 never-before-seen mini-movies with some of your favourite characters, sing-alongs to the hit songs from the film, a dance-along with renowned choreographer Sherrie Silver, outtakes with the star-studded cast and more interactive fun for the perfect family movie night.
We saw it in the cinema and will be watching it again on 15th April because we loved it so much.
All of your favourite singing and dancing all-stars from Illumination's Sing return for the definitive feel-good event of the year. The ever-optimistic Koala, Buster Moon (Matthew McConaughey), and his cast have big dreams of staging their most dazzling show yet in the glittering entertainment capital of the world, Redshore City. There's just one hitch: they must persuade the world's most reclusive rock star, Clay Calloway (Bono), to join them. Rosita (Reese Witherspoon), Ash (Scarlett Johansson), Johnny (Taron Egerton), Meena (Tori Kelly) and Gunter (Nick Kroll) return with all-new characters, spectacular hit songs and electrifying performances in SING 2, a comedy about the emotional healing power of music.
What's in the Sing 2 Printable Pack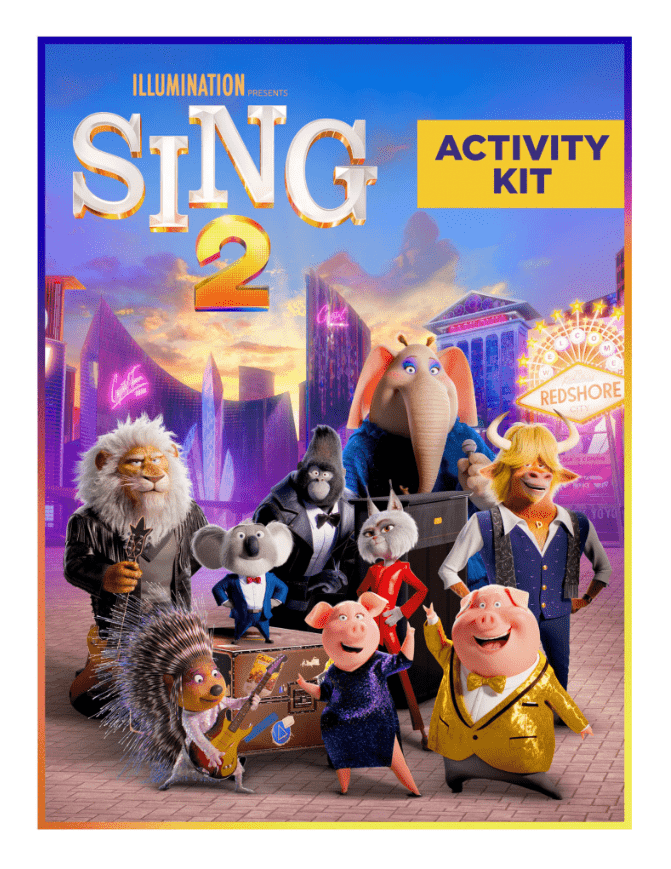 Download this FREE bumper pack of Sing 2 activities that includes:
Pick a talent
Practise your talent
Make a stage
Snack Bar – SING 2 recipes
Showtime – talent show
Sing 2 Word Search
Sing 2 Maze
Sing 2 Coloring Pages
Sing 2 How to Draw Pages
After Party (awards and celebration)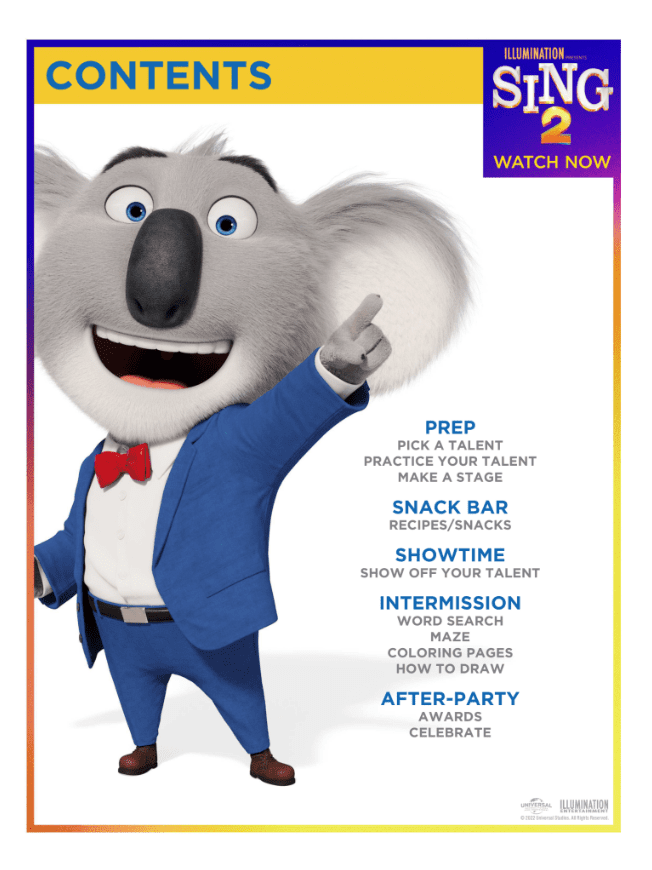 Hold your own Talent Show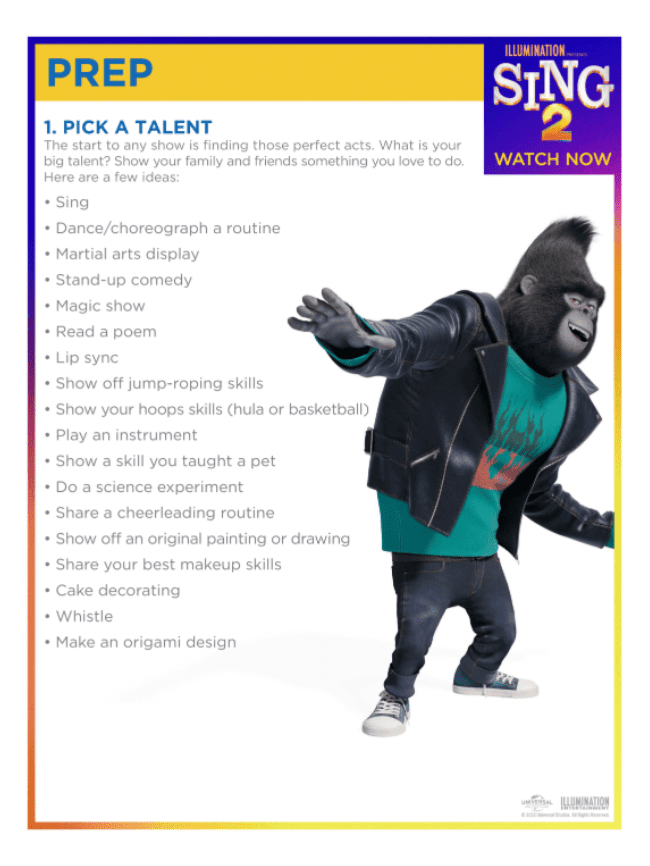 Ideas for your Talent Show performance
Does your little one have dreams of being the next Ash or Jonny? Let them pick talent from the list below and put on your own talent show to entertain the Grandparents, Aunts and Uncles for a fun family get together or even just to their Teddy Bears!
Sing
Dance / Choreograph a routine
Martial Arts Display
Stand Up Comedy
Magic Show
Read a Poem
Lip Sync
Show off jump rope skills
Hoop Skills (hula hoop or basketball)
Play an instrument
Show a skill you taught a pet
Do a science experiment
Cheerleading routine
Show off an original painting or drawing
Share your best make-up skills
Cake decorating
Whistle
Origami
Talent Show Practice Chart
All of the best performers need to practice regularly to stand out from the rest. Using the Practice Chart they can ensure they are ready to take centre stage.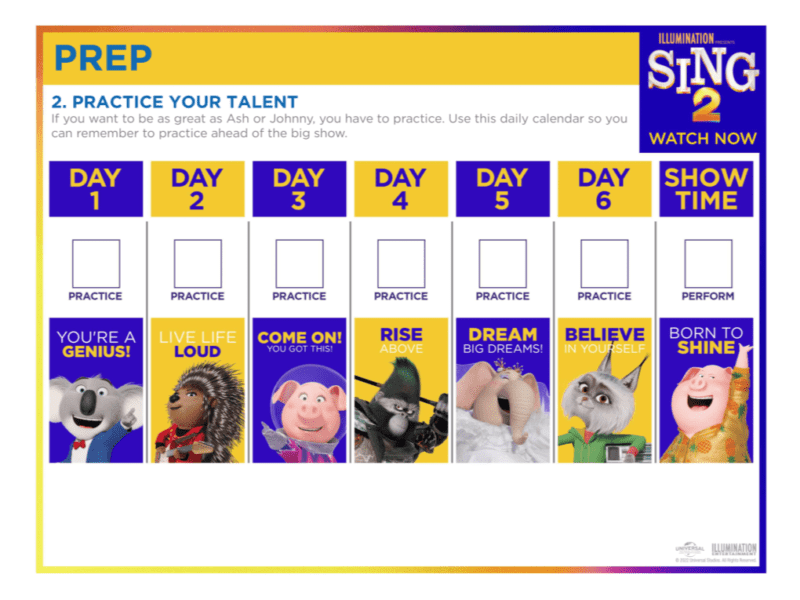 Make a Your Own Stage
Every great show has a stage, following the instructions below you can create yours.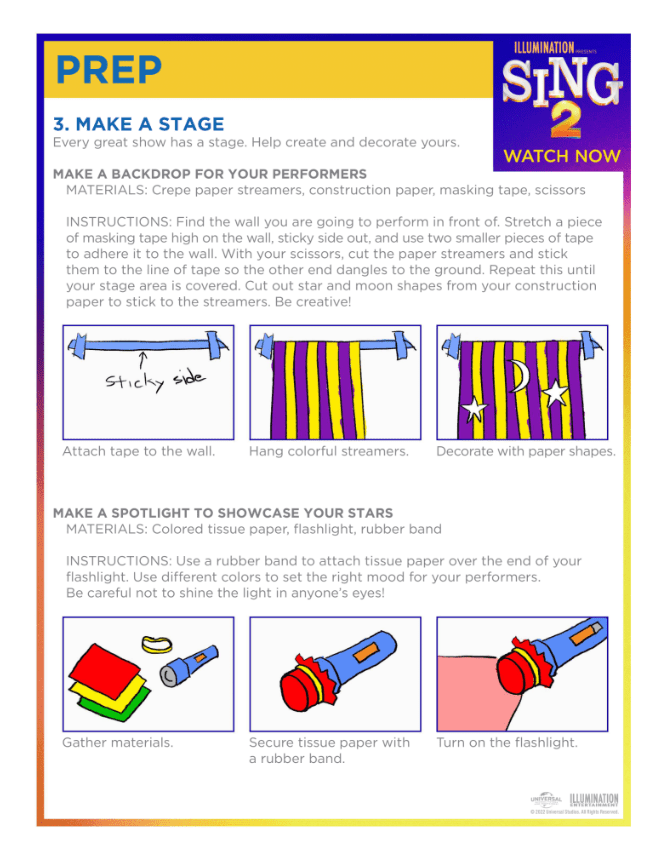 Sing 2 Snack Recipes
Choose from Meena's Strawberry Shake, Buster's Bagel Bites or Porsha's Popcorn and show off your skills in the kitchen with these Sing 2 Snack recipes.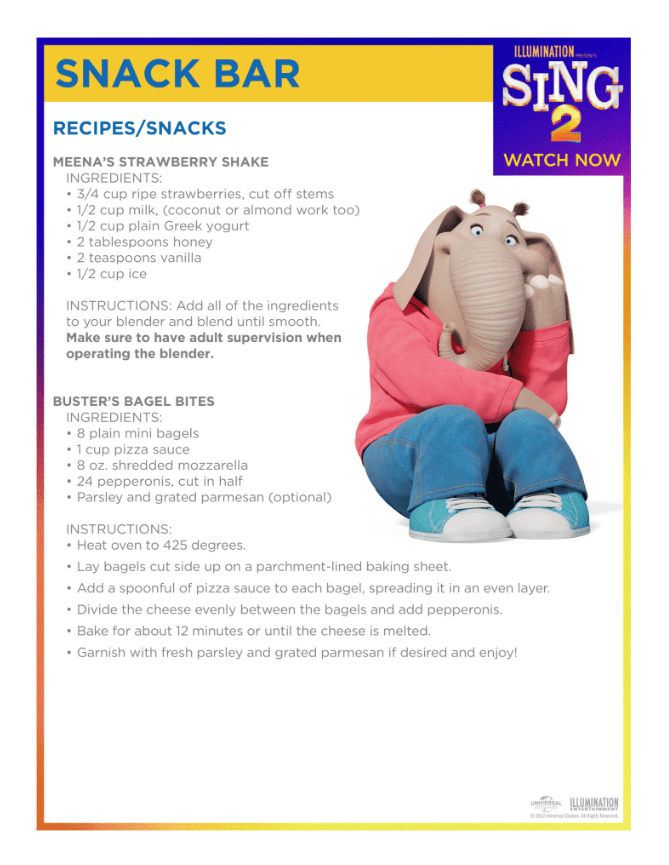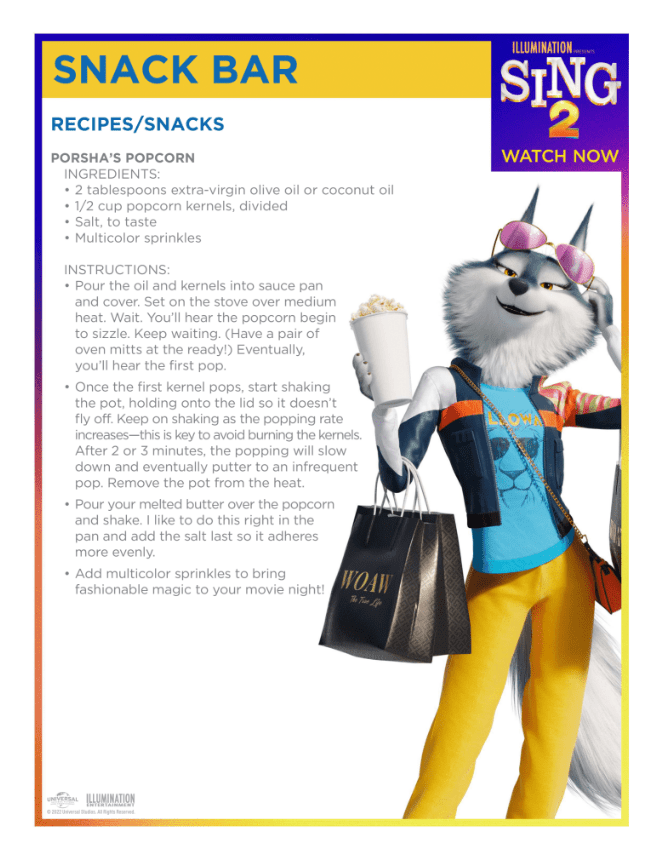 Sing 2 Activity Sheets
Who can be the first to find all the missing words? No cheating!!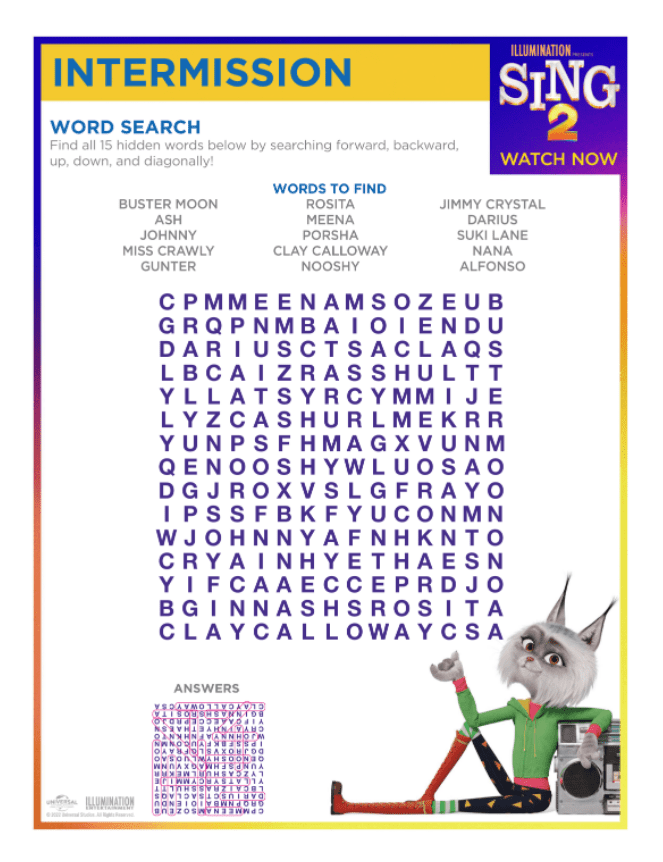 Buster Moon
Ash
Johnny
Miss Crawly
Gunter
Rosita
Meena
Porsha
Clay Calloway
Nooshy
Jimmy Crystal
Darius
Suki Lane
Nana
Alfonso
Sing 2 Maze Activity
Clay is tucked away in his retirement home, can you help him to navigate his way through the maze and back to stardom?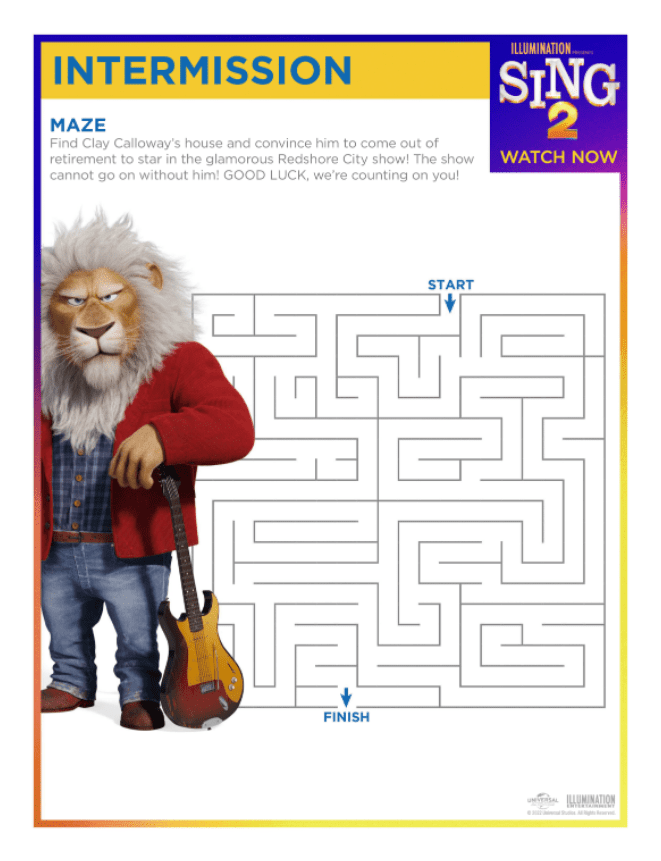 Sing 2 Colouring Pages
Choose from Ash, Jonny and Rosita.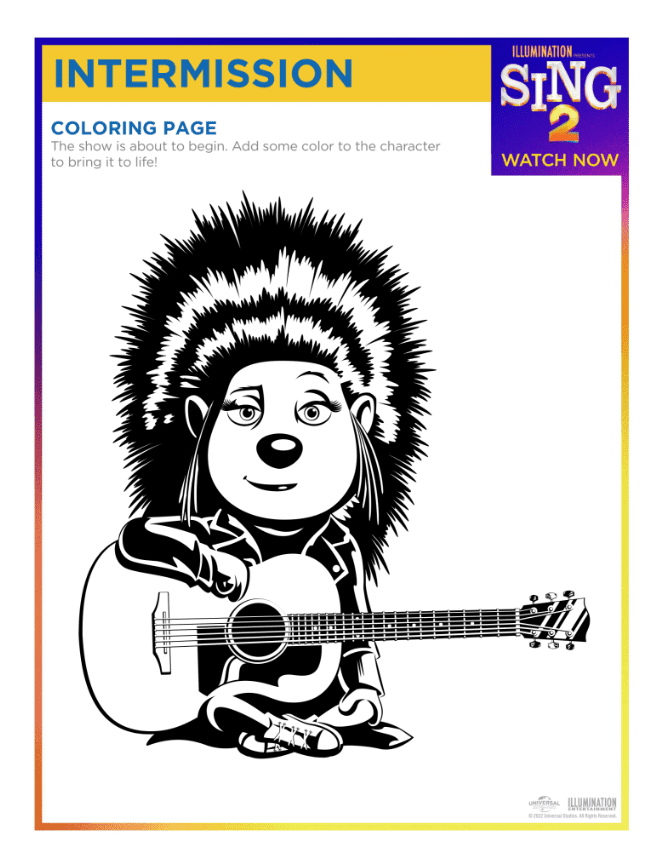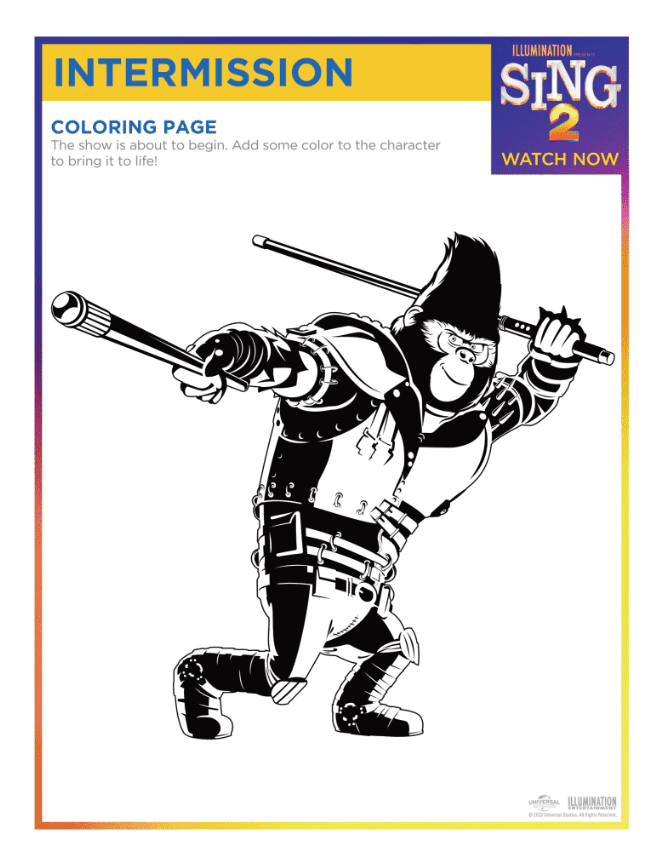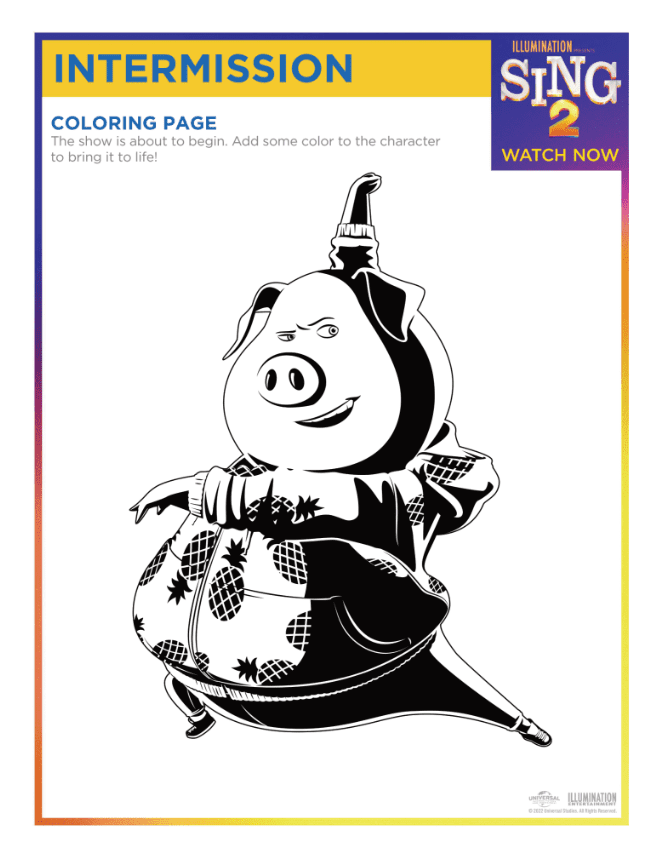 Sing 2 How to Draw
These step-by-step tutorials will have you drawing Buster and Ash in no time at all.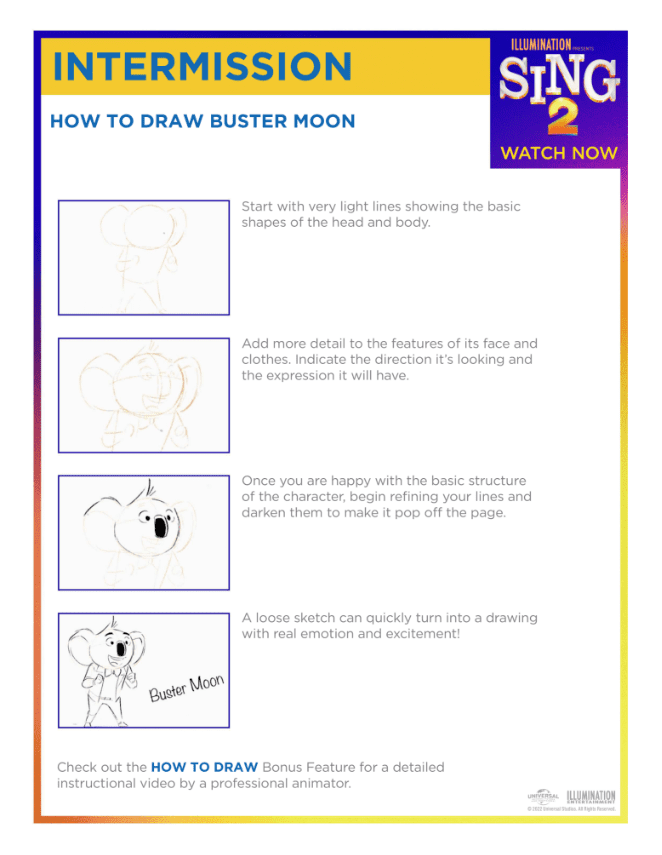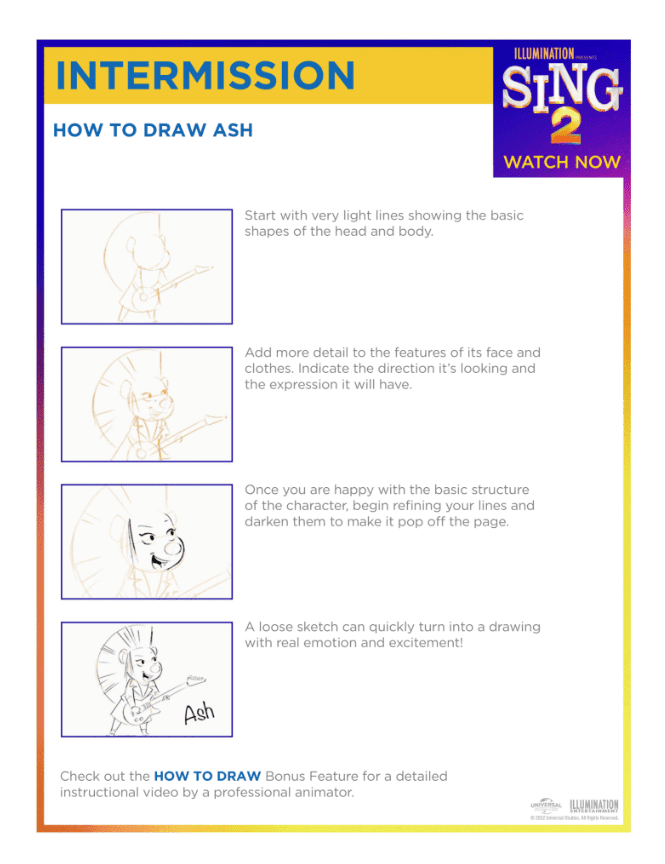 Create your own Awards Ceremony
The winners of your Talent Show will want an award to display on their shelf in pride of place so create awards for your best performers following the instructions below.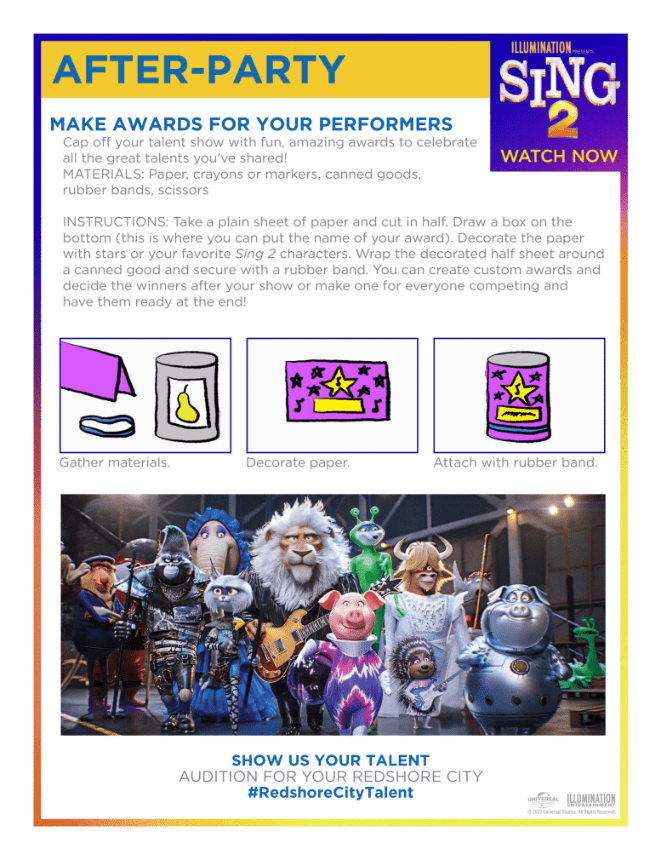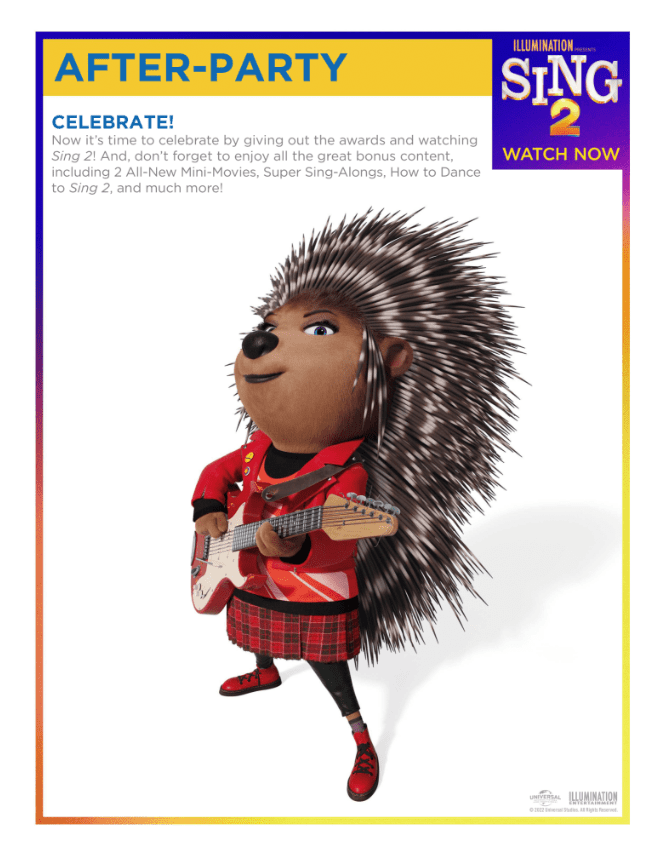 We hope you will enjoy these Sing 2 inspired fun printable activity sheets so much that you'll want to share them with your family and friends for all to enjoy! Or you could pin them to your Pinterest Board.
DOWNLOAD YOUR ACTIVITY PACK HERE!
Sing 2 is available to Download and Keep on 15th April and is out on DVD and Blu-ray™ 25th April.