Breakfast – the most important meal of the day!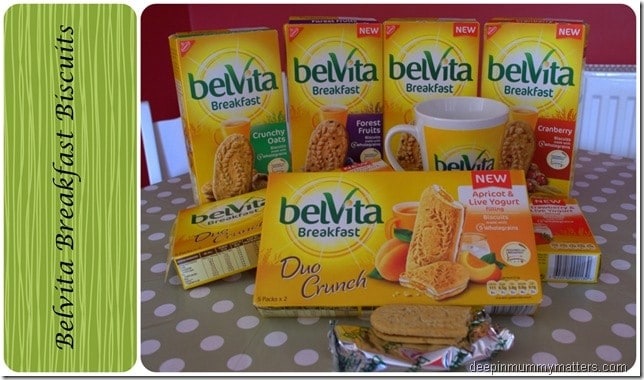 Up until I became a Mummy I NEVER ever started the day without breakfast.  I used to talk to people who said they couldn't eat breakfast, I was the opposite. If I missed my breakfast by so much as half an hour, I would feel sick.  When I became a Mum dealing with the night feeds my body clock was all over the place and I would be so busy seeing to Little Bean in the morning that I sometimes wouldn't get my breakfast until 11.30am.  With each new baby it has been the same but in recent years I have been saved by Belvita Breakfast because I can eat them on the run or whilst I am feeding Jelly Bean.
I have always been a biscuit girl, I am a bit of dunker if the truth be told so Belvita Breakfast are the perfect solution to breakfast.  I can eat them whilst driving the children to school or whilst running around the house like a headless chicken.  There are some great flavours but my favourite is the Honey and Nuts.  Well it was, UNTIL I recently discovered New Belvita Breakfast Duo which are a luxury version of breakfast biscuits.  Two yummy biscuits which sandwich together filled with Live Yoghurt and apricot, strawberry, honey or just plain live yoghurt.
Since eating Belvita for breakfast I have noticed something else too, I have felt more energised throughout the morning.  The biscuits are made with wholegrain and contains a selection of vitamins and minerals providing a source of slow-release carbohydrates over the course of four hours.
The children all love them too which keeps me happy because they are a great source of fibre, rich in cereals and contain no colours or preservatives.
Belvita Breakfast biscuits now come in eleven tempting flavours; Milk & Cereals, Fruit & Fibre, Honey & Nuts, Crunchy Oats, Forest Fruits, Muesli,  Cranberry, Yoghurt Cruncy, Honey & Live Yoghurt Crunch and Strawberry & Live Yoghurt Duo Crunch.
DISCLAIMER: We were given the above pictured Belvita Breakfast biscuits and Mug for the purpose of this review.  All words, opinions and the image are my own and may not be used without my permission.  I have not be instructed what to write and my views are 100% honest.