Ready Camp at Chipping Norton Camping and Caravanning Club Site
Our last camping holiday plans had to change at the last minute when I injured my back and was not in a fit state to be putting up a tent, so I managed to book a last-minute break in a Ready Camp at Chipping Norton Camping and Caravanning Club Site in the Cotswolds. I wasn't about to let a little thing like a painful back spoil our holiday plans – and it didn't. We had a lovely week, and the Ready Camp was the perfect base for our adventures.
Finding the Site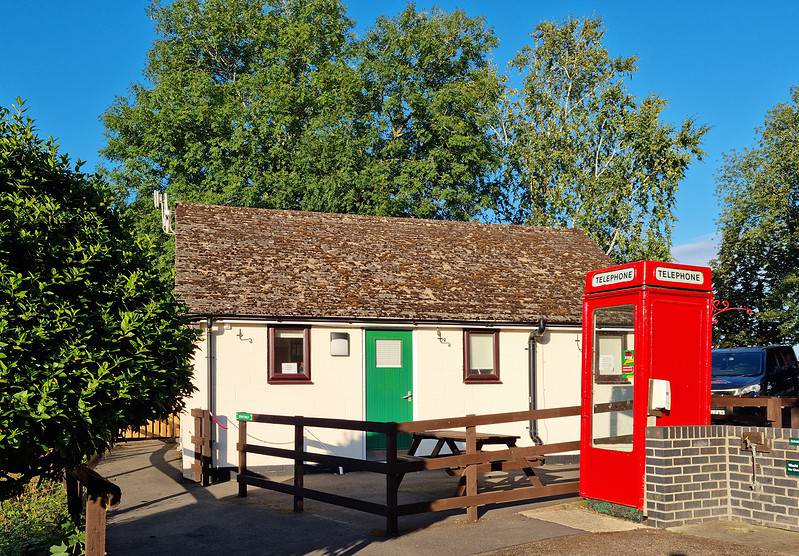 Chipping Norton Camping and Caravanning Club site is a hidden gem for anyone looking to experience the beauty of Oxfordshire's countryside.
The site is located just off the A361 on Chipping Norton Road towards Chadlington, next to Diddly Squat Farm Shop for Jeremy Clarkson fans.
Checking In
When staying at a Ready Camp, the check-in time is 3 pm (check-out is at 12 noon) where we were greeted by the Site Manager, Steve, who was very welcoming. We were shown to the Ready Camp, which is situated on the top level of the site. Access to this area was driving through the campsite and turning left at the end onto the top level. It was just a short walk from the Ready Camps to the water points and to the facilities block via a footpath. Once on-site.
Facilities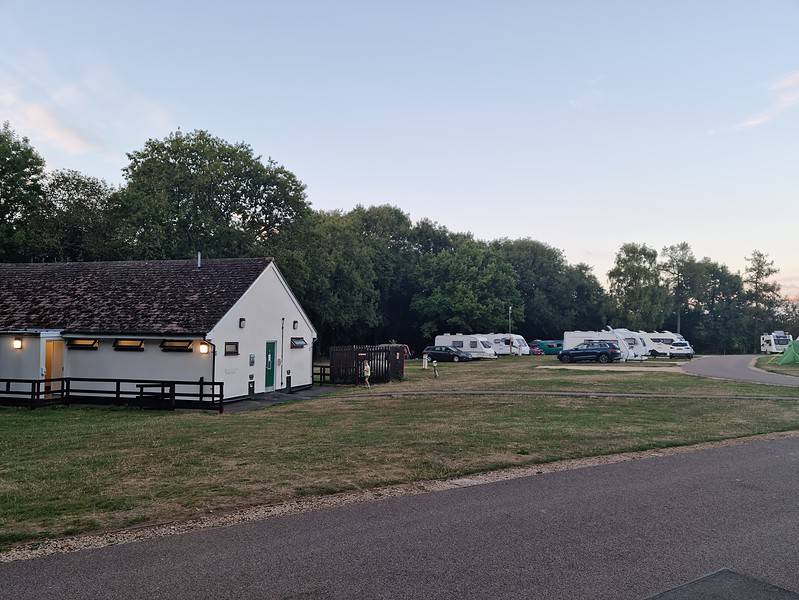 Amenities Block
In the amenities block, you will find both male and female washrooms, laundry and a family bathroom. There is also a large undercover outdoor pot-washing area.
Note if you need access to the family bathroom, then you will need to obtain a key from Reception. The family bathroom is unlocked when the main washrooms are being cleaned but only for use of the toilet, not for showers.
Water Points, Refuse Disposal and Fire Points
The water and fire points were positioned around the site, and the water point near Ready Camp was situated back towards the road entrance to the site's top level.
Play Areas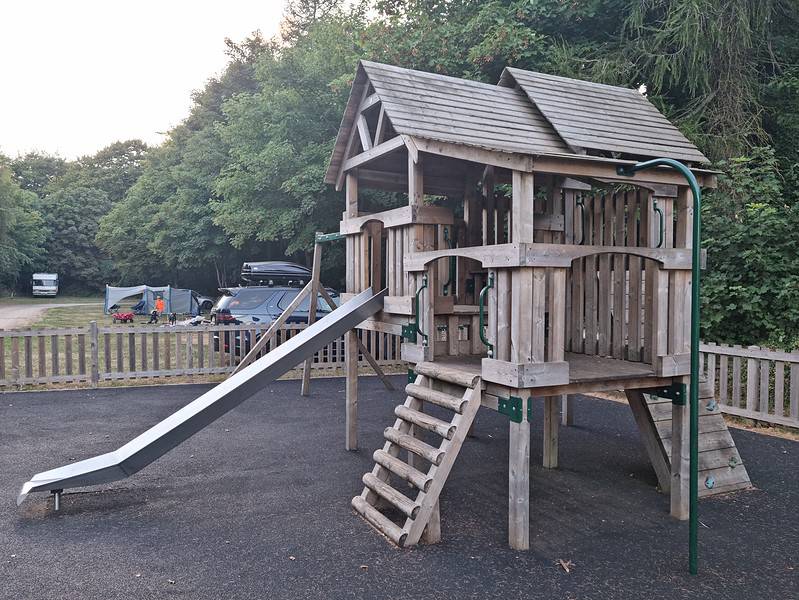 The play area is a large wooden structure with we have come to recognise as standard within the Camping and Caravanning Club Sites. It is situated on the top level of the site next to the footpath and before the start of the row of Ready Camps. Children should be supervised at all times. Unfortunately during our visit, the play area swings were under repair.
Ball games are not permitted on site.
Information Area
Situated in a small room at the back of the Amenities block are the laundry room and Information Area, which is well stocked with leaflets of local attractions and magazines.
Dog Walking Area
I didn't notice a dog walking area at this site as we didn't take our dogs with us, but the website does advertise one.
FREE Wi-fi
As with all Camping and Caravanning Club Sites, free WIFI is now available to all customers. We were lucky to be right next to a WiFi hub and had a pretty good signal.
Ready Camp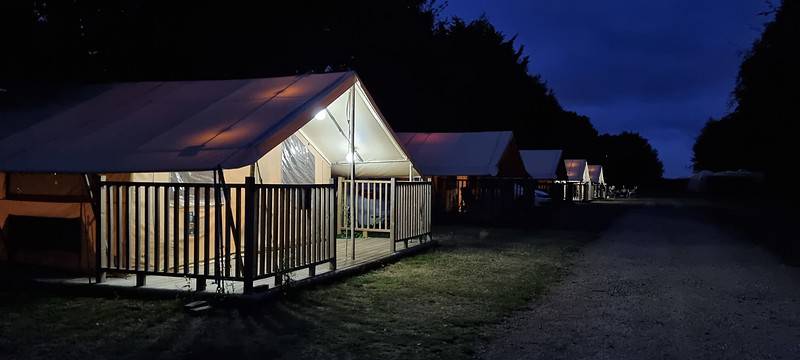 We have stayed in a Ready Camp before so we knew what to expect and having a bad back meant that we could just turn up, unpack and crack on with our holiday straight away. It certainly takes away the stress of putting up a tent (although I love pitching a tent).
Ours was clean and well-equipped. Being made from a heavy canvas, they do tend to feel a lot darker than your average tent, but you can open all curtains and windows if you want to let a little more light and fresh air in.
Kitchen
The Ready Camp unit comprises a large living area with a kitchen area with a microwave, kettle, toaster, fridge and twin electric hob. The cupboards are stocked with all the crockery, cutlery and utensils you could possibly need as well as a Flexi-tub to carry your washing up to the pot wash facilities.
Living Area
There is a dining table in the centre of the living area with six folding chairs and a small 2-seater sofa.
Sleeping Areas
After being spoilt for so long with the blackout bedrooms in our Coleman's tents I wasn't sure what to expect from Ready Camp, but I'm pleased to say that both sleeping areas are 99% blackout. The back half of the unit is split in half. The 'master' bedroom has a double bed, hanging rail (with shelves), floor lamp (with spotlight) and under-bed storage).
The second bedroom has a triple bunk bed, single over the top, double underneath and a single trundle below. On both sides of the dividing bedroom 'wall', there are storage pockets which the children found helpful for storing books, toys, headphones etc. They also had a floor lamp in their bedroom.
We all agreed the beds were VERY comfortable. Proof of that is we rarely woke before 9.30 am, which is unheard of for the children or us. You do need to take your own bedding with you, so we took pillows, sleeping bags and blankets as we would for normal camping.
Veranda
The veranda offers a lovely outdoor area to sit even in the rain. Under the double bed are some camping chairs which can be brought outside for this purpose. Mum and I enjoyed a few sunny evenings sitting on the veranda with a glass of wine, watching the children play.
General Thoughts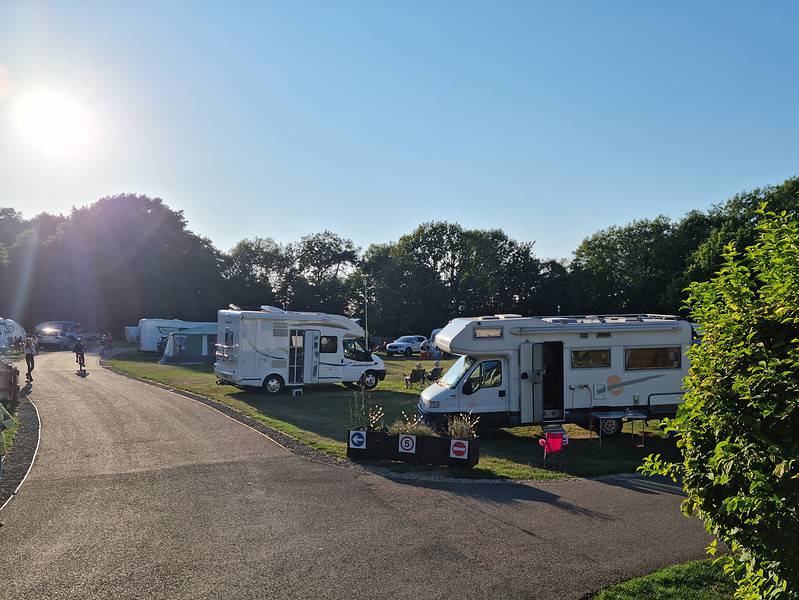 This is perhaps one of the smaller sites that we have stayed on but definitely one of our favourites. We loved the location as there is so much beauty to be found in the Cotswolds and Chipping Norton holds a special place in our hearts.
Noise Level
I think this was possibly one of the quietest campsites I have stayed on. During our stay, I would say most visitors were in caravans and motorhomes so you didn't hear a lot of chatter after dark.
Staff/Cleanliness
As with all Camping and Caravanning Club Sites, it was kept very well and looked clean and tidy. The site manager was really friendly and knowledgeable, nothing was too much trouble.
Local Area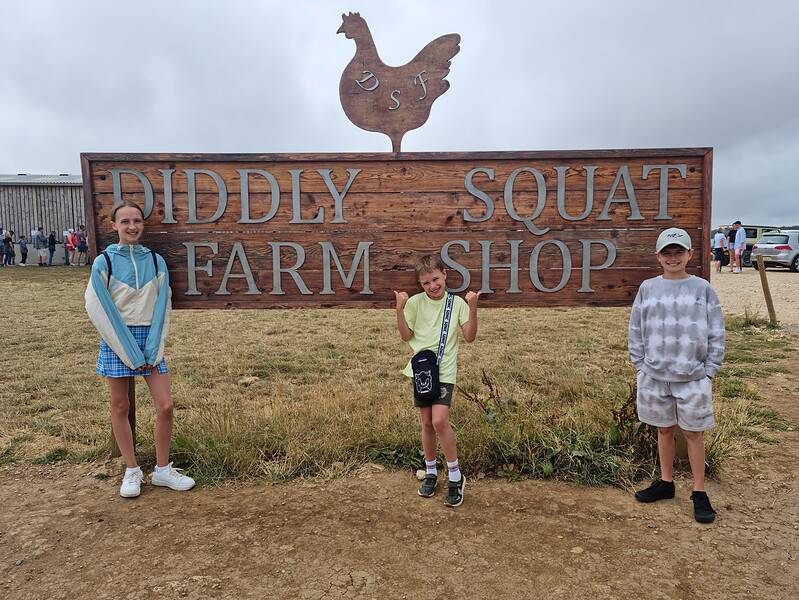 At the time of booking, I didn't realise just how close the site was to Diddly Squat Farm Shop. Simon and I had only just finished watching the series on Amazon so I had intended on dropping in. However, it was EXTREMELY busy from first thing in the morning with large queues that I wasn't prepared to stand in so we gave it a miss.
The town of Chipping Norton is just a 5-minute drive and has a Boots, M&S Foodhall, Sainsbury's Local as well as lots of local shops and eateries so it's easy to keep stocked up supplies for your holiday.
Nearby Attractions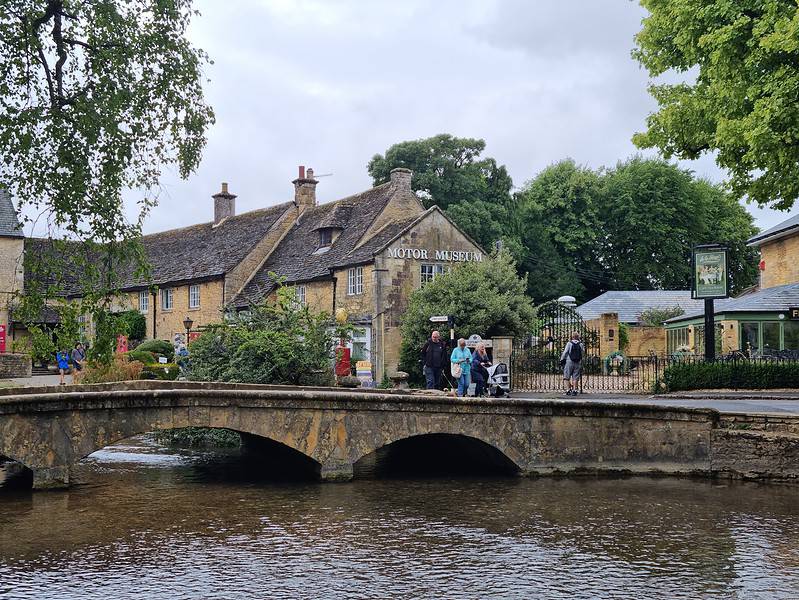 During our week at Chipping Norton, we enjoyed visits to;
Oxford (Universities and College grounds)
Bourton-on-the-Water (Motoring Museum)
Stratford-upon-Avon
Stow-on-the-Wold
For more information on things you need to do when you visit the Cotswolds, head to Cotswold Lifestyle Blogger LifeCanBeToff.