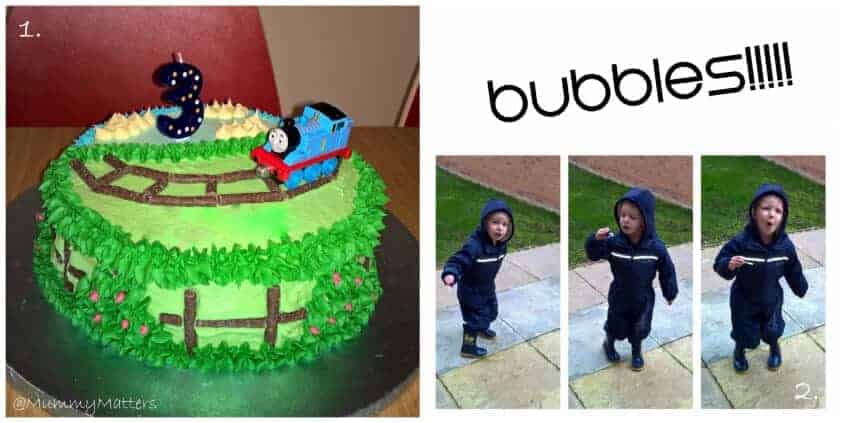 Project 366 – Week 5 2016
Last Sunday was all about Jelly Bean's third birthday and his first 'real' birthday party. We went to a local soft play with a couple of his friends from preschool and young cousins as well as Little Bean and Beanie Boy of course. He had such a great birthday and was so excited all day long. After he had gone to bed on Saturday night Hubby and I had decorated the house with banners and balloons then in the morning when Jelly Bean woke up, we heard him open his bedroom door and say to Beanie Boy, "hey it's my birthday". He sounded so surprised and so cute.
He received lots of lovely presents and was very excited by all of them. Jelly Bean's party went very well apart from a couple of little scuffles but not too bad for a bunch of three year olds. He was over the moon with this Thomas Cake which I am proud to say, I made for him and every last bit of it was eaten so I think everyone enjoyed it.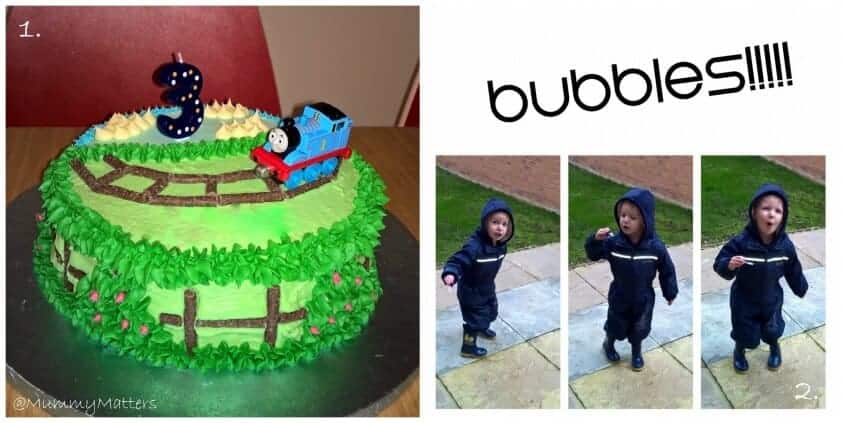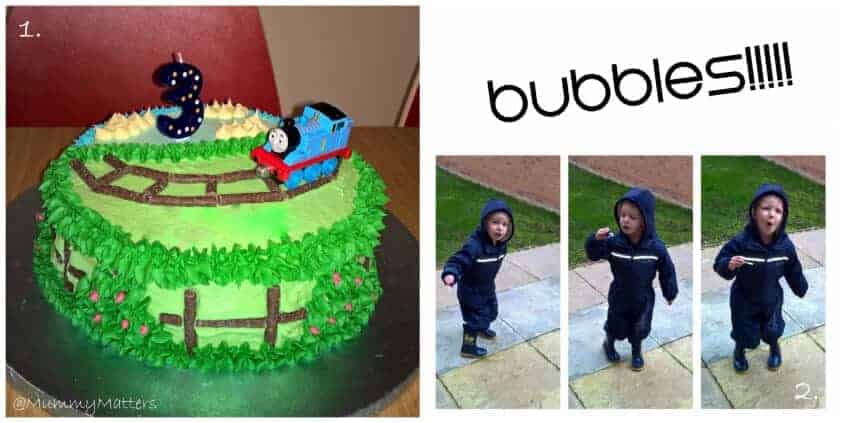 My plan for Monday had been to stay at home so that Jelly Bean could make the most of his birthday presents. Of all the presents he received, the first thing he wanted to play with was his bubble from his party bag and his second was his Thomas helium balloon!!!! We could have saved a fortune on his other gifts. Later in the morning we were joined by my Aunt and my cousin's lovely children so Jelly Bean had someone to play with and I had a cuppa and catch-up.
On Tuesday morning whilst Jelly Bean was at preschool I took the opportunity to pop my runners on and head out for a jog around a different village which is so pretty. It was REALLY cold and windy though so I didn't run as far as I would have liked but I needed to thaw out so I went home early for a hot shower.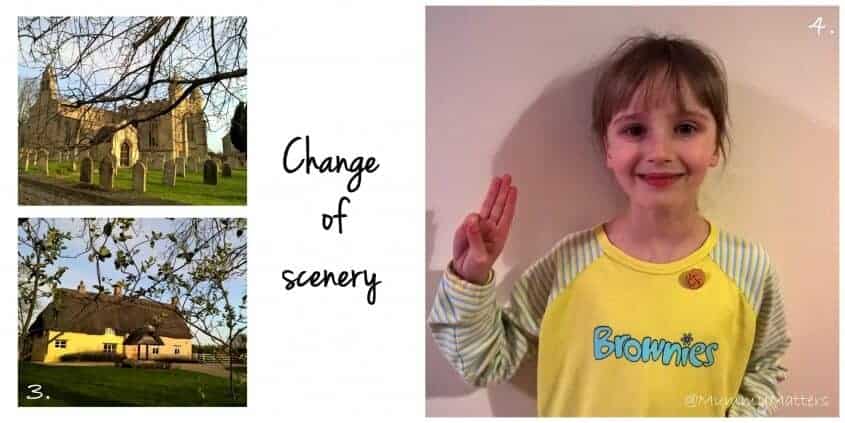 On Wednesday evening Little Bean made her Brownie Promise and I was invited along to watch. It brought back happy memories of my own Brownie days and it was lovely to see the beaming smile on Little Bean's face.
Thursday morning I had intended on getting out for a run again but I could feel the beginnings of a cold and my migraine was threatening to come back so I popped out to lunch with my friend Karin who I hadn't seen properly in weeks. It was great to have time to get caught up on each other's lives and to put the world to rights without being interrupted by little people. Sammy came along too but he was so well behaved you hardly noticed he was there.
After school Jelly Bean got stuck in with some sensory play foam he had received for his birthday. It's so nice to see children 'play' instead of just look at a screen. Jelly Bean loves to explore new things and I loved that it didn't make a mess!!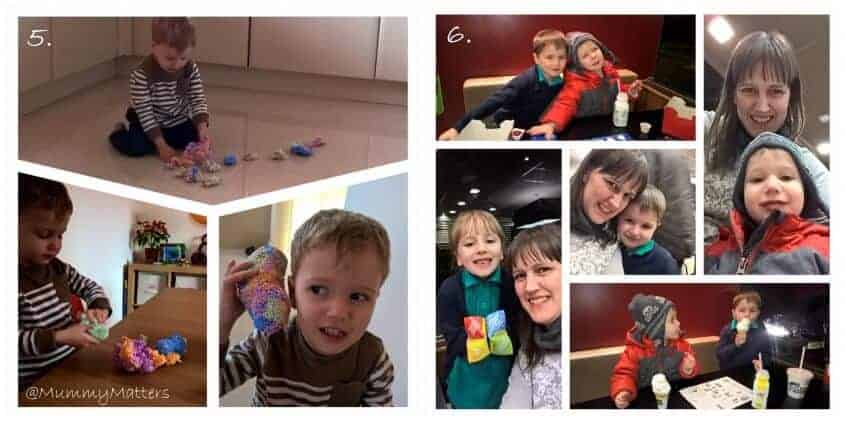 On Friday morning Jelly Bean and I spent another lovely morning with my Aunt and my cousin's little boy. He is only two years old and due to the nature of our schedules my cousin and I haven't been able to see each other as much as we would like to over the past year but my Aunt and I are trying to get together regularly with the boys who are becoming good friends and enjoy spending time together.
After school we went over to Karin's house to surprise Ella and Sammy. We had a lovely trip to the park and the children were all so excited to see each other, it's a very heart-warming sight when they greet each other that way. After the park we were FREEZING so I surprised the Beans with a trip to McDonald's for tea and for once I'm pleased to say that I didn't get stressed out with them and they all ate reasonably well.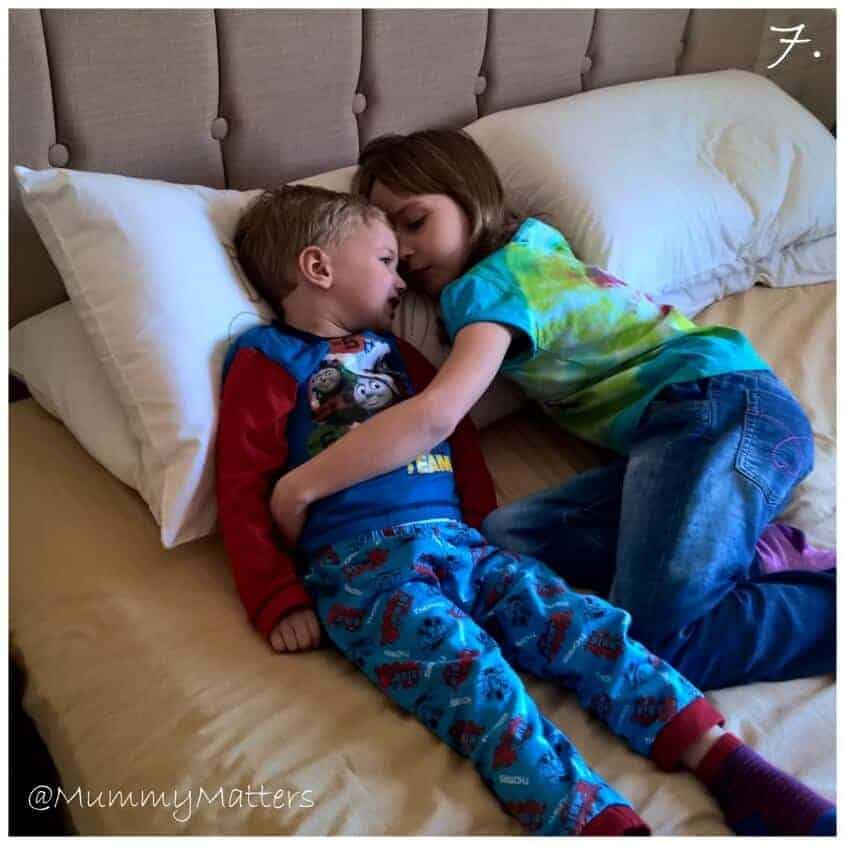 Saturday morning didn't start well, poor Jelly Bean tripped when climbing onto the step into the bathroom to brush his teeth. He fell forward and hit his head on the sink pedestal and had quite the bump. Big sister Little Bean and big brother Beanie Boy rushed to his rescue (as I was in the shower). They both hugged him and helped him to my bed, then Little Bean ran to the kitchen to collect a cold compress from the fridge. They rallied around him with cuddly toys to snuggle with and then sat reading him books whilst he laid on my with his head on the compress. It's moments like that when I feel content that I have raised caring children, it's nice to see them looking out for each other.