My Citroen DS5 5 Star Experience: Day 2 – The Experience
So as you saw from my previous post, the day began with a yummy breakfast and our first sight of the new Citroen DS5. Once everyone had been introduced to their car and were shown the controls we set off in convoy to a secret destination. All we were told was to select the first destination on the sat nav, follow the car in front and have fun. We drove through St Tropez and out onto the open motorways to really see what the cars could do. I got to test out the lane departure system (quite a few times), driving on the 'wrong' side of the road took some getting used to and sitting at the back of the convoy I could see that we were all suffering from the same problem, we kept drifting to the right. The car was very clever though, every time I began to drift into the next lane I would receive a warning by way of a vibrating right bum cheek, if I wandered too far across the white line to my left, my left cheek would vibrate! Some might call it an incentive!! Once I finally managed to stay in the right lanes and remembered to change gear with the right hand I really got to enjoy the feeling of the car, the power in the acceleration and the super smooth ride, I had to keep reminding myself that the car I was driving was a Citroen.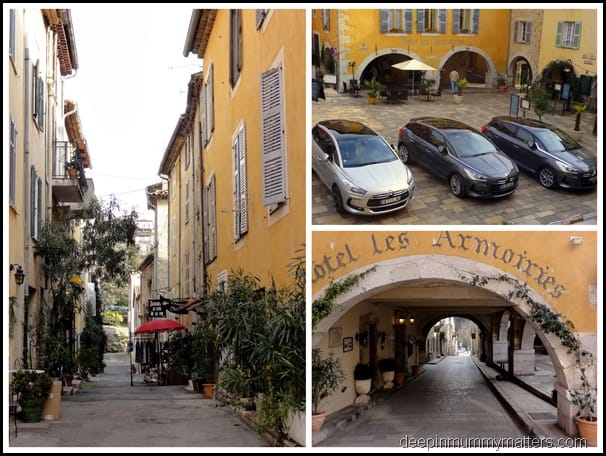 After driving for about 90 minutes we arrived in the beautiful town of Valbonne near Cannes. We drove down a typical narrow French street lined with shops which opened out into a beautiful square lined with Cafes. Very quickly the 6 new Citroen's attracted the attention of the locals, it really was a sight to behold. After recording my second piece to camera (about 10 times – I will never be actress!) we were directed up a small spiral staircase to a quaint restaurant with a big open fire where we were treated to a scrumptious three-course meal. I'm a bit of a wuss when it comes to food (I can't think where Little Bean gets her eating issues from) so I declined my main course and opted for starters and desserts before making our way back to our cars for the next leg of our journey.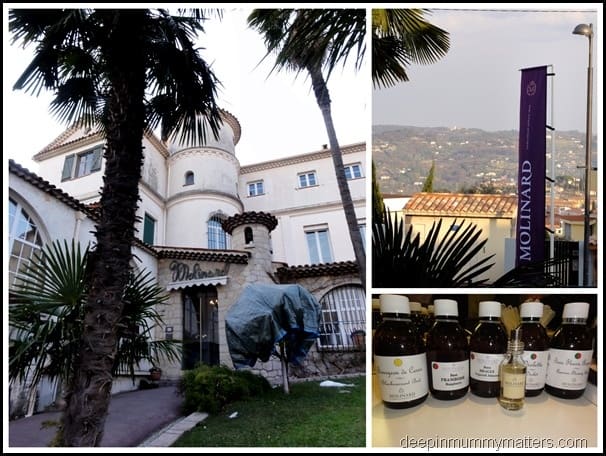 This time the sat nav directed us to Grasse, Provence to Mollinard Perfumery where we were introduced to Alexia who explained to us how perfumes are made and the products which they make. Alexia told us that a normal 'nose' can distinguish between approximately 20-30 different smells but a trained 'nose' can recognise up to 2,000!!!! After a tour of The Maison Mollinard we were each given the opportunity to create our own 'scent' following the guidelines given to us by Alexia. As you will see from the video on the Citroen Facebook page, my brain hadn't quite caught up with me so when we were told to sniff the lids of the bottles, everyone else (quite rightly) opened the bottles and sniffed the inside of the lids whilst I sniffed the outside!!! How stupid did I feel? Once our scents were created Alexia had to choose her favourites and I'm very proud to say that mine came second and Hubby's came third, with Laird David Headley pipping us at the post to first place with his 'highland walk'.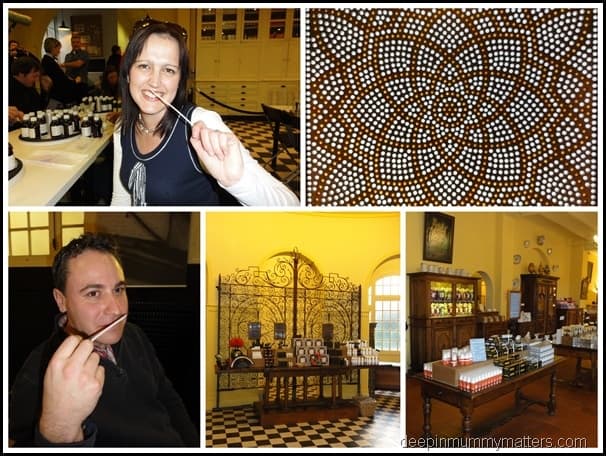 As we left Mollinard we were each presented with a further gift bag containing a few special Mollinard products to take home with us and then we were waved on our way. This time however, it was free time and I begrudgingly handed over the reigns of the car to Hubby. It was quite the experience sitting in the passenger seat after being the driver, I could now see why Hubby had been so twitchy at my driving as we rounded bends or drove past parked cars. I was sure we were going to hit something but thankfully he didn't! Hubby very quickly got to grips with the car and really enjoyed opening her up on the motorway, I think he could happily have driven all night!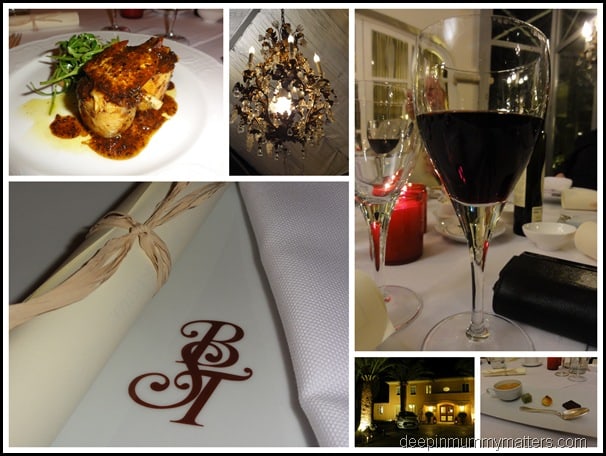 Our evening was spent dining at the 5 Star Luxury Hotel Les Bastides de St Tropez located just a few minutes drive from St Tropez Harbour and the famous Ramatuelle beaches. We were seated in our own private dining room and had a menu created especially for us which was delicious. I was even brave enough to try the razor fish and clams which were scrummy!! The perfect end to a fantastic 5 star day!