Moxie Girlz Horse Riding Club Dolls
In my day (how old do I sound!) it was Sindy and Barbie, I always preferred Sindy because she had brown hair like me, but now there are so many dolls to choose from and all with their own personalities and hobbies. The Moxie Girlz Dolls have now taken up Horse Riding and we were sent Sophina for Little Bean to road test. Unfortunately we haven't been able to get hold of a horse but that hasn't spoilt playtime for Little Bean as she thinks that Sophina is just a cool doll. She points out all the time that "she has boots just like you Mummy and her hair is the same as yours". I think Little Bean has decided that Sophina is actually a Mummy doll – I only wish I still had a figure like Sophina!!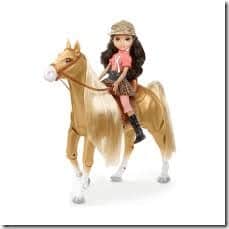 There are three dolls to choose from in the range, Avery, Sophina and Monet which you can buy on their own at £14.99 or with a walking horse with sound effects as part of a set at £29.99. And of course, if you have horses then you need somewhere to keep them so how about a stable, sold with a doll and horse with prices starting at around £34.99. For little girls who love horses then these are the perfect gift for role play. Even if they don't like horses, you can be sure they will just love playing with the dolls, swapping their outfits and doing their hair. The dolls are all beautiful quality and very pretty with striking eyes. They are for children aged 3years plus and sure to make little girls very happy this Christmas!
Moxie Girlz™ are available at all good toy retailers nationwide.
Follow Moxie Girlz on Facebook at: www.facebook.com/MoxieGirlzUK