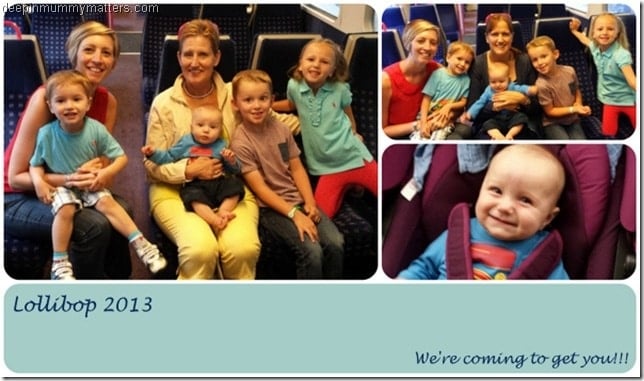 Lollibop 2013 – go prepared!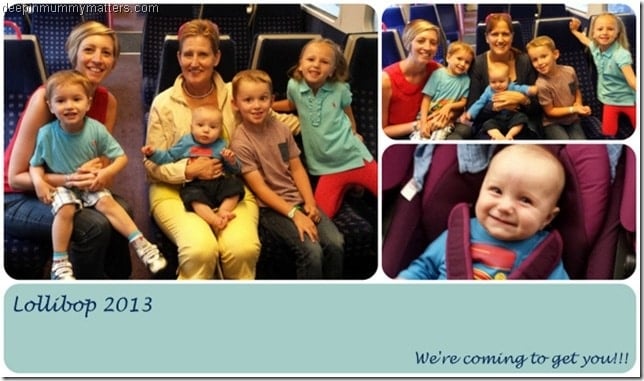 Our day started early as we prepared (excitedly) for our day ahead at Lollibop. We have been to Lollibop Festival for the last two years and so now the tiddlers look forward to it, it is becoming 'our thing', only this year we were going with our great friends MumtoC and MasterC who were Lollibop first timers and I wanted to make sure their first time was a day to remember.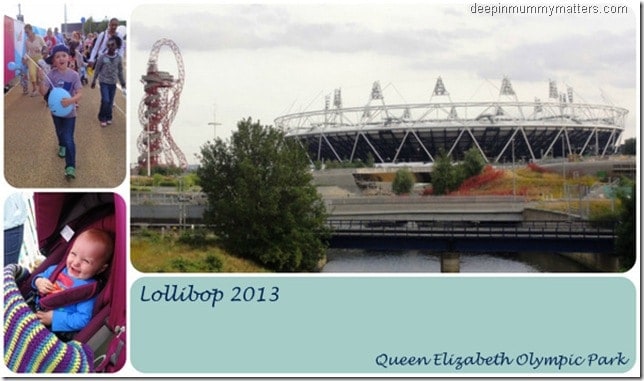 In the past Lollibop has been held at Regent's Park but this year it had moved to Queen Elizabeth Olympic Park. Initially I was quite excited by this idea, the thought of taking the children to see where the Olympics were held (although they were too young to be bothered really) but in reality I actually found the change of venue to be a pain in the neck. Our train comes in to Kings Cross Station which is really close to Regent's Park so extremely convenient. To get to the Queen Elizabeth Olympic Park we had to take the tube which is something I'm not always keen on doing with a buggy, let alone a double buggy. As you can see from the photographs we were a group of three ladies and four children, this should be easy right? Wrong! At London Kings Cross it was easy to navigate and move around thanks to the lifts which transport you from the concourse to the tube platform. From Kings Cross we took the tube one stop on the Victoria Line to Highbury and Islington which was where we had our first struggle. With no lift from the platform to the overground station, we had to carry the double buggy up two flights of stairs whilst still trying to keep a close eye on three walking children. Once we had made our way up the stairs we were then greeted with escalators so I had to push the buggy on and hold it up above my shoulders until we arrived at the Overground station. From there it was relatively easy again with lifts to get us to the platform and happily on our way once more. On arrival at Stratford station it was another three lifts before we could finally start walking to the park. Sadly the walk was a 20 minute walk UPHILL with three children complaining that their legs were hurting and arguing over who would ride in the sibling seat of the Crusi. By the time we finally arrived at Lollibop it was 1.00pm so we had managed to miss half of the day despite starting our journey at 9.00am. It was high time the fun began!!
Arriving so late meant that we didn't have to queue to get in but I was disappointed to note that I hadn't been given the press passes I had been promised and so was refused access to the press area, somewhere I was hoping to hide to breastfeed Jelly Bean and get away from the hustle and bustle. Oh well, on with the day.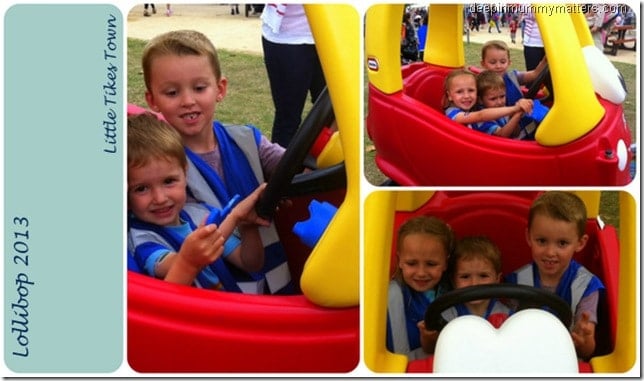 We made a visit to Little Tikes Town which had been really well organised. Once in the queue the children were given coloured vests so that they knew they were in the next group into Little Tikes Town. Whilst they were waiting they got the opportunity to have a play in the giant Cosy Coupe which went down a storm with children and adults alike. Once inside Little Tikes Town the children had 20 minutes of playtime to ride, slide and do a spot of role play in the fabulous Little Tikes outdoor toy range – so what did the parents do? They got to relax for 20 minutes in the deck chairs surrounding the white picket fence.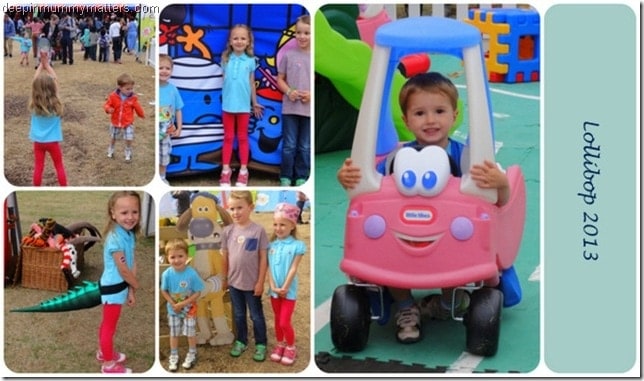 Dotted all around Lollibop are tents of all description, each housing something different. Little Bean was quite taken with the Telling Tails, a stall with tons of tails, I have to say they did look very cute on. Unfortunately we arrived at the Mr Men and Little Miss area just as they were having their lunch and we completely forgot to go back so we missed them altogether. Then whilst queuing to meet Shaun the Sheep we listened to Rastamouse and Da Easy Crew grooving in the Lollipaldium – check out Little Bean and Beanie Boy shaking their thang!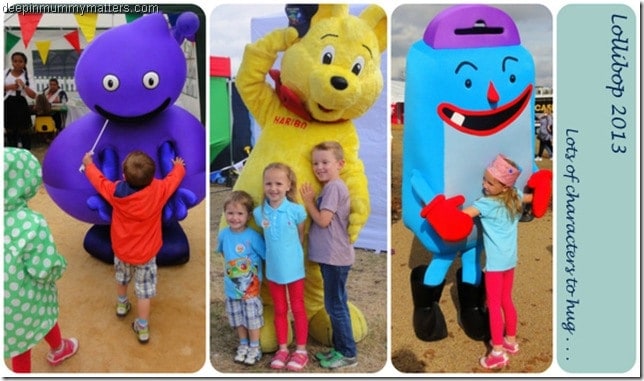 My tiddlers amaze me, if I had ever been faced with a 6 foot character like these I would have run a mile!! But not my tiddlers, they loved seeing them and couldn't wait to give them a big hug. I did feel a bit mean when we went to see Haribo's Goldbear as the ladies gave the tiddlers some bags of Haribo, I said something along the lines of "you've only just had some of them we have just come back to see Goldbear". As I turned around I saw Beanie Boy saying something to the lady and handing her his Haribo bag. I asked her what she had said and she replied "thank for the sweeties but Mummy said I can't have anymore at the minute so you can have them back" – bless him!!
We tried to visit the Skylanders stand a couple of times but unfortunately it was always too busy for us to do anything so the tiddlers left disappointed.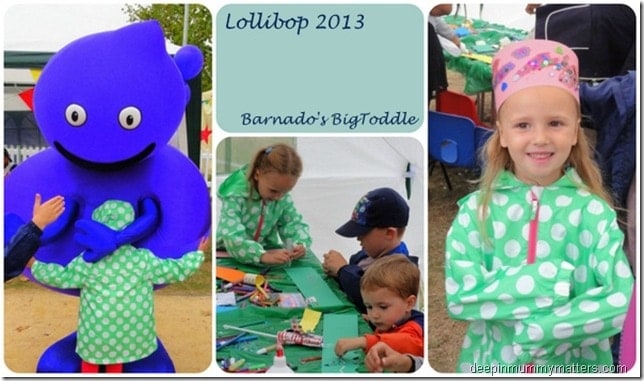 Little Bean and Beanie Boy immediately recognised Tod from Barnado's Big Toddle as they have both taken part in the Toddle Waddle at preschool for the last couple of years. After giving Tod a few high fives and big cuddles the tiddlers grabbed a seat and made themselves a glittery crown each but despite spending lots of time making a lovely crown, Beanie Boy was determined he did not want to take his crown home with him.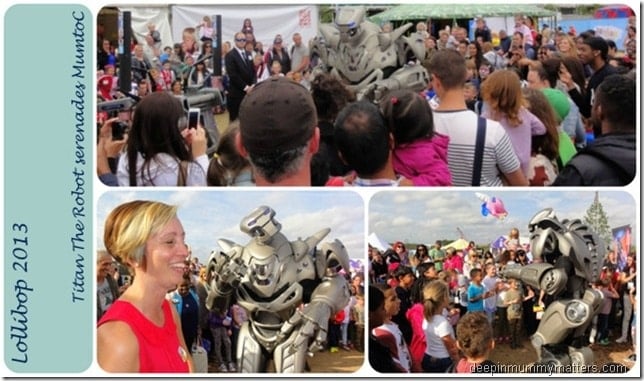 You know those moments in life where you really wish you had your video recorder with you? Well watching Titan the Robot was one of 'those' moments for me. Titan is a larger than life robot and everybody loves him. He's a comedian, he sings and he moves really fast. As we stood in the crowd watching him, he turned towards MumtoC and myself and began to sing. MumtoC tried to dodge away from him saying "he's singing to you" then she realised he was singing 'Lady in Red' and she was the only one wearing red. Whilst she cringed, I laughed – A LOT!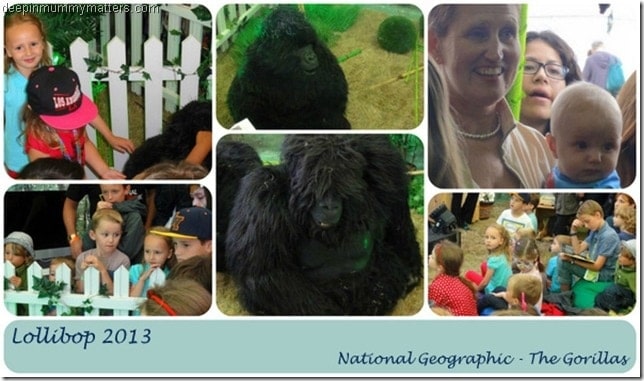 Little Bean took us all into the National Geographic tent where a meet with the 'Gorillas' was about to begin. Despite knowing that these were not real gorillas, they are very realistic, especially in the way that they move and so as the big mamma walked past me, I admit I may have freaked out a little and jumped behind someone else!! I did say I wasn't keen on big characters!! The children loved the Gorillas although were a little apprehensive about actually touching them. Beanie Boy wouldn't go near them unless there was a white picket fence between him and them.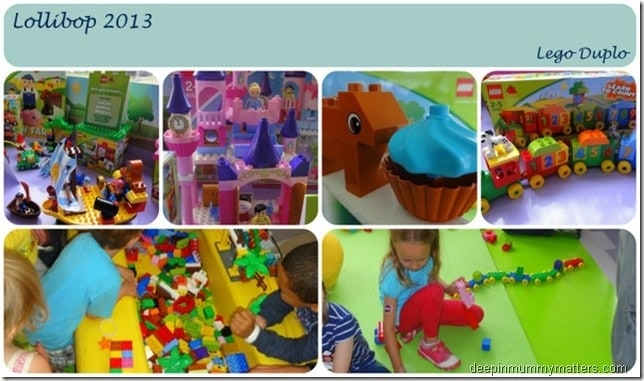 MasterC chose the next activity and wanted to visit Lego Duplo. I would have like to see more organised activity in here but the children spent a little time just playing with each other and the Lego Duplo bricks. It was also an opportunity for us to see some of the great Lego Duplo products – unsurprisingly Little Bean LOVED the pink Disney Castle and Beanie Boy liked the pirate ship.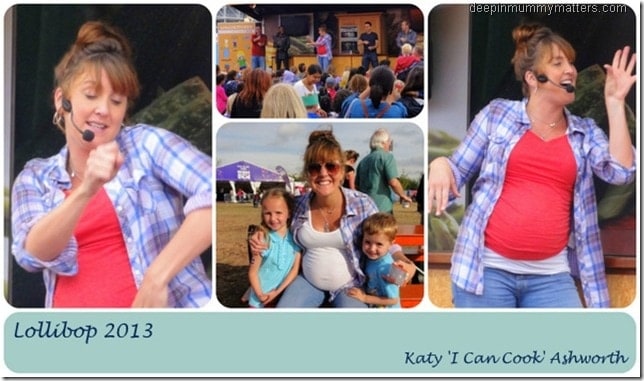 A big hit for the day was definitely Katy 'I Can Cook' Ashworth on the Lollikitchen Stage. We have seen Katy perform live now on three separate occasions and she has never let us down. She is so animated and child friendly, she really knows how to connect with them and is always ready and willing with a big smile for a photograph. Even though Katie is just over 7 months pregnant she is still full of energy and had the crowd jumping and dancing along as she grabbed four Dads from the audience to sing and dance along with her. Katy was the highlight of the day for Little Bean and Beanie Boy. Even this morning as Beanie Boy climbed out of bed he told Daddy "I saw Katy I Can Cook and she got a baby in her tummy, she looks like Mummy [did]".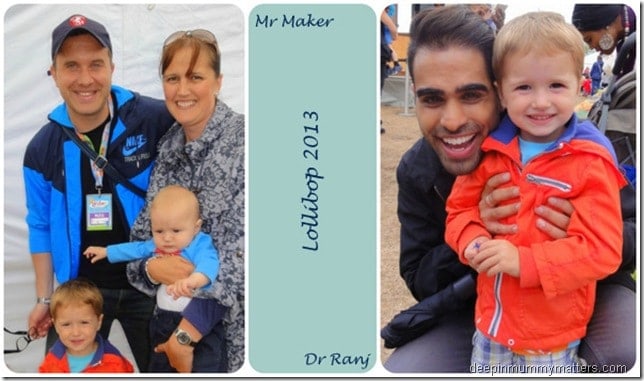 The really nice thing about Lollibop is how all the children's favourite TV personalities are walking about amongst the crowds and are so happy to stop for a chat and a picture with the children. Beanie Boy is a big fan of Mr Maker and Dr Ranj and actually asked me to take his picture with them. We also spotted Sid and Andy from CBeebies but they were just heading off for their lunch so I managed to persuade the tiddlers to leave them alone. The only two people we didn't get to see that the tiddlers were asking for was Alex Winters and Justin Fletcher. I hadn't realised that Justin was only going to be there on Saturday and Sunday so we wouldn't get the chance to see him – that's twice he has managed to evade us now.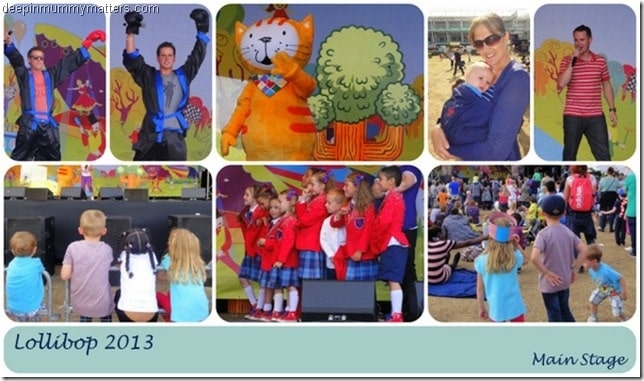 At the new venue the Main Stage was pushed right to the back of the park and I'm not sure it really worked. Whilst Lollibop was at Regent's Park the Main Stage was pretty central so no matter where you were you could see the Main Stage. That way if you were doing an activity and spotted something on the Main Stage you wanted to see you could be over there in minutes so as not to miss out but with the new venue you had to walk some way to the Main Stage and so we missed out on a lot. We did have the timetable but to be honest time kind of passes you by at these kind of events so before you know it the time has passed. We did get to see Poppy Cat who the tiddlers love after meeting her last year, Dick and Dom and of course they saw their favourite Alex Winters who was running a 'Dance-off' between parents and their children under the watchful eye of Britain's Got Talent super-cute kids dance act PreSchool.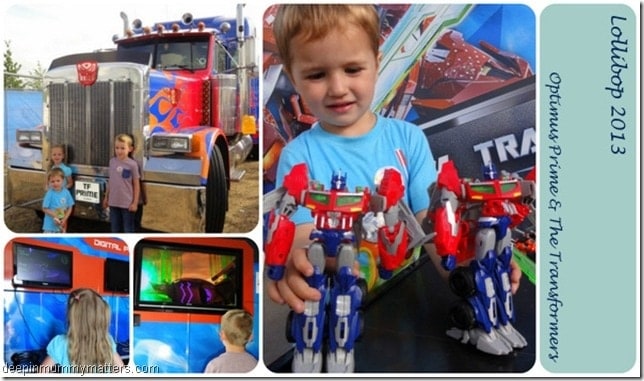 MasterC and Little Bean spotted Optimus Prime from Transformers so we dropped by to see what they could do. After having their photograph taken with the big OP, they popped into the caravan to have a quick play of the game, watch a bit of the movie, play with some toys and then have their photograph taken in front of a green screen. Over the next couple of days I will be sent a photograph of the tiddlers with Optimus Prime.
In summary, we had a really fun day at Lollibop. I could see why Queen Elizabeth Olympic Park was chosen for the new venue, its very iconic spacious, I loved all the picnic tables everywhere and I never had to queue for a toilet once because there were so many which is great BUT we personally found it very stressful to get to and it took too long with all the lifts and messing about on the underground/overground followed by the long uphill walk with children and pushchair. I didn't like the buildings to the left of the field, they felt oppressive and took away from the festival 'green' feel of Regent's Park and finally the tiddlers complained that it was a bit 'too loud Mummy' when we were at the Main Stage for some of the performances. They would only go close to the stage for Poppy Cat, all the others they stood right back. As a Mum with a small baby I was a little worried about the sound level, he did jump a few times so we had to move even further back.
My Top Tips for a successful Lollibop
Go prepared – read all there is to read online before you go so you know what to expect and how to get there.
Plan your day – choose your top 3-4 MUST DO activities and do them, then let the rest of your day just go with the flow.
Get your face painted as soon as you arrive because the queues build up quickly and rarely go down.
If there is an activity you want to do which requires booking, book it as soon as you arrive to avoid disappointment. We wanted to do the River Island Design Den but it was fully booked by the time we arrived so we missed out.
Pack a lightweight rain cover 'just in case' of rain – although Lollibop do hand out free plastic ponchos if it does rain.
Don't forget your camera – there will be lots of great photo opportunities.
Don't worry about taking a packed lunch, the food available isn't overpriced as you would expect so give yourself one less bag to carry.
Have lot's of fun!!! Be a kid for the day yourself and see the world through their eyes.
DISCLAIMER: We were given a family pass free of charge for the purpose of this post. All words, opinions and images are my own and may not be copied without my permission.