Do you like reading? I do, I love to find a book so good that I just can't bring myself to put it down "just one more chapter" I say to myself, even though I can barely keep my eyes open as I wind down before catching a few zzzz's but there is one part of reading which really drives me insane, books! Great big piles of books! When we moved house I had no fewer than 6 large boxes FULL of books which just sit in a box in my garage. In my dreams I would own a house so big that one room would be floor to ceiling white book shelves stacked with books and one of those sliding ladders but in reality, we don't actually have the space for one bookshelf and so the books which I am 'waiting' to read are stacked up in the bottom of my wardrobe, at last count there were 26! All different genres for me to choose from dependant upon my reading mood.
The thing that I find hard about real-life physical books is that as much as I love them, I will rarely go back to read a book again but at the same time I don't really like to part with them just in case I decide that I do want to read it again so my collection just grows and grows. I might lend the odd book to a friend but for the most part they gather dust and take up valuable storage space in the garage.
Now I think I may have found the solution to my problems, a Kobo Touch eReader!! They fit perfectly in the palm of your hand, they are extremely lightweight and so would be the perfect travelling companion (especially if you are like me and can get through a couple of books on holiday – think of all the extra weight allowance you could use up with clothes or shoes in place of the books!!). The Kobo Touch eReader links directly to the internet so you have your own bookshop in the palm of your hand for when you're ready to find that next great read, no trekking around the shops to find a book shop, you can buy a new book from the comfort of your armchair or sun-lounger AND the majority of books are cheaper than in the shops too so more money to spend on a cappuccino or cocktail to keep you refreshed as you read.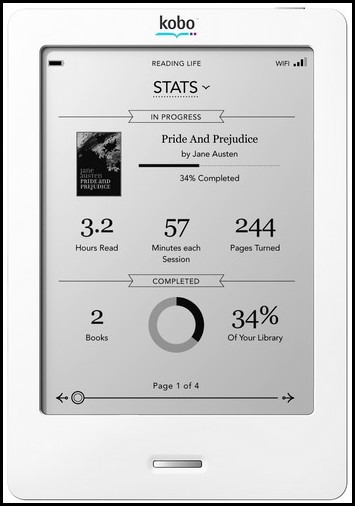 One feature I particularly like about the Kobo Touch eReader is the 'soft-quilted' back available in a range of colours, it means that you can choose one to match your own personality and it feels great too.
There's no need for a bookmark either when you're losing yourself in a good read on the Kobo because it cleverly remembers where you had got to. This would be perfect for my husband as he always falls asleep when he is reading, the book drops on the floor and he spends the first few minutes of his next reading session desperately trying to remember where he had got to.
Reading on a Kobo Touch eReader is just like reading a normal paperback too as the screen is matt so there is no glare if you are reading outside or under artificial lighting, just a great reading experience.
And how many books do you read where you actually get rewarded for your reading time? With the Kobo Touch eReader and Reading Life you unlock rewards just for spending time reading. Connect and share your Reading Life with your friends on Facebook and Twitter.
I have been using the Kobo Touch eReader for almost two weeks now and I wasn't sure that it was going to be my cup of tea but I love it, I love the feel of it, I love how clear and easy it is to read and I love the fact that my library is stored on the Kobo freeing up valuable space in the bottom of my wardrobe. I may just have to get with the new century and request one of these for myself this Mother's Day – Hubby are you reading this?