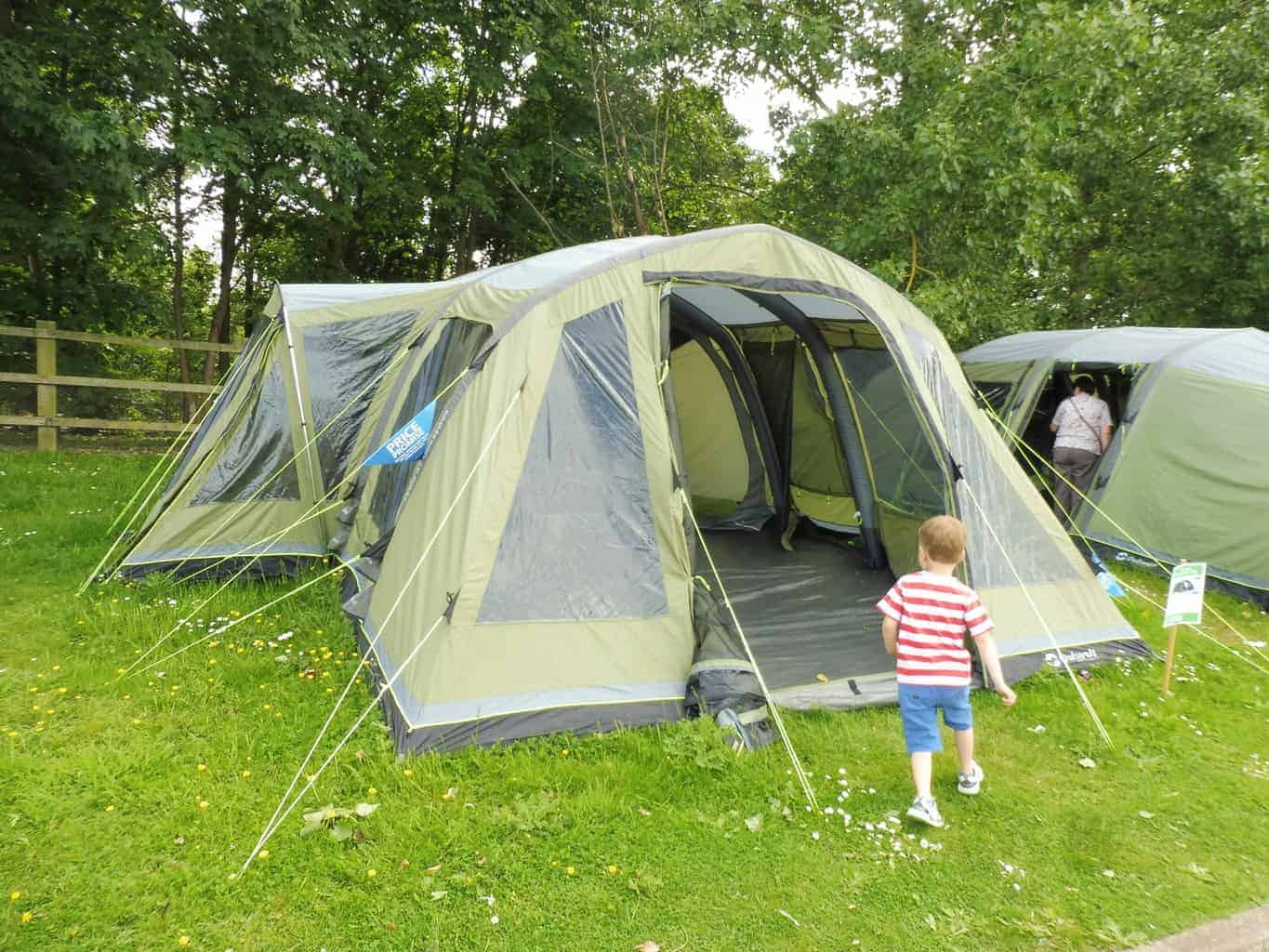 Family Tent Wishlist for Camp Bestival and beyond . . .
Now I have been a camper since I was a child but I first introduced my Beans to camping a few years ago and I'm pleased to say they all share in my passion. This year will see us trial a completely new style of camping though since we are heading to a festival!!!! Not just any festival though, nope, we are going to Camp Bestival and WE.CAN'T.WAIT!!! We have seen fellow bloggers attend Camp Bestival year on year but have been waiting until we felt Jelly Bean was old enough to enjoy it too.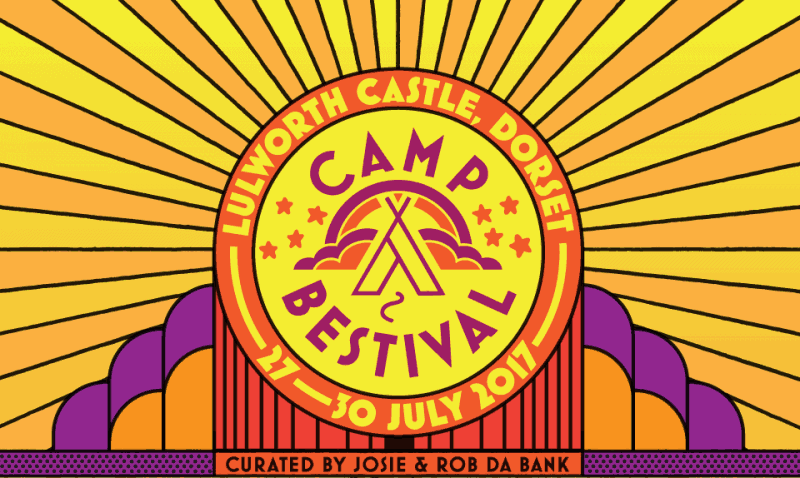 Dorset Cereals
This year we will be at Camp Bestival for the weekend as guests of Dorset Cereals who create a range of premium breakfast options including muesli, Bircher muesli, granola and porridge. Every recipe is a unique blend of fruit, nuts and seeds, with a big emphasis on the quality of flakes, to make sure there is a balance of flavours that is just right. Breakfast just happens to be our favourite meal of the day and there really is something special about eating your breakfast in the fresh air when you are camping, I never tire of it.

At Camp Bestival this year (27th-30th July), Dorset Cereals will have a number of stands and serving counters, as well as hosting areas with a series of fun games and activities for the little ones as well as lots of festival family fun throughout the weekend.
Which tent?
A couple of years ago we bought a new-to-us tent, a monster of a tent. The Sprayway Ravine 6+2 which is HUGE and give us lots of room which is important when there are 6 of you under canvas BUT it's super heavy to carry and erect and it takes up LOADS of space when we are travelling. We don't mind too much when we are going away for a long holiday in the tent as the effort of building it is worth it but when it's just for a weekend and you can't park next to your tent, well, it's a big NO! It also comes in at nearly 9m by 5m so it's actually a little on the large side for pitching.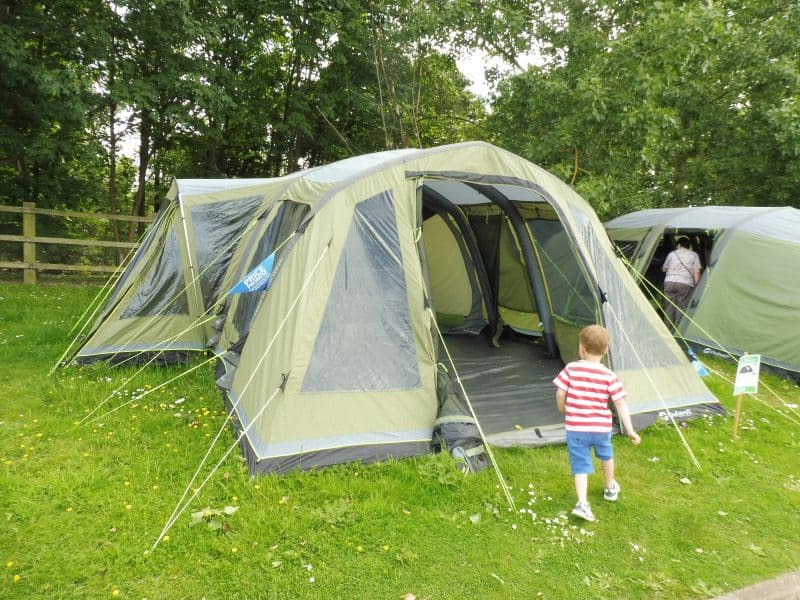 This year we are looking to get ourselves a new family tent but with so many to choose from, it's hard to know where to start?
Our tent wishlist . . .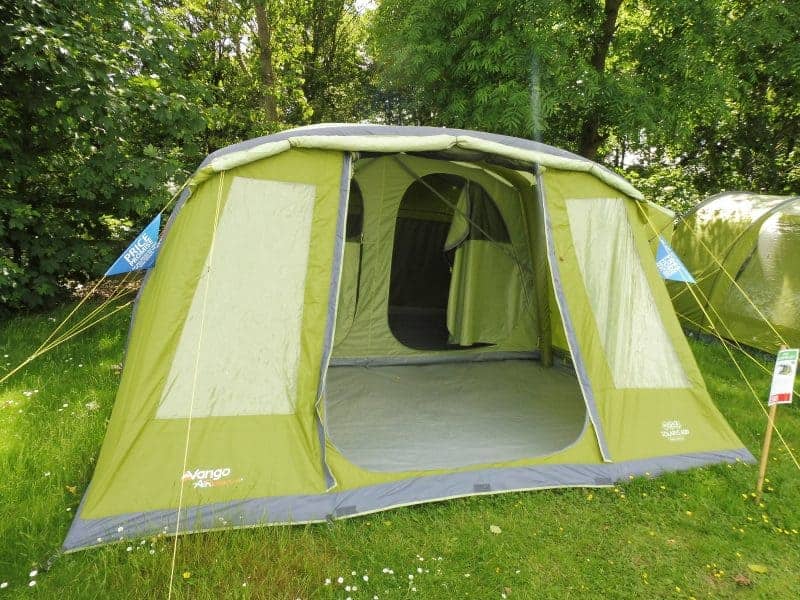 If there is such a thing out there then our perfect tent in order of preference would need . . .
to have large and spacious living and sleeping areas (enough to accommodate 6 comfortably)
to be light and airy in the living area but darker in the sleeping area (hello bright sunshine at silly o'clock)
to be lightweight. Sometimes my Mum and I take the Beans away on our own over the Summer so putting a tent up can be quite difficult if it is very heavy to get in and out of the car.
to be quick and easy to put up. Camping in the UK means we don't always have the best weather so being able to get the tent up quickly is a must!
to have an integral groundsheet. We have three little people and one Mummy who freak out at sharing their bed with bugs!
to have a separate area where we can place the kitchen. We like space to cook without having to worry about tripping over the children and their toys.
to be water resistant!!! So far we have only camped in the UK, need we say more?
Up close and personal
Over the Bank Holiday weekend the Beans and I paid a visit to our local Go Outdoors and Cotswold Outdoor to get a proper look around some of the family tents which are available to us. It's so good to be able to look around the tents, get a real feel for the space in them and especially to see them in daylight to see just how bright the bedrooms are, both for waking in the morning and for getting little people to sleep at night.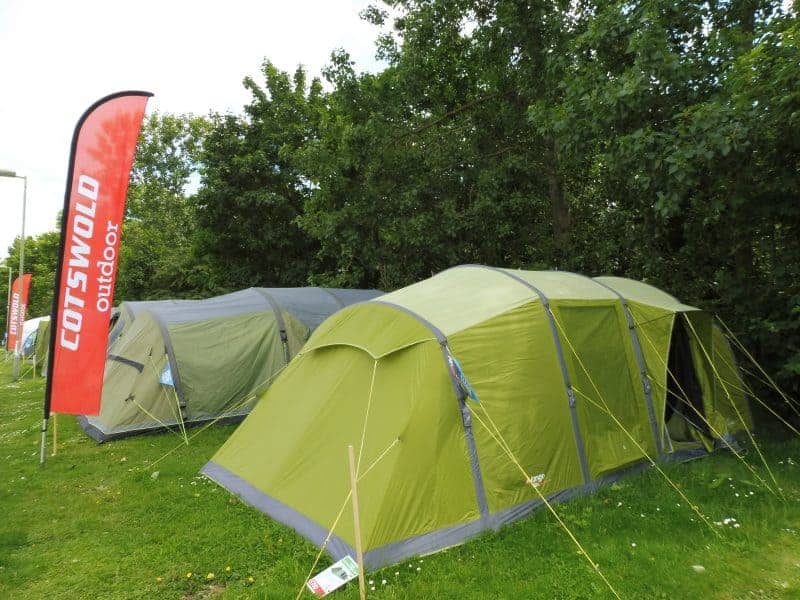 Personally I have always been a fan of Vango but nowadays there are some really good names in camping gear which are providing great competition.
Our Top 3 Family Tents
Hi Gear Voyager Elite 6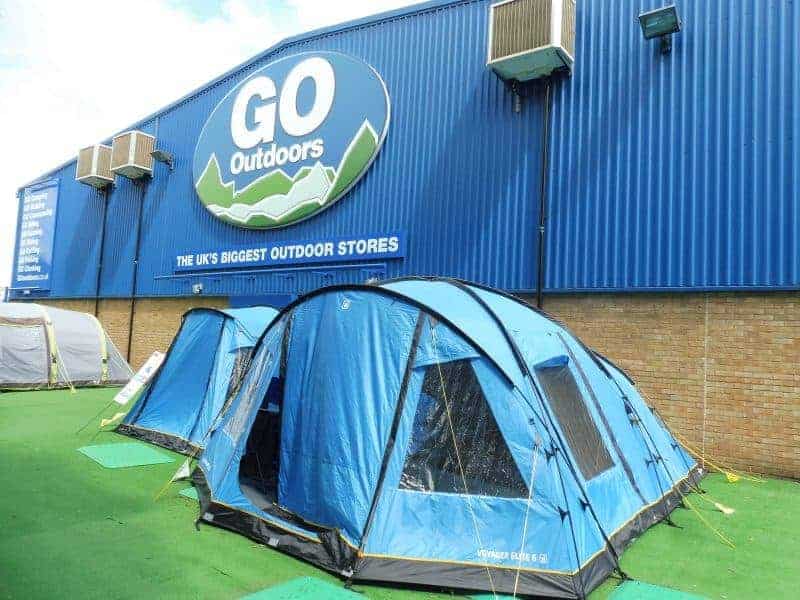 The Hi Gear Voyager Elite 6 has enough room to accommodate 6 campers and all their gear. Built using a strong semi-geodesic structure, it's stable enough to stand up to very windy conditions, with the cross-pole design giving it extra strength and flexibility. It is a versatile tent with the ability to add a porch for more room when camping with more equipment for a longer holiday.
Outwell Alabama 7P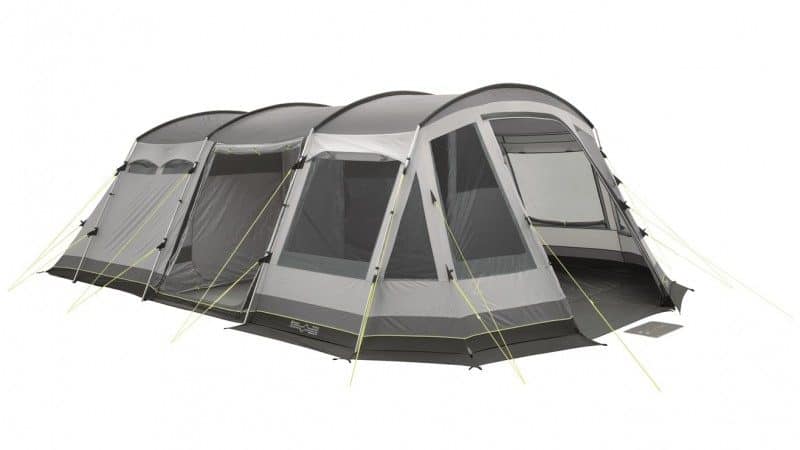 Alabama 7P sleeps seven in three bedrooms (two are Royal) in a tunnel design with pre-angled steel poles to maximise internal space. Charcoal grey inners feature embossed fronts with a red bottom stripe in the Royal Master Bedrooms. Flexibility and convenience are ensured with a Panorama Front and flysheet doors with mesh lining.
Vango Anteus 600
A bright, stylish and functional tunnel tent with a huge internal living space, the Vango Anteus 600 is a sturdy tunnel-style tent with ample room for six campers and all their gear.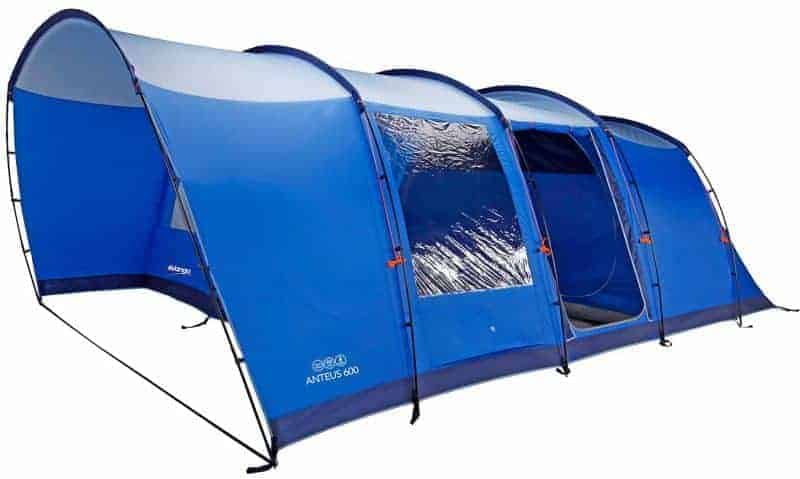 Its airy, spacious design, using a built-in front canopy and large 'Diamond Clear' PVC windows, will let you spread out your gear, your furniture and yourselves, and enjoy a great view from within. The canopy creates a covered outdoor space that's ideal for enjoying the summer weather, whatever it does. As with the Hi Gear, you have the ability to add a porch to the front for additional space when camping for longer periods.
Outdoor Revolution Airedale 6.0 Inflatable Tunnel Tent 2017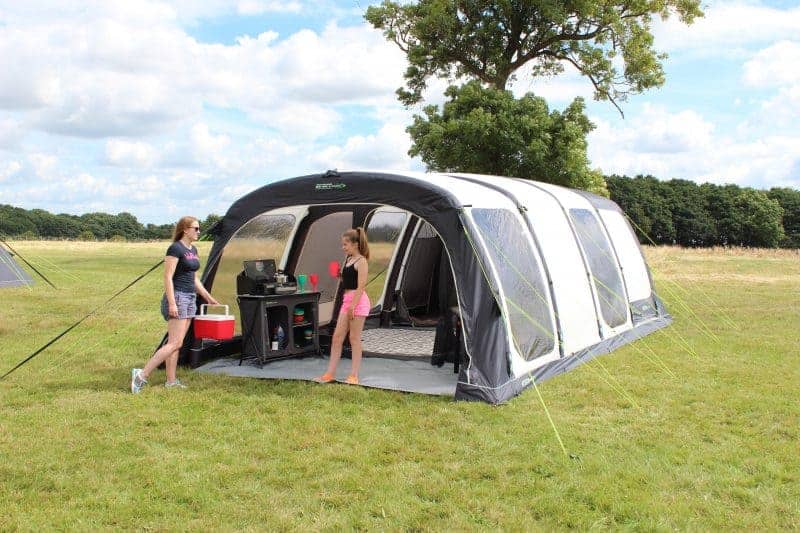 The Airedale 6.0 is stylish inflatable, 6 berth air tent. A lifetime warranty on the airbeams combined with the high density hex weaved polyester fabric will give you great durability and peace of the mind for the future. The living area is spacious making it ideal for medium sized groups and larger families.
Do you have any further recommendations?
Before we make a purchase we always like to do our homework, purchasing a tent can be an expensive time and so you want to get it right. Our first family tent was our Vango Diablo 600 and we have loved every minute of our camping trips in it, sadly we outgrew it as we realised our children needed more space to save on fighting. We are big fans of Vango but having visited the Camping, Caravan and Motorhome Show in February realised there are many brands that we hadn't even heard of, let alone considered. So what do you use? Are you a big family and love camping? What tents have you used/do you use that you want to shout about??? Pop me a comment below, I promise I don't bite x