Everything's Rosie is back!!!
We have been fans of Everything's Rosie from the very first episode. Little Bean's favourite characters are Rosie herself, Raggles and Will, she loves Rosie's hair and was not very happy with Santa when he failed to bring her a Rosie doll for Christmas – shame on Santa!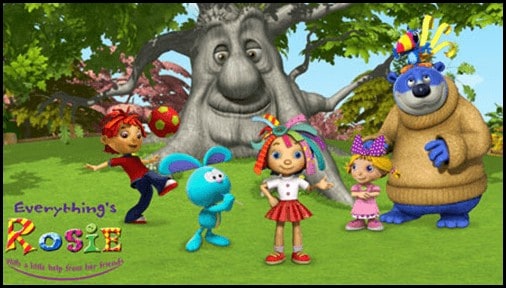 Each episode tells a tale of friendship and thinking of others. Together the group of friends can overcome all sorts of problems, they have fun, laughter and the odd bit of mischief. Rosie lives with her friend Raggles in the Playhouse which overlooks the playground where Rosie and Raggles play with their friends Will, Big Bear, Bluebird and Holly. Each friend is unique in their own way which teaches your children that it's ok to be different.
Rosie is confident and caring, she likes to try new things but can sometimes get into a pickle if Raggles isn't by her side. Rosie and Raggles have a strong bond despite Raggles being younger than Rosie and a little less worldly wise. Bluebird is a chatterbox who believes she is magical, she can always be found at the park with Big Bear. Big Bear is the gentle giant of the group who loves all the delicate things around him. Will and Holly are the opposites of each other, Will is confident and outgoing, whereas Holly is the quiet one who can be a little shy. She has a great singing voice and can really dance but she is lacking in confidence, luckily for her though she has a great group of friends to encourage her. And last but not least is Oakley the oldest of the group, an oak tree who sits on the hill overlooking the park. Oakley regales his friends with stories from his youth, he sings songs and gives his friends rides on his branches.
The new series of Everything's Rosie started again today on CBeebies from 3.40pm to 3.50pm. We were sent the new series to watch and it has been a hit. I have had some interesting conversations with Little Bean as a result of her watching Rosie, like how the trees need to sleep and she even learnt her first joke about a pirate but you'll have to watch for yourself to find out more.
DISCLAIMER: We were sent a copy of the new series of Everything's Rosie for the purpose of this post. All words and opinions are my own.