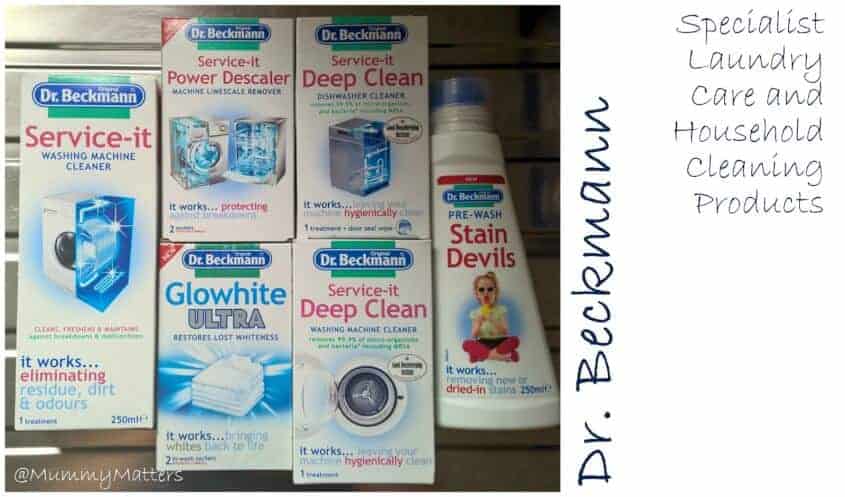 Dr Beckmann: Specialist Laundry and Household cleaning
We moved into our shiny new build house in September 2010, it was an exciting time to have a brand new home with all shiny new fitted appliances but what we didn't consider was the amount of battering said appliances would take over the years with a family quickly growing from 3 to 6!! We would be LOST without our dishwasher and washing machine so it's vital that we take good care of them, something we haven't been very good at up until now.
A couple of months ago I painstakingly began trying to clean the shower arms of my dishwasher by syringing White Vinegar into the holes every few days and putting it onto a hot cycle in a vain effort to get rid of the limescale build up. It sort of worked but honestly, not very well. I tried prising the arms off the dishwasher but ended up nearly breaking it so I had to look elsewhere for help. That's when it happened, my Inbox went 'ping' and a twinkling email landed asking if I would be interested in trying out the Dr. Beckmann range of Specialist Laundry and Household Cleaning products. Had someone installed a sneaky camera in my house? Were they watching me???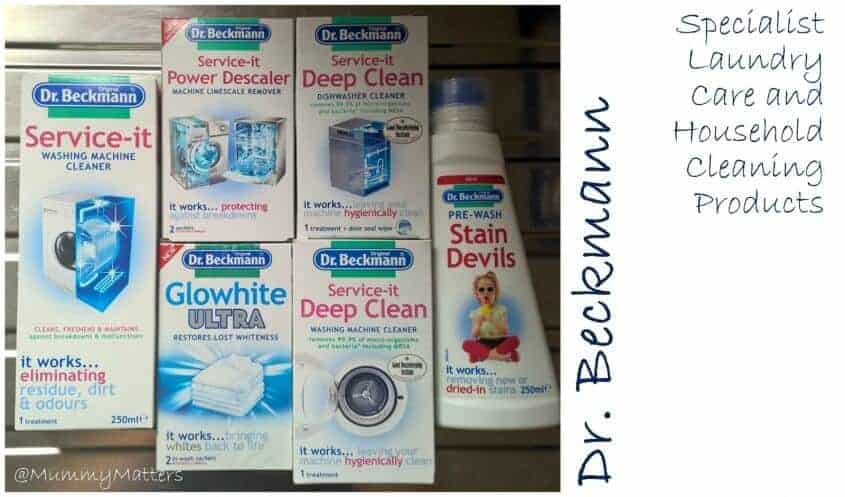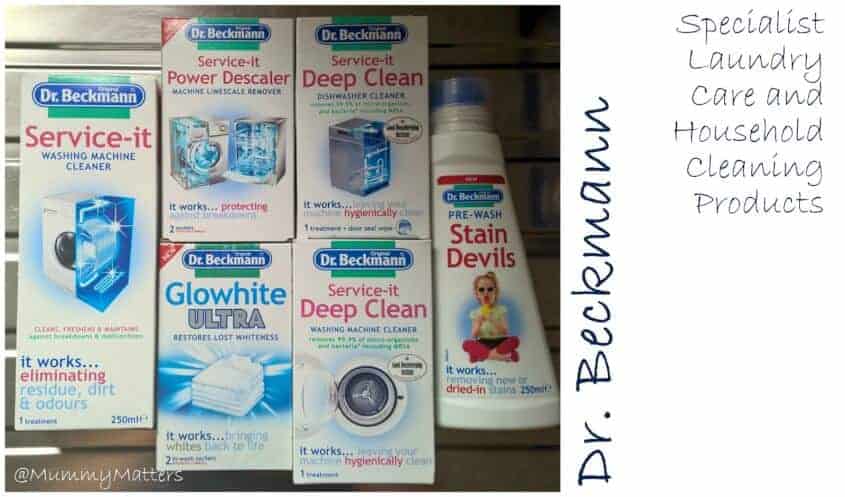 So anyway, now that I have got over the "it's behind you" feeling I have been putting good old Dr. Beckmann to good use and I'm impressed!
Service-It Range
Washing Machine Cleaner
We happen to live in a very hard water area and it's evident on anything where water touches because very quickly limescale can build up so we have to be on top of our cleaning if we don't want a grubby looking house. That's just in the areas that we can see, so can you imagine what it must look like inside the washing machine? We want and need clean clothes but if you're washing them in a dirty machine then that smell is going to pass onto your laundry so that's where the Washing Machine Cleaner comes in.
It's very easy to use, simply proud a small amount directly onto a cloth and use it to clean around the door seals and the door itself. You then remove the detergent drawer and soak it in a solution of 50ml Cleaner and 4 litres of water for 30 minutes. This helps to loosen the dirt and allow for easy cleaning. Replace the drawer and pour in the remaining solution and put on a min 60C wash. Afterwards my washing machine was left shiny, clean and smelling much fresher.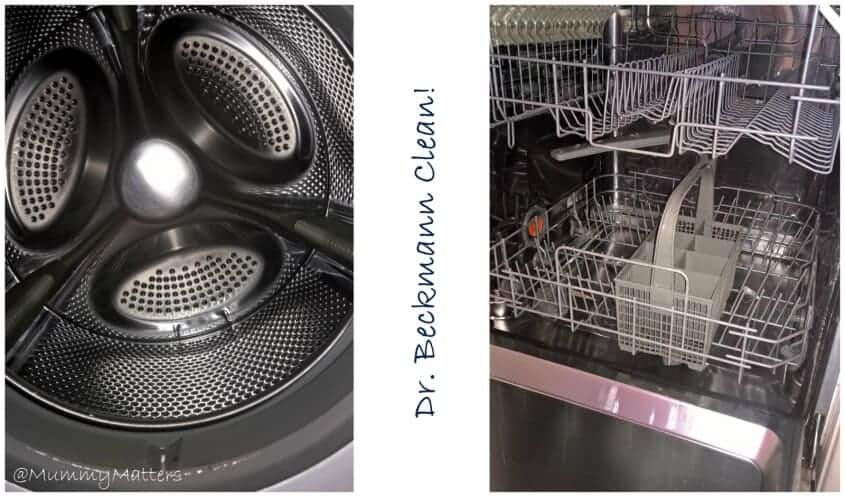 Dishwasher Cleaner
We tend to use our Diswasher twice a day so to not have it would be disastrous. For one thing I HATE washing dishes and for another, just imagine how time consuming it would be. With each cycle the dishwasher goes through food and detergent deposits can settle in the dishwasher and over time can lead to horrid smells and an unhygienic machine.
Dr. Beckmann Service-It Deep Clean kills 99.9% of micro-organisms and bacteria including MRSA leaving you with a fresh-smelling dishwasher which is hygienic too. Inside the packet you will find a wipe which can be used to clean around the door seals and the front of the dishwasher. Next you fill the detergent compartment with the cleaning powder and sprinkle the remainder into the bottom of the dishwasher and select a standard cycle (min 60C) and start the cycle (without loading or adding detergent).
It is recommended that you clean your dishwasher every two months or every 30 cycles.
Power Descaler
If, like us, you live in a hard water area then limescale build up will be your enemy. Dr. Beckmann Power Descaler can be used in Washing Machines and Dishwashers. It is an intense formula which cuts through limescale build up faster than ever and helps to prevent future build up and malfunctions, saving you time and money. Each pack contains two sachets of formula so you can clean both appliances at once.
Laundry Care
Stain Devils
Whether you have children in your house or not, it's inevitable that at some point or another you are going to end up with stains on your favourite item of clothing and that's where Dr. Beckmann is on hand with a range of Stain Devils to suit your needs whether your stain is new or dried-in. I have used Dr. Beckmann Stain Devils for as long as I can remember and they have always done the job for me.
Glowhite ULTRA
There's nothing worse than seeing people wearing white t-shirts or shirts and them being a horrible dingy grey colour from over-washing. We are quite lucky in that Hubby no longer has to wear shirts to work and the Beans wear coloured polo shirts to school so white isn't a colour that we wear often but back in the day that Hubby did have to wear shirts and would ONLY wear white, Dr. Beckmann Glowhite was our friend. Hubby is very particular about his clothes and if anything has the slightest mark or stain on it he will not be seen wearing it so we would often pop his shirts through the wash with Glowhite ULTRA intensive formula which removes the greying and yellowing and returns whites to their true, brilliant  colour.
We were sent a selection of the Dr. Beckmann range to review but most of these are already a staple in our Utility Room anyway so I wouldn't hesitate to recommend them.
DISCLAIMER: Post contains press review product. All words and opinions are my own and may not be copied without my permission. I have not been instructed what to write.