Dolphin Tale
 Last year I was invited to a bloggers event which I was very sorry to turn down, as I headed off on the first day of our family holiday Warner Bros were busy meeting lots of lovely bloggers to tell them all about their new movie Dolphin Tale starring Harry Connick, Jnr, Ashley Judd, Kris Kristofferson and Morgan Freeman. I was delighted when I was asked if I would like to review the DVD of Dolphin Tale and so yesterday morning whilst Beanie Boy was sleeping, Little Bean and I snuggled up on the sofa with a host of snacks for a bit of home cinema.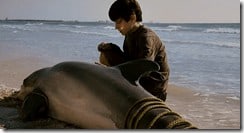 Dolphin Tale is a movie inspired by the amazing true story of Winter the Dolphin who gets washed up on the beach after getting tangled up in the ropes of a crab net. In the movie a dolphin is discovered by a fisherman and a young boy, Sawyer, who call Clearwater Marine Hospital who take the injured dolphin away to tend to her injuries. They name her Winter and soon realise that her injuries are worse than anticipated and they have to amputate her tale because of infection.
The story follows the relationship between Sawyer and Winter and her fight for survival against the odds as Clearwater Marine Hospital is lacking funds and faces closure. Meanwhile Sawyer's cousin Kyle has been to war and has returned home injured, when visiting Kyle in hospital Sawyer has a chance meeting with a brilliant prosthetist (Morgan Freeman) who he charges with creating a new tale for Winter.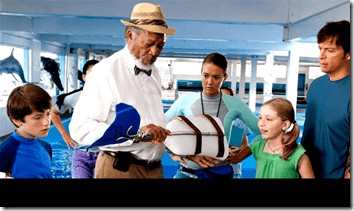 Dolphin Tale is rated U which means it is suitable for Little Bean to watch although only being 3 years old and having a limited concentration span, Little Bean flitted between watching the movie and playing with her toys. Little Bean was adamant that she didn't want to leave the room altogether and asked lots of relevant questions about Winter and her 'poorly tale' but I think perhaps she would enjoy it more in a year's time. Personally, I loved the movie, who doesn't love dolphins?! Especially when you get to see footage of the real Winter at the end of the movie. The story is very moving and the actors have been very well cast to portray the emotion, with Morgan Freeman bringing just the right amount humour too.
I have a feeling I will be watching this again very soon with Curly, he will love it!
Special Features include: Ormie and the Cookie Jar, Gag Reel and Additional Scene.
DVD includes UltraViolet Digital copy which means you to stream via Wi-Fi and download to your computer and compatible Android, iPhone, iPod Touch and iPad devices.
Dolphin Tale is out on Blu-ray, DVD, digital download and 3D Blu-ray on 13th February
DISCLAIMER: We were sent a copy of Dolphin Tale DVD for the purpose of this post. All words and opinions are my own.