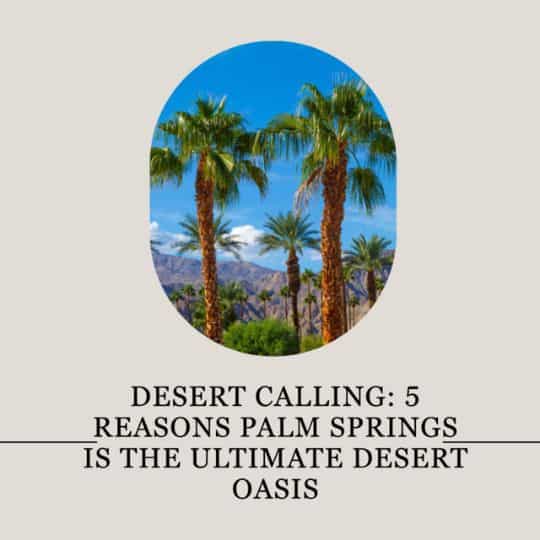 Desert Calling: 5 Reasons Palm Springs Is The Ultimate Desert Oasis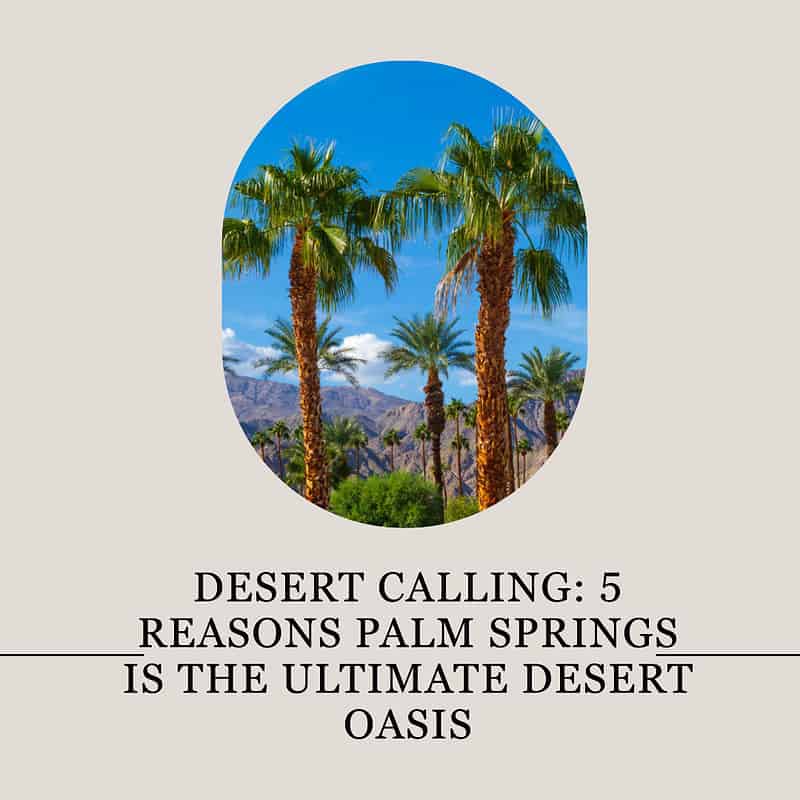 There are numerous reasons and benefits to visiting Palm Springs. With Palm Springs, you can always have ideas for fun activities to enjoy with friends. In the 1920s, it earned its reputation from its diversity.
Since then, generations have come to appreciate its retro-chic ambience, vibrant restaurant scene, relaxing hot springs, hotels, and elegant mid-century modern structures created by renowned architects. It draws tourists, including snowbirds, hipsters, golfers, and hikers seeking getaways from Los Angeles and other cities. Read along as we demonstrate why you need to visit Palm Springs.  
1. Palm Springs Poses Amazing History 
Did you know celebrities love to visit Palm Spring? Hollywood celebrities made Palm Springs their getaway from the troubles of Tinseltown in the early 1920s. The pleasant weather, laid-back atmosphere, and vistas of the San Jacinto and Santa Rosa mountains impressed them. It was also close enough to satisfy the "two-hour rule," which mandates that performers under contract must be on call if the studio needs them. The Oasis Hotel, designed by Lloyd Wright (Frank Wright's son) and constructed in 1924-5, set the standard for modernist architecture. Following were other resorts, including El Mirador.
However, celebrities decided that homes were more essential than hotels, and they created striking exteriors and opulent interiors alongside now-famous architects like Donald Wexler and Richard Neutra. A brand-new architecture excursion with designer Lyle Boatman is called the MidMod Design Tour ($100 per person), and it contextualizes the tour using digital tablets. Palm Springs Mod Squad offers a tour of the interiors for $70 per person, while the Palm Springs Historical Society offers walking excursions for $20 per person.
Apart from having great history, and class, Palm Springs possess world-class spots for diverse activities. They are expounded below.  
2. Aerial Tramway 
There are other oasis towns nearby Palm Springs. The Greater Palm Springs area includes the following cities: Desert Hot Springs, Cathedral City, Rancho Mirage, Palm Desert, Indian Wells, Palm Springs (notable for its tennis tournament), La Quinta, Indio, and Coachella. The distance between the first and the last is roughly 30 miles (easy driving). From the Palm Springs Aerial Tramway, take in their imposing presence in the stunning desert landscape of the Coachella Valley. The tramcars rotate as they rise 1 12 miles through Chino Canyon, arriving at the mountain station and cafes that are the starting point for exploring Mount San Jacinto State Park's 50 miles of hiking trails. 
3. An early morning Hike to the Cross, Palm Desert 
It's worth getting up early to view the eerie/beautiful sight of the cross illuminated in the middle of a desert landscape at the top of his walking trail. Although there are some rough and steep sections on the three-mile loop journey, it is manageable. You will encounter joggers, hikers, dog walkers, and tourists. The reward for the exertion is the spectacular views of the Santa Rosa Mountains, Palm Desert, and Indio cities, and, in the distance, Joshua Tree National Park. As dusk falls, it becomes even more captivating.
4. You could Shop at the 'Rodeo Drive of the Desert' 
The more than 300 high-end boutiques, jewelers, salons, art galleries, and restaurants that line this mile-long shopping strip in Palm Desert, 25 minutes drive southeast of Palm Springs, give the street its namesake. It is also adorned with flowers and statues. You can browse through Ralph Lauren, Louis Vuitton, and Gucci. Only a few kilometres separate it from the Hike to the cross, making it ideal if you enjoy comparing effort and reward. Not all of it is designer labels either; a fantastic brunch location with amazing blackberry custard french toast is Wilma & Frieda's Cafe. 
5. Palm Springs Art Museum 
Visit this downtown museum's art, photography, and glass collection to cool off. The establishment's website states, "It is always 75 degrees (23C), providing a welcome respite from the Palm Springs summer triple-digit temperatures." The museum was established in 1938 as the Palm Springs Desert Museum (emphasizing Native American artefacts), but it has only been housed in this structure since 1974. The light-filled structure features 28 galleries featuring artwork by Picasso, Warhol, Lichtenstein, Antony Gormley, Chagall, and Ansel Adams, as well as two sun-loving sculpture gardens. 
6. Cycle on the San Andreas Fault 
This 20-mile bicycle journey begins in an ordinary parking lot in Palm Desert and travels beside a part of the San Andreas Fault. To prepare riders for the entire downhill ride, the support vehicle (and its trailer of bicycles) must first climb roughly 500 meters. According to the Big Wheel Tours' advertising, "There are no crossroads, no turns, and very little traffic."
Box Canyon's palo verde trees, craggy rocks, and Salton Sea views are also present. The desert training facility built by General Patton to prepare US forces for the Second World War was also passed by riders. While cycling, the support vehicle lingers in the rear, giving you time to take in the sights and fragrances of the wine region close to Mecca.
Final Thought
The above places should justify taking your friends and family to Palm Springs. You're probably using your imagination correctly if Palm Springs brings up thoughts of the sun and palm trees. There is no more peaceful place than Palm Springs because it is all about soaking up the sun and relaxing to your heart's content. Relaxation is epitomized in this tiny corner of affluent California.