Curly is now reaching that awkward age, he's no longer really a child but he hasn't quite reached 'teenager' status yet. He still loves to play figures with his younger siblings and can play imaginative role play games with them but at the same time he wants to be treated that bit older.
Curly is very much into his technology so these are a few ideas of what we will be looking at this Christmas to earn us a few parenting brownie points . . .
Auna MCD-82 DVD/CD Player Stereo System USB SD MPEG4
Curly loves music, I think he has a better knowledge of music than I do these days, mind you most of the time I have to listen to Justin Fletcher or Cbeebies thanks to the tiddlers (oh how Motherhood changes you!). This is one of those cool Christmas gifts which I just know that Curly will absolutely love. We are planning on wall mounting it underneath his flat-screen TV so that he has a kind of 'entertainments centre' at the end of his bed. The great thing about this stereo system is that it can be used as a DVD player too so if the DVD function of his TV decides to pack up then we have a back-up plan in place. You can also play media via USB, SD card and MPEG4 (not that I would even know how to with the latter!!!).
We were sent this stereo by HiFi-tower.co.uk who stock an extensive range of record players, DJ equipment and hi-fi speakers although I'm not sure we're ready for fancy speakers for Curly just yet. His room is nestled smack back between the rest of the tiddlers and we have enough trouble getting them to sleep as it is. Thankfully this stereo has a headphone jack and being positioned right at the end of his bed means he can listen to the music via a good pair of headphones.
RRP £62.90
Which leads me nicely onto my next cool gift . . .
Blaupunkt Kids on ear headphones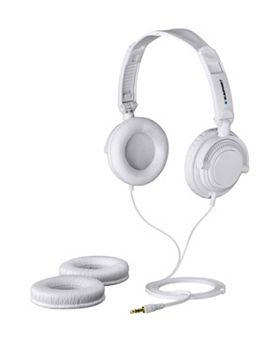 We were all children at one point and I'm pretty sure we have all played our music way too loud for our health, I know I certainly have and I am still guilty of it now when I have the car to myself with no children on board but when it comes to my children's hearing I am going to make sure that I take care of them for as long as possible and hopefully start them off on the right track for their future. These Blaupunkt on ear headphones from Boots have a built-in limiter function so parents can set the maximum level they are happy for their children to listen to. The headphones are foldable and can be customised with sticker skins to give them their own unique look. The headphones are presented in a matching giftbox so make the perfect gift for your tween this Christmas.
RRP £29.99
DISCLAIMER: We were sent the Auna Sterio free of charge for the purpose of this post. All words and images are my own and may not be copied without my permission.