Coleman Aspen 6L Family Tent
AD|PR PRODUCT
Camping is a great way to spend time with family, friends or loved ones. It is an activity that brings people closer together. But there are some things you should take into consideration before setting off for your camping adventure.
Coleman Aspen 6L Family Tent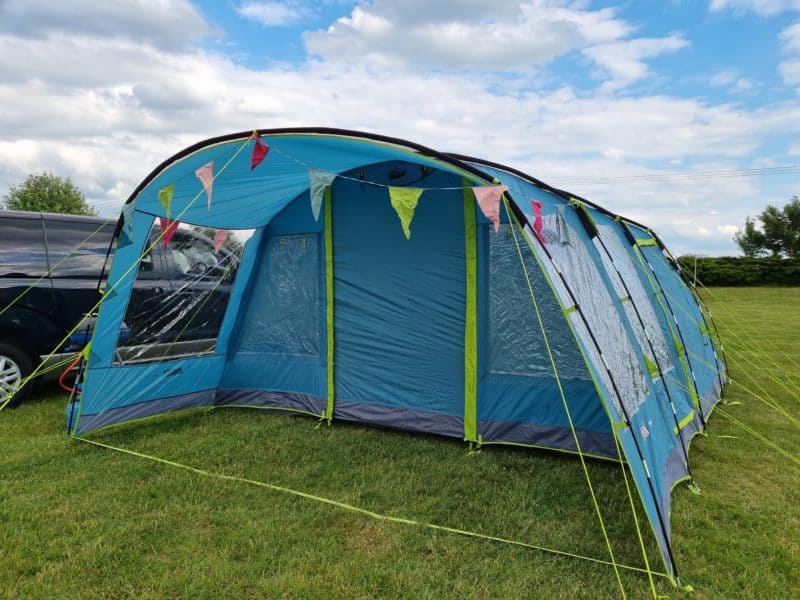 The Coleman Aspen 6L is a spacious family tunnel tent with fibreglass poles, making it an ideal starter tent for family camping. It offers a comfortable living area and a separate sleeping area for up to 6 people. We took the tent away camping to put it through its paces and had a lovely camping trip to kick the camping season off for the Summer.
Coleman tents are designed using the latest technology for people who love the outdoors and want to experience it with their family or friends. Coleman tents are made of high-quality fire retardant materials that make them durable and long-lasting. Coleman tents are put through a rigorous testing regime to ensure they will stand up to more than just heavy rain and have been used in some of the most extreme conditions without any problems or defects.
Features: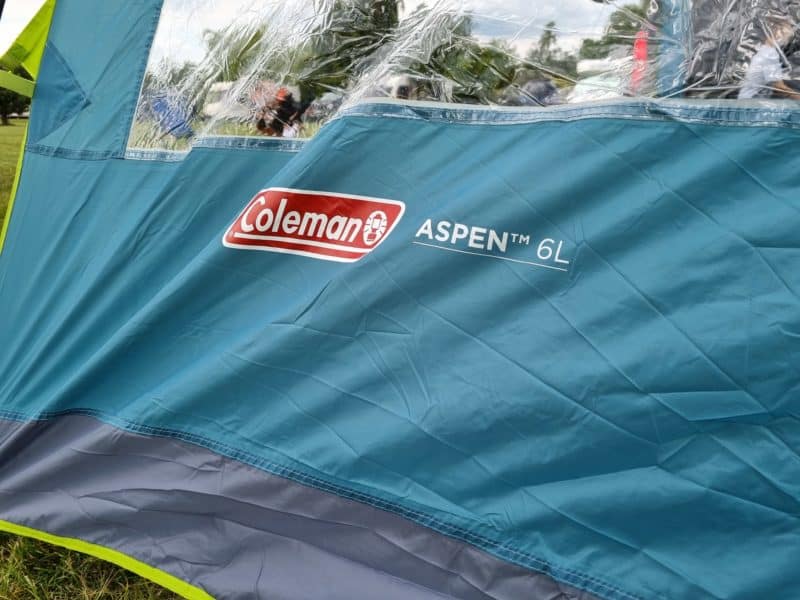 WeatherTec™ – waterproof to a hydrostatic head of 4000mm and taped seams ensure your tent stays nice and dry.
XXL bedrooms – provides a sleeping area for each person, giving everyone enough space to sleep comfortably, with plenty of space for storage
Fully sewn-in groundsheet – protects the tent interior from bugs and water, for an extra level of comfort
Fire retardant – our material ensures that the fabric will not flare dangerously out of control and will self extinguish, giving time to escape in the event of an emergency.
Fibreglass poles – highly flexible and lightweight fibreglass poles guarantee a good response to wind and storms.
UVGuard sun protection – certified laboratory-tested fabrics with an SPF50 provide excellent protection against UV exposure from the sun.
First Pitch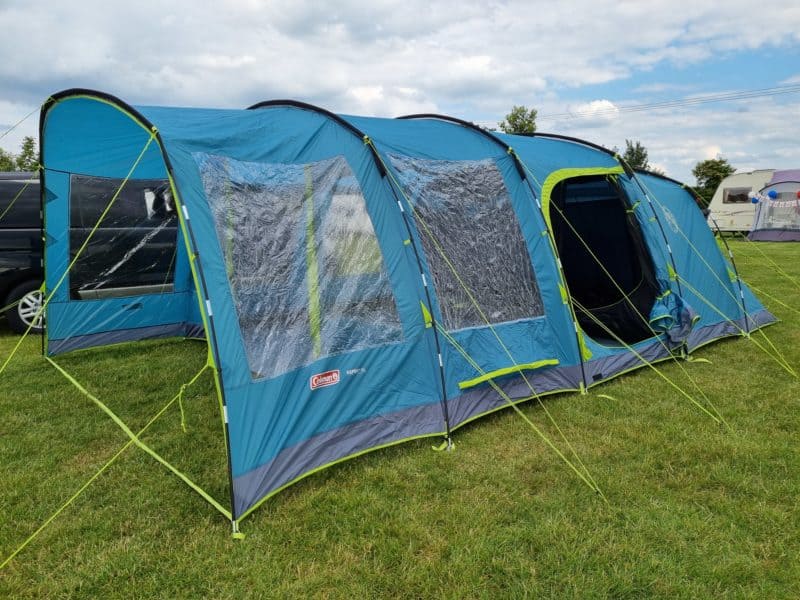 When pitching our tents, the Beans love to get involved, and as they get older, they get better, so it makes the whole process even easier. However, it is more than simple enough for two people to pitch together without the help of others. People in the tents around us commented that it had taken us longer to decide on which pitch to have than it did to actually pitch the tent.
Whilst Simon and I unrolled the tent and laid it out, the children formed the poles and helped us to insert them into the pole sleeves. Once all poles had been inserted, we were ready to lock them onto the pegs, starting with one side at a time on each pole and working our way forwards. As we reached the last pole we pulled the centre guy rope forwards and peg it to keep the tent upright whilst we worked our way around the tent, straightening and pegging the tent into place.
Living Space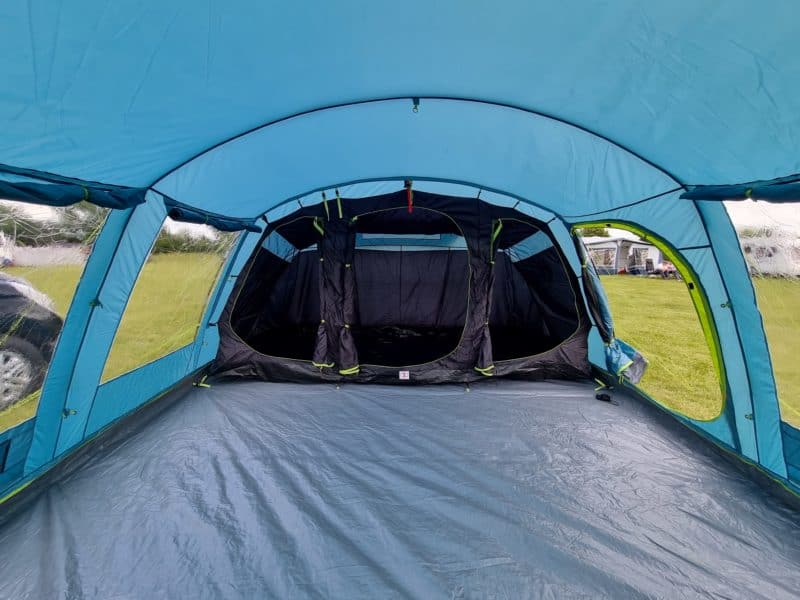 The Aspen 6L has a generous living area with a total of 19.3 m2 which is divided into a Sleeping area of 8.2 m2, a Living area of 11.1 m2 and an open front porch which was lovely to sit in as the sun went down to watch the children playing football with the new friends they had made.
As we were only staying for one night we didn't take all of our usual camping equipment, but it is only a fraction smaller than our Oak Canyon, so we know we can comfortably take our chairs and two double camping cupboards, which double up as clothes storage, food storage and provide countertops for preparing food and for our camping cooker and kettle.
Sleeping Space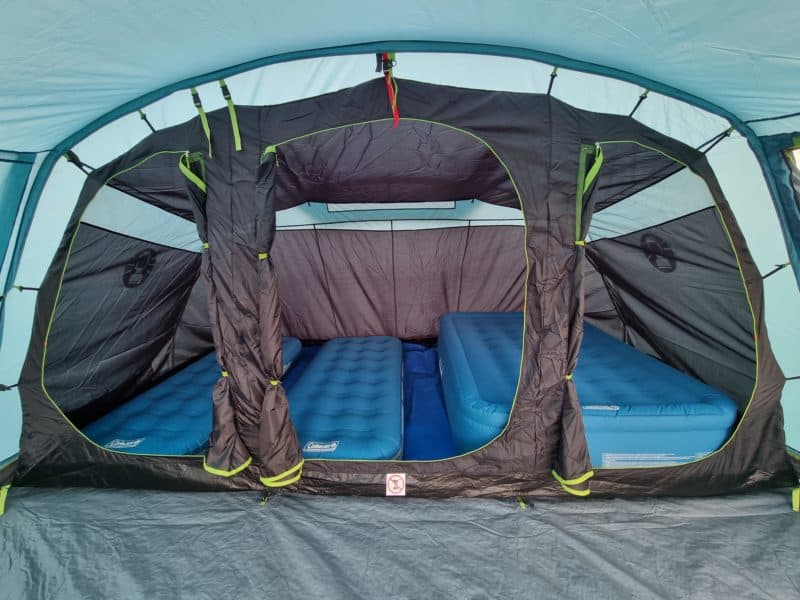 The Sleeping Area can be used as one large area or split into 2/3 sleeping areas depending on your choice. There are room dividers that button in at the top and bottom to provide 2 sleeping areas of 200cm and one sleeping area of 130cm, which is an average tent bedroom size. If we were to take our camping beds or roll mats we know that we would easily fit all 6 beds into the sleeping area. However, we now prefer a bit of comfort, so we tend to take our Coleman Air Beds, which are wider than camping beds and roll mats, so we can only fit five beds into the space.
It's always worth checking the size of your beds against the dimensions of the tent when buying either a new tent or new beds to ensure you will have enough space.
The Coleman Aspen 6L is not part of the blackout range, so this was a big change for us as all of our tents for the past few years have been a blackout and we did miss it. That said, not everyone likes the blackout and prefers to wake up with the light of the day after a great night's sleep – my Mum is one such person, so this tent is totally up her street. The sleeping area's inner fabric is slightly darker than the rest of the tent, but it's still very light in the morning and throughout the day.
Large Windows and Tent Doors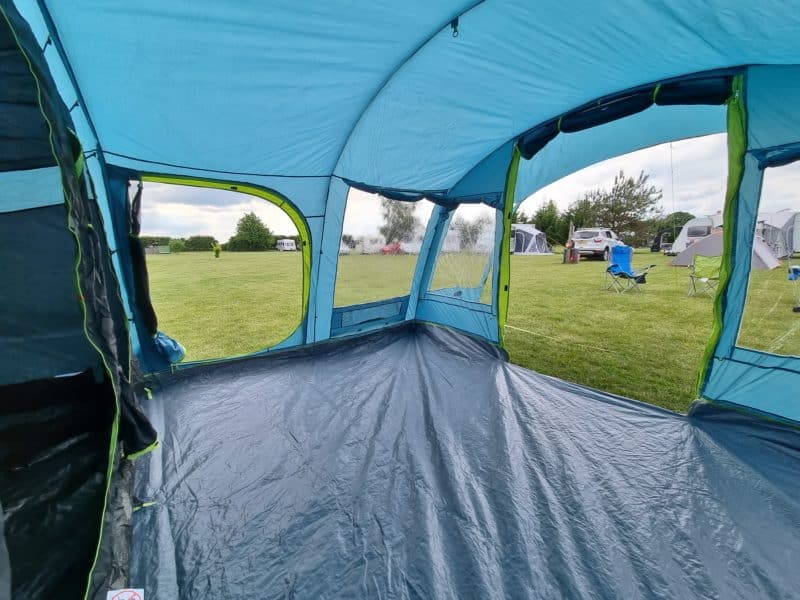 One thing I have always loved about Coleman's tents is their large windows. They are super clear and allow the light to flood into the tent as well as offer the opportunity to look out and view your surroundings. There are windows on either side of the main tunnel, two facing into the porch and one on either side of the front porch. Each window has a roll-up curtain which can be buttoned halfway or all the way to the top when not in use.
The front door is a large opening into the porch with barrier-free access, and there is a side door between the window and the sleeping area. Both doors can be fully open or can be closed with a mesh flysheet to keep the pesky bugs out whilst providing ample ventilation.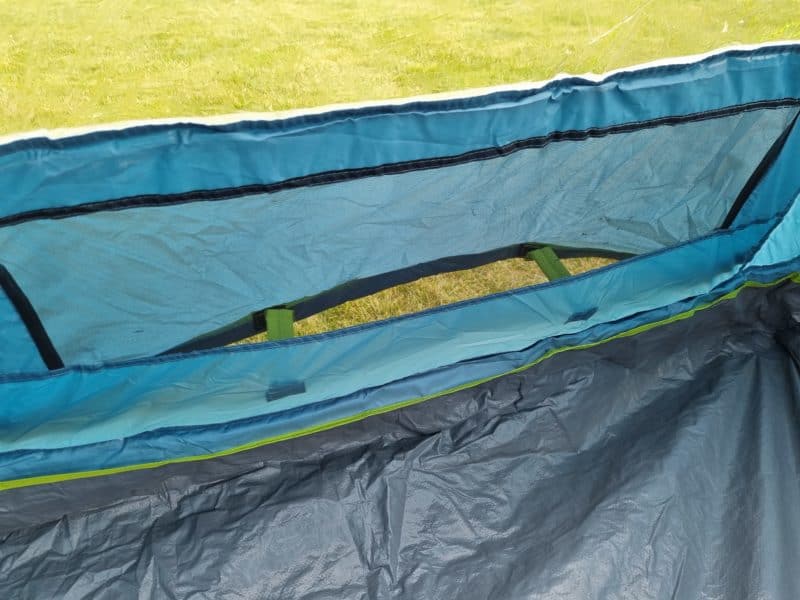 There are vents below both side windows which can be opened or closed for comfort as well as a vent on the back of the tent which is held open with guys.
Barrier-Free Access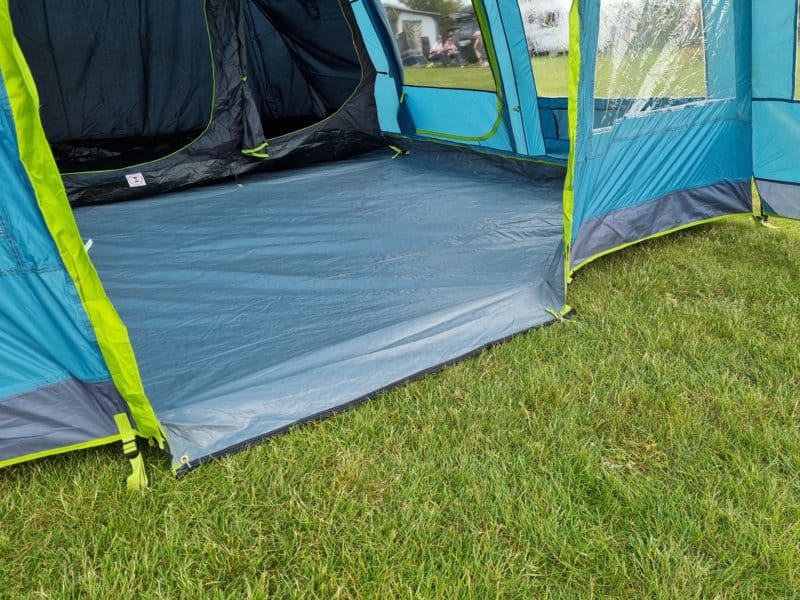 I have lost count of the number of times that one of us used to trip over the access to tents in the past. Since Colemans introduced their barrier-free access to the main entrance, we have been incident-free. This is also great for families with pushchairs and wheelchairs for easier entry to the tents too. At night the floor zips up to the door forming a secure fastening and preventing drafts.
Weather Protection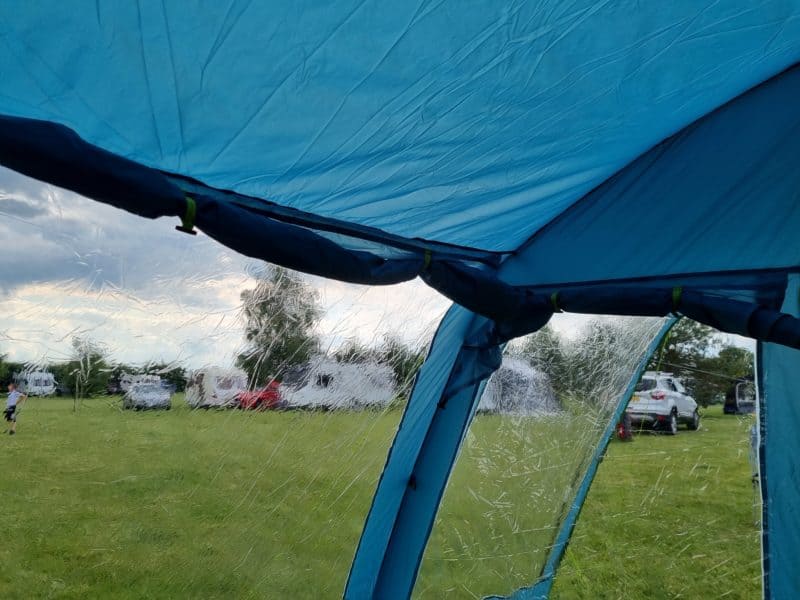 The high-performance polyester flysheet provides excellent protection against tough weather conditions thanks to the hydrostatic head of 4000mm and the tent's outer fabric is treated with Coleman's UVGuard with SPF50 protection from the sun's rays.
Safety Features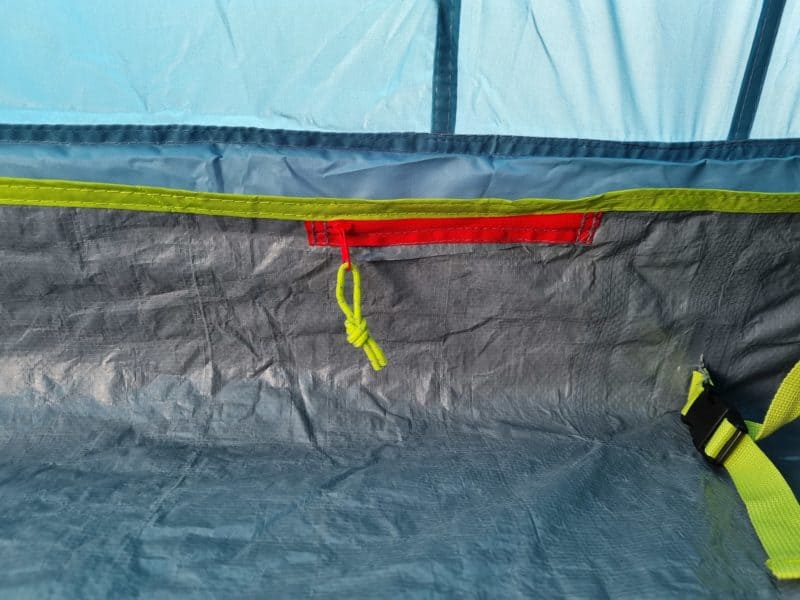 Coleman wants to ensure that their customers are kept safe at all times and ensure that their tents will keep them protected in the event of an emergency with their safety features:
Coleman UVguard protection fabrics are designed not to flare dangerously and will self-extinguish in the event of a fire.
Zipper stoppers at lower levels ensure that in the event of an emergency, the zips can be found and opened quickly, even by a child.
A fully sewn-in groundsheet keeps bugs and insects at bay, so you don't have to share your sleeping bag with creepy crawlies.
Convenient cable openings for an electric hook up power source to enter the tent at ground level and run along the edge of the tent so as not to cause a tripping hazard.