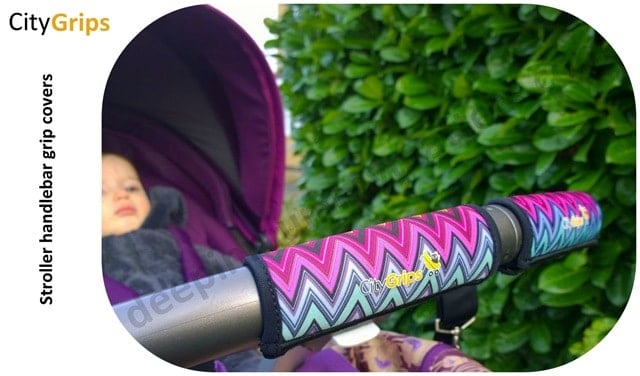 CityGrips – Stroller handlebar grip covers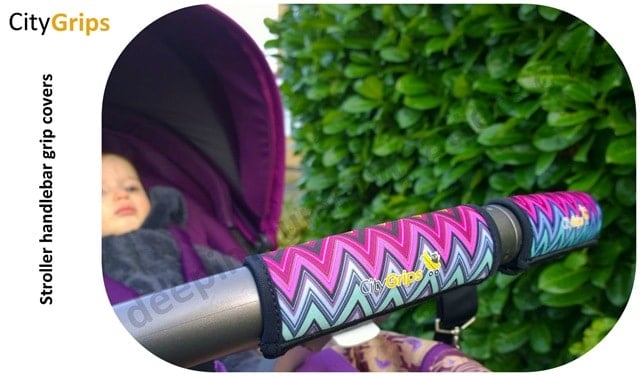 Waaaaay too long ago I was sent a set of these rather cool stroller handlebar grip called CityGrips. At the time I was flitting between using my Kiddy Click'n'Move3 and my Stokke Crusi. I ordered them with my Stokke Crusi in mind because I wanted them to match the purple fabric. There are two size options available in City Grips – Single Bar or Double Bar. As you can see above I ordered the Single Bar but unfortunately the CityGrips didn't fit the single bar on my Crusi as it is actually quite a bit wider and flatter than on most strollers and so I waited until I was able to start using my Xplory again (long story).
Well I'm pleased to say that Jelly Bean is now very happy in his Xplory and I am very happy with my CityGrips; not only do they look and feel great but they were super easy to put on, the don't slip at all and they are great for cold mornings. Owners of Xplorys will know that the handlebars can be very cold in the morning as they don't have any fabric on them at all. I have tried handmuffs but they just get in the way when putting the seat onto the pushchair and taking it off.
I have already received lots of compliments on my CityGrips because they look quite striking, especially this classic Zig Zag Colour design that I chose to compliment the purple. Once they start to get a bit grubby I can just whip them off, pop them in the washing machine and pop them back on, so no more stinky horrible, sweaty handlebars!!
Unsurprisingly the CityGrips were invented by a Mummy for Mummies! Well, we do have all the best ideas don't we Mums!
DISCLAIMER: I was sent a pair of CityGrips free of charge for the purpose of this post. All words, images and opinions are my own and may not be copied without my permission. I have not been instructed what to write.