Record numbers are set to take part in Christingle services up and down the country this year, raising money for The Children's Society and celebrating the anniversary of the first Christingle held in Britain 50 years ago.
The festive fundraising tradition is set to be bigger than ever this year, with thousands of services in churches and 32 in cathedrals across Britain hosting celebrations according to figures from The Children's Society.
50 Years of Christingle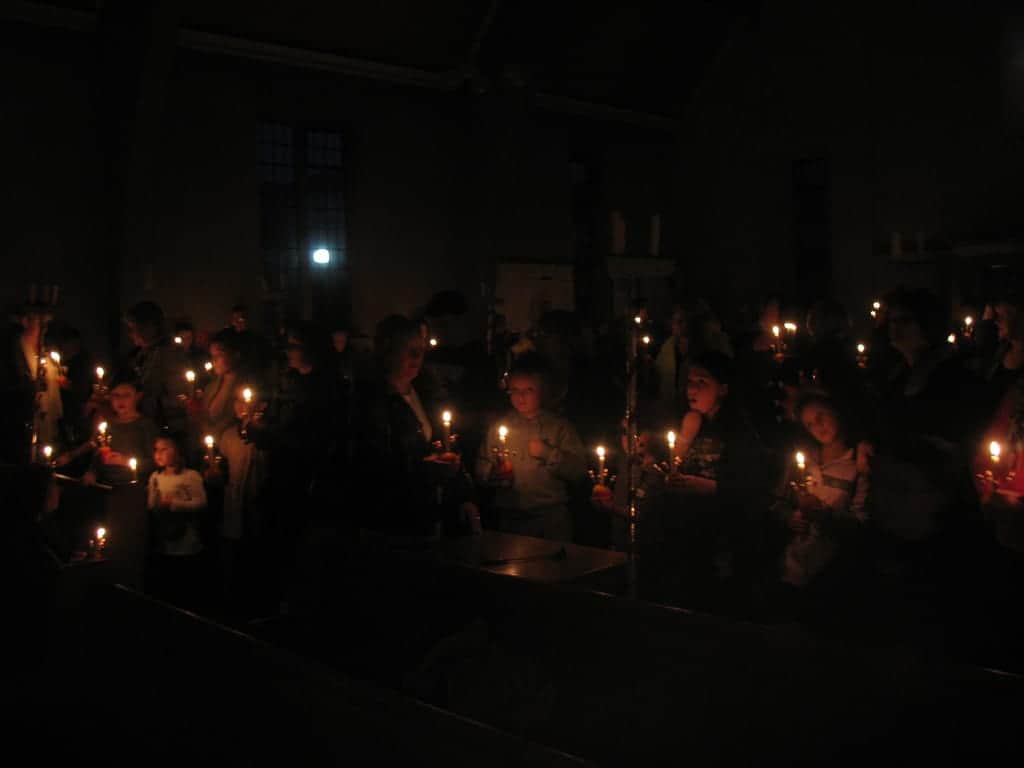 The Children's Society first brought Christingle to the Church of England on 7th December 1968 at Lincoln Cathedral. The Christingle service originated in the Moravian Church in Germany, and The Children's Society adapted and introduced it to the Church of England as a way to help disadvantaged children and young people. By 1995 over 5,000 Church of England churches were holding Christingle services and by 2003 1 million people were attending Children's Society Christingle services.
The event is now celebrated in hundreds of churches, schools and communities up and down the country, each one raising funds for vulnerable children. The occasion is named after the Christingles, the oranges that are lit during the service and decorated with a candle, red ribbon, dried fruits and sweets on cocktail sticks, which represent different parts of the Christian story.
Find a Christingle Service Near You
Lincoln is one of several locations hosting services this year – almost every Church of England cathedral in the country will hold a Christingle between now and February 2019. Further landmark venues will include:
Exeter Cathedral – 1st December
Lincoln Cathedral – 7th December
Norwich Cathedral – 8th December
Ely Cathedral – 8th December
St Albans Abbey – 9th December
Southwell Minster – 9th December
Rochester Cathedral – 15th December
Bradford Cathedral – 15th December
Birmingham Cathedral – 19th December
Peterborough Cathedral – 22nd December
Hereford Cathedral – 24th December
Canterbury Cathedral – 28th December
Guildford Cathedral – 27th January
The Children's Society Chief Executive, Matthew Reed says: "The 7th December is a special moment in our history, marking the celebrated day in 1968 when we first brought Christingle here. The iconic fundraising tradition is a lifeline for the charity and we're enormously grateful to all our supporters for helping us to work with more than a million children over the last 50 years. Sadly, there are a million more young people living with several serious problems in their lives today and we hope that our 50th-anniversary services will go some way to supporting them."
Anniversary Commission
To help mark the anniversary, the charity has commissioned an original song with the Royal Academy of Music. The song has been composed exclusively by the young composer Louise Drewett and written by award-winning poet Clare Shaw. Following a special advent episode of BBC One's Songs of Praise on Sunday 2nd December, the charity is asking schools, choirs and congregations to help make it a special year by including Light a Candle in their own Christingle service.
The Children's Society is a national charity that works with the most vulnerable children and young people in Britain today. We listen. We support. We act. Because no child should feel alone.
The Christingle story over 50 years: key dates

1968 – First Christingle service in the UK, Lincoln Cathedral
1970 – 20 churches hold Christingle services
1974 – The Children's Society works with 4,500 children
1980 – First Christingle in Westminster Abbey
1986 – 'Christingle' appears in the Oxford English Dictionary
1990 – The Children's Society works with 11,000 children
1995 – 5,400 Christingles held across the country
2003 – 1 million people attend Christingle services
2010 – The Children's Society works with 48,500 children
2018 – Celebrate 50 years of Christingle
To download Light a Candle visit www.christingle.org/song