6 Ways to Revolutionize Your Kitchen Space
Did you know that kitchens are considered to be the heart of the home? Because of this, it's really important that your kitchen is designed to suit your needs well. When browsing through options offered in stores, however, they are usually presented in a set way that doesn't leave much room for interpretation.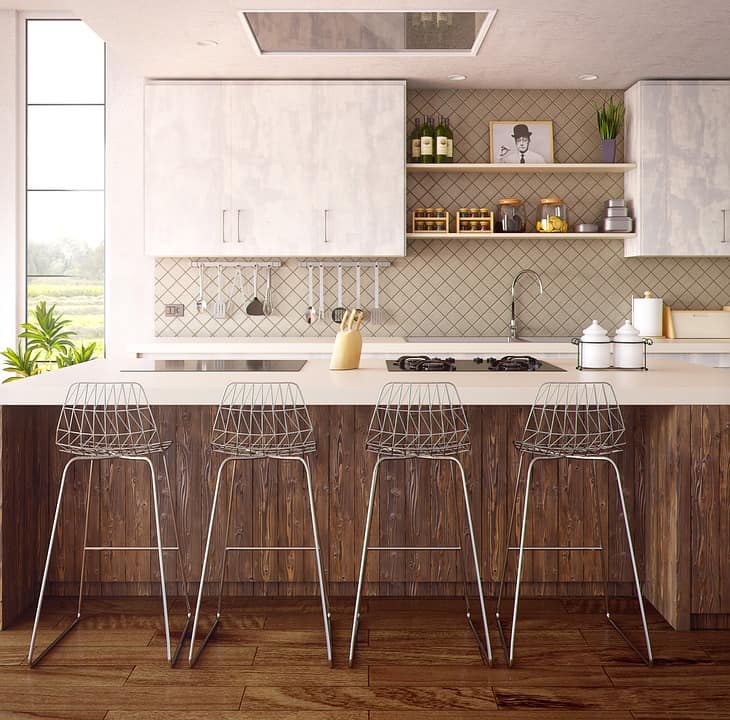 However, creating a kitchen that's exactly what you need it to be, is easier than you might've thought. Here are 6 simple ways to revolutionize the kitchen space that might interest you.
1. Get The Right Appliances
Not everyone cooks the same dishes, uses the same techniques or has advanced knife skills. When considering how to drastically improve your space, you first need to consider how you currently use it, and how you'd like to use it after the project is finished. Not everyone needs a stand mixer or food processor. By deconstructing the way you prepare meals, which appliances you use, and looking up reliable kitchen related advice and guides in order to get a better understanding of the versatility, benefits, and downsides of different appliances, you can ensure that your kitchen isn't underequipped, or oversaturated with things you don't need. No matter how big your kitchen is, it's always better to organize it in a way that lets you have more space to prepare your meals.
2. Pots, Pans, Decor
If your kitchen is on the smaller side, having limited cabinetry options is probably one of your biggest concerns. However, among the top things you can do with a small kitchen is the idea of simply not storing your pots and pans inside the cabinets. Instead, hang them around the kitchen in an eye-catching way so that they get an aesthetic purpose as well, and you can still utilize the cabinets for things like plates and glasses. If your ceilings allow for it, you can build an overhead light fixture that hangs them, or if your walls are made of light-coloured material, you can hang them right on the wall one at a time. You might even want to consider creating a sort of gallery wall with them. Anything goes as long as it's aesthetically pleasing and functional.
3. Get A Trolley Cart
Kitchen islands are a great feature to have if you have an enormous kitchen. However, for every other case, a trolley cart is probably the next best thing. They are highly functional because you can move them around the kitchen to wherever you need them, and they are also pretty inexpensive. You can easily find one that works with your style in an array of price ranges. They offer additional storage space, an extra work surface and they look pretty amazing as a centrepiece of the kitchen. A trolley cart can also be incredibly useful when entertaining your guests. If you feel more comfortable in the living room, for example, and don't want to have to go back and forth to get everything you need, pushing the trolley into the room you'll be entertaining at, setting it up with everything you need – glasses, snacks, plates, etc.
4. Roll-Out Shelves
Roll-out shelves are a great way to maximize your storage space. If your cabinets aren't that deep or if you don't have much storage space, to begin with, then this is a good idea for you. They can be installed inside of cabinets – or you could get ones that already have the shelves installed – or you could use them as a stand-alone feature under wall cabinets and the like. They can also make reaching for the things you need easier than before. All you have to do is pull on a handle from the front or back and everything will come out right in front of your eyes. It's as easy as that.
5. Closet Turned Pantry
You don't have to have a walk-in pantry in order to be able to store all your food in one place. If you have a small kitchen but want to create the illusion of more storage space than you currently have, then turning a hallway closet into an organizational pantry is the way to go about it. You can put shelves inside of it and keep all kinds of things like spices, baking supplies, canned goods, and more. You can even go a step further and install a built-in butcher's block on the inside of it as well. Getting clear containers for pantry items will not only make it easier to see exactly where everything is, but it can also allow you to store more things since they're stackable.
6. The Right Lighting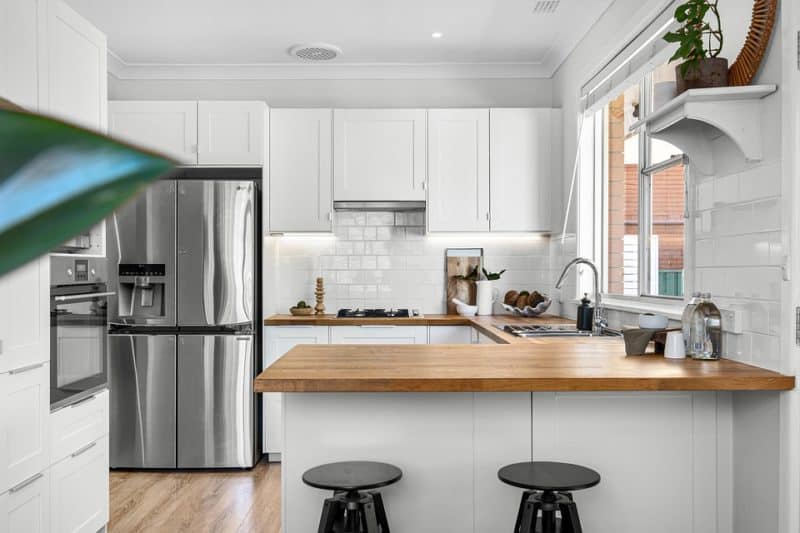 Incorporating various lighting options, such as under cabinet lighting and/or a hanging light fixture over the island or kitchen table, is a great feature for this kind of space. It will vastly improve the overall look of your kitchen while improving functionality as well. Nowadays there are so many different types of lights to choose from. You can go with the classic light bulb, for example, or you could opt for LED lights that are energy-efficient and don't use as much electricity. There's also pendant lighting – which is a great idea if you want something more visible than under cabinet lighting – to consider.
It doesn't have to be difficult or expensive to design your kitchen. All you need is the right mindset, creativity, and this guide that will help you with all 6 of these features. You don't even have to hire a professional if you want something more unique – there are plenty of DIY tutorials online that can help complete any project at hand.